It is not often I get to behave like a character in a Chekhov play, let alone write about the experience. It all happened last Thursday. I had been invited to Kiev as a guest of that city's very first biennial art exhibition. It was an invitation I was eager to accept. This is partly because Ukraine is a part of the world I feel I should know better. The flight from Istanbul takes about the same time one to Adana or Rome and yet it seems a terra incognita, a land ravaged by emotions and politics I do not understand. But I have a grandfather who was born in Odessa, and I do occasionally wonder if there are not unacknowledged bits of my personality which could be traced back to that part of the world.
So perhaps it was not mere coincidence that while searching for my own roots I discovered, at very centre of the Biennial, three 'cells' created by Louise Bourgeois. Cells, as the Biennial's artistic director David Elliott reminds us, are the building blocks of memory. 'And memory can serve as both a prison and a platform that enable us to perceive the present and think about the future,' he writes in the Biennial's handsome catalogue.
David Elliott is an intelligent man, enormously popular from his time at Istanbul Modern, and he took on the challenge of filling the Kiev Arsenal (above). It is a huge, cavernous space and it is a tribute to his curatorial skill that the art seems to grow in stature rather than be overpowered by the scale. There were some extraordinary things to see, including a mesmerising video installation on an Imax scale by the Moscow collective AES+F entitled Allegoria Sacra; a petrified forest of 30 wooden carved 'trees' by Shigeo Toya; bleak post-Soviet de-industrialised landscapes photographed by the Ukrainian artist Boris Mikhailov; a vast, ecclesiastically-inspired political mural by Stelios Faitakis... The list is long.
There were, not surprisingly, more than a few hitches at the opening. An air of exasperation is noticeable in David Elliott's voice as he describes the want of electricity and the water cuts in the final 36 hours of installation. But it would be just plain silly to expect Kiev to be Sydney. This was the first exhibition of its kind in a city where cut-throat politics is the norm. No one expects the trains in Ukraine to run on time.
But my eventful Thursday was not spent going round the Biennial but at a friend's country dacha. The dacha in question is no grand country estate but a modest little house that serves as a refuge from the cramped communal life of a city 45 minutes' drive away. Unlike many Turkish holiday homes, it is not in a housing compound but has its own personality and stands at the edge of a vast and unspoilt meadow of wild flowers and ponds.
It was a blustery day and we sat having lunch in the garden while I tried engaging my hosts – one a professor at the university, the other a senior manager – in a discussion of all the art I had seen the day before. It was an uphill job. For them the whole Biennial was an irrelevance. Few in the city knew it was happening; fewer still cared, they implied. The whole affair was like a Rolex on the wrist of an oligarch, a shiny trinket for political parvenus to impress their friends with. My own friends were people who felt betrayed by the Orange Revolution and whose hopes had been stunted by a society where corruption is the norm.
But, I argued, weren't they wrong not to take advantage of the vanity of the new political class? After all, the Borgias were patrons to Leonardo da Vinci. Surely giving the young people of Kiev the chance to see the very best art in the world would expose the mediocrity of the new elite, not flatter it. I wondered about poor David Elliott trying to navigate this stormy political ocean.
I often think titles for art biennials are little more than pretentious puns. However, this one seemed to make sense. It takes its cue from the first line of Charles Dickens's A Tale of Two Cities: 'It was the best of times, it was the worst of times...' It had been a while since I had read this famous opening and it is worth recalling how it goes on: 'It was the age of wisdom, it was the age of foolishness, it was the epoch of belief, it was the epoch of incredulity, it was the season of Light, it was the season of Darkness, it was the spring of hope, it was the winter of despair, we had everything before us, we had nothing before us, we were all going direct to heaven, we were all going direct the other way – in short, the period was so far like the present period, that some of its noisiest authorities insisted on its being received, for good or for evil, in the superlative degree of comparison only.'
I am all for rescuing the notion of choice and responsibility, even in today's storm of unreason, and I found myself agreeing with David Elliott's remarks in his introduction: 'The Kantian idea of artistic autonomy, a Human Right much derided by Marxist critics, is one of the significant survivors of this age of revolutions. Without it art would always be the servant of some greater power and contemporary criticism would end up as little more than a small rudderless, leaky boat at the mercy of a boundless, all-consuming tide."
And so the Kiev Biennial may not have been the best of times – but it was very far from the worst.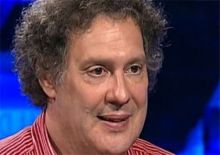 Andrew Finkel is the author of Turkish State and Turkish Society and Turkey, What Everyone Needs to Know, a correspondent for *Time* magazine, CNN and *The Times* of London, as well as a regular contributor to *Cornucopia*.