Every day this week the water in my apartment in Beşiktaş was turned off, for at least an hour. Tuesday proved particularly challenging, with the water off almost the entire day. As reported in the Cihan newspaper on July 3, the Istanbul Waterworks Authority (ISKI) has been resorting to water cuts in parts of the city because, apparently, it's doing maintenance on the pipelines. But the city's residents suspect the real reason is something entirely different: the city's glaring drought problem.
It's no secret that reservoir volumes have reached critical levels across Turkey due to the lack of rain in the winter and spring, and it seems the heavy rains last month didn't do much to help the situation. The winter was one of the driest in history, and as of July 3 ISKI's data showed that the reservoirs were at 23.28 percent, the lowest for 10 months. The city is also receiving almost 300,000 fewer cubic metres of water per day than it requires. Istanbul's mayor Kadir Topbaş admitted via Twitter back in February that Istanbul was experiencing a drought, and in April Balkaneu.com reported that water levels in reservoirs were running seriously low, especially in eastern and southeastern Anatolia, which might prompt Turkey to import electricity from Bulgaria, Iran and Georgia to prevent power cuts in the summer.
The periodic water cuts started on June 20, and last week residents in the districts of Bağcılar, Bahçelievler, Yenibosna, Üsküdar, Çamlıca, Arnavutköy, Bayrampaşa, Beylikdüzü, Esenyurt, Eyüp and Fatih had theirs turned off for up to 10 hours a day. Though ISKI was using its website to announce when and where the cuts would occur, the information often proved inaccurate. This week the cuts reached Beşiktaş, and a friend in Şişli told me that the water in her apartment was turned off almost daily. And Beyoğlu? Well, poor Beyoğlu is experiencing a water cut one day, a power cut the next. On June 26 shops and restaurants all along İstiklâl Caddesi suffered recurring electricity cuts. And I was enjoying a nice cheese platter at a wine bar just off İstiklâl on Yeni Çarşı Caddesi when all the lights and music went off. Nothing like a bit of dinner in the dark.
Despite all this, government officials don't seem to be too concerned. In a statement last month, as reported in Today's Zaman, the Forestry and Water Affairs Minister, Veysel Eroğlu, told Istanbul's residents 'not to worry about the water shortages as all planning up to 2040 has been done'. Besides not really addressing the issue, this statement completely contradicts what he said earlier this year, as reported in Hürriyet on February 17: 'There won't be a lack of water. We will provide water, don't worry.'
The Head of the Water Resources Program at the World Wildlife Fund, Bahar Dıvrak, recommends an integrated management plan for the 25 underground water tables in Turkey. 'In addition to a comprehensive national water law, Turkey should introduce sustainable water policies in line with international standards to avoid a water shortage. Deep-rooted changes with regard to water usage and a general position on water resource management must be introduced,' she told the Anadolu Agency.
As Turkey is not a water-rich country, it has to be very careful. According to a World Wide Fund report, Turkey will face 'irredeemable' water shortages, especially after 2050, if it continues to consume water at its current rate, and the country's water resources will be used to full capacity by 2030.
Droughts in Turkey are nothing new. In fact Climateadaption.eu discloses that the country is frequently exposed to drought hazards. Droughts have been recorded in 1804, 1976, 1928, in the 1930s and between 1970 and 1974. The late 1980s proved the toughest years, especially for southeastern Anatolia.
The government clearly knew what was coming. In the April 27 edition of Today's Zaman, Sıtkı Erduran, from the Chamber of Meteorological Engineers, said the chamber had several times warned the government to put together risk-management plans for the drought, but that officials continued to neglect the issue and failed to take the necessary precautions. The problem cannot be resolved using temporary measures, Erduran warns, and a forward-thinking plan needs to be implemented.
The drought is also damaging agricultural production. Turkey's wheat harvest, for example, is expected to drop by 14.3 percent this year, due to low rainfall since September 2013, said a report released by the Turkish Union of Agricultural Chambers (TZOB) earlier this year.
A few reasons have been identified as to why the management of this drought has been so shocking, with poor urban planning at the forefront of the discussion. Umit Sahin, former chairman of Turkey's Green Party, told DW in February that 'Istanbul's urban sprawl has overtaken fields, forests, wetlands and other areas where water resources lie'. Although the Istanbul metropolitan municipality has begun to build dams and new water channels, he says, the growing population has prompted the rerouting of water from sources outside the city, such as the Istranca Mountains near Bulgaria and the Melen River, around 180 kilometres away. Sahin underlines that this method is not sustainable, since it relies on water from another eco-system. Nilsun Ince, an environmental scientist at Boğaziçi University, says that 'bad water management and the resulting shortages have always been a problem of this city'. She adds that good management begins with controlling population growth, and thus demand.
Megaprojects, especially in the northern part of the city, are also heavily affecting Istanbul's eco-system. In the same DW article, Sahin warns that projects such as the third airport and the third bridge would destroy the eco-system in the north.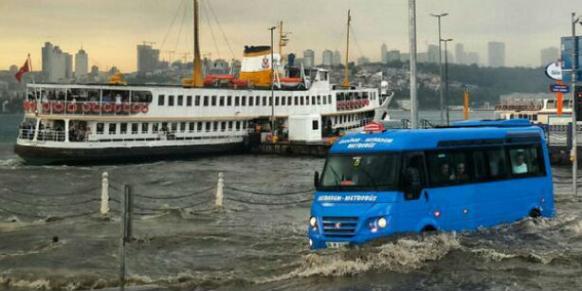 A few intermittent days of torrential rain in June, starting in the first few days and continuing into the middle of the month, seemed to have little effect on reservoir levels. Instead, they caused local flooding and created chaos. The worst-affected areas were the coastal parts of Üsküdar and Ümraniye on the Anatolian side of Istanbul. On the 2nd, heavy rains caused a shopping centre in Bayrampaşa to become inaccessible. Meanwhile, bridges and overpasses turned into artificial waterfalls. The Daily Sabah reported on June 6 that 'heavy rains sparked flooding across the country, wreaking havoc in several provinces', including Zonguldak, where 90.2 kilograms of rain per square metre fell in one of its districts, Devrek, and the Acılık River, which burst its banks and submerged large parts of the region. Ankara was also hit, and at nearby Çankırı a nine-year-old boy drowned while his family barely escaped, reported Today's Zaman. The floods also hit Honaz, a district of Denizli in western Turkey, where relentless rain destroyed crops. Other areas which suffered were Mudurnu, a district of the northern province of Bolu, and four provinces in southern Turkey: Adana, Osmaniye, Hatay and Kahramanmaraş.
On June 16, en route to Levent, I was stuck for 40 minutes as it rained cats and dogs. Two days later, I was taking some visitors to the Spice Bazaar when the heavy rains struck again, and we had no choice but to walk ankle deep in water to a café where we could wait it out. The scene in Eminönü, when the rains finally subsided, was nothing short of apocalyptic. Reading the news later, I discovered that Istanbul's Tuzla neighbourhood had been hit by a tornado (see above video) – one strong enough to 'flip cars over, rip up trees by the roots and blow roofs off houses', as the Daily Sabah reported.
Climate change may be rather harder to control, but there's no excuse for poor urban planning and a lack of forward thinking. It is high time the government pulled its finger out – not least because I need my morning shower, especially on these hot summer days.
For some related art, the Bozlu Art Project in Nişantaşı is currently hosting an exhibition in which 13 artists explore human intervention in nature through painting, sculpture and video art. Curated by Özlem Inay Erten, Climate Change will run until August 16.
Main image courtesy of WikiMedia Commons.