There are three very worthy exhibitions currently on at Borusan Contemporary in the Bosphorus neighbourhood of Rumelihisarı. The handsome red building, the Perili Köşk, or the 'Haunted Mansion', has a rich history dating back to the 1910s and underwent an extensive renovation in the late 1990s. It is only open as an arts centre at weekends – the view from the rooftop is reason enough to visit.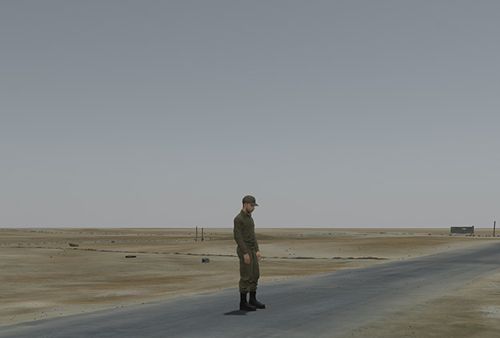 John Gerrard, 'Infinite Freedom Exercise (near Abadan, Iran)', 2011
On the second floor the Irish artist John Gerrard's exhibition – aptly entitled Exercise, is an exercise in simulations. This innovative multi-media artist offers us 'portraits of this world through the prism of its own technological medium', as described by Robin Mackay from Urbanomic, a publisher and arts organisation based in the UK. The five works on display have all been developed using a sophisticated method that blends various technologies including satellite data, photography, 3D scanning and motion picture. The results are brilliantly executed works which explore the violence of technology – whether in entertainment, industry or warfare. The above work shows a simulated figure dressed in army fatigues performing a series of gestures in a computer-generated version of a landscape found in southern Iran. The image keeps moving – day turns into night, summer into winter, yet the figure never stops performing his exercises.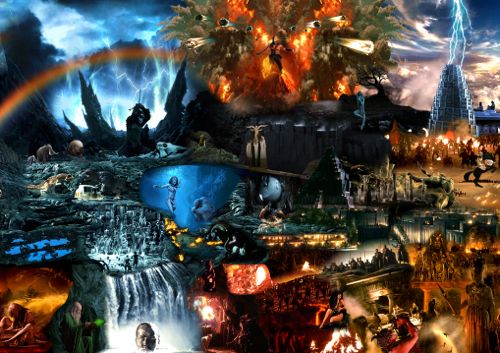 Marco Brambilla, 'Evolution (Megaplex)', 2010
Magnificent 3D-video collages by the Italian artist Marco Brambilla can be seen on the fourth floor in an exhibition entitled Megaplex Trilogy. You hear the Russian composer Sergei Prokofiev's dramatic 'Montagues and Capulets' (Dance of the Knights) long before you enter the almost pitch-black room – the cinema. Upon entry, you are given 3D glasses and are faced with three works: Creation (2012), Evolution (2010) and Civilisation (2008). Using ground-breaking 3D technology, one video moves fluidly across, one down and one in a vortex, each showing characters and scenes from hundreds of films, from classics such as The Sound of Music to more modern blockbusters such as Jurassic Park and cult favourites like A Clockwork Orange. The artist describes his works as a 'kind of pop version of subliminal film memory'. Film buffs and novices alike will be impressed.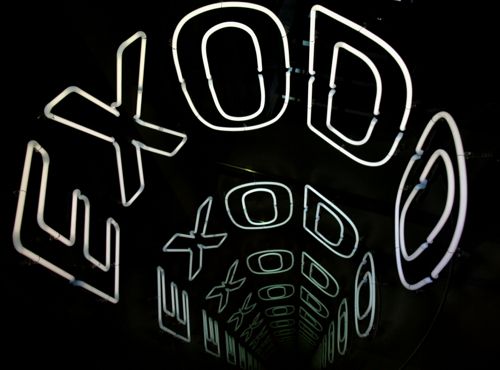 Ivan Navarro, 'EXODO', 2008, 61 x 122cm, neon, plywood, mirror
The third exhibition is in a very different vein. Rather than being in a dedicated space, the exhibition is spread over the building's entire ten floors, with most of the works hanging or standing in the office areas (the building is corporate on weekdays). Entitled Common Ground: Earth, the exhibition aims to showcase selected works from Borusan Contemporary's rich collection. Paintings, installations and 'media arts' (that is works incorporating time, light, technology, video and software) from over 50 artists are displayed – both Turkish and international, heavyweights and new talent. The exhibition is the first in a series of three that will explore the concepts of earth, water and air. As the title suggests, this exhibition deals with Earth, bringing together works which refer to it as an aesthetic medium, conceptual process or the reality in which we live. The links between the artworks and the subject, I have to say, are tenuous, but that is to be expected. Earth is a grand theme.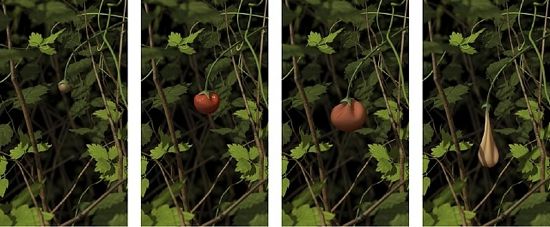 Eelco Brand, 'X.movi', 2012, Ed. 1/6
A unique piece from the French designer-cum-installation artist Thierry Dreyfus greets audiences at the entrance and can only be seen after sunset. The German-born, New York-based artist Markus Linnenbrink's colourful paintings adorn the walls – gravity responsible for the pattern of thin rivulets running down the canvas. One of Sarkis's neon creations is also on display. Six oil paintings by the late Turkish landscape painter Necdet Kalay show impressionistic scenes of Anatolia. The Chilean artist Iván Navarro's installation (above top) deals with the idea of motion and geometry – and pushes the limits of neon lighting. There are several 'digital paintings' by the Dutch artist Eelco Brand, each exploring a different aspect of nature. The American post-minimalist artist Keith Sonnier has painted stripes on the walls of the eight-floor meeting room. Meanwhile, two abstract sculptures and spatial intervention (when a work intervents in a space usually reserved for something else, in this case, a small glass kiosk) greet you on the roof, including the Swiss artist Beat Zoderer's colourful ball (main image). The view from the roof is just as awe-inspiring as the art.
Hats off to Borusan for trying something different and exhibiting the works so imaginatively. The employees must love working with all that gorgeous art on display. As an exhibition, however, it is difficult to take in comprehensively, as you are constantly moving from floor to floor, office to office. I recommend a tour, in which someone takes you around. It is available in both Turkish and English and lasts up to an hour.
The first two exhibitions run until June 1, 2014. 'Common Ground: Earth' runs until November 1st, 2014.
Main image shows Beat Zoderer's 'Patch Ball No. 3', 2009, 153cm diameter, acrylic on aluminium.