In less than two weeks' time Cappadocia will host a pair of unique concerts. Mehmet Emin Bitmez, a master of the ud (a pear-shaped string instrument similar to the lute and popular in Middle Eastern music), and Jarrod Cagwin, a multi-instrumental percussionist from the USA who now calls Istanbul his home, will perform their brand of 'contemporary classical music' in two unusual venues over two nights in early July. I met with Jarrod a few weeks ago to talk about these concerts, and how he and Mehmet came to work together.
Jarrod has had an interesting musical upbringing. Growing up with rock'n'roll in rural Iowa, where he says there was no cultural influence whatsoever, he was introduced to jazz at the age of 15. Reluctant to try playing it himself at first – his taste was more for progressive rock – he had no choice in the matter, for it was part of his school's curriculum. After being awarded a scholarship to the Berklee College of Music in Boston – which he found rather conventional, little interested in fostering its students' musical individuality, and more the kind of place that just 'pumps [them] out' – Jarrod took up a position playing music on a cruise ship for four months. The experience, he says, almost destroyed his career, along with his love of music. Having to wear a 'stupid' costume every night, performing Love Boat-type numbers, it epitomised everything he hated about the music industry. He returned to Boston depressed and in search of inspiration.
Thankfully it came. A classmate asked him to join a drum-core ensemble, which got him into rudimental and snare drumming and opened up a new world of rhythm to him when he was introduced to a style of drumming from South India that was entirely new to him. Jarrod tells me that South Indian drumming is the oldest and most logically developed style of drumming. It is quite aggressive, almost mathematical in its nature. Even though Jarrod himself didn't think he was brilliant at maths, his father was a mathematician, and it almost seemed there was something genetic at play in the way he took intuitively to South Indian's linear rhythm structure (which is in direct contrast to polyrhythmic African drumming). The next step was to absorb himself in a 'higher education of rhythm'.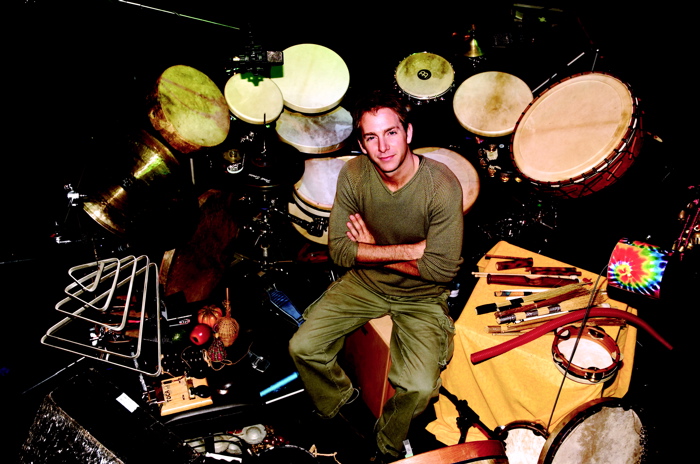 Jarrod in a sea of percussion instruments
Jarrod received a grant to study South Indian drumming techniques with Trichy Sankaran at York University in Toronto, and it was with Sankaran that he learned to play different types of drums including hand/frame drums (called bendir in Turkish). Here his early education in jazz drumming paid off, and his ability to do two things at once – playing simultaneously with both feet and hands – enabled him to create totally new sounds. His teacher recommended him to Rabih Abou-Khalil, a prominent Lebanese ud player and composer, known for bringing Western-style jazz to the Middle East. His education with Sankaran complete, Jarrod moved to Paris in order to tour Europe and the rest of the world with Abou-Khalil.
It was in 2000, on the last stop of one of these tours, that Jarrod played in Istanbul for the first time. When a fellow musician introduced Mehmet to Jarrod it seemed a pairing made in musical heaven. Instead of returning to Paris, Jarrod ended up staying with Mehmet in his house in Istanbul for nine months – a period that added another notch to Jarrod's musical education.
Jarrod clearly feels Mehmet has taught him a great deal, and the way he talks about Mehmet is heart-warming. Mehmet, Jarrod tells me, is an absolute master of the ud, as well as a 'living library' on makam theory. Makam is a system of melody types used in classical Turkish music and was originally developed in the 16th-century Ottoman courts. The makam system, Jarrod says, is concerned with how movements between the points on the scale are made. Even the smallest differences change the melodic structure to some degree. Interestingly, makam theory is just as much about emotion and colour as it is about producing sounds, and was historically used for healing purposes. Turkish people, Jarrod told me, have the most developed makam theory in the world: 'They are really the masters.' And, what sets Mehmet apart is that he moves his makams in a very specific way – a way deeply rooted in classical music but with a modern touch.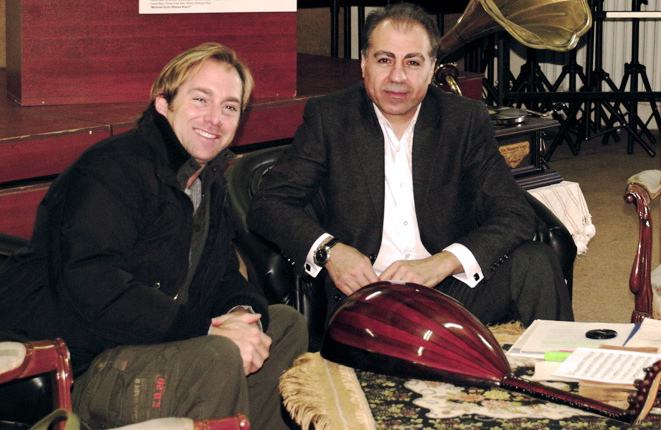 Jarrod's sojourn in Istanbul was the start of a fruitful relationship and collaboration with Mehmet, and he moved there permanently three years ago. They did some recordings together, one of which, Beautiful Sunrise, had been scheduled to be recorded the day after 9/11. When Jarrod and Mehmet finally found themselves in the studio a few days after the event, they found that the songs had taken on completely new meanings and all their plans for the recording changed.
This 'good' collaboration, as Jarrod calls it, continues to this day. Jarrod and Mehmet play Turkish classical traditional music, but 'outside the confines of what is meant by that'. And this is exactly what audiences can expect from their two concerts in Cappadocia. Both take place in unique spaces – the July 5 concert will be at the Cappadocia Art and History Museum and the July 6 concert at an old church, Durmuş Kadir Kilisesi. Both are Byzantine structures and to play in them, Jarrod says, is incredible. 'It is like you are in a giant amplifier,' he tells me with a huge smile on his face.
Both concerts are organised by their respective venues in partnership with the Cappadocia Academy for Art and Culture, founded by the German ethnologist, Andus Emge, who made Cappadocia his home in 1998 and, according to Jarrod, probably knows even more about the region that the locals.
For more information on the concerts, click on our event listings (July 5 and July 6).