SALT continues its survey of contemporary Lebanese artists (following the Rabih Mroué show last summer) with a comprehensive exhibition of the filmmaker, photographer, archival artist and curator, Akram Zaatari. One of the most important voices in Lebanon today, Zaatari – with more than 40 works and a dozen books under his belt – is concerned in his oeuvre with the political and social conditions of Lebanon's postwar society.
Much like the multidisciplinary Mroué, Zaatari works in photography, film, video, installation and performance to explore matters pertinent to his country. His forthright style, blended with subject matter ranging from image production to body image and archaeology – and generally concerned with how we record history – results in bold, often conceptual and thoroughly interesting work. One of the founders of the Arab Image Foundation (AFI), which works to track down and preserve photos from North Africa, the Middle East and other Arab communities around the world, Zaatari collects, examines and re-contextualises a wide range of written, audio and visual documents.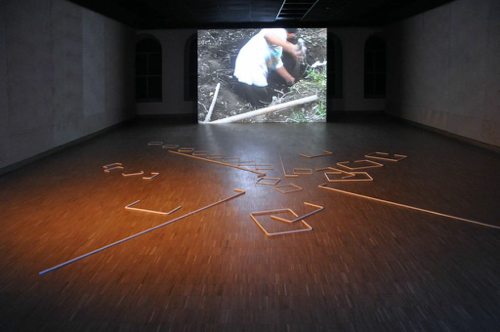 Exhibition view, first floor
As with the majority of shows at SALT Beyoğlu, this exhibition tackles a different topic – or a different aspect of the artist's work – on each floor. The first floor focuses on Zaatari's interest in excavation. His fascinating Time Capsule project, produced for dOCUMENTA 13 (2012) is on display, among a few other smaller works. Inspired by the Beirut National Museum's decision to seal much of its archaeological collection inside concrete blocks at the outbreak of the civil war in Lebanon in 1975, Time Capsule questions the need for institutions to protect documents and artefacts. Audiences are presented with a new phase of Zaatari's research, inspired by Osman Hamdi Bey's mission to Saida which led to the discovery of Sidon's Necropolis and what is known as the Alexander Sarcophagus in 1887. Zaatari collected key images and notes to help reconstruct what is known about the excavation of the sarcophagus, which was transported along with other artefacts, including the mummy of King Tabnit of Sidon, to the then Ottoman Imperial Museum (now the Istanbul Archaeological Museums, set up by Hamdi Bey). Zaatari's research includes interviews with descendants of key individuals involved in the excavation and a study of the documentation of the digs. This is an exhaustive, informative work that deserves attention.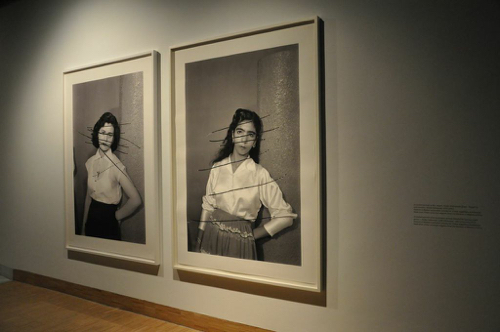 Exhibition view, second floor
The second floor showcases Zaatari's work concerned with photography. The artist believes photography is a way of writing history, albeit one full of gaps and personal bias. Two periods of Zaatari's work with the AIF are explored: the first is from 1997 to 2000, when he travelled to Lebanon, Syria, Jordan and Egypt, researching and collecting photographs – research that would later form the nucleus of AIF's collection. He also interviewed the people who gave him photographs in order to keep a record of where they were taken, where people had kept them, and how they related to them. In 2010 Zaatari used this material to make a two-channel video, shown on this floor, which comments on the dual lives of these photographs: first in the possession of the families who cherished them, and later in the more sterile environment of the archive of the AIF.
Another interesting work on this floor is the video On Photography, People and Modern Times (2010), above, Zaatari's first critique of the way images can be taken out of their original contexts.
The third floor – bringing together his work on the body and posture and how these form their own vocabulary – is a standout. Zaatari became interested in notions of masculinity – a multi-layered topic in countries such as Lebanon – in 1997, when he made the documentary, Crazy of You, tracing young men's stories of conquest.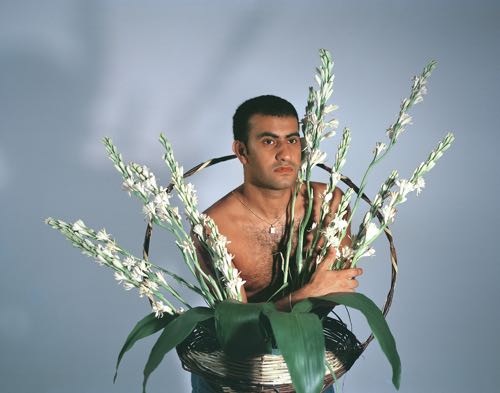 Following this, Zaatari produced his first video installation, Another Resolution (1998), above, for which he asked a group of men and women to recreate positions derived from children's sometimes eroticised poses in photographs. These films were initially presented on two screens facing one another, but a more sophisticated installation is presented at SALT, showing the images separately on videos which loop like moving photographs. It is a striking work.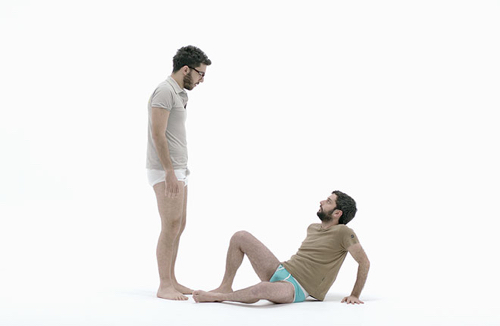 Free from the taboos and censorship of Lebanese society, Zaatari bravely explores homosexuality in End of Time (2012), above, originally made as part of the Time Capsule project for dOCUMENTA 13. In Zaatari's words, the video is 'concern[ed] with man's desire to preserve life and love'. The choreographed video shows the rehearsed gestures of two lovers, interpreted by three men portraying the eternal story of love and separation.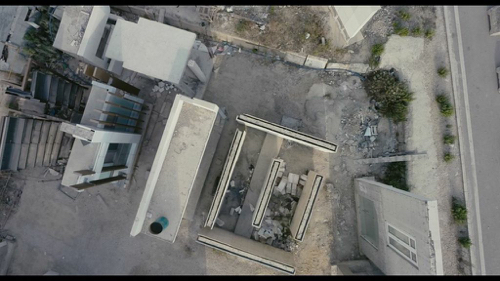 The video Beirut Exploded Views (2014), above, commissioned by the 10th Gwangju Biennale, articulates the body's position in space. Whereas The End of Time was shot in a white-walled studio, this video was filmed in downtown Beirut, primarily on a construction site. Using the location as his stage, Zaatari constructs a narrative with six characters who inhabit an imaginary post-apocalyptic city, in which they communicate entirely through gestures and smart phones. A glimpse into our future? If there's an artist who can give us this, it's Zaatari.
The exhibition continues until February 15, 2015.