When I visited Albania, in 1996, the imam at the Tirana Mosque very kindly invited me to accompany him up the minaret. I shuffled my feet nervously onto the balcony while he issued the call to prayer, gazing down over the roofs of the city, and away to the encircling mountains. Far off, high on the mountain flank, I could just see Krujë, from where Scanderbeg defied the Ottoman forces for almost thirty years.
This time, my arrival to promote the Albanian edition of The Janissary Tree prompted a debate over the wisdom of Scanderbeg's defiance. I couldn't really comment: what I did point out, though, was that the Albanians seemed to have engineered a reverse take-over of the empire. Transferred to a world stage, Albanian devşirme boys went on to dominate the Janissary Corps. The Köprülü provided a dynasty of grand viziers. Mehmed Ali ultimately seized control of Egypt. So when I spotted Atatürk's double in the street outside my hotel, everyone shrugged: Mustafa Kemal was Albanian, they assured me.
Now a site has been cleared for a new mosque nearby, but the delightful roccoco building erected in 1703 is in immaculate condition, decorated inside and out with floral panels and delightful glimpses of an Ottoman paradise.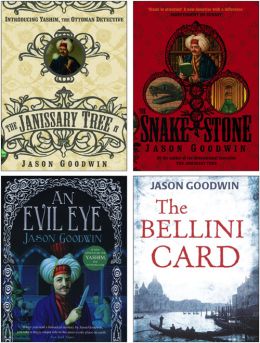 A special bundle of four Jason Goodwin titles (above), starring the fictional detective Yashim, is available at a discounted rate from the Cornucopia store – just in time for Christmas.