It may not look like Turkey, but the WOW Kremlin Palace in Antalya was the sole Turkish connection at this year's Alchemy Film and Moving Image Festival, held from April 14–17 in Hawick, Scottish Borders. Sasha Litvintsev's short film Exile Exotic is set at the hotel, which features a replica of the Kremlin incongruously perched next to a gigantic swimming pool.
When Litvintsev and her mother left Russia, the only countries they could go to without a visa were Egypt, Turkey and Thailand – evidence of how Russian history has limited the free movement of individuals. So, Turkey it was. The film narrates the surreal beginnings of their exile from Russia at this Antalya resort, where they were able to visit the Kremlin again. The image of holidaymakers messing around in a pool is set against an operatic score, which Litvintsev describes as 'reminiscent of the song of the sirens [that made] Odysseus stray on his long journey home'.
The trailer for 'Exile Exotic'
This record of Litvintsev's personal pilgrimage was screened as part of the 'Altered State I' short film programme. 'Altered state' also served as the theme for this year's festival, which was a celebration of the most inventive and thought-provoking experimental film and artists' moving image of 2016. According to the organisers, the idea of an altered state 'lies at the very heart of experimental film practice: the ambition to challenge, to question, and to alter the state of things'. It is a form of intellectual and visual activism that posits a set of alternative possibilities, both vivid and subtle, for living, thinking and feeling.
The Alchemy Festival has gone from strength to strength since its launch in 2010. There were over 800 submissions this year, and ultimately 124 films from 26 countries were shown across four days. The programme ranged from international feature premieres and experimental shorts to video art and live cinema performances.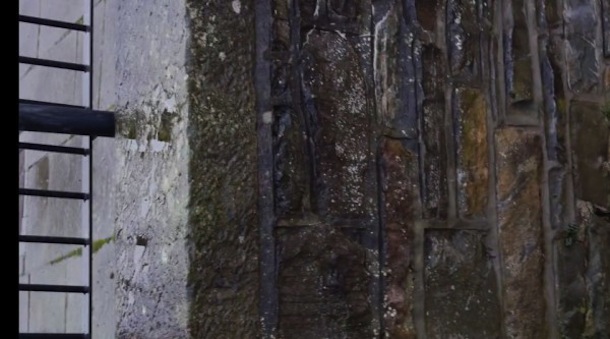 A still from Julie Witford's '100 Seconds'
We were also chuffed that Cornucopia's very own Julie Witford had a short piece featured in the Moving Image Makers Collective (MIMC) screening. This curated section featured films selected from MIMC submissions – MIMC, a Scottish Borders filmmaking group, has produced a variety of films, exhibitions and screening events, while exploring processes of collaborative working, group critique and individual practice. Julie's film 100 Seconds documents a dramatic moment of flooding in Hawick's Slitrig, soundtracked by music from Fazıl Say's Istanbul Symphony, a composition many Cornucopia readers will be familiar with.
It's no wonder Alchemy keeps growing, given its widening reputation as an intimate, friendly and hospitable film festival. Turkish experimental film and moving image makers are strongly encouraged to apply for the 2017 festival. Applications open on May 1, with a closing date of October 30. Click here for more information on submissions.