At HALI at the Olympia International Art & Antiques Fair – taking place between June 18 and 28 – Cornucopia will unveil an extraordinary ethnographical portfolio published by Annette and Volker Rautenstengel.
Following their in-depth studies of Central Asian nomadic textiles, the Rautenstengels, with the help of Peter Alford Andrews (recipient of last year's Ancient & Modern Prize), Siawosch Ulrich Azadi and Richard Isaacson, have combined art and science to produce a limited-edition boxed portfolio containing maps, drawings, engravings, archival photographs and essays on the history of Türkmen nomads, on contemporary visits to nomadic tribes, and on the investigation of their tents and equipment. Also included in this 'treasure chest' is a catalogue comparing 21 early rare Türkmen halı and smaller pile and flatwoven items from three different "Eagle"-göl groups. This comparison is based on detailed structural analyses along with photographic records which range from photo-micrographs to life-size images of textiles up to 13 metres long.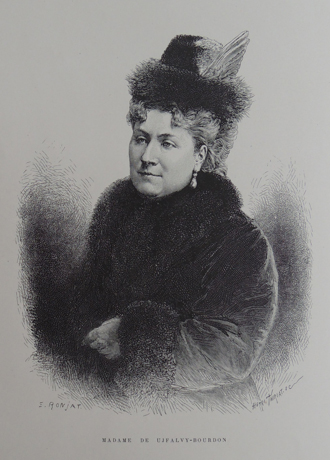 This project was partly inspired by the rare travelogue of Marie de Ujfalvy-Bourdon (above), De Paris à Samarkand, published in 1880, the same year A P Borodin published his musical composition In the Steppes of Central Asia.
With her husband, the linguist and ethnographer Jenő Károly Ujfalvy, who was commissioned by the French Ministry of Education to undertake expeditions to Central Asia, they recorded their travels and accurately mapped the distribution of the different ethnic groups of the region. Some of Mme de Ujfalvy-Bourdon's intriguing illustrations and contextual remarks are included in the portfolio.
This magnificent portfolio entitled Sketches from the Steppes of Central Asia will be available to view on the Cornucopia stand Number 50, Gallery Level where a limited number of copies will also be available for sale. Or you can order your copy here through the Cornucopia store where you will find further details of the contents.