Since September last year, 30 of Anish Kapoor's abstract sculptures have taken up residence around the vast spaces of the Sakıp Sabancı Museum. Not content with the museum's indoor space, Kapoor has placed two of his stainless-steel pieces – one of them the famous 'Sky Mirror', the other a conical beauty entitled 'Non-Object: Pole' (above) – in the gardens, where they have superbly reflected (or in the case of the 'Pole' flipped around) the Istanbul skyline and dramatic views over the Bosphorus in the transition from autumn to winter. For a city going through enormous changes that have nothing to do with the seasons, and everything to do with transitioning from the old to new, Kapoor's modern yet timeless pieces add a somewhat poetic edge. Due to its immense popularity, the exhibition has been extended for an extra month and now runs until February 2 – and if there's one contemporary art exhibition I recommend to visit in Istanbul right now, it's this one.
Curated by Sir Norman Rosenthal, the exhibition focuses on, but is not restrcited to, Kapoor's stone sculptures, all made in the past three decades – and all of which are being exhibited for the very first time. Rosenthal is an art historian and independent curator who previously served as exhibitions secretary at the Royal Academy of Arts in London for almost 30 years. It was there that he crossed paths with the celebrated Indian-born British artist whose own career spans over 30 years. Rosenthal curated Kapoor's 2009 show at the Academy and the rest, as they say, is history. 'What is especially remarkable about Kapoor's abstract stone works is that they have their own specific ways of defining infinities and concepts of time,' says Rosenthal. 'They invite the viewer to reflect three-fold on the mysteries of time buried within their form and substance. Kapoor is one of the only artists who follows the most ancient traditions of carving or shaping in order to achieve contemporary forms. Perhaps the most particular aspect of so much of Kapoor's work, and especially of the stone works, is a sense of agelessness, of hardly being able to guess at their moment of creation.'
Here are five of my favourite works from Kapoor on show at the Sakıp Sabancı Museum that underline his mastery over form, colour, material, size and space.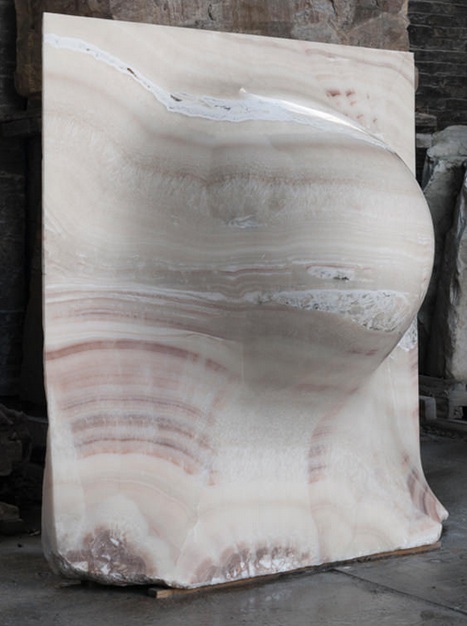 Form
The above image shows his 2000 piece 'Imminence', measuring 180 x 167 x 88 cm. The first thing that comes to my mind is pregnancy. Carved from smooth onyx, its muted colours, found in nature, and its material accentuate an embryonic, sensual appeal. Its title likewise hints at something forthcoming, something being born. Whether this is an accurate interpretation of the piece is, however, questionable. The USA-born, Istanbul-based art historian and artist Nancy Atakan describes Kapoor's works as possessing a certain 'spirituality' and 'mystery'. 'You know what they are, they resemble something, but they don't,' Atakan says. Perhaps we can turn to Kapoor himself for a clue about what this work represents. Talking of his sculptures in general, he says: 'There's something imminent in the work, but the circle is only completed by the viewer.' One thing that cannot be argued against, though, is that this piece is a stunning example of form.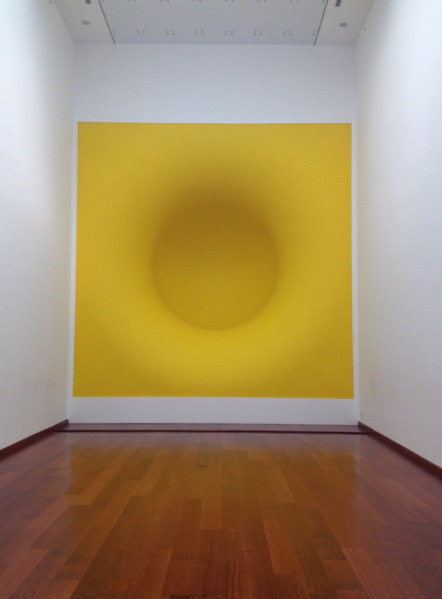 Colour
Above is 'Yellow', made in 1999 from fibreglass and pigment. Measuring at a whopping 550 x 550 x 275 cm, it was first installed at the Royal Academy of Arts in 2009. Mass meets colour in this six-square-metre disc covered in 12 coats of yellow paint, but it also serves as a kind of optical illusion. Only when you approach it do you understand that the wall is not flat but concave, and that what looks solid is actually a void. Kapoor is renowned for rendering his works in monochrome colours – usually bold, primary pigments such as reds, blues and yellows. The artist has in the past acknowledged using colours that call to mind his Indian heritage, as in the case of his fascination with red. In Hinduism, yellow is considered to be a sacred colour and is used profusely in religious ceremonies. It is also known as the colour of merchants in India. Aside from its symbolic connotations, yellow is known as a happy, positive colour and the emotional reaction from this piece is definitely one of illumination. However, the photo doesn't do it justice – it must be seen in real life.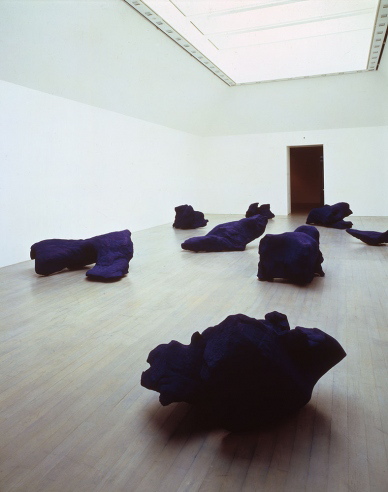 Material
Whereas most of the stone sculptures on show are made from more precious and expensive materials such as granite, marble and onyx, and a few others from sandstone, fibreglass and stainless steel, the above sculpture is made from limestone covered in a blue pigment. Entitled 'Dragon' and made in 1992, the other thing that sets it apart is its orientation – unlike most of the other sculptures on show, it is not vertical but horizontal. In conversation with Homi K Bhabha, director of the Humanities Center at Harvard University, Anish Kapoor said: 'Dragon came out of quite a long-term interest in Japanese and Chinese gardens and the kinds of stones they use there. I eventually found the stone in Japan, although the stone actually came from somewhere in northern China. What is interesting about this stone is that it is deposited and then formed by corrosion, with the result that there are very deep holes in it… the work seems to have darkness, seems to be somewhere in between body, cave and beast. In a certain way, between heaviness and lightness, between organic and inorganic, blue is a curiously inorganic color, even though it occurs naturally. Of the earth and not of the earth.'
As the exhibit consists of several smaller pieces, the viewer cannot walk through it, as had been possible in previous exhibitions – a decision made jointly by Kapoor and the museum for two reasons: the pigment that covers the pieces is not completely absorbed, so each time a person passes it the floor is stained with blue footprints; and the velvety texture could also prompt the viewer to touch them. So the exhibit is roped off. Though not being able to walk amongst the 'dragons' undoubtedly limits the viewer's experience (in my view, at least), the air of mythology remains.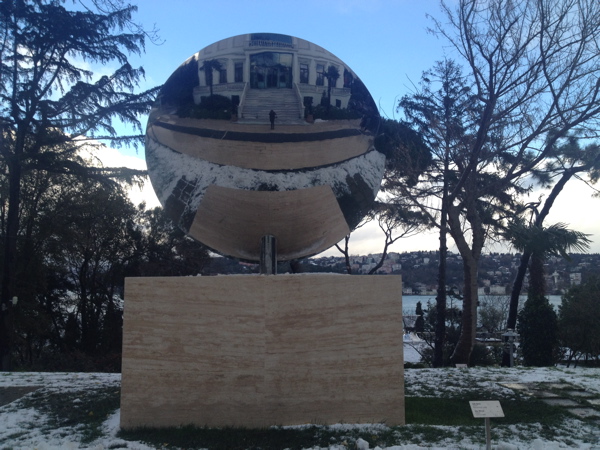 Size
For sheer mass, the aforementioned 'Sky Mirror' (above), positioned in the garden, is hard to miss. This is a smaller version of the iconic 'Sky Mirror' completed in 2001. The original, measuring six metres in width and weighing ten tonnes, was commissioned by the Nottingham Playhouse in England and is installed outside the theatre. It took six years to make and cost £900,000, making it the most expensive piece of civic art funded by the National Lottery. William Feaver, former art critic of the Observer, described it as 'an extraordinary transformation of the circus. It draws people in and it reflects people back. It's fresh, dramatic and hasn't got Robin Hood connotations.' In 2006 a larger version of the 'Sky Mirror' was installed at the Rockefeller Center in New York City. With a diameter of 10.6 metres, it stood three stories tall and weighed 23 tonnes. The sculpture reflected and inverted the Center's skyscrapers, thus, in the words of the artist, bringing 'the sky down to the ground'. From September 2010 to March 2011 a version was also installed in Kensington Gardens in London.
This particular sculpture was made in 2010, measures 290cm in diameter and weighs 2.5 tonnes; a mere baby in comparison to the original and the Rockefeller Center versions. The concave dish of polished stainless steel is angled up towards the sky, and will change through the day and night. It is an example of what Kapoor describes as a 'non-object' – a sculpture that, despite its monumentality, suggests a window or void and often seems to vanish into its surroundings. Kimberley Rush put it nicely on the Canadian Art blog: 'The mirror, in this case, operates as a kind of cultural and pictorial index, recording not only the surrounding foreground as a kind of proto-landscape painting, but also imprinting the embedded histories of the Turkish people, as well as the Ottoman and Byzantine empires, their politics, social systems and cultural traditions.'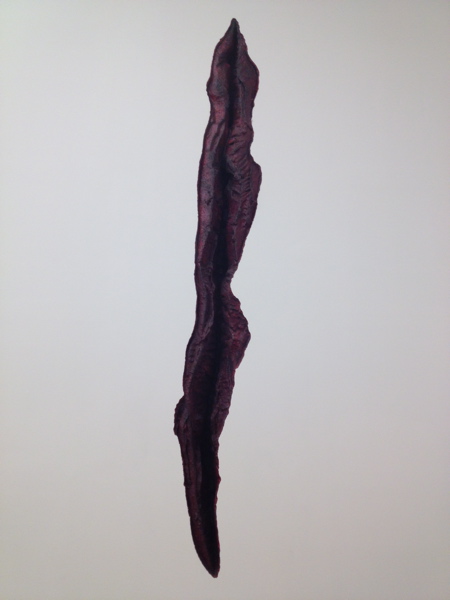 Space
In his mixed-media piece 'Archaeology and Biology', made in 2007, a long, vertical wall-chasm provides an example of an intervention into the gallery space. This is a very visceral work that called to mind many things – some mythological (a dragon's back), some violent (open wounds), some much more carnal. I particularly connected with this piece and its representation of a void, not circular and deep as is the case with many of his other sculptures, but just scratching beneath the surface. As the Turkish artist Sevgi Aka says: 'Kapoor creates a world from the void – you cannot perceive how deep, how innate that void is until you stand in front of it.' Go stand in front of Kapoor's sculptures – you won't regret it.
Image 2 courtesy of Sakıp Sabancı Museum. Image 4 courtesy of Anish Kapoor's website. All other images taken by Victoria Khroundina.