Another beauty spot that was. Photos this morning from an activist Facebook site (one the authorities would no doubt love to shut down). They show the ongoing destruction of Güvercinlik Cove on the Bodrum peninsula. Eight years ago, a fire swept through the area in suspicious circumstances, destroying acres of Aleppo pine forest. In the aftermath, the municipality said it would never let anyone build anything in the area – it promised instead to plant new trees. Alas.
The online newspaper T24 reports that the land was sold to the Günal Group (connected to MNG Holding), which began constructing the first hotel. After years of setbacks and frustrating court hearings, it sold the land on to Çankırı İnşaat, who had better luck. The hideous result, La Blanche Island Güvercinlik, was finally completed last year, an eyesore that beggars belief.
You'd think they would stop at that but the developers wanted more, more, more. In November 2014, plans were put in motion by Güvercinlik Turizm Ticaret Anonim Şirketi for a second monster hotel – and as the photos show, it is being constructed as we speak. Goodbye cove, hello another unspeakably insensitive eyesore to deface Turkey's coastline.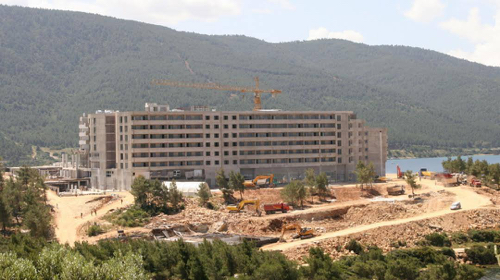 Construction of the first hotel, La Blanche Island Güvercinlik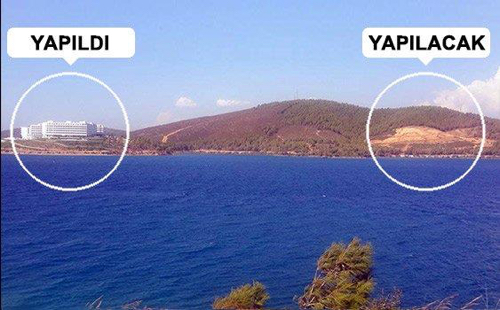 Yapıldı = done; Yapılacak = will be done
Speculators' dreams are made of this: in between you can make out areas left deforested by fire. Watch this space, if you have the stomach for it. The destruction of Turkey's coastline is painful to watch. From Bodrum to the Bosphorus, Antalya to Ankara, every single beauty spot in the country is under threat as never before.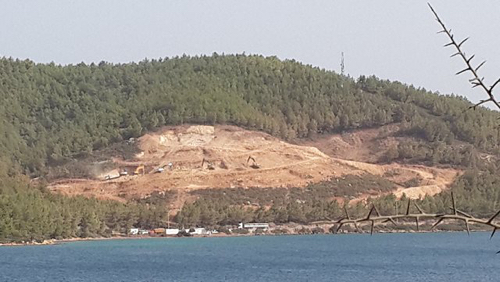 Clearing away forest area for a hotel that is set to be completed in 2017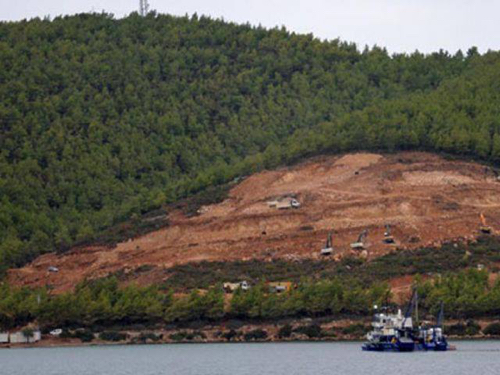 All photos from the Cihan News Agency.