Have an idea for a research project related to things Turkish or textiles? Now is the time to put pen to paper and apply for the Ancient & Modern Prize, an award of £1,000 given to a candidate aged under 26 or over 60. Applications are open until October 31, 2016.
Sponsored by Cornucopia and Halı magazines, with additional support from the three major London auction houses, Bonhams, Christie's and Sotheby's, this scholarship is the brainchild of the art historian, sculptor and author John Carswell. As he wrote in Cornucopia 49, the aim of the award is to support original research by two categories of people often passed over by traditional funding sources: those deemed too old, and those too young to have climbed onto the first step on the ladder.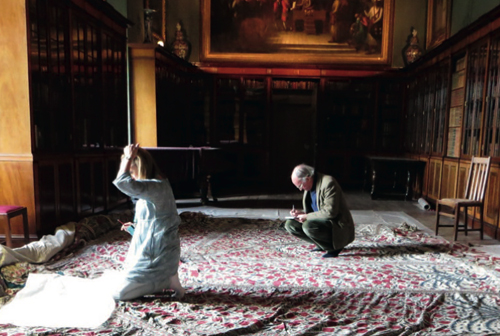 Peter Andrews examines the 18th-century tent of the Indian ruler Tipu Sultan at Powis Castle (Cornucopia 51)
Past winners have included Peter Andrews, doyen of tent studies. Since receiving the award in 2014, Andrews's comparative study of historic Indian tents has been published under the title Tentage at the Calico Museum and its patterns. The volume is illustrated with colour plates and beautiful drawings by his wife, the late Mügül Ataç. Andrews used the money from the prize to examine two unique Indian tents – the legendary Tipu Sultan (1725–50) at the National Trust's Powis Castle in Wales and the 1535 Tienda de Campaña in Toledo – for his new book, which will be devoted to Indian tents outside the Calico Museum.
Pat Yale, winner of the 2015 prize, used her funds for part two of her journey to retrace the footsteps of Gertrude Bell (1868–1926) across Anatolia. Though more of an Arabist and Classical archaeologist, rather than a Turcologist, Bell often travelled in and out of Istanbul, traversing through the highlands of Anatolia to reach Syria and points further south.
Pat Yale pictured at Binbirkilise, near Karaman, in central Anatolia
Yale has given talks on her research in London and at the University of Newcastle, where the university-affiliated Great North Museum is hosting an exhibition titled The Extraordinary Gertrude Bell. The show, which runs until May 3, draws from the Gertrude Bell Archive at Newcastle University, which has an excellent online library, and also utilises significant loans from the British Musem, Imperial War Museum and others. On April 14, Yale will lecture on her project at the Pera Palace Hotel in Istanbul from 3 to 5pm. Space is limited, so call +90 212 377 4000 to reserve your spot.
Applying for the Ancient & Modern Prize is easy: no references are needed, and applicants must simply state their age and provide a brief summary of their project in no more than 500 words. Applications are judged on a scale of 1 to 25 by an anonymous committee who never meet, and there is no discussion. The scores are added up by the honorary secretary, and the highest earns the Ancient & Modern prize, while the runner-up receives the £500 Godfrey Goodwin prize, named after the distinguished Ottoman architectural historian who died in 2005. Please click here for more information on how to apply, and send all entries and enquiries to secretary@ancientandmodern.co.uk.