In my experience, modern art fairs are a mixed bag: there is everything from exceptional, cutting-edge artwork to overwrought, reductionist drivel. Both big names and relative unknowns are on display. Unlike exhibitions, which have a particular perspective and focus, art fairs often bring together under one roof galleries from many different countries and with varied artistic pursuits.
In this way, ArtInternational, held at the Haliç Congress Center, was like any other modern art fair. Featuring galleries from over 20 countries, the fair provided attendees with a glimpse of the wide spectrum of what's on offer in the modern art world, all under a particularly massive roof.
The fair was spread out over five sprawling exhibition areas, in addition to larger auditoriums for specially commissioned works. You were even met with artwork when taking a quick breather outside: the By the Waterside series of sculptures stretched along the boardwalk, punctuating the all-white cafes and lounge areas.
Ahmad Morshedloo, 'Resonance of Silence', Assar Art Gallery
There were more highlights than I can recount. Two artists working with pen were particularly successful. The large-scale work, 'Resonance of Silence', by Ahmad Morshedloo (Assar Art Gallery), featured the faces of everyday Iranians, one on top of another to create a mass of individuals – and made even more impressive by the fact that the artist was using pen on cardboard. The simplicity of the composition allows the viewer to appreciate the nuances of each individual's portrait, while the scale of the piece highlights the importance of collective action. Golnaz Fathi (Pearl Lam Galleries) also created a series of untitled works using pen on canvas. What was interesting about these pieces, which utilised uneven lines to create peaks and valleys of different densities, were the questions they raised about borders and continuity.
There were also a number of pieces that played with texture and used materials in ways that spoke to both perception and the process of making art. Ramazan Bayrakoğlu's 'Sena' (Galerie Lelong), one of my favourite pieces at the fair, utilised small pieces of stitched fabric on canvas to create a large portrait of a girl. Up close, the work looked more like a topographic map, whereas from a distance the unique materials and method used were hardly perceptible. Zhu Jinshi's 'Master of the Washboard' (Pearl Lim Galleries), meanwhile, featured a canvas covered in a patchwork of massive clumps of oil paint, textured in a way reminiscent of an artist's palette and giving the work an architectural feel.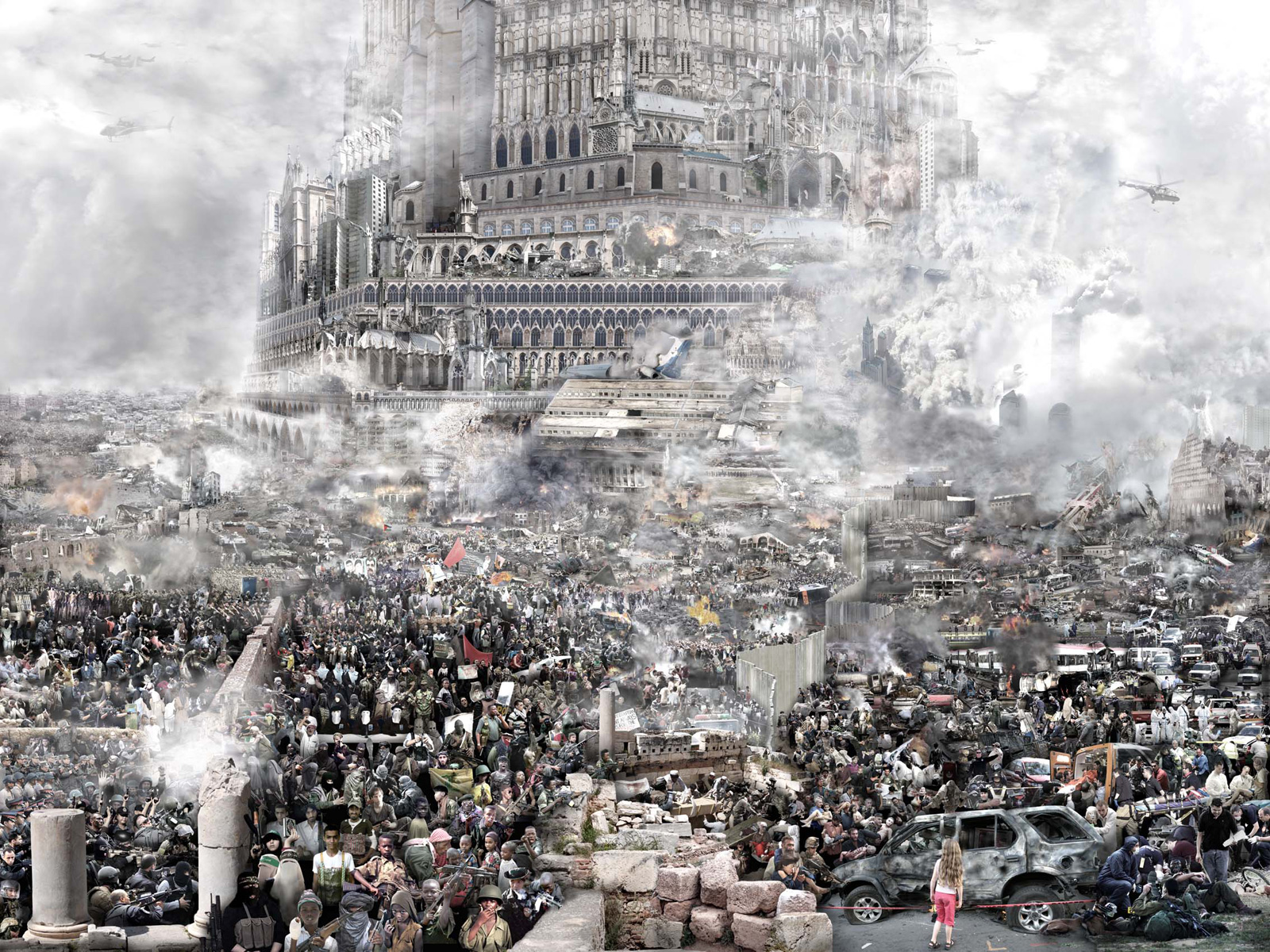 Du Zhenjun, 'The Tower of Babel – The Crusades', Pearl Lam Galleries
Some of the most popular pieces at the fair, at least according to the crowds gathered in front of them, spoke of upheaval, change and conflict; they were representative of a society in flux. Robert Montgomery's 'All Palaces' (Anna Jill Lupertz Gallery) displayed the text 'All Palaces are Temporary Palaces' in LED lighting. While I often find artwork consisting only of text to be too overt, the addition of LED lighting gave it more depth. By far the biggest crowd-pleasers, though, were Du Zhenjun's two pieces 'The Tower of Babel – The Crusades' and 'The Tower of Babel - Old Europe' (Pearl Lam Galleries) – you could barely slip in to get a proper look at them. Both were intricate, captivating creations that heavily referenced current affairs and continued to draw you back in just when you thought you had a grasp on them.
One of the other main draws of ArtIstanbul is the chance to see so many Istanbul-based galleries in such a short period of time. Erdal Duman's sculptures at the artSümer booth, which featured common subjects such as men and birds with slight distortions, were commanding. Hera Büyüktaşçıyan's work – two of her drawings with oil pastels and one of her sculptures were displayed by Rampa Gallery – was appealing in its simplicity; she clearly knows how to edit herself and you can be sure that each part of her work is there for a reason.
Hera Büyüktaşçıyan, 'Up and Beyond', Rampa Gallery
As for the site-specific works commissioned by ArtInterational, well, they were a bit of let-down. The most noteworthy was Güneş Terkol's piece. Staged in an auditorium, the work featured a painting on stage and certain seats covered in white fabric featuring the faces of women. Inspired by her time in China on an artist's residency, Terkol described in an accompanying text how the women in the painting held balloons that were filled with their dreams. With this work she aims to define zones of freedom and multiply the voices of women in the struggle for visibility in a male-dominated contemporary art environment.
It feels almost unfair going into an event like this. With so much to see, your impressions are inevitably influenced by where you begin and the route you take; you won't be able to give each artist a fair shot. By the time I reached the final exhibition area, my eyes were dry and my head slightly ached. Even though I vowed to just 'take a peek', I still found myself stopping and picking up my notebook, jotting down names. Servet Koçyiğit's photographs of the interplay between humanity and nature, displayed by the Officine dell'Immagine gallery, were vivid in their clarity, while Jorge Mayet's two psychedelic hanging tree sculptures, with both soil and roots, at Galeria Horrach Moya's booth were interesting both for their bright, almost neon colours and their realism.
But here's the rub – even though I could recognise that there were artworks still to ponder and artists to discover, my brain had shut off, overwhelmed by all that had come before. I wasn't able to truly contemplate how they made me feel, what they brought to mind. But this is the plight of the art fair, I reasoned as I went to catch a Haliç ferry: with such a wide range of artists, some stones just have to remain unturned.