One city, two art fairs, less than two months apart. They've clashed in court and they've vied for attention. They've both set out their stalls for 2014. How will Contemporary Istanbul and ArtInternational learn to live together? 'Everyone is wondering,' says one Istanbul gallerist, 'how both fairs will continue.'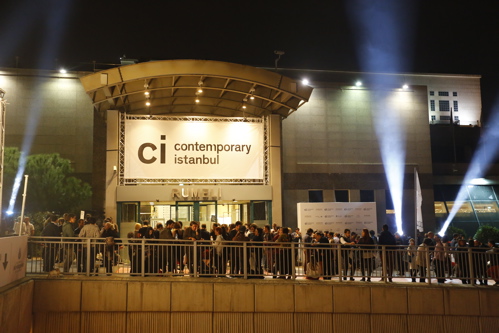 Contemporary Istanbul attracted a large number of punters
Contemporary Istanbul (95 galleries, about 50 Turkish) closed the doors on its bustling eight edition last weekend, claiming 72,000 visitors. Newcomer ArtInternational (62 galleries, ten Turkish) had far fewer punters, but by most accounts an impressively international first outing in mid-September, with a claimed 20 million euros in sales.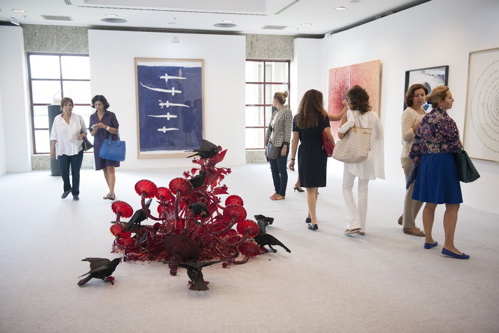 ArtInternational (Photo: Daisy Honeybunn / Honeybunn Photography)
Contemporary Istanbul staged a legal challenge against ArtInternational's use of 'Istanbul' in its name. Both say emphatically they are coming back next year, with no compromise on dates, despite calls to stage them further apart. How do city galleries regard that prospect, and how did they rate the experience this year?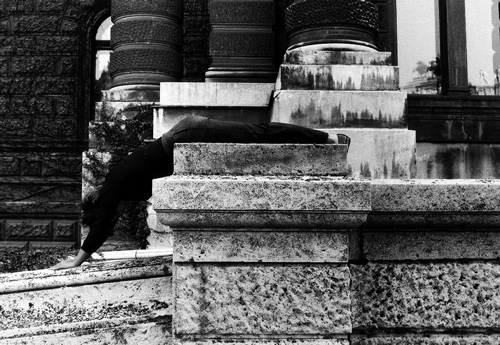 Justizpalast 4: VALIE EXPORT, 'Justizpalast (4), Körperkonfiguration / Body Configuration series,1982, B&W photograph, 124.5 x 184.5cm (unframed) (displayed at ArtInternational)
Here's Moiz Zilberman, owner and director of CDA Projects gallery, one of the few Turkish galleries represented at both. 'Both fairs have been very successful for us; in ArtInternational we sold well to numerous international collectors, mainly from the Middle East, and we secured a solo museum exhibition for one of our artists.'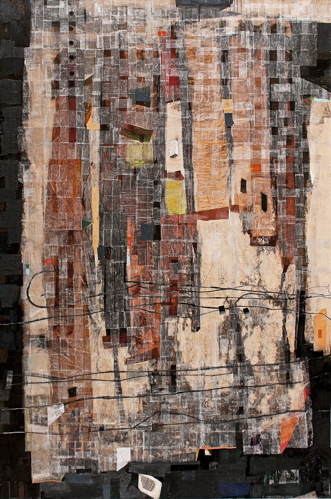 Azade Köker, 'Cihangir', 2010, mixed media on canvas, 300 x 200 cm (displayed at Contemporary Istanbul)
'In Contemporary Istanbul we had a great volume of sales to Turkish collectors, many of whom were new clients for the gallery. We also had a lot of new visitors to the gallery as a result of the fair. I think there is a niche for both fairs and I would like to see them capitalise on their differences and unique offerings,' Zilberman continues.
One way to do that, said at least two gallerists, would be to separate the fairs by six months, rather than weeks: stage one of them in the spring. Covering the formidable costs of both – 400 euros a square metre at ArtInternational in 2014 for established galleries – is also a bind.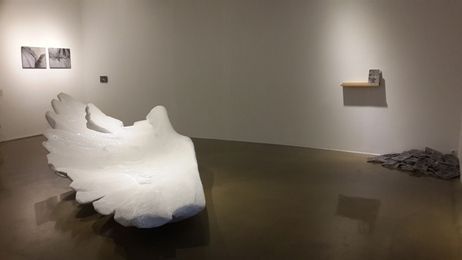 'If there is room for two fairs there should at least be time apart,' says Selin Söl, who went to Contemporary Istanbul with Düşüs (A Fall) (above) by Sibel Horada, now showing in her Tophane gallery, Daire. 'Maybe they should arrange this other fair in April and I might think of attending it. The galleries, even the artists, don't have the energy to get prepared for two contemporary fairs.'
New art fairs have flopped in Istanbul before so Söl was initially wary of ArtInternational. But with the organisers of the Art HK (Hong Kong's international art fair) and other art fairs behind it, with some strong international galleries and with a practised press operation, it impressed this year. Audiences are a different matter: out at Haliç, and without the biennial to beckon to international visitors next year, that may continue to be a challenge. Next year, though, it will be held over a weekend, not mid-week. You can find ArtInternational's closing statements on their press page here while Contemporary Istanbul's is here.
The numbers point to the different identities of the two fairs. Contemporary Istanbul claimed 72,000 visitors, and it was teaming with Turkish punters – and collectors as well, galleries say. ArtInternational claimed only a tiny fraction of that figure, citing 4–5,000 for its opening, but it lists the powerhouse collectors in attendance both from Turkey and internationally, such as HH Prince Fahd bin Bandar al Saud and Sheikha Hoor al-Qasimi.
Photo: Daisy Honeybunn / Honeybunn Photography
On the sales front, ArtInternational confirmed that Francesco Vezzoli's Portrait of Sophia Loren as the Muse of Antiquity (After De Chirico), 2013 (above), displayed by Paris' Yvon Lambert gallery, went for 250,000 euros and Anish Kapoor's Untitled, 2011, alabaster for 850,000 sterling pounds. There were 'an estimated 21 million euros of known sales', it says.
For Contemporary Istanbul, there were press reports that Picasso's Nu allonge et tete d'homme de profil sold for 1.9 million euros and Andy Warhol's Flowers for 900,000 euros. Not so, says the event's London-based press agency: these works were on show, with the top-flagged official sales led off by two Marc Quinns.
Contemporary Istanbul claimed 'a total value of exhibited works amounted 92 million dollars of which 67 percent, the equivalent of over 3,000 works on display, were sold.' No figure here for total sales, however, in other words which works actually sold.
ArtInternational's international galleries, and its talks line up, were rated more attractive, operating in the world of Basel or Frieze. On the other hand Contemporary Istanbul is casting itself as a regional show, something different; this year's guest country was Russia, next year it's China. It's undoubtedly more affordable.
The Krampf Gallery in Tophane opened its own exhibition this week of designer Thierry Dreyfuss, whose works it featured prominently at Contemporary Istanbul. There were trays of multi-coloured juice on offer in four brightly-lit storeys, across the road from the Kılıç Ali Pasha Mosque. 'Happy camper,' says Regis Krampf. 'I was 75 percent sold.' Contemporary Istanbul was one major reason Krampf moved his gallery to Istanbul, from New York, in the first place. Krampf found customers for two Mark Quinn pieces, headline sales at the fair: priced at up to 260,000 US dollars, they went for closer to 200,000 US dollars. Istanbul's a place where shoppers like to bargain, though it's not exactly unheard of in the art world, either.
Krampf says there's a quick trick to measuring an art fair's success. Forget opening night: it's all bubbles and buzz, with galleries pumped up for the collectors after months of work. Go on the last day, when they are counting the numbers on the stands, the costs against sales; he drops a heavy hint that there were glum faces at ArtInternational.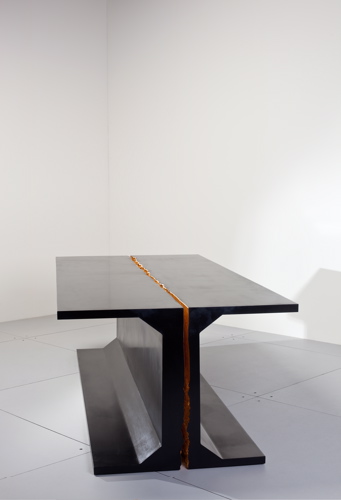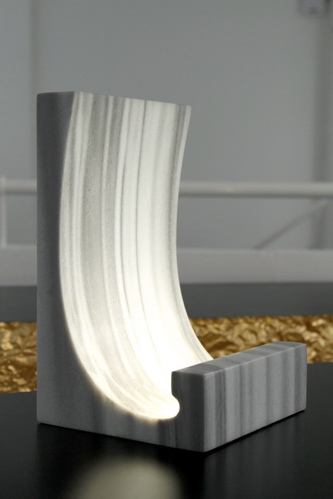 Thierry is unashamedly more lighting designer than artist, but his photographs, with spots of light so bright you can hardly look at them, are compelling, including one of the Haydarpaşa station, where a doorway becomes a tunnel into the unknown. The big piece is Hommage (above top), a table in two parts, the crevasse between them of plaster covered with gold leaf. Then there are wall pieces titled Virgül (Comma) (above bottom) comma-shaped and carved from marble and onyx with embedded lighting to cast fetching curves of shadow.
Contemporary Istanbul, says one visitor at Krampf, 'was totally busy', but more 'just a fair'. There were 'communication problems', someone observes; Turkish customers going to a Dutch gallery might find only someone who speaks English.
It has work to do, according to Sinem Yörük of Elipsis Gallery. She, too, was wary of ArtInternational, 'because I didn't know what to expect and secondly I don't believe that the market is necessarily ready for two art fairs one and a half months apart. It's a bit tricky.'
But if she has to choose, next year, she will look at shifting from Contemporary Istanbul to ArtInternational. Contemporary Istanbul, she said, emphatically, was 'a bit all over the place'. She was unimpressed by the range of international galleries and the works they brought in, which she called 'very stereotypical as to what they thought the Turkish collectors would buy.'
'To be doing two art fairs its quite expensive, considering we don't have that much of a market. I'm not sure which one I'm going to go for and I don't see why galleries should both if they are so close to one another. In ArtInternational they had ten Turkish galleries. If they have A-class galleries coming to the fair, everyone is going to be more interested in doing that fair rather than a fair where, it seems like B- or C-class galleries are coming internationally. They are not necessarily bringing their own clients,' Yörük continues.
'If its an international art fair it's very important it should be international, the clients that are coming should be international, the press that is coming should be international, there should be a lot of coverage. With Contemporary Istanbul, that's not happening. They are making a lot of effort every year but there's something wrong with the profile.'
RAMPA Istanbul also opted for both, and came away happy. Says spokesman Üstüngel Inanç: 'There were some big names, some big galleries at both of the fairs and with pictures going up to 250,000 euros which were sold in Istanbul: this is something that would bring you back to a fair. Just one picture at that price secures transportation, rent for the fair.'
'Why choose? It was worth the expense, definitely. This is a promising thing for international galleries to come back to Istanbul for one of these fairs. If the economy is on track, and people continue to invest in art, I think both fairs will do better in the future.' Hopeful last words from Inanç.