On Friday (June 26), we will be launching Cornucopia's associate editor and music journalist Tony Barrell's new book Born to Drum: The Truth About the World's Greatest Drummers (HarperCollins). Clem Burke of Blondie describes it as an 'engaging journey into the wild and wonderful world of drumming'. Interviews range from Phil Collins, Nick Mason and Keith Moon to Sheila E. and Dave Grohl. Come to the Cornucopia stand (no. 50) at the Halı Gallery at Olympia Art & Antiques Fair to get your signed copy. Book signing now from 4pm onwards and the Fair is open until 7pm.
Barrell wrote a wonderful piece on the Turkish piano virtuoso AyşeDeniz Gökçin's musical creations in Cornucopia 50. You can pick up this issue and rarities like the precious No 1 at the stand as well.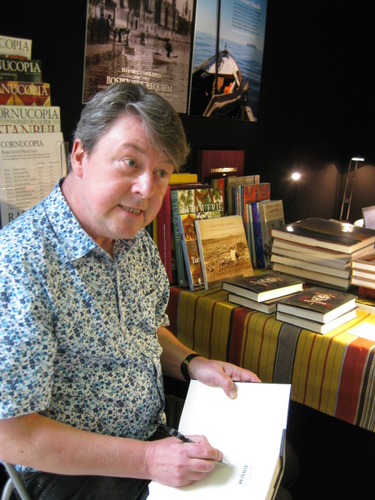 Tony in action! Signed copies of the book will be available at the Cornucopia stand until the end of the fair and from the Cornucopia online store thereafter.