On show for another two-and-a-half weeks at the Pera Museum are portraits by one of the 20th century's most important photographers, Cecil Beaton. A bit of a jack of all trades, Beaton was also an illustrator, designer, writer and Oscar-winning costumer designer. But the show at Pera, curated by Terence Pepper, senior advisor on photographs at the National Portrait Gallery in London, solely showcases photographs of artists, actors, writers, intellectuals and royalty taken by Beaton between the 1920s and the 1970s. These intimate portraits tell the stories behind the public veneer, illuminating not only his subjects' private lives but their relationships with Beaton himself.
The photographs are on loan from Sotheby's Cecil Beaton Studio Archive. 'What makes [Beaton] stand out to this day is his ability to reflect and anticipate the changes in fashion through the decades,' says Joanna Ling, curator of the archive. 'His style never remained the same; he was always an innovator.' The archive contains around 100,000 negatives, 9,000 vintage prints and 42 scrapbooks from the photographer's personal collection, sold to Sotheby's in 1977.
A decade earlier Beaton also gave the National Portrait Gallery a gift of 240 prints for its collection. It was this gift that lead, in 1968, to the NPG's director Roy Strong exhibiting photographic art and portraiture to the British public for the first time in a landmark retrospective, which he co-curated with Beaton. It was re-shown in New York as 600 Faces and then, almost 40 years on, in 2004, at the National Portrait Gallery, in a show called Beaton Portraits. The exhibition, which set record visitor figures, then toured to Edinburgh and other European museums. Since then, further major shows have been staged at the V&A and the Imperial War Museum.
The exhibition at Pera, which takes up the museum's third floor, is arranged in a chronologically and thematically. The first thing you notice on entering is the remarkable number of photographs on display. Indeed, after making the rounds, you wonder if there was anyone Beaton didn't photograph.
Beaton, born in London's Hampstead in 1904, developed a passion for portrait photography at an early age, dressing his mother and sisters in elaborate creations for the camera. In his memoir, Photobiography, published in 1951, he describes how he first became aware of the allure of photography and the stage at the age of three. These two obsessions were to continue throughout his life. From his late teens Beaton photographed his sisters, Baba and Nancy, in a variety of carefully constructed settings, in the hope of placing them in society magazines of the time such as The Sketch, Eve, Tatler and Bystander. But it was not until 1927, when Beaton was 23, that he received his first contract from Condé Nast to provide illustrations, commentary and photographs to Vogue on a regular basis.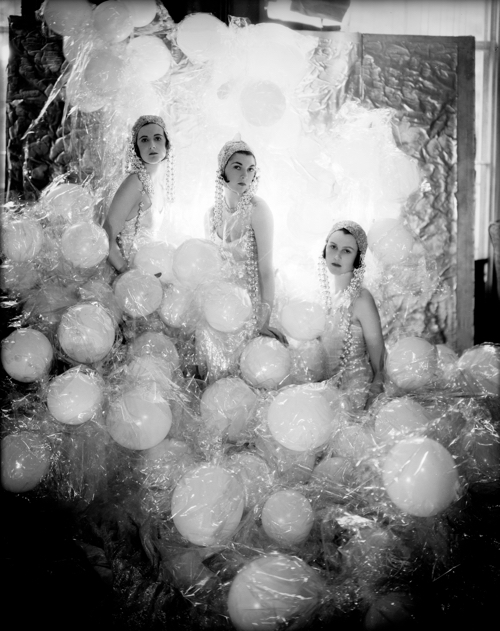 'Soapsuds' (Baba Beaton, Wanda Ballie-Hamilton and Lady Bridget Poulett), 1930, © The Cecil Beaton Studio Archive at Sotheby's
In the late 1920s, Beaton began photographing news-making debutantes and bright young things. 'The privileged youth of the time were noted for their hedonistic, riotous and themed parties,' says Pepper. One of these was the fancy-dress party, 'A Galaxy Ball', for which Beaton's sister dressed as a 'Shooting Star'.Then there were 'Baby' parties, where young people gallivanted around London in 'baby' clothes. The above is a famous photograph from this period: Beaton photographed the group 'Soapsuds', including his sister Baba, a number of times. The composition clearly evokes his penchant for theatrics. 'He captured the froth and frivolity of the 1930s rococo revival – whether it was with his sets decked with cellophane, silver foil and sequins, or with his friends frolicking as Meissen shepherds and shepherdesses in the pastoral idyll he created at his beloved home, Ashcombe,' says Ling.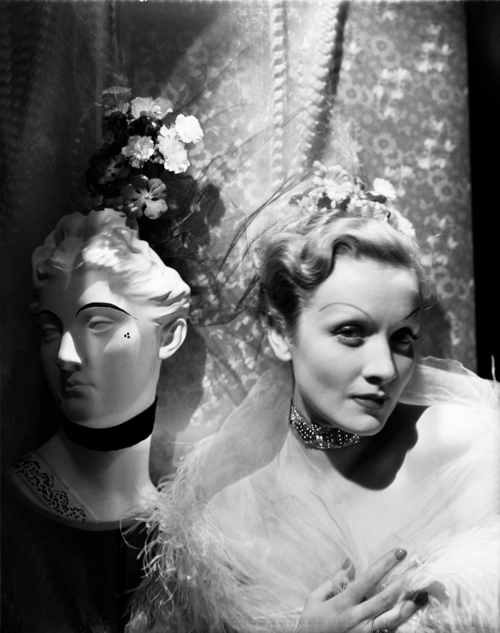 Marlene Dietrich, 1935 © The Cecil Beaton Studio Archive at Sotheby's
From 1928, Beaton began travelling to New York to take his first sittings. He initially photographed actresses and actors, such as Lillian Gish, Tallulah Bankhead, Johnny Weissmuller, Gwili André, Gary Cooper and Marlene Dietrich (above).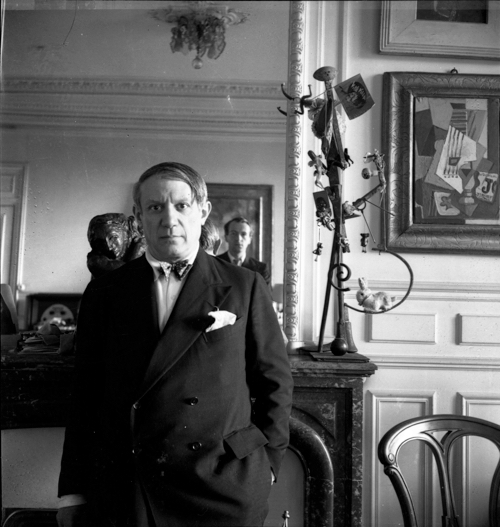 Pablo Picasso, 1932 © The Cecil Beaton Studio Archive at Sotheby's
The 1930s also saw Beaton establishing himself in Paris and forming friendships with other artists such as Jean Cocteau and Christian Bérard, who were also contributors to Paris Vogue, launched in April 1920. Beaton took early portraits of the artist Marie Laurencin and the writer Colette, and he befriended Picasso, photographing him for the first time in 1932 (above image). 'Beaton's mid- to late-1930s portraits and fashion shots were very influenced by the prevailing passion for surrealism in art, and this is well represented in his studies of the artist Salvador Dalí and his wife and muse, Gala,' says Pepper. Indeed, in the Picasso photograph, you can see Beaton's face reflected in the mirror.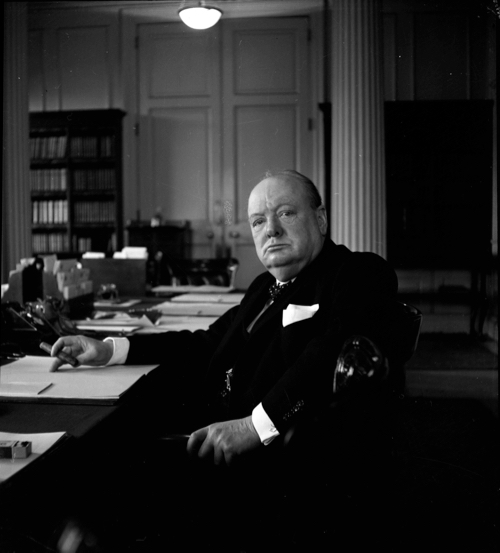 Sir Winston Churchill, 1940 © The Cecil Beaton Studio Archive at Sotheby's
Beaton was temporarily fired from Vogue in early 1938 for including some imprudent anti-Semitic doodles in an illustration. The world was going through a period of great change, and the Second World War provided him with an opportunity to turn to war photography. In 1940 he took two very important portraits: one of Britain's prime minister, Winston Churchill, photographed at 10 Downing Street on the November 10 (above); the other a poignant image of a three-year old bomb victim, Eileen Dunne, in her hospital bed. Poles apart in subject matter, both maintain a 'wonderful sense of style and composition,' says Ling.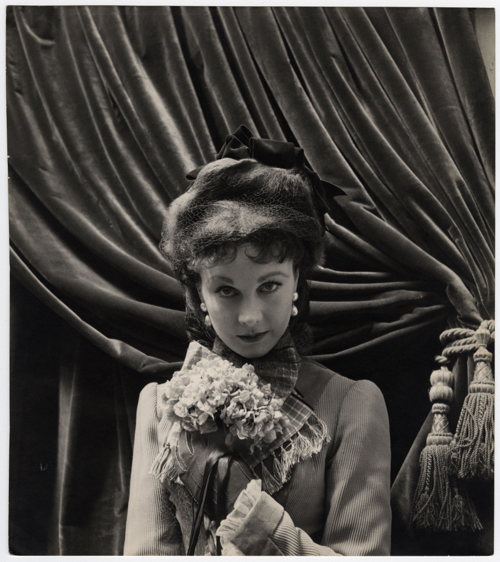 Vivien Leigh, 1947 © The Cecil Beaton Studio Archive at Sotheby's
In 1945 Beaton had to leave Ashcombe house when the lease was not renewed. He moved to Reddish House, Broadchalke, which would remain his English home for the rest of his life. In the summer of 1947 the director Alexander Korda commissioned him to work on costume design for two films being made simultaneously at Shepperton Studios. One of these was a retelling of Leo Tolstoy's Anna Karenina, starring Vivien Leigh. 'Beaton's stunning close-up portrait of Leigh concealed the problems that dogged the making of the film,' says Pepper. Leigh's costumes, made in France, apparently didn't fit her, and a scene set in a snowstorm was scheduled for the hottest day of the year, using with fake snow.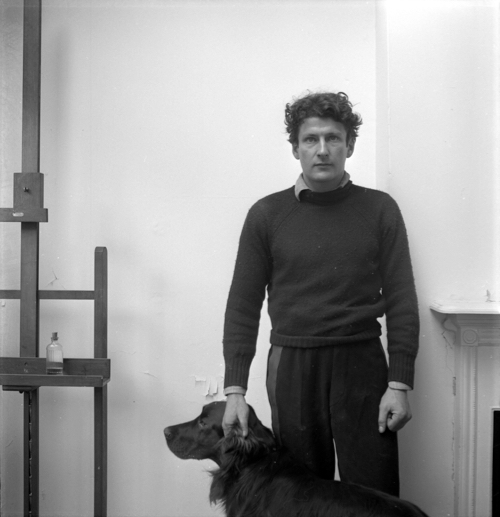 Lucian Freud, 1956 © The Cecil Beaton Studio Archive at Sotheby's
In 1948 Beaton became friends with Truman Capote and Lucian Freud, both of whom he photographed at Reddish House. When it was Freud's turn, the artist used the opportunity to draw Beaton and the extensive grounds of the house. Beaton in turn promoted Capote's talents in London and Freud's (and Bacon's) in New York.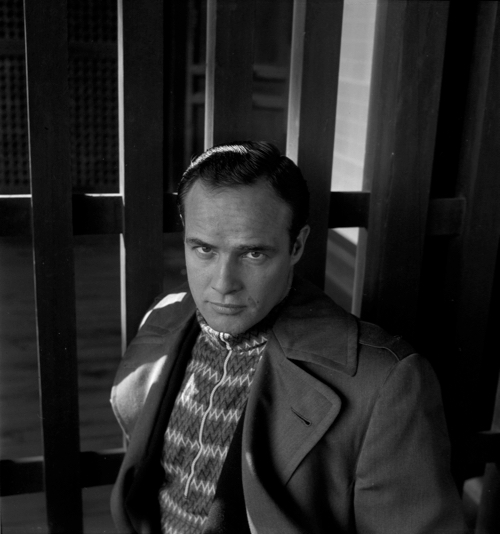 Marlon Brando, 1953 © The Cecil Beaton Studio Archive at Sotheby's
Most of Beaton's great photographs of the 1950s were taken on his travels outside the UK. His portraits of Tennessee Williams, the playwright of Streetcar Named Desire, and the emerging star of its screen adaptation, Marlon Brando, taken in New York, are two of his most successful male portraits of this time.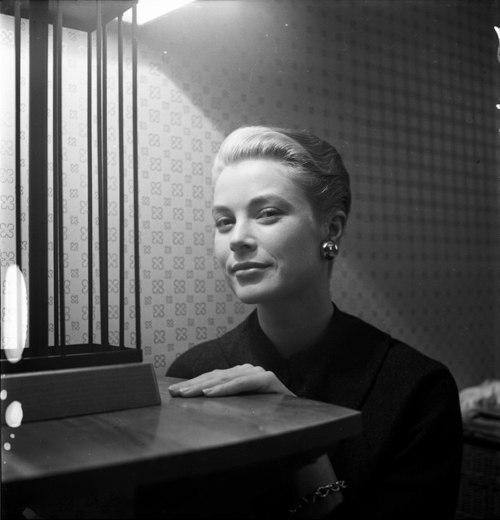 Grace Kelly, 1954 © The Cecil Beaton Studio Archive at Sotheby's
Other studies of leading film stars include a more candid shot of Grace Kelly, in 1954, caught on a Sunday on her day off from filming Hitchcock's Rear Window.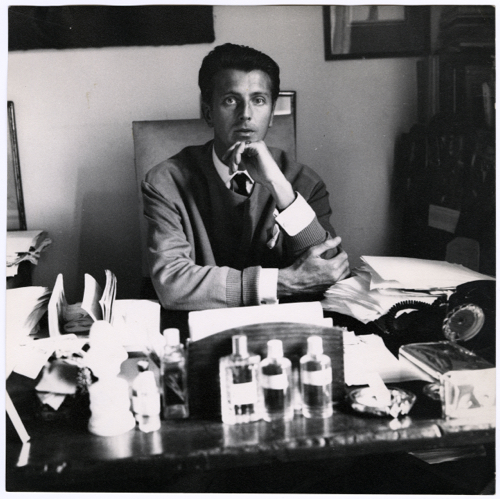 Hubert de Givenchy, 1950s © The Cecil Beaton Studio Archive at Sotheby's
In Paris, meanwhile, Beaton photographed the fashion designers Christian Dior and Hubert de Givenchy in their ateliers and showrooms.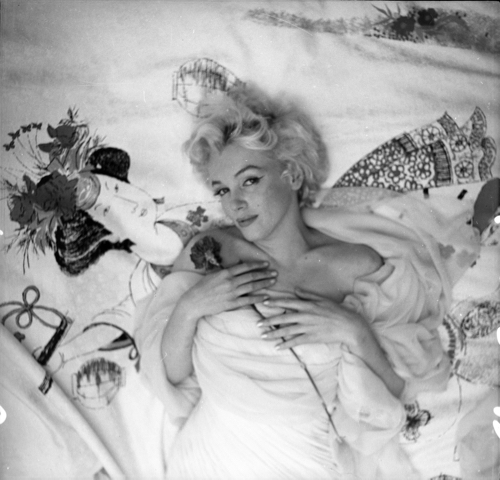 Marilyn Monroe, 1956 © The Cecil Beaton Studio Archive at Sotheby's
Several of Beaton's late 1950s portraits appeared in Vogue's rival, Harper's Bazaar. Most notable was one of Marilyn Monroe, taken in February 1956 in a makeshift studio next to Beaton's apartment in the New York Hotel. Beaton's own account of this shoot, as well as those of his assistants, record him 'darting around the room coaxing Monroe into a wide range of poses'. 'He is portrayed almost like the photographer character in Antonioni's 1960s film Blow Up… showing Monroe below him on the bed holding a plaintive rose against a background of Japanese fabric design,' says Pepper.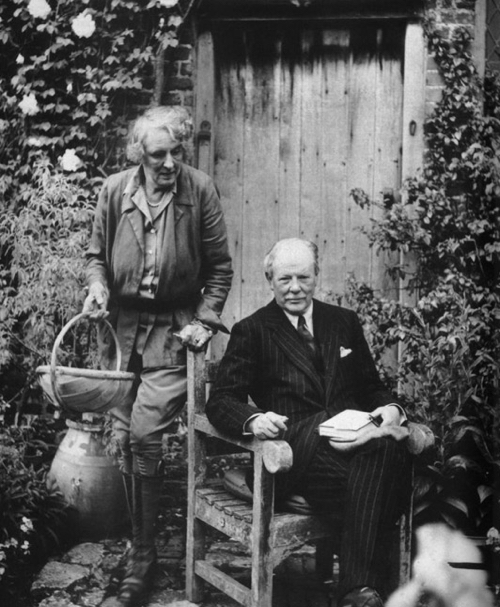 Harold Nicolson and Vita Sackville-West, 1959 © The Cecil Beaton Archive
In the late 1950s, Beaton's more successful double portraits show the writer and gardener Vita Sackville-West and her husband the diplomat Harold Nicolson, taken at their home, Sissinghurst, in Kent. The couple lived in Cihangir shortly after they married in 1913. (Cornucopia 21 has an extract from the book detailing their Istanbul days.)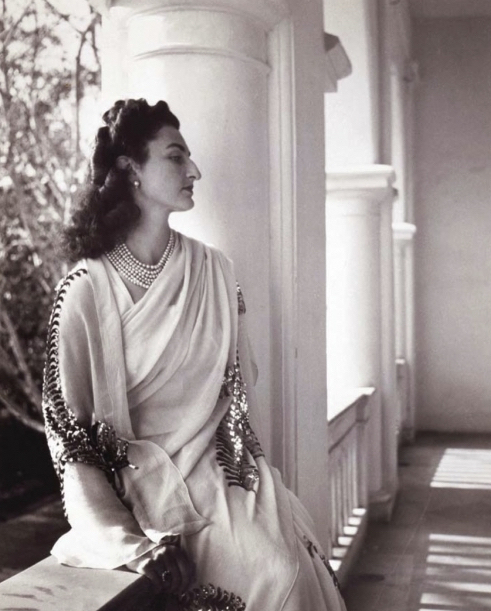 HIH Dürrüşehvar Sultan, Princess of Berar, 1944 © The Cecil Beaton Studio Archive at Sotheby's
Beaton first visited Turkey in the summer of 1938, returning again in 1943 and 1964. 'His images and diary extracts from these visits offer a fascinating insight into the changes that took place over the years,' says Ling. One of Beaton's most celebrated Turkish sitters was Princess Dürrüşehvar, daughter of Sultan Abdülmecid II. Beaton had first photographed her in London when she attended the coronation of King George and Queen Elizabeth in 1937, and later at her palace in India in 1944 (above). (See Omar Khalidi's article in Cornucopia 31 for more).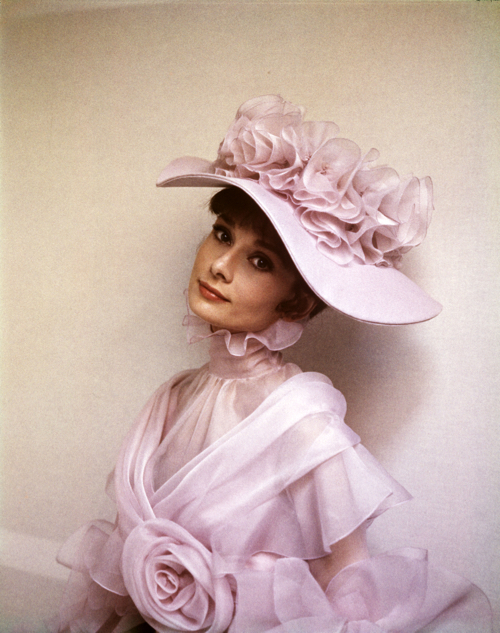 Audrey Hepburn, 1963 © The Cecil Beaton Studio Archive at Sotheby's
Undoubtedly Beaton's most beloved subject was Audrey Hepburn – an entire wall is dedicated to the actress, photographed on set and snapped in her free time. Beaton took more photos of her than anyone else, particularly when working on My Fair Lady in 1963. He insisted Hepburn let him photograph her in all the costumes made for her part and also persuaded her to put on the 350 different costumes he had designed for the film's extras. She patiently modelled all these for two straight days. The above image was one of Beaton's main publicity images for the film which earned him his second Oscar (the first was for Gigi in 1958).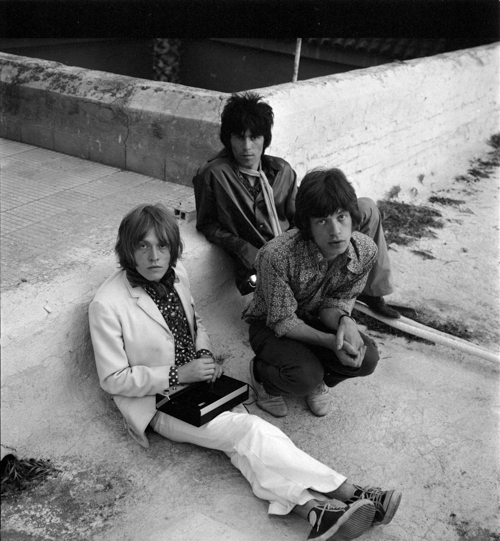 Rolling Stones, 1967 © The Cecil Beaton Studio Archive at Sotheby's
Beaton's connection with the Rolling Stones and 'particularly his obsession with the androgynous looks of Mick Jagger', says Pepper, inspired many of his 1960s photographs with the group. Beaton was coincidentally staying at the same hotel in Morocco as the group in 1967, leading to the above rooftop portrait of Brian Jones, Jagger and Keith Richards.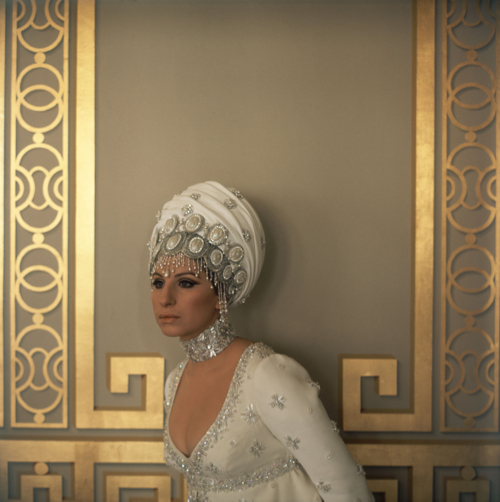 Barbra Streisand, 1969 © The Cecil Beaton Studio Archive at Sotheby's
Beaton first photographed Barbra Streisand in a nightclub performance in New York in 1965. He described her then as 'looking like Cleopatra with a good voice and a great talent'. They met again in Brighton, England, in 1969, when the above photograph was taken of Streisand in one of the costumes Beaton had designed for the ill-fated musical, On a Clear Day You Can See Forever.
In January 1974, Beaton's 70th birthday was celebrated with a major exhibition at Kodak's Gallery in High Holborn, London. Six months later he had a stroke, which paralysed his right arm. Needing money for medical costs, he sold his photographic archive to Sotheby's in 1977, while learning to write and draw again using his left hand. Beaton passed away in January 1980, leaving a photographic legacy like no other.
Cecil Beaton: Portraits runs until July 26. Don't miss it. While at the museum, make sure you see Grayson Perry's excellent exhibition as well. For more photographic exhibitions, Magnum – Contact Sheet at Istanbul Modern and Camera Ottomana at the RCAC are well worth a visit. Both continue until August.
Main image shows Marlene Dietrich, 1935 © The Cecil Beaton Studio Archive at Sotheby's.