These photograph of Ottoman commanders (Ismael Pasha receiving his chibouque, left, and Ömer Pasha, right) are from 360 taken by Roger Fenton in Crimea and now on show at the Queen's Gallery, Buckingham Palace, as part of the exhibition Russia, Royals and the Romanovs (until Sunday, April 28, 2019).
Shadows of War: Roger Fenton's Photographs of the Crimea, 1855 from the royal collection is the first exhibition to focus exclusively on these pioneering photographs. With an arts degree from Oxford, Fenton was already a respected photographer when he travelled to the Crimea in May 1855, commissioned by the publishers Thomas Agnew & Sons to photograph 'people of interest'. Arriving several months after the major battle of Balaklava and the Charge of the Light Brigade, he spent three months travelling and working in a mobile darkroom that he had converted from a wine merchant's van, pictured here with his assistant Marcus Sparling in the driving seat (below). His subjects included ethnic people from around the Ottoman empire, including Croats, Montenegrins and Nubians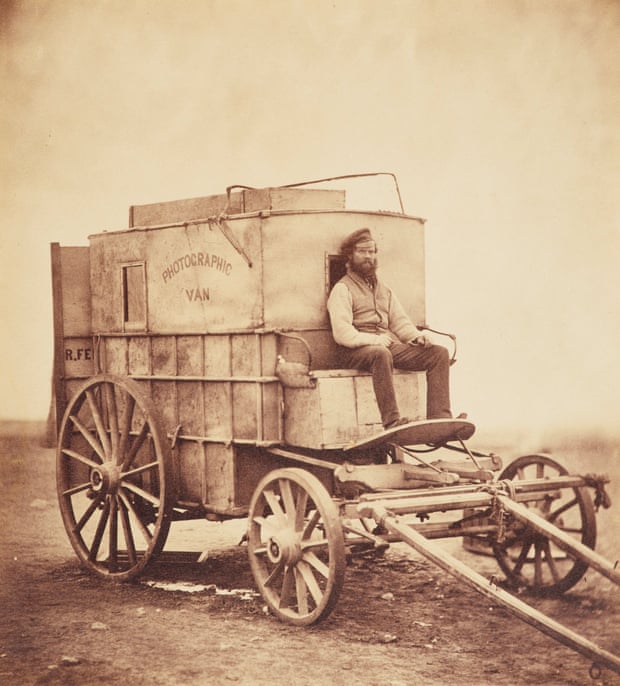 (Photographs © The Royal Colloection Trust. Courtesy of HM Queen Elizabeth II)
In September 1855, two months after his return to Britain, Fenton's photographs were displayed at the Water Colour Society on Pall Mall, the first of four London venues. Though avoiding distressing images, these were the first photographs ever made of a theatre of war, and they raised public interest. Queen Victoria was particularly sympathetic to the wounded, visiting hospitals in England and inviting some to Buckingham Palace whom she had photographed. Hand-coloured prints with descriptions of injuries were published in a bound volume, and she instituted the Victoria Cross, which remains the highest award for gallantry in the British Armed Forces.
The exhibition is in conjunction with one that explores the links between the British and Russian royal families. The year following Fenton's trip, a diplomatic mission was sent to Moscow to represent Queen Victoria at the coronation of Alexander II. The party included Corporal Mack of the Royal Engineers who was to take photographs. On his return he presented 19 pictures to the Queen, including a rare photo of Russian mujiks, or serfs. Serfdom in Russia was abolished five years later.
Russia, Royalty & the Romanovs and Roger Fenton's Photographs of the Crimea continues until April 28. Sophie Gordon, Head of Photographs, will give a talk on Roger Fenton on March 20. She has written text accompanying the photographsin a book of the exhibition.
Cornucopia 49 'Travels in Tartary: The Cornucopia Guide to Crimea' was devoted to Crimea and its Turkic legacy. Published in 2013, it gives a wonderful picture of the region on the eve of the Russian annexation. Copies are still available.