Islamic nero, a work by Alexis Veroukas, is from the group exhibition Water, opening this evening in the Old Primary School of Chora on Patmos (until August 23). The show celebrates water and all it means to us. The intention is to raise awareness of the fragility of the marine eco-system, the threats of pollution and overfishing, the consquences of water shortage and wastage, and Patmos's irksome problem, the random drilling of artesian wells. The historian Anne McCabe, who has co-ordinated the show, tells us: 'Here on Patmos we face the problem of untreated sewage flowing into the sea on one hand (on a minuscule scale compared to Istanbul, of course) and unchecked drilling of artesian wells on the other. So the (contaminated) sea is entering the water table and old wells and springs have become saline or run dry. Even the sacred spring of St Christodoulos is dry – a message of warning for the island which we hope people will heed.'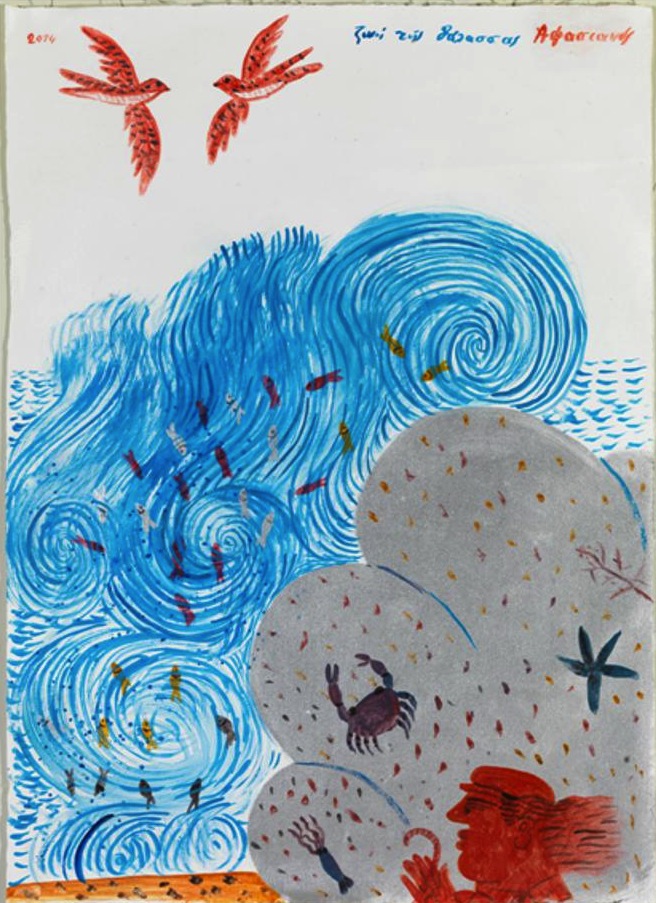 Alekos Fasianos (Water/Nepo, Patmos, August 3–23, 2014)
A warning to Patmos, and a timely reminder to Turkey, too, now threatened with the hard reality of drought (despite the recent flash floods) – though such watery subtleties will bounce off the political masters responsible like water off a crocodile's back. If Patmos has problems, pity poor Anatolia, facing a biblical-style comeuppance after a decade of unbridled exploitation and absence of environmental policy. The blue water of Konya's Meke Crater Lake is finally a red sludge – the Konya plain, home to the oldest known urban settlement in the world, Çatalhöyük, is to become salt-encrusted. As for Istanbul, Victoria Khroundina in her July 11 blog, 'One Hot, Dry Summer', noted that the level of Istanbul's water reserves had sunk to an alarming 23.8%, of which we understand much is sludge and unsafe for human use.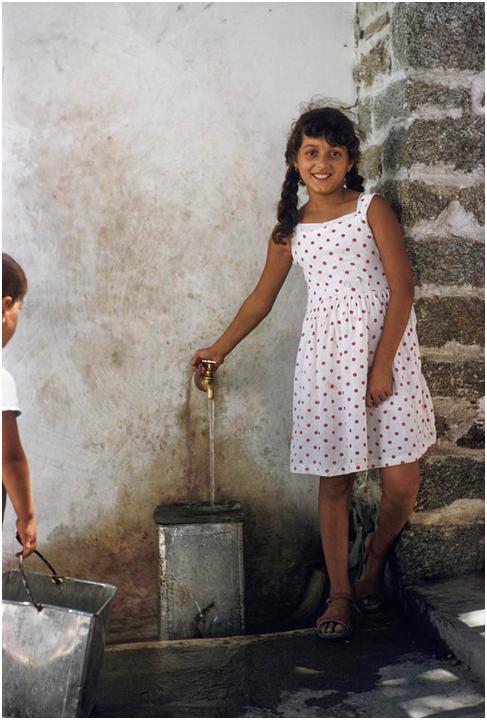 Robert McCabe (Water/Nepo, Patmos, August 3–23, 2014)
And the future looks bleak. With next week's election neatly in the bag, there is nothing left to hold back Turkey's rulers from their apparent determination to double Istanbul's already grossly inflated population. Who cares about science? The latest predictions of doom concern the Black Sea–Sea of Marmara canal, Kanal İstanbul – a real-estate fantasy west of Istanbul that aims to emulate the Bosphorus (unfettered by boring planning restrictions). One scenario is that it will kill off the Sea of Marmara, already struggling to cope with pollution (the Black Sea is mostly dead), and bring a strong whiff of rotten eggs to the Marmara basin. Another prediction is that it will deprive Istanbul of its natural springs, and the underground rivers they feed. Many of these springs are sacred ayazma – woe betide anyone who tampers with them. They are largely fed by water from the Istranca Mountains, on the Bulgarian border. The new canal will sever the connection. If they flow at all, they will flow with brackish sea water.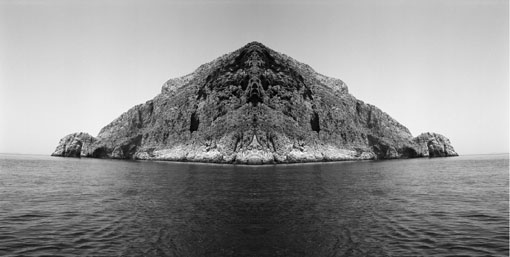 Venetia Sacret Young (Water/Nepo, Patmos, August 3–23, 2014)
While Istanbul is heading for the ecological rocks, the man at the helm dreams of El Dubai, adorned with gold-plated skyscrapers. No public debate is permitted, no scientific analysis has been published to justify locating the third airport in the centre of Istanbul's main rain-catchment area (it is no doubt needed, but not there!). No research has been done to allay fears of the consequences of Kanal Istanbul. The leader has decided. And that is just fine, according to the opinion poles. Over half Turkey's population admires his manly manner (Güç – Power – is the motto of his well-oiled presidential campaign), and this will enable him to construct hell on the Bosphorus without so much as a by-your-leave.
Nikos Sefanou (Water/Nepo, Patmos, August 3–23, 2014)
Of course, most Istanbullus are well aware of the dire straits Istanbul is in. The horrors in store are outlined by Newsweek this week ('Erdogan's Grand Construction Projects Are Tearing Istanbul Apart', by Alexander Christie-Miller, July 31, 2014) – but that is only the tip of the iceberg.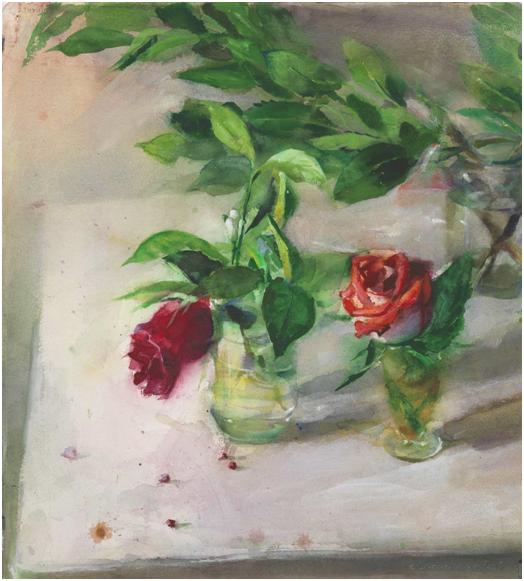 Nikos Sefanou (Water/Nepo, Patmos, August 3–23, 2014)
Cheer us up, Patmos. It is sad to know that even an island dependent on tourism is not spared the pangs of foolhardy development, but it is good to know that people care, and that meaningful awareness can be raised through art – not by berating, but by beguiling.
Water/Nepo is sponsored by the Coca-Cola Mission Water Program and the Patmos Times.