Keeping up with the reshaping of Turkey is not for the faint of heart. Those who are paying attention are forced to digest the ramifications of the actions taken by a growing number of opportunists. In the midst of it all, there are a number of peaceful activists who seek to encourage awareness and facilitate dialogue. One such person is Murat Germen, an architecturally trained artist, photographer and professor, who focuses on the ongoing development and redevelopment taking place in Turkey and its consequences for urban and rural landscapes, the environment and its inhabitants.
As a resident of Istanbul, Germen has seen first-hand the widespread destruction of entire neighbourhoods being made 'earthquake safe'. The chamber of architects is active in trying to keep heritage alive, but they only have so much power and are unable to keep up with the magnitude of development in Turkey. Germen comments, 'Nobody builds on top of what has already been built. A wall is a totality of bricks, and in order to sustain a peaceful existence of old and new architecture you do not destroy and then rebuild.' He recalls being in Salzburg and the sadness he felt upon seeing a patisserie that dates from the late 18th century, a perfect example of the value placed on the preservation of culture in other countries. He later reflects on the coherence of the streets of Edinburgh, where massive historic stone buildings sit side by side with modern, lighter counterparts – the old is old and the new is new, and integrity is maintained. In places such as these, it's unlikely that the old would be demolished or that fake veneers would be used to transform the old into the new.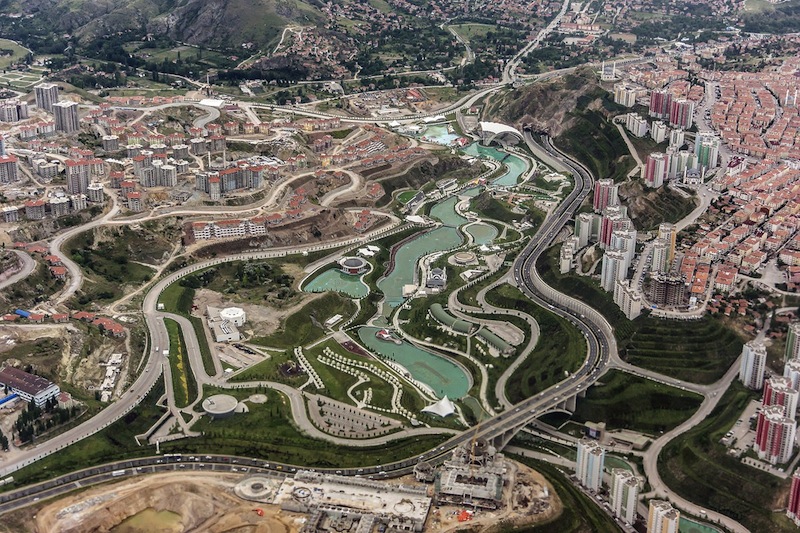 'TOKI from the air', one of Murat Germen's photographs on display at the Erimtan Archaeology and Art Museum
One consequence of the rampant changes to the urban and rural landscape in Turkey is what Germen calls 'erasing memory' – how we are losing our references in our own communities. As if demolishing landmarks weren't enough, some municipalities have been busy changing street names, making it impossible to give directions. He mentions how the name of Tandoğan Square in Ankara was changed to Anadolu Square, but that reference to the original name is still required when giving directions because the new name is relatively unknown.

Having recently acquired a drone, what he gleefully calls a 'new toy', Germen is delighted that he's now able to capture large-scale aerial visuals – perhaps alluding to a future project? In the meantime do not miss his ongoing solo exhibition Ankara: From Pioneering Modernism to Revivalist Mimicry and Fake Futurism at the Erimtan Archaeology and Art Museum in Ankara, which has been extended until the end of October. Expect to see over 200 photos documenting how Ankara has changed through the decades. The feedback, especially from locals, is that it is an eye-opening experience.

Germen is also part of the group photography exhibition Individual Ground at the ÇokÇok Gallery in Istanbul.