Traditional Shyrdak rugs made by nomads in Kyrgyzstan – tangible elements of a resilient culture – have turned into the stuff of high fashion.
'Appaloosa des Steppes', designed by the artist Alice Shirley for the Hermès S/S17 silk scarf collection, draws on the geometric motifs and vivid colours of Felt's unique collection of Kyrgyz mosaic felt rugs.
Shirley's fascination with the mysterious Kyrgyz origins of the iconic 'spotty horse' prompted her to visit Felt's London studio, where she learnt to read the symbolic language of the bold, colourful Shyrdak rugs. The applied geometric shapes tell the stories of life in the Mountains of Heaven (the Tian Shan Mountains, which tower over Central Asia). Enchanted by these designs, Shirley incorporated them into the dazzling backdrop for her prancing Appaloosa stallion.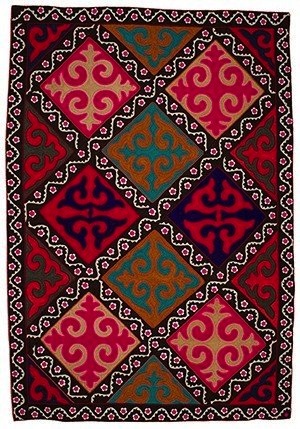 Shyrdaks, which have been produced by Kyrgyz nomads for over 2,000 years, were traditionally used inside yurts for insulation and decoration. The interwoven positive and negative patterns, made by cutting dyed felt into identical shapes and then reassembling them, are beguiling, particularly in the bright colours preferred by the Kyrgyz people. (Read more about the costumes of the nomadic Kyrgyz in Claudia Antipina's lavishly illustrated volume, Kyrgyzstan.)
Felt was the first company to import these works of art direct from their makers in Kyrgyzstan. The company has built an international clientele of interior designers, architects and individual clients who can purchase rugs from Felt's extensive stock or commission bespoke rugs in their chosen colours, patterns and sizes.

The 'Appaloosa des Steppes' scarf is 90 x 90 cm and available in nine colours on uk.hermes.com. Felt's London showroom is open daily by appointment. Email mail@feltrugs.co.uk if you would like to visit.