Founded in London 12 years ago, the Frieze art fair is a massive October art jamboree now under luxurious pavilions in Regent's Park. At the original Frieze London, 162 galleries this year showed the contemporary art scene at both its innovative best and its market-driven worst. Nearby in the spin-off Frieze Masters section, 127 galleries show works dating up to the 20th century, including, this year, a $48.5 million Rembrandt portrait.
But Frieze has also become the anchor for an extraordinary series of openings across London, from auction houses to private contemporary galleries to the greatest masterpieces in the greatest galleries. They include, in a particularly rich line-up this autumn, blockbuster shows on Constable, Turner and Rembrandt.
This week one could stroll from the opening of Rembrandt: The Late Works, at the National Gallery on Trafalgar Square, to a nearby second-floor space on Charing Cross Road now occupied by Rodeo. After Pi Artworks last year, Rodeo is the second major Istanbul gallery to open up shop in London, with the opening timed for Frieze week.
As in Istanbul, you can only find Rodeo from the sign on the buzzer. The gallery often seems to specialise in the most conceptual of conceptual art. But its exhibition by Tamara Henderson, the Canadian artist leading its London debut, was thoroughly accessible. It included uplifting wall pieces in a pastel-coloured mix of paint and glued sand on canvas.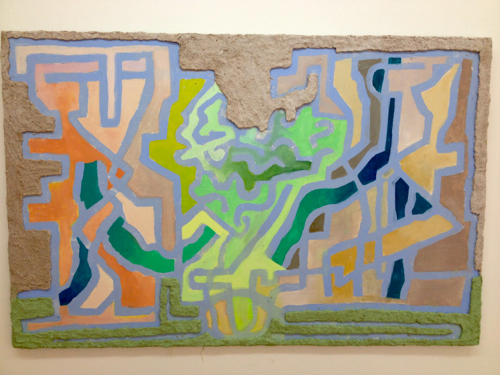 A standout piece from the gallery show, in my view, was 'Dare Safara' (above), along with some very jazzy furniture (below) – though one ceramic circular table was sadly smashed in an accident on the gallery's opening night.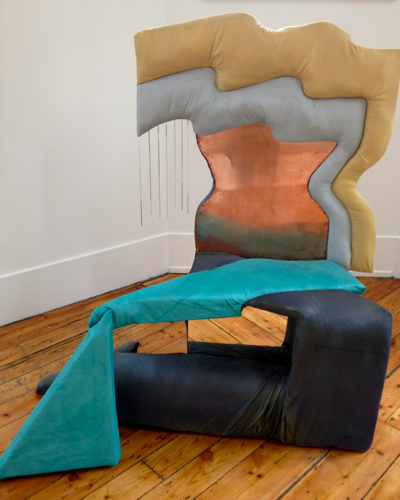 Henderson's work – which Rodeo featured both in the gallery, and in its linked stand at Frieze itself – is inspired by visits to a 'past life therapist', who discovered she had been an archaeologist named Low Harvard, explaining why she used sand and sponge materials, according to gallery staff. Context aside the artworks were priced from €60,000 for a chair and table to a few thousand for the wall pieces.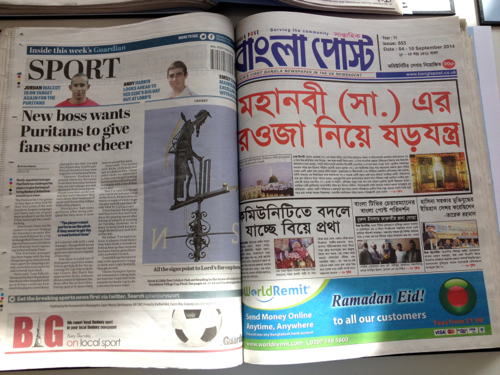 Rodeo will use part of the Charing Cross Road premises for a project space – guest curated – that it will share with the neighbouring Claire de Rouen bookshop, famed for its fashion and photography. But upstairs was the Turkish artist Banu Cennetoğlu's contribution – her project called 'Gentle Madness' (above), with 46 bound books of British newspapers laid out on seven tables.
Cennetoğlu's work takes one aspect of contemporary art – arranging, selecting, editing, rather than making – to extremes. The work is an ongoing research project where a team collects every possible newspaper from a country on a single day, and 'collates and archives' a day's news.
Ankara-born Cennetoğlu has carried it out in Turkey, Switzerland, Cyprus and 19 Arabic-speaking countries. This time there were copies of he Anderstown News of Belfast, or the Bangla Post and the UK published Al-Quds Al Arabi.
In a copy of the Glasgow Evening Times, a special investigation into lives wasted by drugs was juxtaposed with an advert for an art class. In the Chester Chronicle, a story asked, "Have Ghosts been Caught on Camera in Pub?" But I'm afraid I found this project, in this context, fairly unilluminating; the contrasts and the content flat rather than provoking.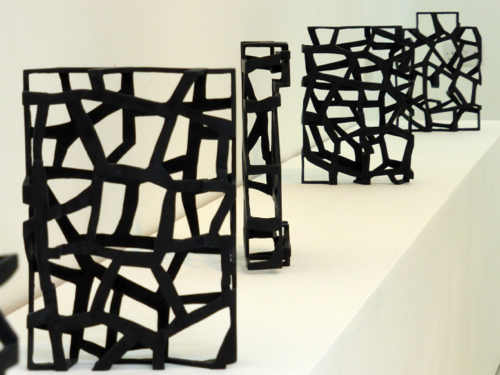 Last year Istanbul's Pi Artworks opened in East Castle Street in Soho, a street which in recent years has drawn a cluster of interesting galleries, like Art First, across the road. This October's show is Cairotraces, the gallery's third solo show by the Egyptian-German artist Susan Hefuna. It includes works on paper and striking sculptures in her buildings series (sculptures, above, €14,000).
When it came to showcasing Turkish art, however – though galleries will tell you these national boundaries don't matter any more – it was Istanbul's Rampa gallery, that was doing the heavy lifting, with a telling retrospective of Gülsun Karamustafa at its Frieze stand.
Rampa has been at Frieze for four years. On the fair's seething opening night – there is a reported $2 billion dollars of art on sale in London this week – there seemed a danger of Karamustafa's work being lost in the sea of galleries, where success can mean making a splash at all costs.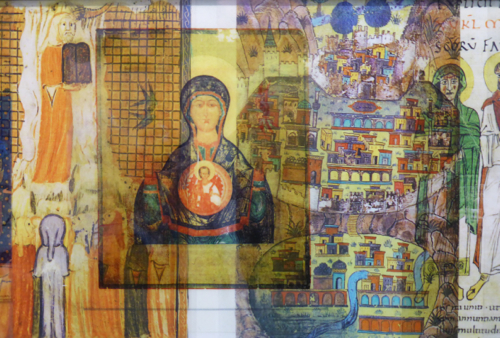 But the following day, gallery staff were pleased to have sold two editions of 'Trellis of My Mind' (above), an arresting wall scroll of transparent images of Islamic, Christian and Jewish manuscripts overlaid with each other so that they seem to merge (€35,000). A version was first shown in Kassel, Germany in 1998.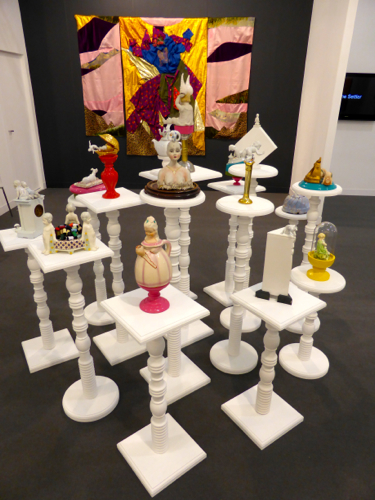 'The Sanctuary' (above), a series of quirky ceramic sculptures, saw Karamustafa drawing on the toys she made as a child from things she found around her house. A large fabric piece on the wall behind was one of eight textile collages she made, titled 'An Ordinary Love', using materials she collected when working with film director Atıf Yılmaz in 1983.
Karamustafa first exhibited them in an apartment she used as a gallery in the mid-80s, at a time when art in Istanbul was still conservatively centred on painting and sculpture. The wall piece was already on reserve for a client, one day into the fair, at €70,000.
It was last year that Frieze began to stage two separate shows, 15 minutes walk apart in Regent's Park. The super-wealthy collectors in power suits strolling the Frieze Masters galleries were offered everything from works by El Greco, Picasso or Rembrandt still in private collections to one mosaic of 'eastern Roman Empire' origin – few other details were offered, though it wouldn't have looked out of place in Gaziantep – at €390,000.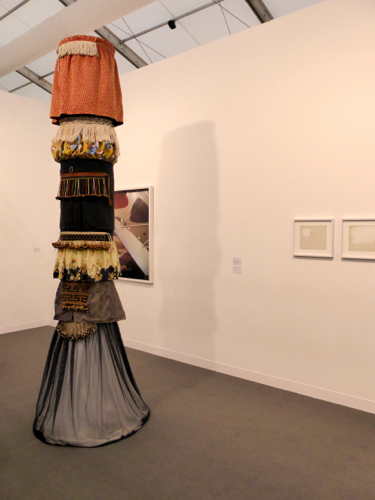 Other Turkish work at Frieze London included 'Red, Old Woman, Yellow, Black Eyes, Brown, Pride Belt, Blue, Drilled Ears, Silver, Carpet, Seeds, Blue, Teenage Acne' (above), by Austrian-Turkish artist Nilbar Güreş, showing at Galerie Martin Janda's stand. She is currently showing at the São Paulo Biennial, and the nine-foot high work is 'an investigation of the concept of the skirt' in Western and Indigenous culture.
One Glasgow gallery, Kendall Koppe, showed marble wall pieces and a fetching marble table by the London-born artist George Henry Longly – who works typically in stone and found materials but has been asked to do a film project, his second, for Istanbul's Moving Museum.
Rampa has no plans to follow Pi Artworks and Rodeo to London, staff say, but it's keeping up its presence at Frieze. There seemed a general consensus that sales at ArtInternational in Istanbul this year were less than strong; galleries at Frieze have to do well to pay off fees there that can easily run to £20,000, but Rampa plans to stay the course here.
'It's one of the missions of our gallery to promote Turkish artists and the way to do that is build connections,' said a spokesman. 'In that sense fairs are important, and we have to be patient. You have to keep faith and keep on coming.'