For our walk this week we are in Beşiktaş, where most of the galleries are offering solo shows, with two group exhibitions in the mix. Don't underestimate this humble neighbourhood – it is home to some of the best galleries in the city.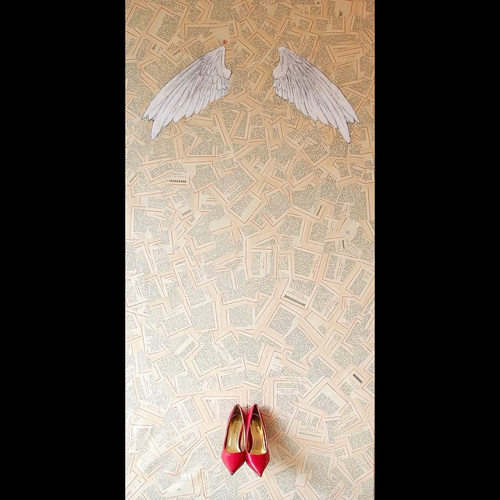 Esin Turan, 'May 1st, 2013', 2013, mixed media on canvas, 185 x 92 cm
CUT WITH THE DADA KITCHEN KNIFE
First pop into Kuad Gallery at Süleyman Seba Caddesi 52, where a group exhibition entitled Cut with the Dada Kitchen Knife pays tribute to the Dadaist movement on its centenary. Collages, paintings, typographic installations, photomontages, mechanical mannequins and documentation of performances in public spaces by 15 mostly Turkish artists explore this powerful anti-war movement and its influence on creatives and intellectuals. Please enquire directly with the gallery for prices.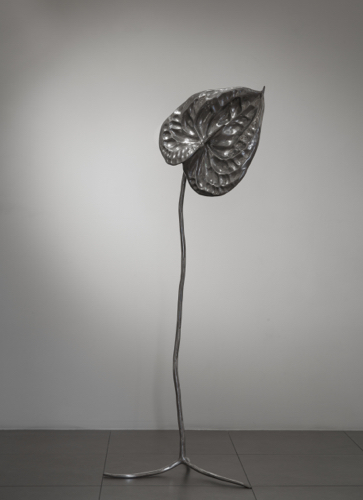 Iskender Yediler, 'Anthurium', 2014, aluminium casting, 175 x 44 x 5 cm
İSKENDER YEDILER'S NEPENTHES
Most of the other galleries are located in the lower of the two Akaretler streets, Şair Nedim Caddesi. Art ON at No 4 opens a new exhibition tomorrow (April 14) of the celebrated sculptor İskender Yediler. In Nepenthes the Berlin-based artist presents paper works and panels made using the Iznik tiling technique, as well as aluminium and copper sculptures, most of them exhibited for the first time. Together they form a contemplation on the way abstract forms observed in nature assume different meanings. Yediler's works have also been inspired by impressions of cities he has visited, including Bangkok, Hanoi and Angkor Vat. Please enquire directly with the gallery for prices.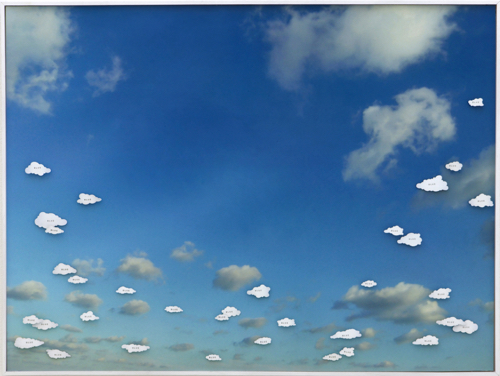 Ilgin Seymen, 'Lighter than Air', 2008, mixed media, 52 x 68 cm
FROM VALUE TO ART VALUE TO YOUTH
On Wednesday (April 15), Art ON opens a charity exhibition, Value to Art Value to Youth, on its garden floor. Organised with the TOG – Community Volunteers Foundation to support its 'Empowering Youth' project, all proceeds will be donated to the project. The exhibition itself is inspired by young people in the arts. Nearly 50 works by 12 artists working in mediums spanning sculpture, painting, drawing, photography and serigraphy, priced from TL500 to TL5,000, are up for grabs. This is a great chance to buy very affordable art from some top artists and to support a worthwhile cause.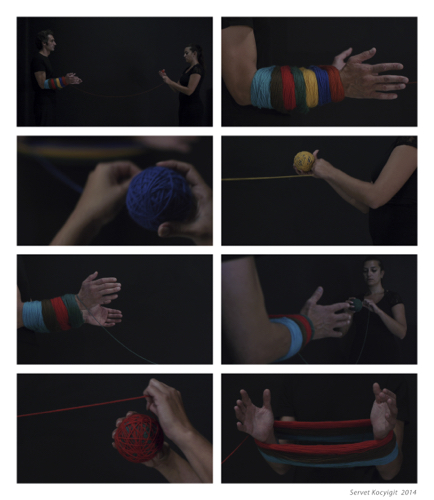 Servet Koçyiğit, '99 Years', 2014, HD single channel video, 07:40 mins, courtesy the artist and Rampa

SERVET KOÇYIĞIT'S THIS IS MY ISLAND
Further down at No 20, Rampa is in its last week of hosting Servet Koçyiğit's solo show, This is My Island, a personal inquiry into the idea of place and non-place, of belonging and of carrying your home with you.
The autobiographical flavour permeating this exhibition points to the initial stage of Koçyiğit's recent engagement with the methodology of mapping and of attempting to understand the world through the act of surveying.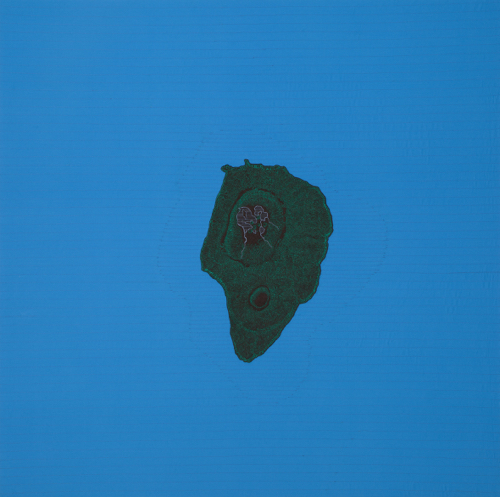 Servet Koçyiğit, 'The Island Close To The Sky 1', 2015, embroidery on textile, 120 x 120 x 4 cm, courtesy the artist and Rampa, photograph: André Carvalho and Tuğba Karatop – Chroma
Koçyiğit's video '99 Years' (above top) and the embroidered textile work (above bottom) are two standout works. Prices range from €1,500 to €15,000.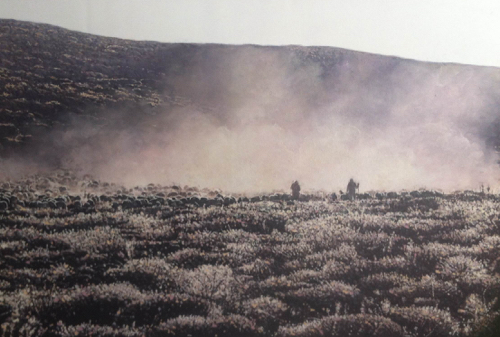 Mahmut Celayir, 'Long Way 3', 2015, oil on canvas, 80 x 120 cm
MAHMUT CELAYIR'S PEKERUN II
Two doors down, C.A.M. Galeri is hosting the sequel to the Kurdish artist Mahmut Celayir's 2008–2009 show Pekerun I. The works in Pekerun II relate to his visual memories of journeys he has taken. Dubbed a 'contemporary impressionist', Celayir pays great attention to light, colour and texture. His ethnicity plays a role too, and in his quest to question the meaning of collective memory he weaves in historical and mythological references to abandonment, wanderers, banishment and poverty.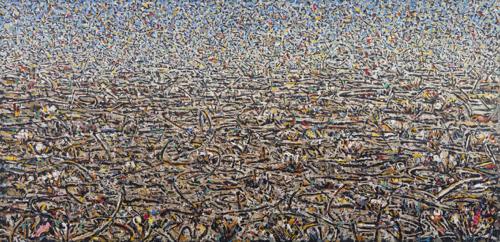 Mahmut Celayir, 'Silent territory', 2013, acrylic on canvas with paper layer on top, 195 x 400cm
Moving away from the more abstract paintings presented in his first Pekerun show, the paintings in this exhibition have a more realistic look. Important works are those in which Celayir depicts his own nude body in a natural backdrop, calling to mind German Romanticism.
There is also a very large abstract collage of newspapers, cardboard and acrylic (above). The newspapers used were published during the Gezi protests, though this is not an explicit reference, or one audiences will be aware of. Prices range between TL5,000 and TL50,000.
Ardan Özmenoğlu, 'Down in the Sewer', 2015, mixed media on post-it papers, 120 x 90 cm
ARDAN ÖZMENOĞLU'S WATCH OUT
Next come two more galleries on the outskirts of Beşiktaş leading to Teşvikiye. Follow Şair Nedim Caddesi for a few hundred yards, past the daily hustle and bustle of this more humble part of the neighbourhood, and turn left up the steep Hüsrev Gerede Caddesi (a one-way street going downhill). About halfway up is Galeri Ilayda, which this Friday (April 17) opens a solo show of Ardan Özmenoğlu, presenting her new neon works in Watch Out.
For this show Özmenoğlu has created what she calls 'manhole covers featuring designs': multi-layered mixed-media works which appear three-dimensional. She interprets and transforms ordinary objects by distancing them from their traditional forms and giving them geometric shapes.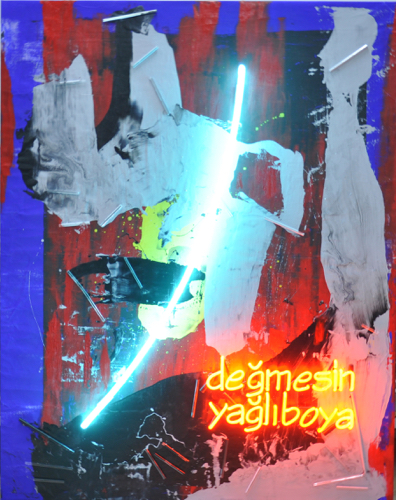 Ardan Özmenoğlu, 'Watch Out', 2015, oil on canvas, and blue and orange neon tubing, 197 x 158 cm
Collectors should pay attention to her 'Down the Sewer' series. And the work which gives the exhibition its name, 'Watch Out', is Özmenoğlu's first to incorporate painting and neon tubing. Please enquire directly with the gallery for prices.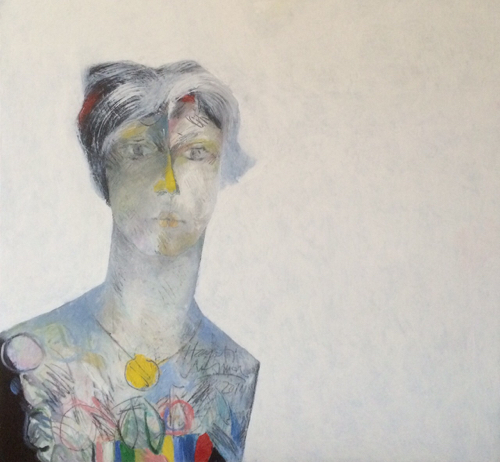 Hayatı Misman
HAYATI MISMAN
Next door, RenArt Gallery is displaying oil on canvas works by the veteran artist Hayatı Misman: bold-coloured paintings depicting working men and women.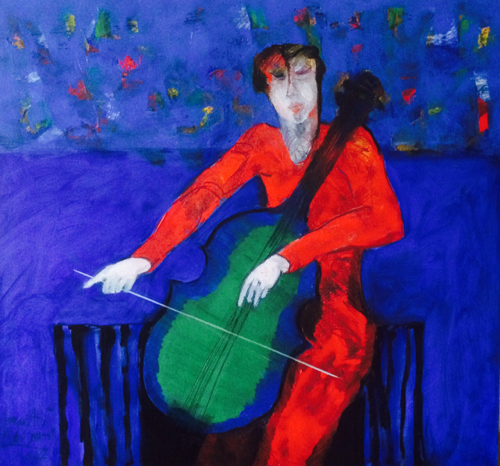 Hayatı Misman
Prices range from TL4,000 to TL45,000.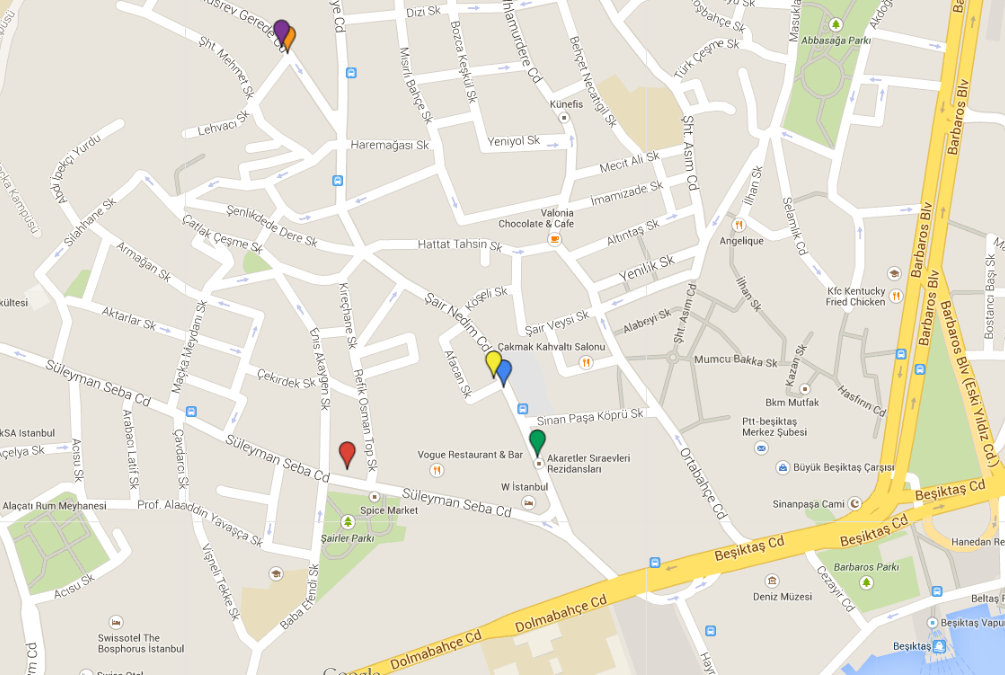 Key: Red – Kuad, Green – Art ON Istanbul, Blue – Rampa, Yellow – C.A.M. Galeri, Orange – Galeri Ilayda, Purple – RenArt Gallery
Click here for the interactive map.