If you haven't visited the newly restored Naval Museum (above) yet, this should be your first stop in Beşiktaş. You can't miss it – it is housed in a large building to the right of the Beşiktaş square if you are facing the Bosphorus. To the Museum's right is the (also new) Shangri-La hotel. Gencer Emiroğlu's article 'Decked in Splendour' in Cornucopia 50 previews some of the treasures that await – and there's plenty more. Cornucopia subscribers get free entry to the Museum until the end of March upon presentation of their Subscriber Club Card.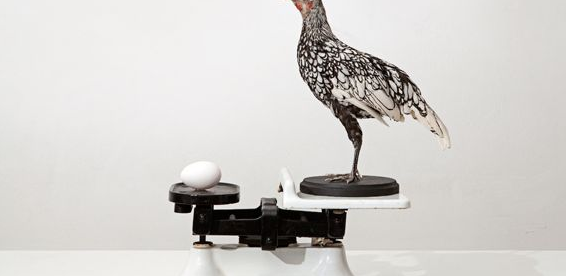 Lydia Dambassina, 'Which came first, the chicken or the egg?', 2013, scale, egg, hen, embalmed, 50 x 36 x 22 cm
After your maritime fill, it is time for something a little more contemporary. Cross the street and make your way to Akaretler, a two-pronged street of pretty townhouses built at the end of the 19th century to accommodate palace servants. A five-minute walk up the hill (Süleyman Seba Caddesi) will get you to Kuad Gallery, which is starting the year with a new group exhibition. Entitled Unhappy Readymade, it takes its inspiration from Marcel Duchamp's 'readymades' – referring to the artist's practice of turning ordinary objects into art by simply changing something about them. 'Kuad pays homage to 20th-century art by staging exhibitions which revive works of such artists as Fluxus and John Cage. I think the work by Lydia Dambassina (above) is significant as it is reflective of the socio-political and economic complexities seen in Greece and Turkey,' says the gallery's director, Beral Madra.
Asked to reflect on 2013, Madra cites Joseph Kosuth's installation 'The Wake', renowned conceptualist artist Nikita Alexeev's paintings exclusively made for Istanbul and the group exhibition Online – a tribute to Gezi – as the most visited shows. Looking ahead, Medra is anticipating the gallery's collaboration with curators from Poland in May and June as part of the celebrations marking 600 years of relations between Poland and Turkey. 'In autumn we will also put on an exhibition of our artists at the Wroclaw Contemporary Art Museum,' adds Madra.
The lower of the two Akaretler streets, Şair Nedim Caddesi, is actually where most of the galleries are located. The cosy Art ON at No 4 is hosting Izmir-born artist Olcay Kuş' Game Centre featuring the artist's street art-inspired canvases which question the balance between work and play.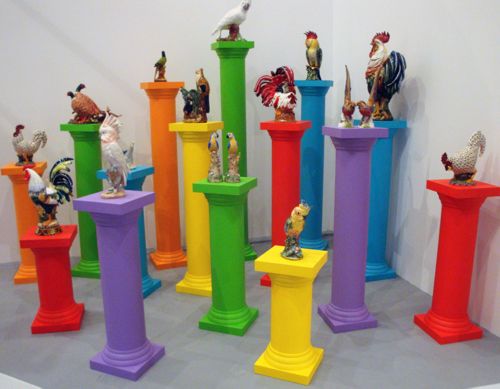 Gülsün Karamustafa, 'Shrine Online', 2011, fibreglass cast pedestals with porcelain figures (the sister installation to 'An Ordinary Love')
Stay on the same side and past some appealing cafés and boutiques, you will find Rampa's second exhibition hall at No 20. Opening tomorrow (January 18) is an installation of veteran Turkish artist Gülsün Karamustafa 1984 work An Ordinary Love. Says Rampa's Üstüngel Inanç: 'I think it is very interesting to exhibit this fabric collage by Karamustafa, as it was believed to be lost for nearly 25 years and was discovered during the research process of her recent show at SALT Beyoğlu' (covered in a previous gallery walk).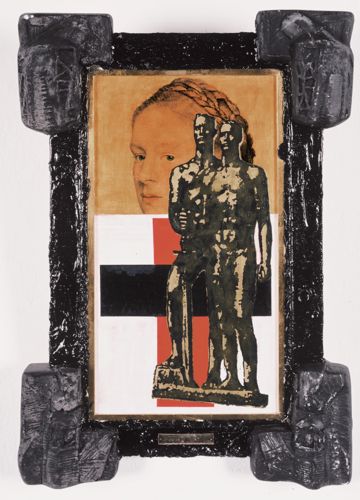 IRWIN (Dušan Mandic), 'Malevich Between Two Wars', 1984–2006, painting and collage on wood, 76 x 49 x 5.5 cm, courtesy of Irwin and Galerija Gregor Podnar
Opposite at No 21, Rampa's main space is offering the iconographic works by Slovenian art collective IRWIN in an exhibition entitled The Interrupted Production of the Object. Inanç credits the Cengiz Çekil and Nilbar Güreş exhibitions as the two highlights of 2013. The 2014 programme has shows by Turkish heavyweights Hatice Güleryüz, Ergin Çavuşoğlu, Ahmet Oran and Işıl Eğrikavuk (winner of the 2012 Full Art Prize) in store.
Mahmut Celayir, 'Eve Donus II', oil on canvas, 200 x 150 cm
Two doors down, C.A.M. Galeri has a fascinating group show entitled Timeless. Says the gallery's director, Melek Gencer: 'The idea for this show emerged from Murat Germen's 'Mardin Muta-morphosis' and Mahmut Celayir's 'Eve Donus/Retuning Home II' (above). Germen's photo depicts the old city with the historical structures unchanged while Celayir's painting forms the untouched natural texture of the environment with his special technique that embraces light and colour. Cem Turgay, Murat Durusoy and Guiseppe Mastromatteo create a timeless feeling in their works, while Ronald Versloot's paintings and Yeşim Şahin's readymade sculptures make us question a world that is 'timeless'.'
The standout 2013 show for Gencer was START 'Art Within Reach', which opened in June, in the heat of Gezi. Even though the concept for the show was born before Gezi, the theme corresponded with what was happening. Instead of hosting an opening night at the gallery, artists and guests gathered in Gezi Park. Murat Germen's Facsimile Vol. 2 and Yusuf Aygeç's B.C. Pop Art were the other high points. Looking ahead, there will be shows by Cenin, Murat Durusoy, Ebru Alpagut, Nihâl Martlı and a group show, START II, a sequel to the abovementioned START. After the summer hiatus, Neslihan Başer, whose work garnered a lot of interest at Contemporary Istanbul last year, will exhibit in September, followed by exhibitions from New York-based Peter Hristoff and Berlin-based Dieter Mammel. 'We have a very strong programme for 2014 and we are so excited for the coming months. We hope it will be a successful year despite all the negativity in our country these days,' Gencer concludes.
Caner Şengünalp, 'He who stays quiet means he approves', serpantine stone and brass, 110 x 90 x 25 cm
Next up are two more galleries located on the outskirts of Beşiktaş leading to Teşvikiye. Follow Şair Nedim Caddesi for a few hundred yards, past the daily hustle and bustle of this more humble part of the neighbourhood, and turn left up the steep Hüsrev Gerede Caddesi, a one-way street coming down the hill. About halfway up is Galeri Ilayda, which is in its last few days of hosting Caner Şengünalp's Istanbul, a timely exhibition exploring the socio-cultural and urban process that Istanbul goes through as a result of rural exodus. The above sculpture made with scaled model figures is one of owner Ilayda Babacan's favourites. She is happy with all the exhibitions the gallery put on in 2013 and for the year ahead, she says audiences can look forward to exhibitions by Atilla Galip Pınar, Nurdan Likos and the fourth show in the Themeless/Contactless series.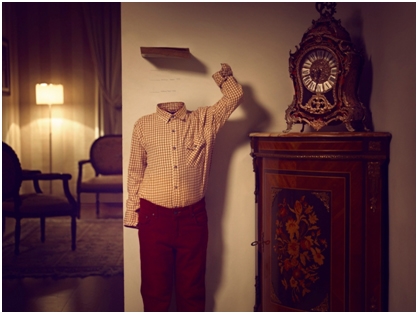 Murathan Özbek, 'Growing Up'
Next door, newbie RenArt, at No 39, is offering the new photography series by Murathan Özbek, Once. Says the gallery's director Şeyma Öner: 'The photos are exhibited chronologically as they are autobiographical. Each photograph tells its own story yet the space created in the works invites the audience to put themselves in the images'. Öner cites the Rehearsal III: We are still here!, opened in the aftermath of Gezi, as the standout exhibition of 2013. 'The 2014 programme includes exciting exhibitions such as Deniz Sağdıç's Women: Ownership, which explores how women have been oppressed since childhood,' Öner adds.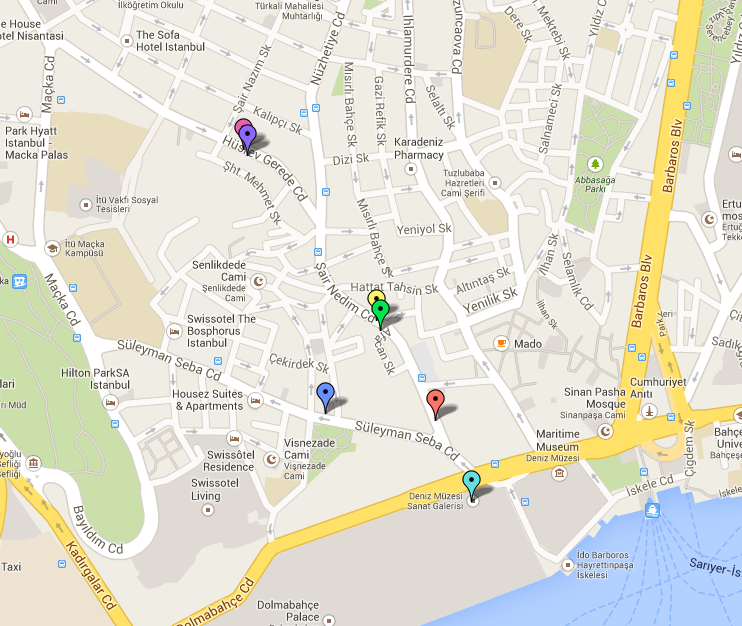 Key: Light Blue – Naval Museum, Blue – Kuad Gallery, Red – Art ON, Green – Rampa, Yellow – C.A.M. Galeri, Purple – Galeri Ilayda, Magenta – RenArt
Click here for the interactive map.
All images courtesy of respective galleries, except the main image which was taken by Fritz von der Schulenburg.