We are back in busy Beşiktaş for our gallery walk this week, where some of our favourite galleries begin their spring season with a mix of interesting group and solo shows. Cornucopia subscribers also get free entry to the Naval Museum (featured in Cornucopia No 50) until the end of March upon presentation of their Subscriber Club card, so stop by to view the maritime treasures on offer.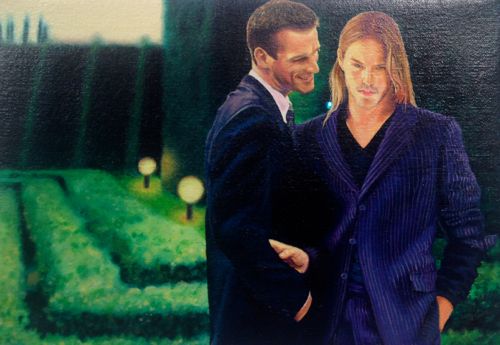 Taner Ceylan, 'The Garden', 1998, oil on canvas, 23.5 x 35 cm
IMAGES OF THE SENSIBLE
Then make your way to Akaretler, a two-pronged street of townhouses, built to accommodate palace servantsat the end of the 19th century, which were renovated into elegant residences – in their original neo-classical style – in 2008 (main image). A five-minute walk up the hill (Süleyman Seba Caddesi) will take you to one of Istanbul's leading galleries, the Kuad Gallery. From tomorrow (March 11), Kuad hosts another group exhibition, an on-going trend in the gallery's programme. Images of the Sensible looks at the medium of painting and its place in contemporary art today and features paintings by established and emerging Turkish artists, as well as some international names. Prices from TL10,000 to TL30,000.
Asked to comment on Istanbul's current art scene, one of the gallery's founders, Beral Madra, emphasises three aspects: how the artworks are reflecting the new concepts, forms and aesthetics that Turkish artists are exploring (with more female artists coming to the fore); the lively exhibition scene, which is supported by private museums, arts centres, galleries and artists' initiatives; and the market itself. 'The market is now moderate, due to the economic situation. All depends on the political activities and the coming local election. After March 30 we will have a clearer picture,' Madra adds.
Hayal Incedoğan, 'Escape', 2014, archival pigment print, 65 x 45 cm
HAYAL INCEDOĞAN'S LILAC WINE
On the lower of the two Akaretler streets, Şair Nedim Caddesi, at No 4, the smaller Art ON is hosting the new solo exhibition from the emerging Turkish artist Hayal Incedoğan. Lilac Wine, which opens this Wednesday (March 12), presents a visual and audio perspective on the 'emotional change' triggered within us by love. The exhibition takes its title from the 1950 song composed by James Shelton which has been sung by such legendary names as Jeff Buckley, Nina Simone and Eartha Kitt. The gallery's associate director, Erzen Ezen, says his favourite work is the 'Escape' series (above), in which four abstract photographs depict the reflective surfaces of New York's skyscrapers. Prices between TL10,000 and TL25,000.
'Istanbul's contemporary art scene has become very active in recent years,' says Ezen. 'Though some of this liveliness is the result of unnecessary hype, there are, however, organisations and projects which are taking great steps to bring Istanbul's contemporary art scene up to international standards. We are in a good state as we are constantly learning and improving; we just need more time and more effort to make Istanbul a destination of artistic creation and appreciation.'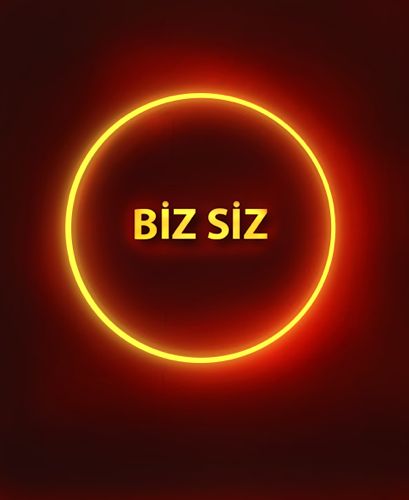 Hatice Güleryüz, 'Biz Siz', 2010–2011, 
neon, LED sign, 90 cm
HATICE GÜLERYÜZ'S FAST FORWARD
Staying on the same side, past some appetising cafés and boutiques you will find the excellent Rampa's main exhibition hall at No 20, where Hatice Güleryüz presents her first solo exhibition in Turkey. Working in the whole range of disciplines, Güleryüz's oeuvre focuses on such themes as constructed realities, memory and language. Fast Forward aims to be an immersive experience, seeking to overwhelm the viewer and play with the boundaries of perception and understanding.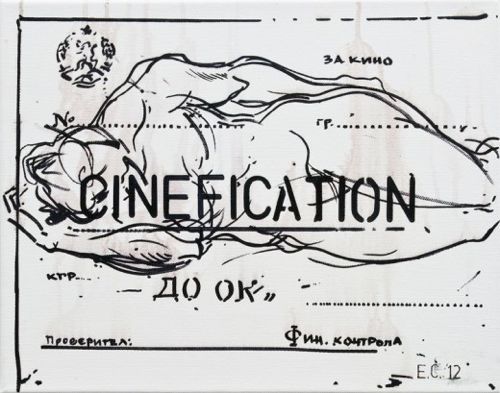 Ergin Çavuşoğlu, 'Cinefication II', 2011, pigment ink on canvas, 35.5 x 27.5 cm
ERGIN ÇAVUŞOĞLU'S ADAPTATION – CINEFICATION
Across the road at No 21 the latest exhibition from the Turkish artist Ergin Çavuşoğlu borrows its concept from 'cinefication', a Soviet project which represents the most grandiose scheme of film distribution, exhibition and reception that the world has known to date. In Adaptation – Cinefication, Çavuşoğlu juxtaposes his paintings and video works to retrace the recurring preoccupations of his practice.
Murat Durusoy and Berkay Buğdanoğlu, 'Walk Of The Giant Turtle', 2014, mixed media on metal, 190 x 120 cm
MASS HALLUCINATION / ILL EDUCATION
Two doors down, C.A.M. Galeri, which focuses on 'innovative' art, hosts the collaborative exhibition of the photographer Murat Durusoy and the painter Berkay Buğdanoğlu, in which Buğdanoğlu manipulates Durusoy's distorted photographs on metal. 'Mass Hallucination/Ill Education is a show we are very excited about', says the gallery's director, Melek Gencer. 'Buğdanoğlu and Durusoy are very promising artists and have already achieved great successes in their careers.' Gencer's personal favourite is the large piece, 'The Walk of the Giant Turtle' (above). 'The image was captured on the walk from the Asian side to the European side during the first days of the Gezi protest. Both the image and the motive are really effective,' says Gencer. Prices range from TL3,000 to TL20,000.
Gencer says that art in tough times, such as those Turkey is evidently going through, can be seen as a kind of 'therapy'. 'People in Turkey are used to crises, so I'm sure collectors, artists and people in the art business will embrace art as a tool to get through these times, and hopefully, new ideas will emerge.'
Gazi Sansoy, 'Thank God', 2012, mixed media on canvas, 210 x 170cm
SELECTED WORKS BY GALLERY ARTISTS
Next up are two more galleries located on the outskirts of Beşiktaş, leading to Teşvikiye. Follow Şair Nedim Caddesi for a few hundred yards and turn left up the steep Hüsrev Gerede Caddesi, a one-way street coming down the hill. About halfway up, at No 37, Galeri Ilayda is showcasing Selected Works by its roster of artists. The gallery's director Sebnem Kutal's favourite works include the above by Gazi Sansoy, as well as works by Baris Cihanoglu, Özcan Uzkur and Elvin Karaaslan. Prices range between TL5,000 and TL35,000.
Kutal says she hopes the contemporary art boom is not simply a bubble that will burst. 'The quality of art has improved and contemporary Turkish art is being exhibited internationally and I am sure it will grow in the future as well,' she adds.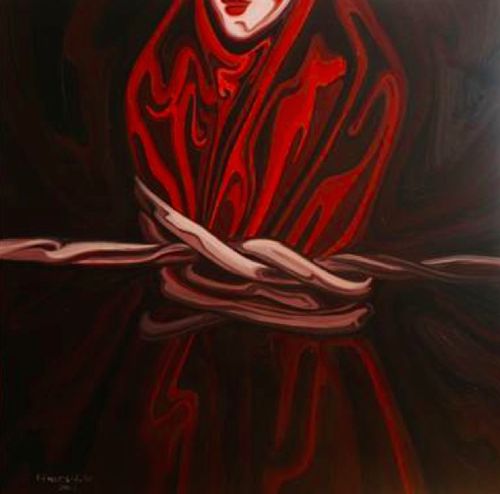 'Untitled', 2013, oil on canvas, 100 x 100 cm
DENIZ SAĞDIÇ'S WOMAN: OWNERSHIP
Next door, the new kid on the block, RenArt Gallery, is hosting the young Turkish artist Deniz Sağdıç. In Woman: Ownership, Sağdıç explores female issues with her colourful, textured paintings. Prices are TL8,000 for 120 x 120cm, TL6,000 for 100 x 100cm and TL1,500 for 50 x 50cm.
Asked to comment on the contemporary art scene, the gallery's director, Şeyma Öner says: 'It is a heady time to be young and talented in Istanbul where it is fashionable for the nouveau rich and the old-guard elite to have art collections. On the other hand, things may be moving too fast and without much reflection. The contemporary art scene should proceed on a more intellectual and conceptual level in which artists, curators and audiences all play an interactive role.'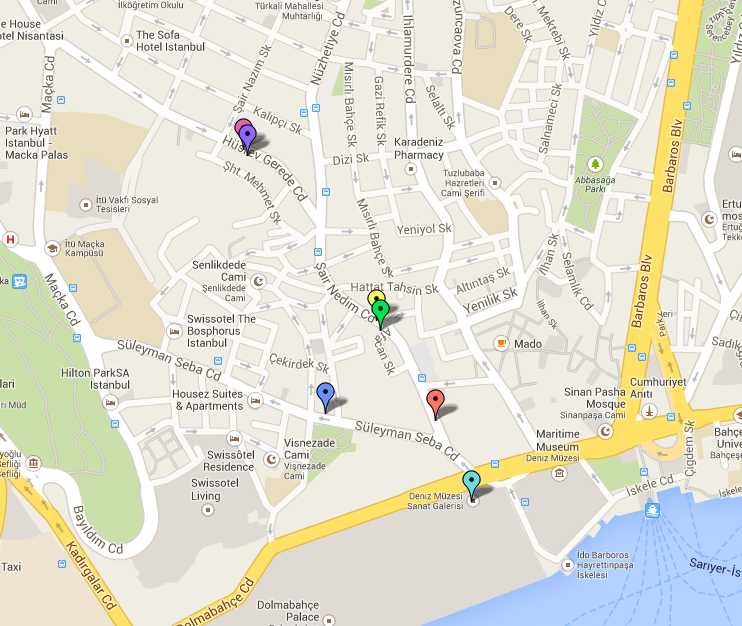 Key: Light Blue – Naval Museum, Blue – Kuad Gallery, Red – Art ON, Green – Rampa, Yellow – C.A.M. Galeri, Purple – Galeri Ilayda, Magenta – RenArt Gallery
Click here for the map link.
All images, except main image, courtesy of respective galleries. Main image from www.istanbulturkeyapartments.com.