We are in Beşiktaş for our gallery walk this week. Don't let this humble neighbourhood fool you – many of its galleries are very, very good. A wonderful group show and some interesting solo shows, all but one from female artists, await you.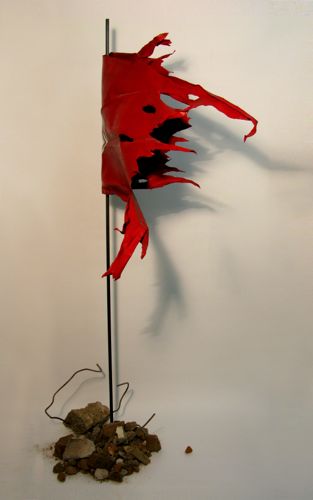 Çağrı Saray, 'Need a Saviour', 2013, sculpture, 220 x 80 x 50 cm
RUPTURES AND CONVERGENCES
Let's start in Akaretler, a two-pronged street of townhouses built at the end of the 19th century to accommodate palace servants. These were given a facelift in 2008, bringing with it a plethora of chic new boutiques, trendy eateries and art galleries. A five-minute walk up the hill (Süleyman Seba Caddesi) will get you to one of the neighbourhood's finest, Kuad Gallery, which will open the first in a two-part group exhibition this Friday (May 2). Ruptures and Convergences comes within the scope of the anniversary celebrations marking 600 years of diplomatic relations between Turkey and Poland. 'Here the title not only refers to the fact that historical relations between Turkey and Poland have endured complex conflicts, but also to the character of the art being produced today, which is based on retroactive expostulations and prospective proposals,' says the gallery's artistic director, Beral Madra.
Displaying photography, video and paintings from 32 Turkish and Polish artists, this exhibition promises to be first-rate. Asked to pick some of her favourites, Madra says: 'I will make a feminist discrimination and say that I appreciate the works by the female artists in these exhibitions.' Among many others, these include the Turkish performance artist Nezaket Ekici, the emerging Turkish visual artist Sümer Sayın, the veteran Polish artist Karolina Freino and the Polish artist Agnieszka Polska, who deconstructs materials. Prices range between €3,000 and €10,000.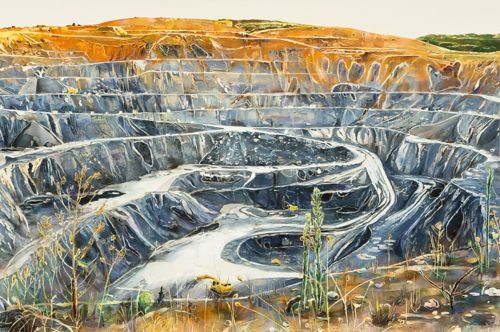 Burcu Perçin, 'Untitled', 2014, oil on canvas, 270 x 180 cm
BURCU PERÇIN'S MOUNTAINS HAVE NO OWNERS
Make your way to the lower of the two Akaretler streets, Şair Nedim Caddesi. Art on Istanbul at No 4 is hosting the ninth solo show of the Turkish painter Burcu Perçin, entitled Mountains Have no Owners. 'With every new work, Perçin manages to surprise her audience. She always adds something new to her art and it is a great pleasure to watch her grow,' says the gallery's manager, Erzen Ezen.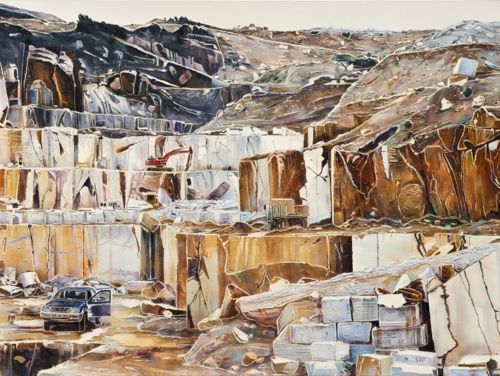 Burcu Perçin, 'Untitled', 2014, oil on canvas, 240 x 170 cm
'My favourite is this painting,' she says of the one above. 'The subject of this exhibition is the construction of mines and quarries which ravage mountains, all for the gain of private companies. I love the visuals and layers in this piece. It is portraying a dolorous scene yet it is captivating at the same time.' Prices range from TL1,500 to TL60,000.

Fatma Sağ Tunçalp, installation
FATMA SAĞ TUNÇALP'S THE BOILER ROOM
A few doors down at No 16, ART350 is hosting a solo exhibition of the Turkish artist Fatma Sağ Tunçalp. The exhibition takes place in parallel with the artist's main exhibition, Cage, at ART350's Erenköy branch (on the Asian side). For the Beşiktaş branch Tunçalp has created an installation of 7,000 life-size ceramic bugs in an exhibition entitled The Boiler Room. 'What we like about Tunçalp is that she combines ceramics with contemporary art. The subject matter of her works is very interesting, too,' says the gallery's director, Binnaz Gül Yeter. Prices range from TL5,000 to TL38,000.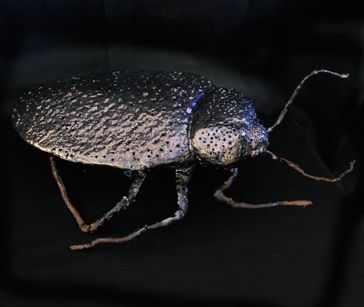 Fatma Sağ Tunçalp, 'Untitled', 2014, ceramic, detail
Asked to pick her favourite works, Tunçalp says the final works she created just before the exhibition opened are 'stranger than the other works and evoke different feelings'. One such is the above life-sized ceramic bug. The detail is brilliant.
Ahmet Oran, Untitled, 2014, oil on canvas, 160 x 140 cm
AHMET ORAN
Stay on the same side and at Rampa's main 900-square-metre exhibition space at No 20, you will find Ahmet Oran's colourful paintings adorning its bare walls. After a four-year hiatus, Oran is back with new paintings, but the exhibition also introduces some of his earlier work. His unique practice of layering canvases to produce a ripped effect results in an arresting visual language. Please enquire directly with the gallery for prices.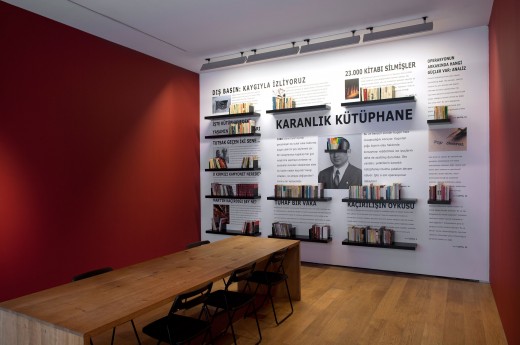 'Infamous Library' installation view
IŞIL EĞRIKAVUK'S INFAMOUS LIBRARY
Across the road at No 21, Rampa's second space presents a multi-media exhibition of the innovative Turkish artist Işıl Eğrikavuk. Infamous Library takes its name from the artist's video work, which she produced in 2006. The site-specific installation above was created specially for the exhibition, but also being screened is her video recounting the story of the 1980 kidnap of 12 people who were kept in a library for two years. Please enquire directly with the gallery for prices.
Nihal Martlı, 'She's Not You (Elvis)', 2009, oil on canvas, 154 x 154 cm
NIHAL MARTLI'S I WALK THE LINE
Next door, C.A.M. Galeri will open the latest exhibition of the Turkish artist Nihal Martlı, one of the first artists on the gallery's roster, this Friday (May 2). In I Walk the Line, Martlı presents pin-up-inspired paintings in which she questions the representation of the female body. 'My favourite is the portrait of Elvis Presley,' says the gallery's director, Melek Gencer of the painting above. 'It reminds us of a nostalgic era and fits perfectly with the pin-up girls. The artist rarely depicts men in her paintings, and if she does, they are either painted from the back or she just paints their hands or feet, and we never see their faces clearly. Therefore, it is significant to have a male face in Martlı's show.' Prices range from TL6,500 to TL18,000.
Nihal Martlı, 'Summer Wind', 2014, oil on canvas, 160 x 175 cm
The artist's own favourite is the one above.
Nurdan Likos, 'Water Fairy', 2013, acrylic on canvas, 175 x 145 cm
NURDAN LIKOS' FREE FALL
Galeri Ilayda is located on the outskirts of Beşiktaş, in Teşvikiye – follow Şair Nedim Caddesi for a few hundred yards and turn left up the steep Hüsrev Gerede Caddesi, a one-way street coming down the hill. The gallery is in its last week of hosting Nurdan Likos' second solo show, Free Fall. Says the gallery's owner, Ilayda Babacan: 'In her first solo show, she based the works on her own story to explore sins of women, but in this exhibition, she tackles other women's stories.' Prices range from TL6,000 to TL25,000. Babacan says her favourite is the one above, because it tells her story.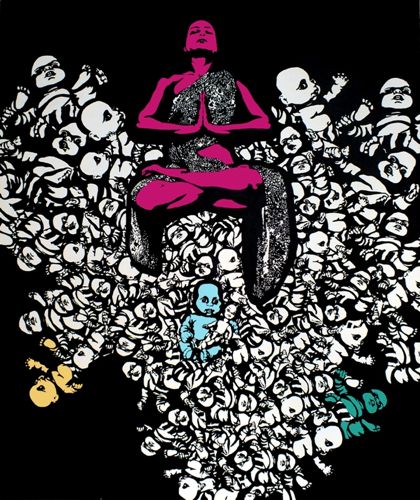 Nurdan Likos, 'Don't Cry Mum, It Doesn't Hurt', 2013, acrylic on canvas, 180 x150 cm
'In this exhibition, I am playing with reality and different perceptions – reality touches perception during its free fall,' says Likos. 'I am a storyteller. In each of my canvases, the story is unique to the figure in the painting.'
All images, except main image, courtesy of the respective galleries. Main image from www.geocaching.com.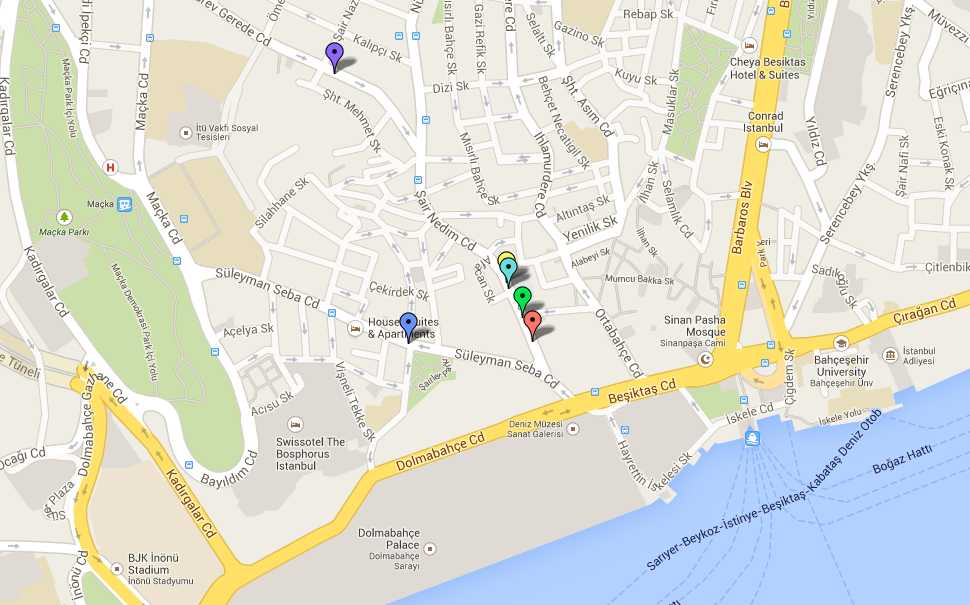 Key: Blue – Kuad Gallery, Red – Art ON, Green – Art350, Light Blue – Rampa, Yellow – C.A.M. Galeri, Purple – Galeri Ilayda
Click here for the interactive map.