For our walk this week we are in unassuming Beşiktaş, where most of the galleries are showing interesting group shows, with a few solo ones in the mix. Again, as many of the galleries prepare to close for the summer months, this is one of the last chances to see some great art this season.
RUPTURES AND CONVERGENCES
First, pop into Kuad Gallery at Süleyman Seba Caddesi 52 to see the second part of the Ruptures and Convergences exhibition which we covered in a previous blog. Organised as part of the celebrations of the 600th anniversary of the opening up of diplomatic relations between Turkey and Poland, the exhibition showcases Turkish and Polish artists who debuted in the 1990s or later, and who relate to mythologies and archetypes deeply rooted in both cultures, all in the context of today's geopolitics. Prices from €3,000 to €10,000.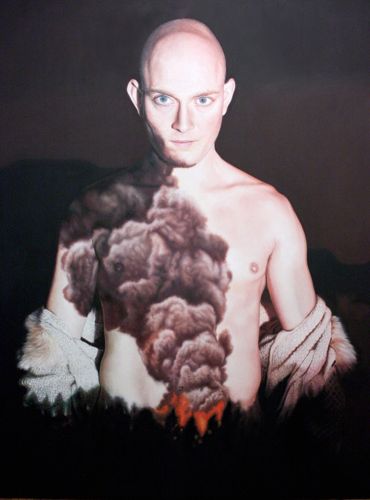 One of Onur Mansız's works
ONUR MANSIZ'S TRAGEDY
Most of the galleries are located in the lower of the two Akaretler streets, Şair Nedim Caddesi. Art ON at No 4 is hosting the Hyperrealist paintings of the young artist, Onur Mansız. In Tragedy, he presents his super-emotive portraits, full of melancholy and dark humour, and invites audiences to confront their own fears. Please enquire directly with the gallery for prices. The gallery will not close down for the summer months but will display a group exhibition centring on the Turkish writer İlhan Berk's book of poetry, Atlas.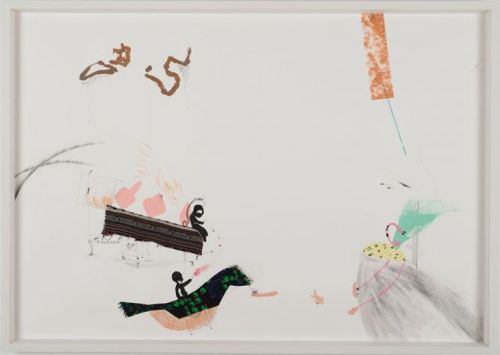 Nilbar Güreş, 'The title of this collage is being a guest', 2014, mixed media on paper, 74 x 104 x 4.5 cm (framed)
THIS SECRET WORLD THAT EXISTS RIGHT THERE IN PUBLIC
Staying on the same side, past some appealing cafés and boutiques, you will find Rampa's main exhibition hall at No 20. Inside, Rampa's first group exhibition brings together the works of 16 artists – both veterans and younger talent – from Turkey and beyond.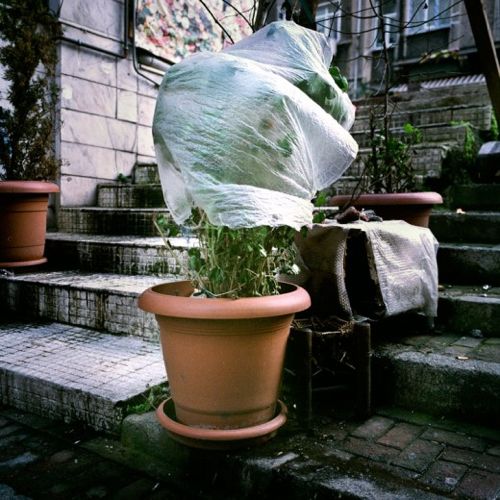 Ali Taptık, from the series 'Towards a Flora' (work in progress), 2014, digital C-print mounted on alubond, 30 x 30cm
The exhibition, entitled This Secret World that Exists Right There in Public, was curated by Lara Fresko and Esra Sarıgedik Öktem and focuses on the potential of interpersonal relations and social movements to envision alternative worlds. Some compelling works spanning a number of disciplines are on offer. Prices range from €750 to €35,000. Asked to comment on the contemporary art trends in Turkey and how this influenced this exhibition, one of the show's curators, Lara Fresko, says: 'I don't think we considered trends in curating this exhibition. I don't really believe in trends anyway. The works that are included span a range from the early 20th century to the present day. There is no one generation of artists, nor one region, from which we drew more heavily. In a way, the framework of this exhibition is quite universal in that it is about moments of clarity that stretches throughout history and geography.'
Selma Gürbüz, 'Daydream 1', 2014, diasec print, 112.5 x 150 cm
SELMA GÜRBÜZ'S DAYDREAM
Across the road at No 21, Rampa's second space offers a photography series by the veteran Turkish artist, Selma Gürbüz, a prominent figure in contemporary Turkish painting. 'Gürbüz's works are in several public collections,' says the gallery's communications manager, Üstüngel Inanç, 'including the British Museum, Galerie Maeght in Paris, Santral Istanbul, Istanbul Modern, Project 4L and The Painting and Sculpture Musuem in Ankara.' Audiences know Gübrüz for her paintings and ink on paper works, but this is the first exhibition of her photographs.
Selma Gübrüz, 'Daydream 14', 2014, lightbox, 42 x 54 cm
Entitled Daydream, the exhibition is almost entirely comprised of photographs that are quietly emotive, atmospheric shots of foliage – some in dramatic black and white, some with spots of muted colours. 'Gübrüz is also working on an ongoing project where she will take the viewers into this world of nature which she has created with a 3D-video with sound,' adds Inanç. The one non-photographic piece in the show – painting and ink on handmade paper (150 x 300 cm) – is priced at is €77,000. The photographs are €19,000 and the light boxes are €8,000. All works are unique. Rampa closes on July 12 and will reopen in mid-September.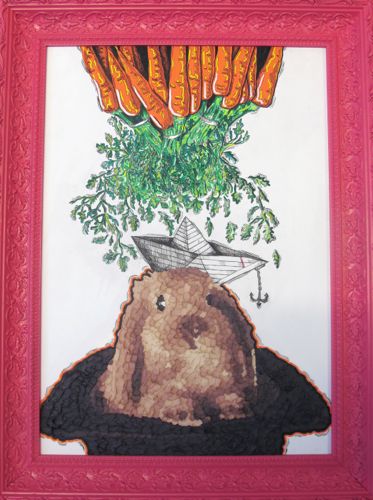 Yusuf Aygeç, '62', 2014, mixed tech on paper, 35 x 50 cm
START 'ART WITHIN REACH'
Two doors down, C.A.M. Galeri has a group show offering accessible and affordable art for art lovers and collectors, entitled Start 'Art Within Reach'. 'I am a big fan of small paper works,' says the gallery's director, Melek Gencer. 'I also love going to affordable art fairs that concentrate on young talent. Last year when I was going through our storage, I found we had many small works from our represented artists, so I thought why not make an affordable art show for potential young collectors. I think so many people stay away from contemporary art just because of its unreachable attitude.' Melek Gencer says one of his favourites in the show is Yusuf Aygeç's new series depicting animals with colourful frames. The overall price range is between TL200 and TL4,000.
Furkan Nuka Birgun, 'From the islands of fashion', 2014, 35 x 70 cm
'Furkan 'Nuka' Birgun is a street artist but for this show he has created works on paper depicting islands with many details and characters,' Gencer continues. Asked about current trends on the Turkish art scene, Gencer says presentation is becoming increasingly important. 'Rather than just showing a work, you have to present it in an aesthetically pleasing way, as most viewers and collectors prefer works that are aesthetically perfect. Two ways to do this are by framing or hanging the work in a unique way.' The gallery closes on July 19 and reopens on August 19.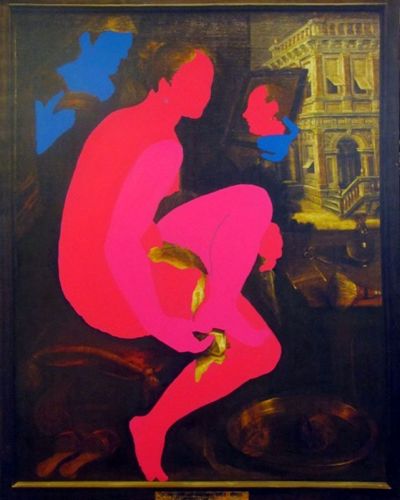 A work by Gazi Sansoy
THEMELESS/CONTACTLESS 4
Next come two more galleries on the outskirts of Beşiktaş leading to Teşvikiye. Follow Şair Nedim Caddesi for a few hundred yards, past the daily hustle and bustle of this more humble part of the neighbourhood, and turn left up the steep Hüsrev Gerede Caddesi (a one-way street going downhill). About halfway up is Galeri Ilayda, which as in previous years is not closing for the summer months but is hosting a group show. Themeless/Contactless 4 is an exhibition with no particulr theme showcasing the nine artists represented by the gallery. Prices range between TL5,000 and TL25,000.
Atilla Galip Pinar, 'Pig', 2014, acrylic on canvas, 135cm x 85cm
'To me, Atilla Galip Pinar's new works are the standout pieces,' says the gallery's director, Sebnem Kutal. 'In these works, humans, animals and plants are transformed and presented within an interior space, such as a box. The artist chose the colours and forms fastidiously and considers the psychological reflections of his subjects. As a result, these are chaotically harmonious, powerful works with many layers.
'In the contemporary art scene, artists often use a range of materials – including oil, acrylic, latex paint, charcoal, pastels, resin, textile, newspaper clippings – and techniques. Usually they use a mixture of several styles. The diffusion of borders and divisions among countries, classes and monetary systems has dramatically affected art. Contemporary art often confronts global issues, including economics, politics, illness, sexuality, race, human rights and war. While many artists address these issues, you can see the differences in their various styles.'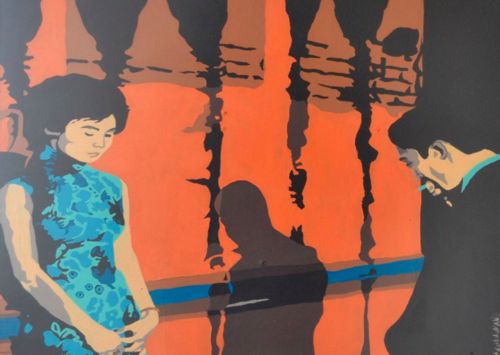 Deniz Gökduman, 'Untitled', 2005, 30 x 40 cm, 1,000 TL
Next door, RenArt is hosting the Turkish painter Deniz Gökduman. 'It is possible to consider my works under two major categories: political and daily-life impressions,' says Gökduman. 'In my political works I paint portraits of revolutionist pioneers who left deep marks on Turkish society, from the foundation of the Turkish Republic up until now. In the meantime – despite some critics saying that I cannot express myself with painting – I try to communicate with audiences and create both visual and intellectual works by interspersing verses of a poem or sentences from writers on my canvases.' Prices are TL 1,000–13,000.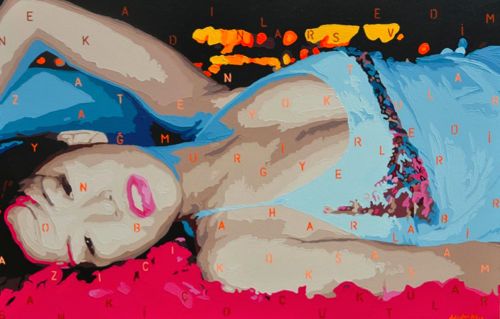 Deniz Gökduman, 'Untitled', 2014, 84 x 100 cm, 5,000 TL
Asked to comment on the most popular styles and techniques on the current Turkish art scene, the gallery's manager Şeyma Öner says that peinture is becoming increasingly popular. 'Young artists in Turkey are also rediscovering Pop Art and Photorealism, and examining Turkey's agenda combining these techniques with a political and critical approach.'
Main image courtesy of www.remaxiz.com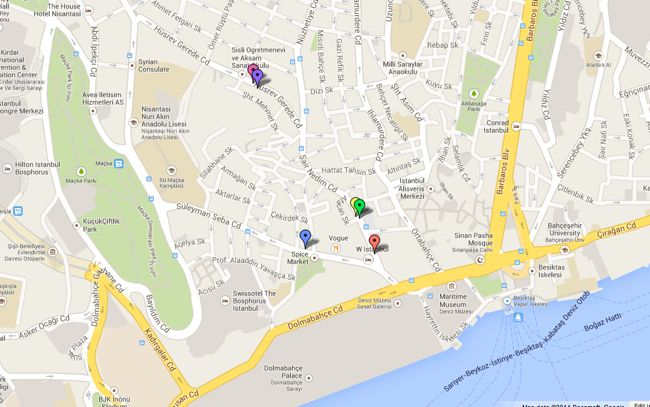 Blue: Kuad Gallery, Red – Art ON, Green – Rampa, Yellow – C.A.M. Galeri, Purple – Gallery Ilayada, Magenta – RenArt
Click here for an interactive map.