We are in Beyoğlu – the city's European centre – for a fun, diverse gallery walk. All the galleries we visit are on or off the main thoroughfare, İstiklâl Caddesi (above).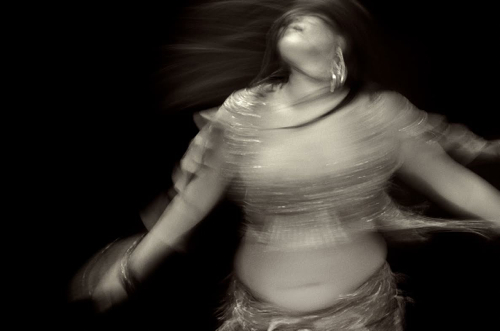 John Wreford
JOHN WREFORD'S RAQS SHARQI
Let's start at the Tünel end, in the backstreets of Asmalımescit, where Galatea Art is hosting an exhibition of the photojournalist John Wreford. Now based in Istanbul, Wreford spent ten years in Damascus from 2003 until 2013, photographing dancing, among other things. The series Raqs Sharqi (Eastern Dance) focuses on the art of belly dancing, with sepia photographs full of movement, shadows and light.
Each photograph is 60 x 40 cm and priced at TL550.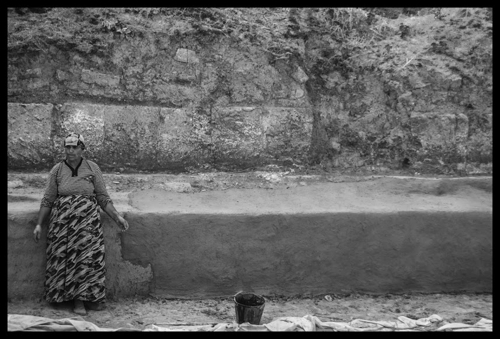 Mud brick reinforcement and mud plastering applied in the southern section of the Square 33.32, located in the courtyard of the Level VII Palace. Hatice Öz is resting during the mud plastering. While mud brick-making is performed by men, mud plastering is a special skill done only by the women of the Varışlı village (Açana). August 2011, Koç University Alalakh Excavations Archive, Murat Akar
THE FORGOTTEN KINGDOM
Navigate your way to İstiklâl Caddesi and head towards Taksim. At No 181 the RCAC is hosting – as usual – a fascinating exhibition. The Forgotten Kingdom provides a comparative look at the community landscape and site of Tell Atchana, ancient Alalakh, with photographs taken during the British archaeologist Sir Leonard Woolley's excavation seasons (1936–1939 and 1946–1949), alongside photographs of recent excavations (2006–2014) by one of curators, Murat Akar. All are on display here together for the first time, courtesy of University College London's Institute of Archaeology and the Koç University Archive.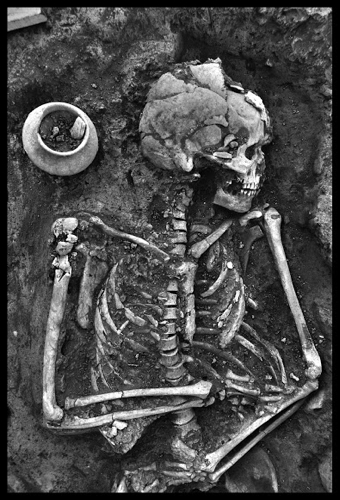 One of the many commoners' burials found at Alalakh. The deceased were often buried with a simple jar for the afterlife [18th–17th century BCE]. July 2012, Koç University Alalakh Excavations Archive, Murat Akar
The curators Akar and Hélène Maloigne have both been working at Koç University's Tell Atchana excavation – Akar as the site's field director and photographer (since 2003), while Maloigne has been excavating there since 2012, as well as working on digitalising the Woolley excavation photographs at UCL. Together they formed the idea of merging the two archives – past and present – in a single exhibition.
An exhibition on war and propaganda marking the centenary of the First World War will open in late December.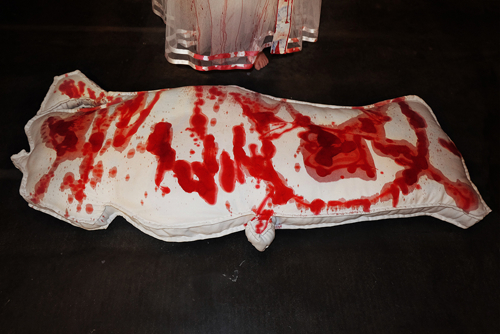 Şükran Moral, 'Child-Bride II', archival pigment print, 80 x 120 cm
ŞÜKRAN MORAL'S WELCOME TO TURKEY
Further up at No 163, Mısır Apartment – a famous building packed with galleries – has plenty to interest. On the second floor Galeri Zilberman is hosting an exhibition of one of Turkey's best-known performance artists, Şükran Moral. In Welcome to Turkey the gallery space disguises itself as a tourism office, complete with postcards, maps and information about Turkey. But this is no regular tourist agency. The map is a bloodstained mattress (above), and the postcards show not the Blue Mosque or Haghia Sophia, but a little girl in a wedding dress. The video, 'Tales to a Young Girl' (below), can only be seen by peering through a peephole while kneeling on a stool: it starts with heavy panting and painful shrieks as a doll is mutilated. Through this horrific 'welcome', Moral confronts such issues as polygamous marriage, marginalised transgender individuals, virginity and female circumcision. Her work is remarkable in identifying, criticising and challenging gender roles. Prices range from €7,000 to €50,000.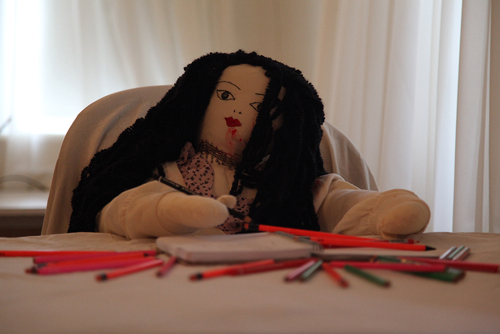 Şükran Moral, 'Tales to a Young Girl', video, 03'23"
Galeri Zilberman has turned its second-floor venue into a space for artists wanting to exhibit a single project. The first, to be exhibited this November, will be Eşref Yıldırım's Prison For Minor Offenses, which was shown at Sinopale this summer. Coming up on the third-floor space is a solo show by Walid Siti, and this season will also see works by Alpin Arda Bağcık and Guido Casaretto.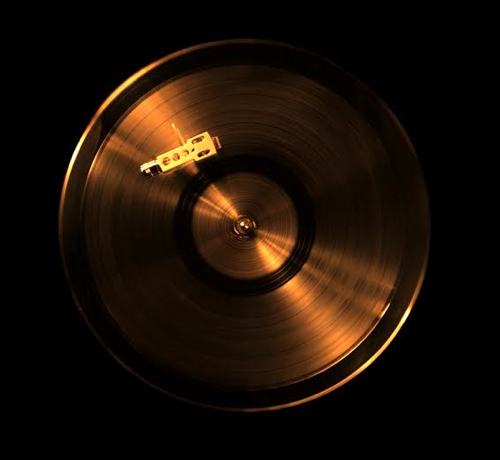 Joana Hadjithomas and Khalil Joreige's, 'The Golden Record', 2011, video
DISQUIET
Upstairs, on the third and fourth floors, Galeri Zilberman and Pi Artworks have collaborated to present a group exhibition, Disquiet. Curated by Nat Muller, the exhibition brings together different artists from the same region, working in a variety of disciplines including photography, installation, sculpture, painting and video.
Joana Hadjithomas and Khalil Joreige's video installation (above) is from a multi-part project The Lebanese Rocket Society, which investigates the almost incredible, and virtually forgotten, history of Lebanon's 1960s space programme. Meanwhile, the excellent Istanbul-based artist Volkan Aslan opens up a fairytale world of whimsy, populated by porcelain figurines (below). Prices range between $1,250 and $50,000.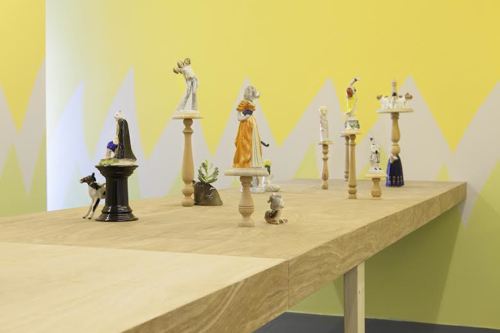 Volkan Aslan, installation view, found porcelain and ceramics, different sizes
This year Pi Artworks has two different programmes for Istanbul and London. New artists will be added to the roster and there will be a number of specially curated shows.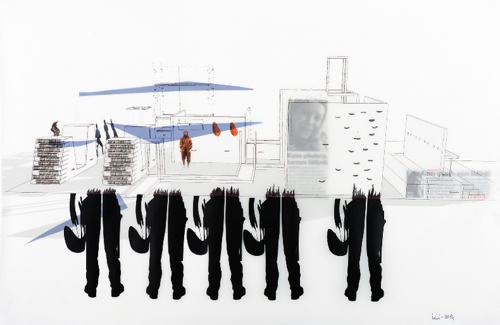 Inci Eviner, 'Staging Daily Politics' series, 2014, mixed media collage on paper, 51 x 72 cm
AGON
Opposite Pi Artworks, Galeri Nev is also hosting a group exhibition, Agon, showcasing the works of eight of their represented artists. Works range from a new series of ink drawings by the wonderful feminist artist Inci Eviner (above) to Tayfun Erdoğmuş's water paintings, and a performance video (below) by another artist dealing with feminist issues, Gökçen Dilek Acay.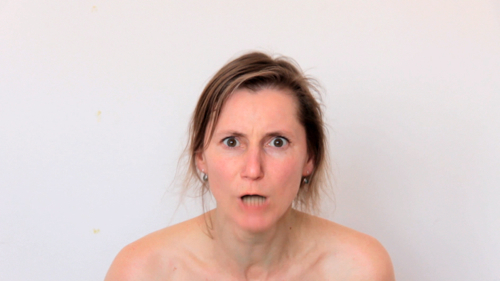 Gökçen Dilek Acay, 'Barking Woman', 2012, still from a performance video, 3'01"
Please enquire directly with the gallery for prices.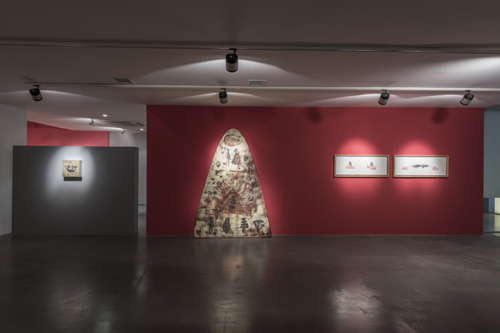 Exhibition view
NO. 4
On the fifth floor, the not-for-profit space the Nesrin Esirtgen Collection hosts its fourth collection exhibition, NO. 4. The show brings together works by well-established artists and later additions to the collection exemplifying a new era of contemporary art. The works are not for sale.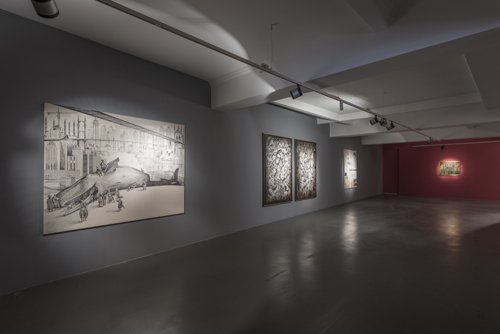 Exhibition view, with a mixed media piece by Burhan Kum on the left
The space is currently inviting submissions for its upcoming 'Open Call, Open Door' event, which aims to support young artists while making use of the space during the winter period.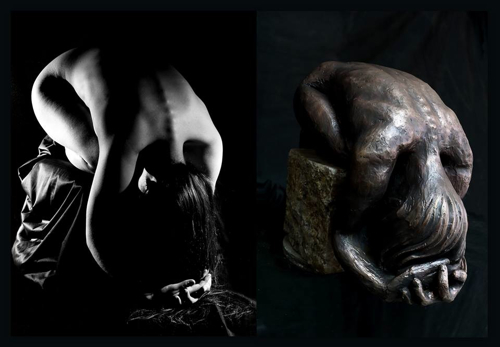 Metin Tütün's photography of a woman's body next to a sculpture he made of the same body
METIN TÜTÜN'S WHEN SHADOWS RETREAT
Leave the building and keep heading down İstiklâl Caddesi towards Taksim. Go past the Galatasaray Lycée and turn down the first street on your right. On Turnacıbaşı Caddesi, a narrow street full of interesting art boutiques and vintage shops, at No 21, the tiny Gama Gallery is hosting the first exhibition of the young artist Metin Tütün. In When Shadows Retreat, Tütün explores the human body through atmospheric photographs and clay and stone sculptures. Please enquire directly with the gallery for prices.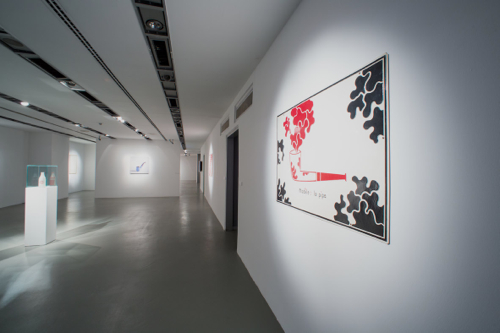 Exhibition view
MARCEL BROODTHAERS'S WORDS, THINGS AND CONCEPTS
Come back onto Istiklal Caddesi and head towards Taksim. On your left, at No 8, Akbank Sanat hosts a comprehensive exhibition of the late Belgian artist, poet and filmmaker, Marcel Broodthaers, considered to be one of the greatest conceptual artists of the 20th century. The works are not for sale.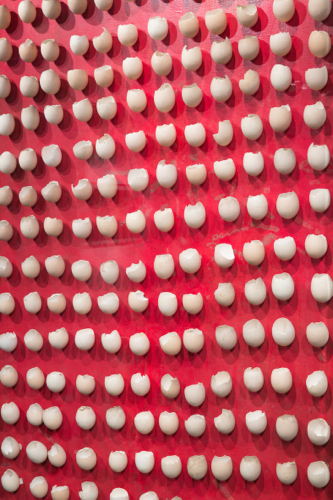 Exhibition view
Curated by Hasan Bülent Kahraman, Words, Concepts and Things focuses on the three aspects of Broodthaers's work that justify his reputation a significant artist: his relationship to language, his concern with the notion of museum and art history, and highly imaginative, brilliant works produced in a variety of mediums ranging from collage to ready-mades, and from arte povera to installations.
Coming up in December is an exhibition on the history of new media art entitled History of Today: Snapshots of Media Art Since the 60s. In March 2015 there will be an exhibition curated by the winner of the International Curator Competition 2014, Niekolaas Johannes Lekkerkerk. And in June the space will host the winners of the Akbank Contemporary Artists Prize Exhibition.
Main image: Wikimedia Commons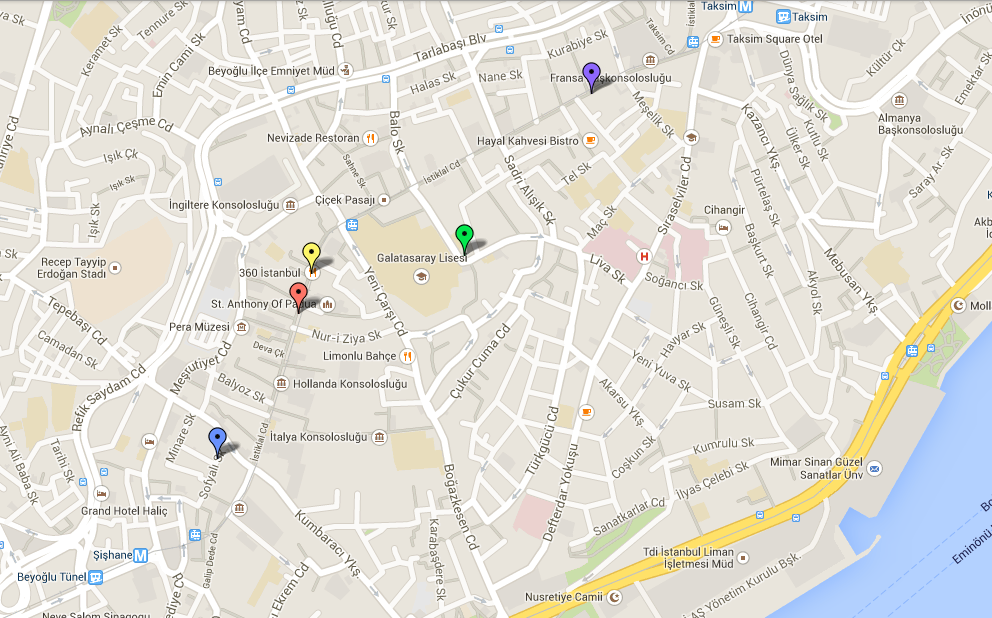 Key: Blue – Galatea Art, Red – RCAC, Yellow – Mısır Apartment (Galeri Zilberman, Pi Artworks, Galeri Nev, Nesrin Esirtgen Collection), Green – Gama, Purple – Akbank Sanat
Click here for the interactive map.