We are back in Beyoğlu for a jam-packed gallery walk, in which shows of contemporary Turkish masters and Orientalist painters can be enjoyed alongside works by on-the-rise artists from Turkey and the surrounding region.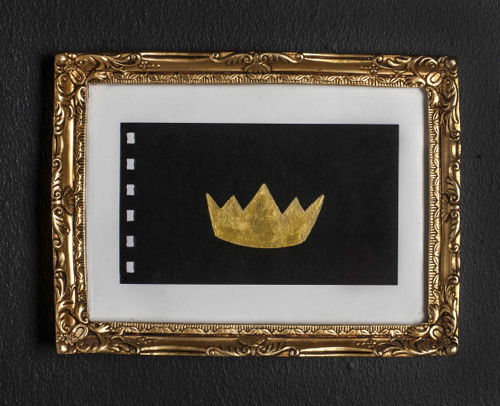 Merve Şendil, 'Start'
Let's start at the Tünel end of Istiklâl Caddesi. On Asmalımescit Caddesi, at No 5, ALAN Istanbul is hosting the third solo show of the young artist Merve Şendil. The gallery is transformed into a surreal and mysterious universe in What if, where Şendil's 3D objects, paintings and sound installations trace the artist's imagination and explore the notions of fantasy and reality. Please enquire directly with the gallery for prices.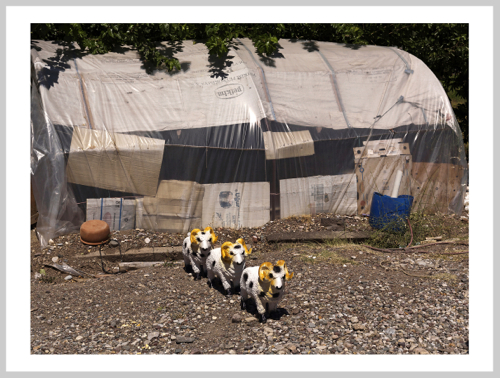 Sıtkı Kösemen, from the series 'Invisible'
Further up at No 32, Sanatorium is in its last days of a photography show by Sıtkı Kösemen. In Invisible, images of people, places and unexpected scenarios are presented alongside photos of staged scenarios and models posing.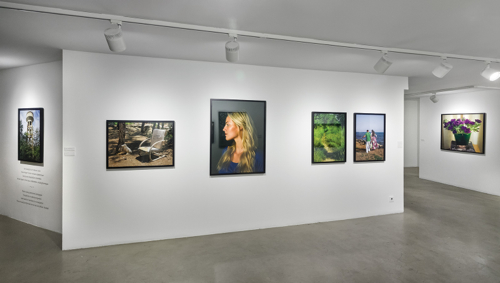 Sıtkı Kösemen, exhibition view
Each series is not displayed together: rather, the photos from one group are combined with photos from another group, with each wall of the gallery following this formula. This presentation allows the artist to tell different stories from different points of view. Whether staged or spontaneous, Kösemen takes his photographs whenever the mood strikes him. There is no retouching or any post-production on the images, and the result is accomplished, striking work. Prices range from TL3,000 to TL7,000.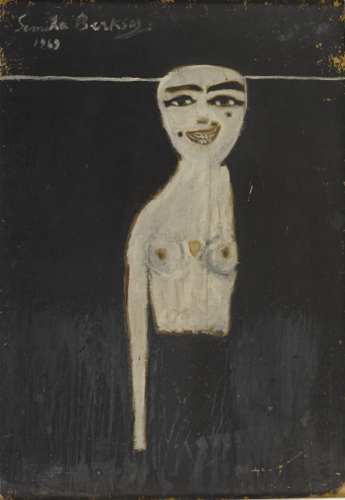 Semiha Berksoy, 'Smiling Self-Portrait', 1969, oil on hardboard, 98 x 69 cm
On perpendicular Meşrutiyet Caddesi, Galerist, at No 67, is celebrating its partnership with the Semiha Berksoy Foundation by staging a comprehensive exhibition showing the life and work of one of Turkey's greats. Wall of Hallucination displays Berksoy's paintings alongside audio recordings, videos, photographs, personal objects and documents that offer glimpses into the unique talent and personal life of one of Turkey's most beloved prima donnas.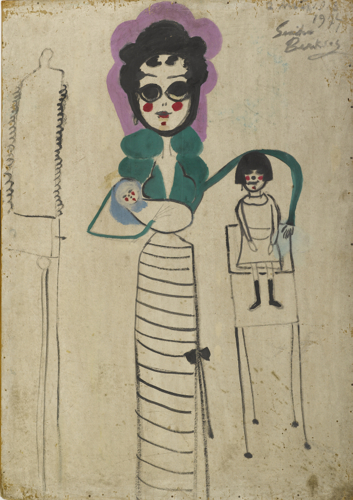 Semiha Berksoy, 'My Mum and Me', 1974, oil on masonite, 100 cm x 70 cm
The partnership between Galerist and the Semiha Berksoy Foundation aims to promote the artist's work in Turkey and internationally and to support the establishment of the Semiha Berksoy Museum. The museum will not only be an exhibition space for the artist's works, but also have a theatre stage and a concert hall, and classes for performing arts students. Berksoy was a pioneer of the of the multi-faceted artistic approach, beginning her career in the first Turkish sound movie, performing in the first Turkish opera and leaving a significant imprint on the country's visual arts scene.
'Berksoy paints her passion, love and pain in a linear and simple way. Placing herself in the centre of her works, Berksoy does not differentiate life and art; her paintings are extensions of her brave, enthusiastic, disciplined and unique personality, as well as her comprehensive, multi-disciplinary education and experience,' says Galerist's Media Relations Manager Müge Çubukçu. The works are priced from €6,000 to €50,000.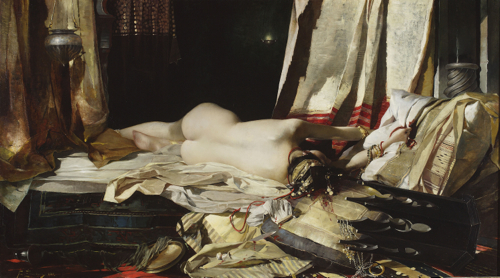 Franciszek Żmurko (1859–1910), 'At the Order of the Padishah', 1888, oil on canvas, 135.5 x 240 cm
Next door, it's Pera Museum's turn to celebrate the 600th anniversary of Polish-Turkish diplomatic relations. The museum's offering, Orientalism in Polish Art, aims to highlight the Orientalist trend in Polish painting, drawing and textiles from the 17th to the early 19th centuries. The artworks were selected to illustrate the Polish relationship with the Ottoman world and, to a lesser extent, the Near East and North African regions.
'In paintings [such as the above], the obsession with the Orient, which had been developing in Europe since the romantic era, attains a new dimension, one tinged with the decadence of the late 19th century and a fascination with the relationship between beauty and death, between sensuous pleasure and cruelty,' says the museum's Digital and Social Media Supervisor, Bihter Serttürk.
In the above work, Franciszek Żmurko presents an exotic image of a harem chamber – with gleaming fabrics and scattered jewels – as a setting for an odalisque murdered 'by the order of the padishah'. This violent death is made all the more dramatic by the oppressive, darkly sensuous atmosphere of the harem, which is further amplified by the heavy draperies, the dishevelled sheets, the scattered furnishings, and the deep contrasts of darkness and light on the woman's body.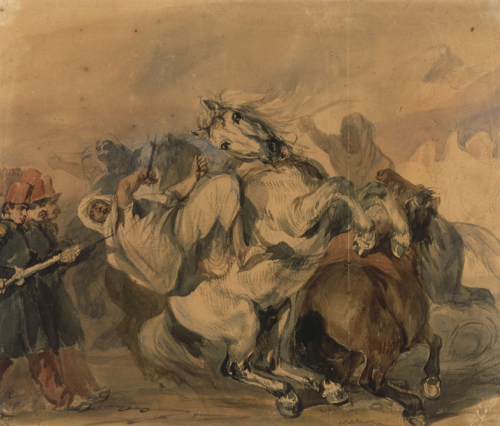 Piotr Michałowski (1800–1855), 'An Encounter of the French Infantry with an Arab Cavalry', 1844–1845?, watercolour, pencil on paper, 46.3 x 55 cm
It was rare that Oriental themes, or even isolated Oriental motifs, appeared in the works of Piotr Michałowski. Apart from the watercolour shown above, Michałowski's works with Oriental accents of any sort are limited to a handful of portraits and quasi-portraits, which Jan K Orłowski has quite appropriately labelled 'lone riders'. The striking feature of this work is the way in which the Arab riders and their horses are separated from the French infantrymen on the margin of the composition. The latter, as in many representations of the Battle of the Pyramids, creates a modest impression – hardly a bayonet-bristling wall which had just stopped the onslaught of savage desert riders.
Come back onto Istiklâl Caddesi and head towards Taksim Square. On your right, at No 163, the building packed with galleries, Mısır Apartments, has new exhibitions of interest.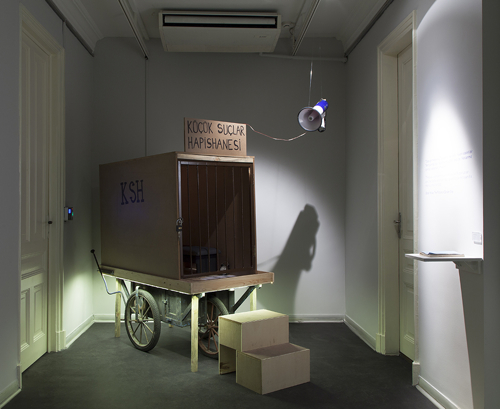 Eşref Yıldırım's 'Prison for Minor Offenses', photo: CHROMA
On the second floor, Galeri Zilberman's second venue, which has been turned into a space for artists wanting to exhibit a single project, is displaying the first of these projects: a work by Eşref Yıldırım that was first shown at the 5th Sinop Biennial.
In Prison for Minor Offenses, the street vendor is a one-person jail which offers people a quick and easy way to serve a sentence of their choosing for any minor offence they may have committed. Instead of wishing for redemption, it suggests the practicality of implementing punishment for offences such as heart breaking, cheating and betrayal. Much like this work, the rest of Yıldırım's oeuvre is filled with dark humour. His works don't wait for audiences to come to them; instead the artwork comes to the viewer and demands an interaction. The work is priced at TL25,000.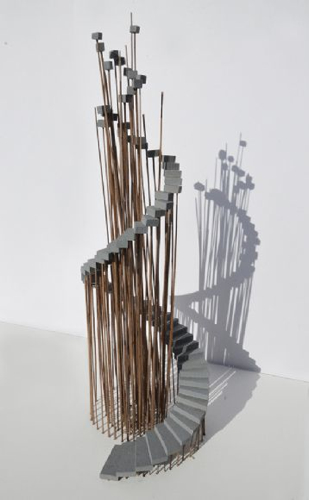 Walid Siti, 'The Other End', straw, wood and acrylic on MDF, 54 x 40 x 40 cm
On the third floor, Galeri Zilberman's first space is hosting the Iraqi-Kurdish artist Walid Siti's show, New Babylon. Combining natural landscapes with man-made construction tools in his sculptures and drawings, Siti explores the political, geographical and cultural outlooks on the ever-changing urban landscape of the Middle East. Together, Siti's works create the atmosphere of a modern-day Babylon with its fragile towers doomed to a cycle of destruction and reconstruction.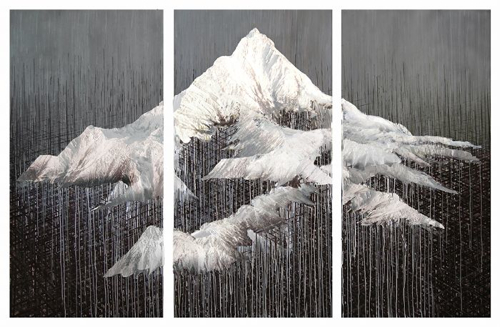 Walid Siti, 'Three Point View', pigment print, 110 x 72 cm
Siti's works have a timeless quality: they capture the essence of nature and depict the most basic structures invented by mankind. Although charged with political and cultural messages, the works are malleable and open to interpretation, reflecting our world in a style of naivety. Prices range between $US 2,000 and $US 70,000.
Nejat Satı
On the fourth floor, Pi Artworks is hosting an exhibition of abstract paintings by Nejat Satı. Nefs is a new series in which light, colour and dynamic abstract shapes create paintings that are open to various interpretations.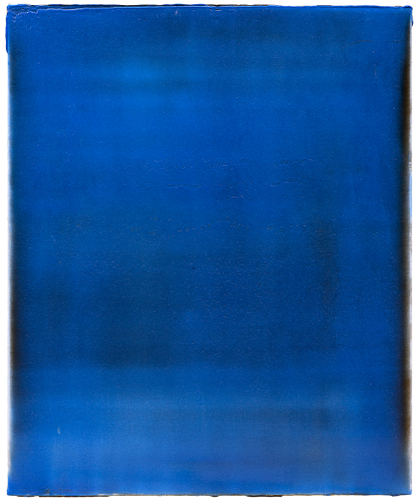 Nejat Satı
Taking his work in a new direction, the young artist shows a newfound maturity with this series. The world of Satı is not quiet and monotonous but instead wavy and alive. His paintings contain hidden colours and energy that is only partially revealed by the top layer of paint. Prices range from TL3,000 to TL30,000.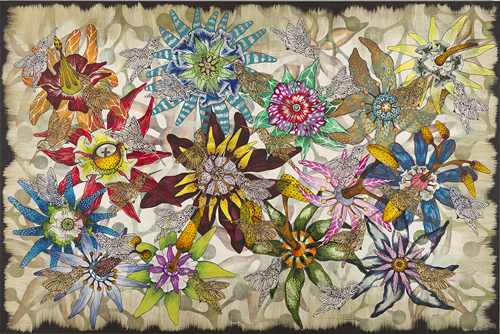 Elvan Alpay
Across the hall, Galeri Nev is opening a new exhibition of the Ankara-born artist Elvan Alpay this Friday (November 28). Expect lots of large-scale magnetic floral canvases in Biophilia II. Please enquire directly with the gallery for prices.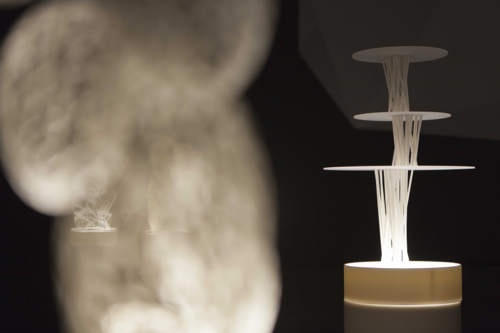 Defne Koz
Leave the building and keep heading towards Taksim Square. Turn right on Turnacıbaşı Caddesi behind the Galatasaray Lycée, where the new branch of Istanbul'74 at No 9 is hosting a new collection by innovative designer, Defne Koz. The 12 objects on display in Solid Air explore the potential of innovative 3D technologies, parametric geometry and LED lights. Please enquire directly with the gallery for prices.
Koz also has a work displayed at the 2nd Design Biennial, taking place at the nearby Galata Greek Primary School. Justaddwater is a proposed new nutrition ecosystem that preserves the simplicity and comfort of processed cuisine, while combining it with micro gastronomy.

Marco Veronese, from the 'Melancholia' series
Further down at No 21, the tiny Gama Gallery is hosting the Italian artist Marco Veronese, who explores the ever-fascinating subject of love with seven works. 'My works always are a curious mélange of refined images and profound messages that come to life from an unusual mix of digital photography and silicone. The subjects of my work are linked to the problems of a society that is increasingly torn between salvation and self-destruction. I wanted to address the theme of 'love' with seven works, looking at its key stages, such as falling in love, burning passion and finally reminiscence,' says the artist about the exhibition Love. Please enquire directly with the gallery for prices.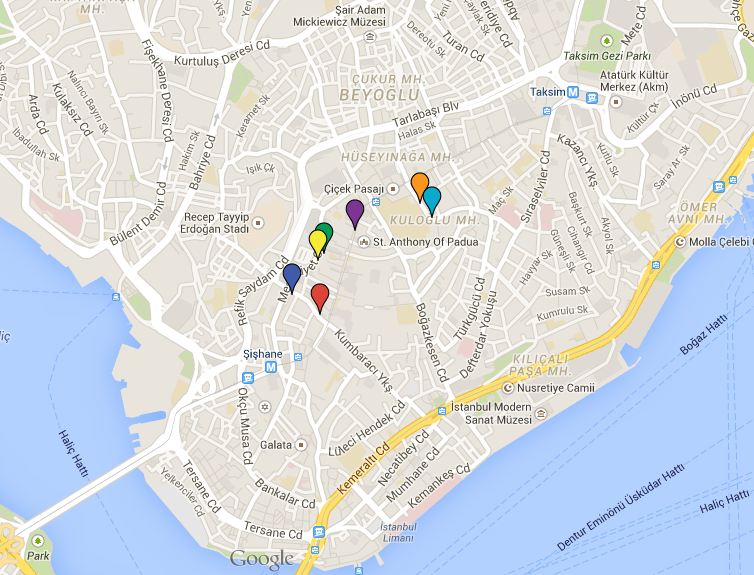 Key: Red – ALAN Istanbul, Blue – Sanatorium, Yellow – Galerist, Green – Pera Museum, Purple – Mısır Apartments (Galeri Zilberman, Pi Artworks, Galeri Nev), Orange – Istanbul'74 Galatasary, Turquoise – Gama Gallery
Click here for the interactive map.