We are in Beyoğlu this week for a diverse and absorbing gallery walk of mostly solo and a few group shows, a significant number of them focusing on the work of international artists.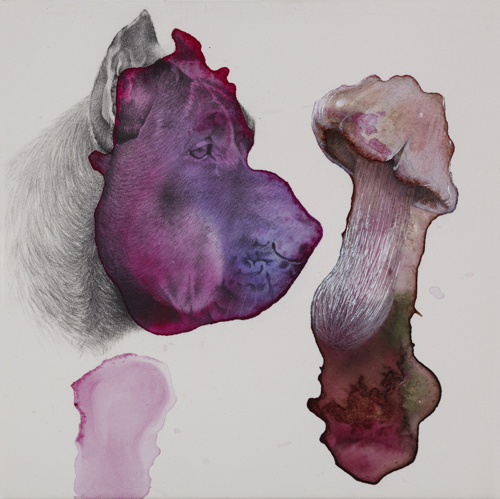 Handan Figen
HANDAN FIGEN'S LUCKY INCIDENT
Start at the Tünel end of İstiklâl Caddesi. Down Asmalımescit Caddesi, at No 32, Sanatorium is hosting the talented Istanbul-born artist Handan Figen. In Lucky Incident, Figen's striking watercolour stains on paper, depicting emotions, animals and landscapes (above), are juxtaposed alongside a massive installation (below) which you can walk through. The gallery's director, Feza Velicangil, describes it as 'walking in a drawing'. Prices range from TL6,500 to TL11,000.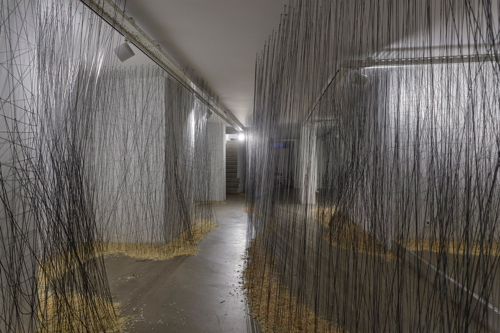 Handan Figen exhibition view
The state of the contemporary art scene is dependent on what the galleries decide to show, says Velicangil. 'And [this year] we want to stage more exciting exhibitions that would lead to more interested and involved audiences.'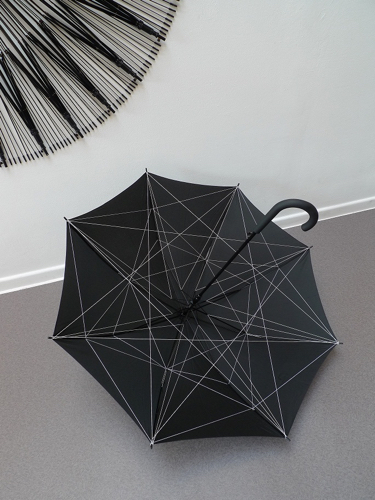 Şakir Gökçebağ
ŞAKIR GÖKÇEBAĞ'S THINK TANK
On perpendicular Meşrutiyet Caddesi, Galerist, at No 67, is hosting the Denizli-born, Hamburg-based artist Şakir Gökçebağ. Known for his exhaustive installations that reinterpret everyday objects, Gökçebağ showcases a series of new ready-made objects which subvert established ways of perception in Think Tank. Prices range between €10,000 and €25,000.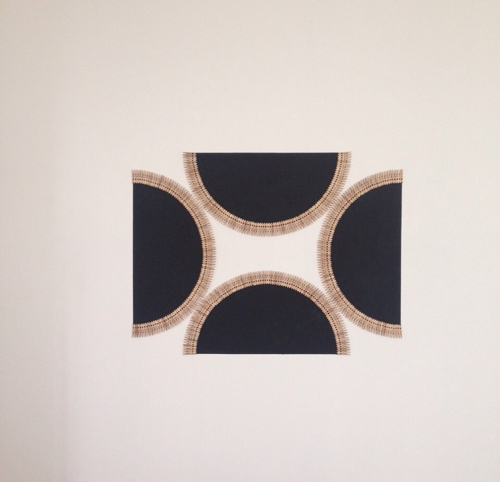 Şakir Gökçebağ
Asked what she looks forward to in 2015, the gallery's artist liaison manager Müge Çubukçu says she is hoping for more collaborative projects, new publications and more art in public spaces.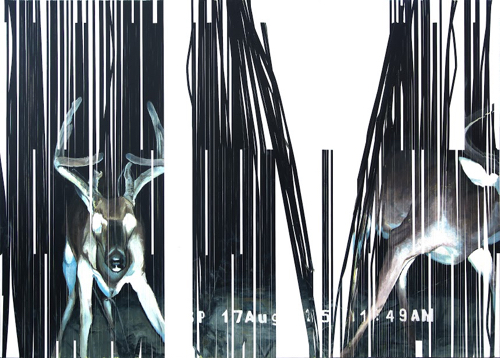 Mito Gegič, 'AM', 2014, acrylics, duct tape on canvas, 154 x 216 cm
MITO GEGIČ'S ENCRYPTION
Come back onto Istiklâl Caddesi and head towards Taksim Square. On your left, down Elhamra Pasajı, a newcomer to our walks, Gaia Gallery (main image), is hosting a solo show of the Slovenian artist, Mito Gegič. In Encryption, the viewer is presented with arresting mixed-media works critiquing the classical understanding of the traditional painting and the digital repetitive image. Using duct tape, the artist creates multi-layered works – what at first appears to be a one-layer oil painting turns, on a closer look, into something much more. The smaller works are priced between €800 and €2,000, the bigger ones from €4,000 to €8,000.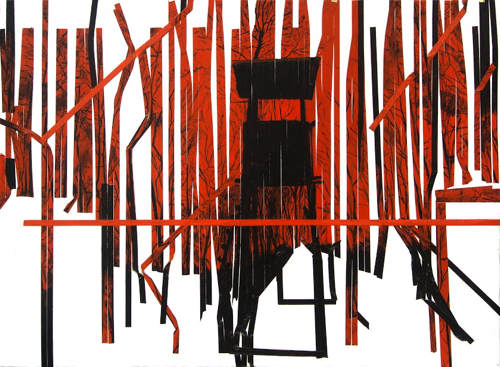 Mito Gegič, 'Alma Mater', 2014, acrylics, duct tape on canvas, 60 x 80 cm
The gallery's founder, Nil Nuhoğlu, wants to see 'more bravery from exhibitors and galleries in terms of creativity in projects' in 2015.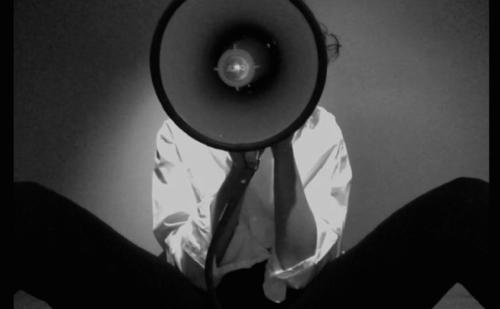 Zeynep Kayan, '100', video, 1'07"
PULL THE ROPE, WE'RE DOWNSTAIRS
Nearby, at Istiklâl Caddesi No 163, the building packed with galleries, Mısır Apartments, has new exhibitions of interest. On the second floor, Galeri Zilberman's second venue – which has been turned into a space for artists wanting to exhibit a single project – is displaying the second of these projects. Pull the Rope We're Downstairs collates recordings and video footage from a collaborative performance by the artists Zeynep Kayan and Burcu Bilgiç which took place last September. Working around the idea of space, the sound and visual recordings recreate the performance in an enigmatically lit space.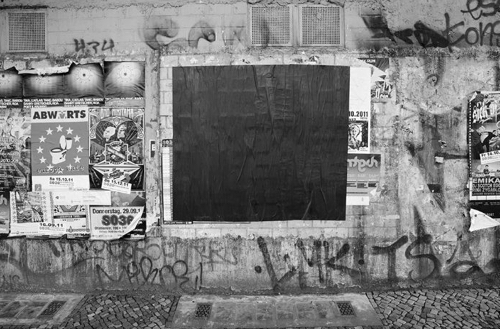 Santiago Sierra, '1000 Black Posters', installation
SAY WHAT?
On the third floor, the gallery's second space is hosting a group exhibition bringing together a number of artistic stances on the meaning of community and belonging in a global capitalist society. Say What? presents works by five international artists, working in the disciplines of video, photography and installation. Please enquire directly with the gallery for prices.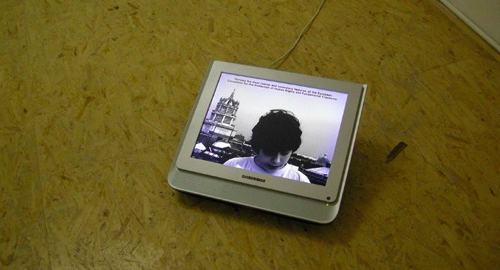 Nada Prlja, 'The Rights / I am Romanian', video
Some interesting works to looks out for are photographs by the Spanish artist Santiago Sierra depicting blackened out posters on Istanbul streets – a powerful series commenting on activism and protest art.
Meanwhile, a compelling video work by the Sarajevo-born artist Nada Prlja shows footage of disadvantaged children reading the European Convention for the Protection of Human Rights and Fundamental Freedom.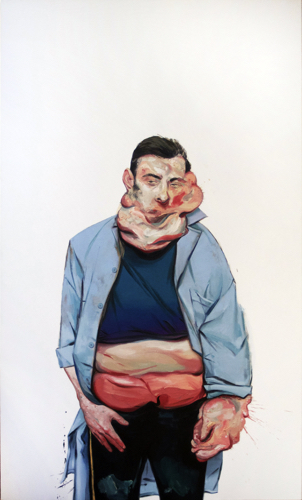 Sabo, 'Virus, Subjects 2', 2014, oil on canvas, 170 x 100 cm
SIGNS OF TIME'S CROSS THE EARTH, HER HEAD IS ON THE BALCONY
On the fourth floor, Pi Artworks is hosting the third exhibition of the Signs of Time artist collective, comprised of Huo Rf, Sena, Sabo, Burak Ata and Burak Dak, who came together through admiration of each other's work. Cross the earth, her head is on the balcony displays recent works exploring the subjects of reality, the actual and self-reckoning. Prices range from TL850 to TL6,000.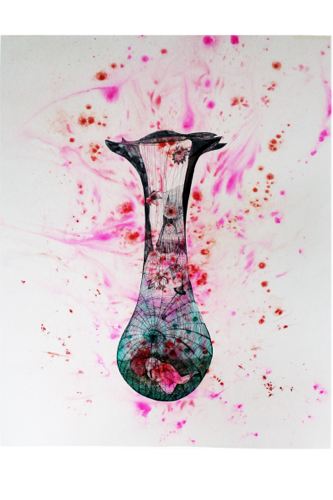 Sena, 'Well', 2014, ink on paper, 152 x 122 cm
Besides participating in the major international art fairs this year, Pi Artworks will be participating in other events such as Armory and Art Dubai. Echoing what many other gallery owners are saying, Pi Artworks say they hope to see Turkish artists and galleries achieve big things in 2015, which will in turn encourage all players on the art scene, including audiences.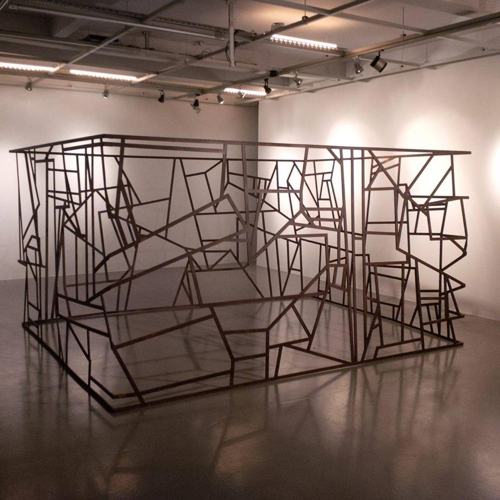 Exhibition view, 'Cage', 2014
MIKE BERG'S CAGE
Opposite, Galeri Nev is hosting the sixth solo show of the American artist, Mike Berg. Cage is the follow-up to his 2012 exhibition, Simple Geometry. Although Berg's work has in the past been influenced by the traditional textile and geometric art of Turkey and Central Asia, this exhibition focuses on one monumental sculpture in steel. Please enquire directly with the gallery for prices.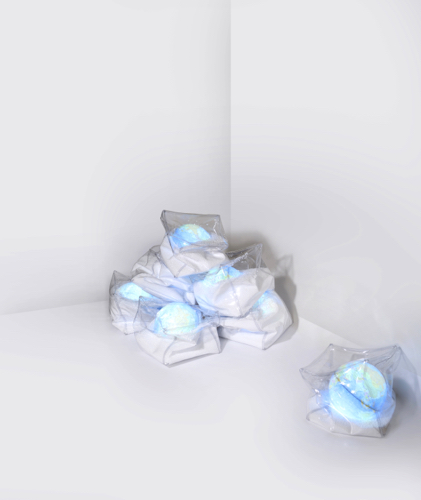 Deniz Derin Akıncı, 'What if seven worlds become one', 2014, acetate, light globes, styrofoam, 40 x 40cm
OPEN CALL / OPEN DOOR
On the fifth floor, the Nesrin Esirtgen Collection is hosting its first Open Call / Open Door exhibition, which aims to showcase emerging talent. Endeavouring to put the gallery space to good use in the winter time, the show displays works by the country's young artists, working in any medium and subject. As NEC is a non-profit space, it doesn't sell the works directly, but artists may be contacted directly for prices.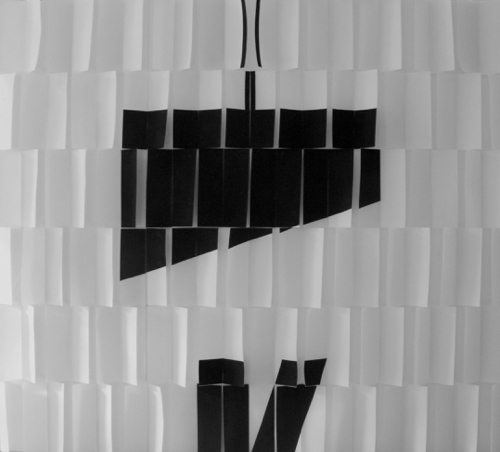 Ozan Uzun, 'Execution', 2014, mixed media on paper, 90 x 100 cm
The gallery's manager, Berçin Damgacı, says: 'In 2015, I would love to see more site-specific installations, projects involving artists from different backgrounds, and collaborations between artists and architects and designers.'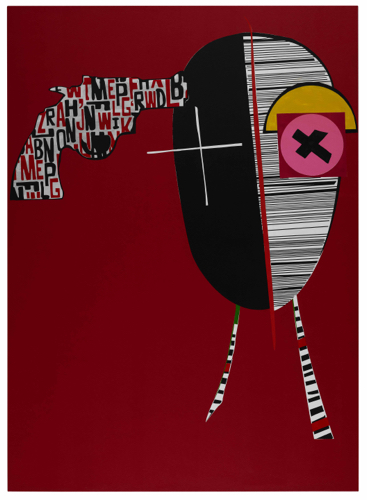 Eliff Karadayı
ELIFF KARADAYI
Leave the building and keep heading down İstiklâl Caddesi towards Taksim. Go past the Galatasaray Lycée and turn down the first street on your right. At Turnacıbaşı Caddesi No 21, Gama is showcasing abstract, almost pop-art portraits by the artist Eliff Karadayı. In her signature style – with simple brushstrokes and bold colours – Karadayı depicts the important people in her life. Works are priced at $9,000.
The gallery's founder, Şule Claire Altıntaş, would like to see more 'genuine' works on the contemporary art scene in 2015.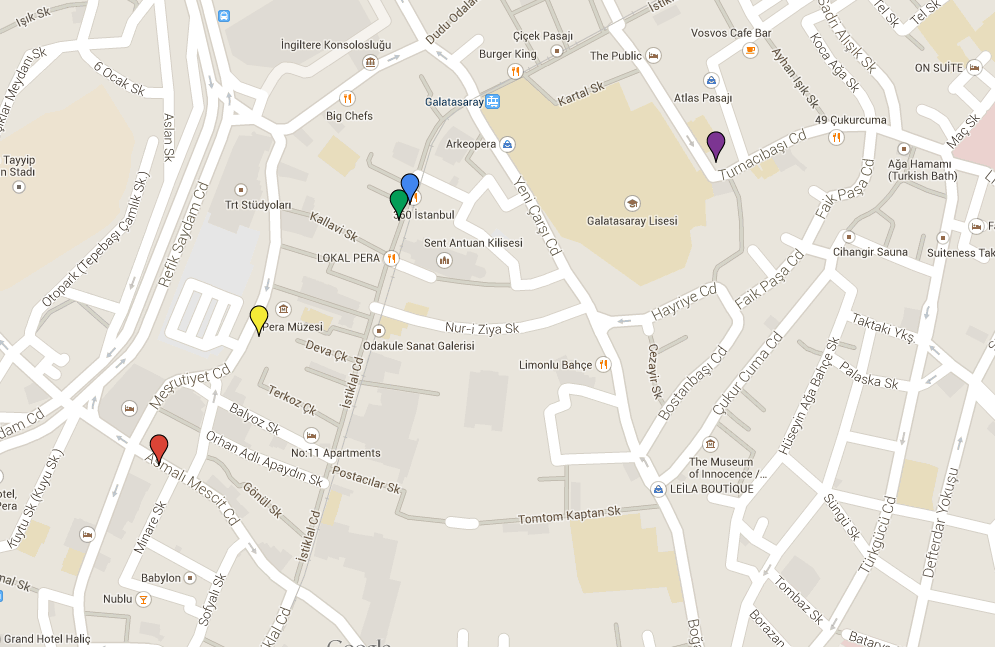 Key: Red – Sanatorium, Yellow – Galerist, Green – Gaia Gallery, Blue – Mısır Apartment (Galeri Zilberman, Pi Artworks, Galeri Nev, Nesrin Esirtgen Collection), Purple – Gama
Click here for the interactive map.