We continue our walk in Beyoğlu this week, where we visit mostly solo shows and one research-based exhibition.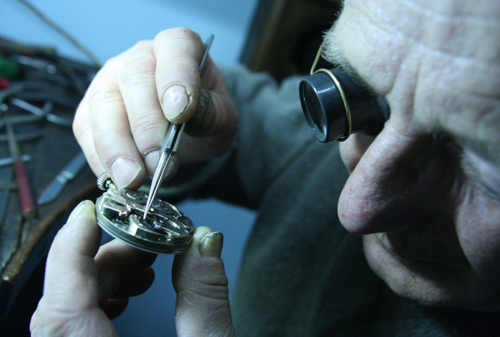 Ali Kazma, 'Clock Master', 2006, from the series 'Obstructions', 15' single-channel video, production still, courtesy of the artist
ALI KAZMA'S TIMEMAKER
Let's start at the Tünel end of İstiklâl Caddesi, where ARTER at No 211 (main image) is starting the year with a comprehensive exhibition of the video artist Ali Kazma. Undoubtedly one of the most important artists working today, Timemaker brings together 22 videos produced by Kazma in the past decade, concentrating especially on two series: Obstructions and Resistance. The majority of the works are being shown in Turkey for the first time.
Curated by Emre Baykal, who curated Kazma's stint at the 55th Venice Biennale in 2013, the show opens with 'Clock Master' (2006), one of the earlier videos of the Obstructions series. In this series, comprised of 18 pieces, Kazma explores the tense equilibrium between order and chaos, as well as life and death.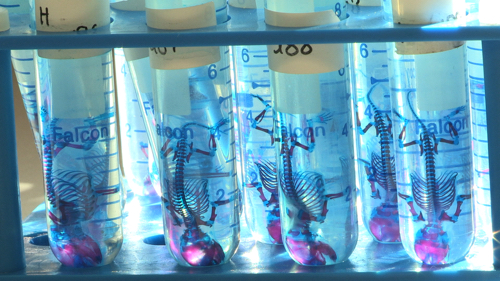 Ali Kazma, 'Laboratory', 2013, from the series 'Resistance', 5' single-channel video, video still, courtesy of the Istanbul Foundation for Culture and Arts
Meanwhile, Resistance focuses on the human body and its restrictions. Works from this series are shown in a similar fashion to their installation at the Arsenale building in Venice, allowing for dialogue.
The exhibition traces the notion of time and calls for further reflection on the human struggle to exist within and against time, the time of the body, the working body and the temporality of space and production. The works are not for sale.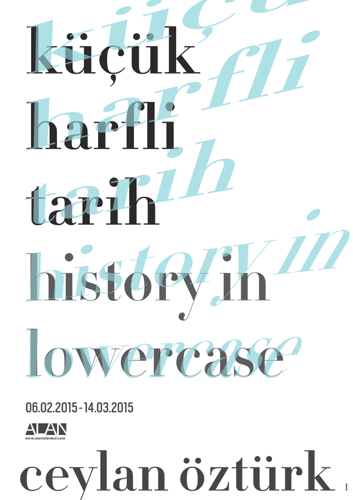 Poster
CEYLAN ÖZTÜRK'S HISTORY IN LOWERCASE
Keep walking towards Tünel and take a right onto Asmalımescit Caddesi, where at No 5 ALAN Istanbul is opening the fourth solo show of the artist Ceylan Öztürk this Friday (February 6). In history in lowercase, the artist draws similarities between an artist and a historian. Noted for her installations, Öztürk establishes sub-textual connections between the pieces in this exhibition, which include ready-mades, images, videos and plastic creations, and brings them together in a large installation which takes over the entire gallery. Transforming the way audiences move around it, the installation relates the movement of viewers and their perception of space to the process of history writing. Please enquire directly with the gallery for prices.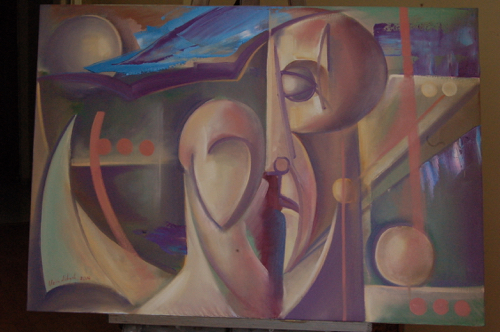 Melih Akbıyık
MELIH AKBIYIK'S POSTPONED PAINTINGS
Turn right down the first perpendicular street you come across. At No 12, on the second floor, Galatea Art is opening the solo show of Melih Akbıyık next Tuesday (February 10).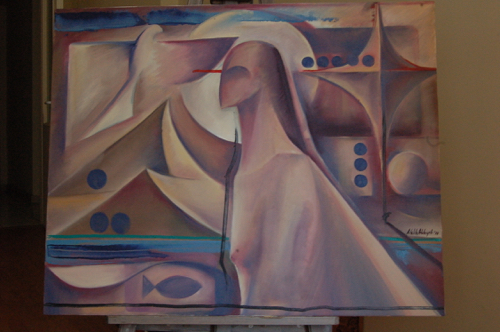 Melih Akbıyık
In Postponed Paintings, Akbıyık presents her new series of abstract works depicting the recurring symbols of the female body, fish and large dots, in bold lines and subdued colours. Please enquire directly with the gallery for prices.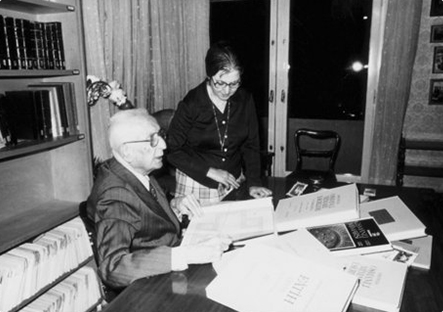 Ekrem Hakkı Ayverdi
EKREM HAKKI AYVERDI
On nearby Meşrutiyet Caddesi, the Istanbul Research Institute at No 47 is hosting an exhibition about the architectural historian, restorer and collector Ekrem Hakkı Ayverdi (1899–1984).
Ayverdi was raised at a time when Turkey was undergoing serious change: the late Ottoman / early Republic period. Apart from being an engineer-architect, restorer and architectural historian, he was a fervent collector of Ottoman art. To commemorate the 30th anniversary of his passing, this show casts a light on Ayverdi's fascinating life, his work and his priceless collection. The works are not for sale.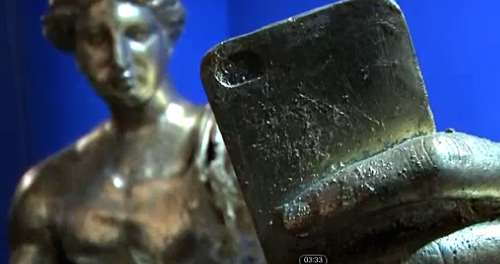 Genco Gülan
GENCO GULAN
A bit further afield, around Taksim Square, Piramid Sanat is hosting the conceptual artist and theorist Genco Gülan, whose trans-media contextual oeuvre spans a large spectrum of disciplines. Abstract maps displays works exploring the subject of geography and maps.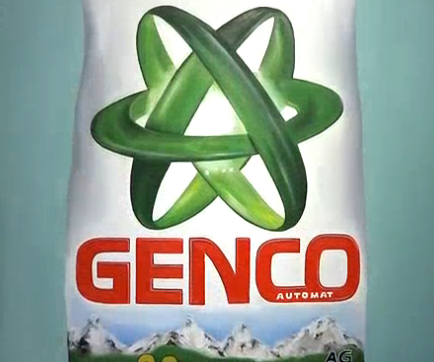 Genco Gülan
There are massive abstract paintings reinterpreting geographic co-ordinates, mixed media works depicting everyday objects, as well as sculptures and ready-mades referencing the great Ottoman admiral and geographer Piri Reis and the writer Jorge Luis Borges. Please enquire directly with the gallery for prices.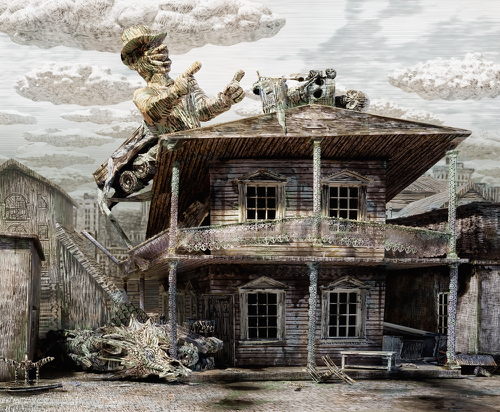 Jasper de Beijer, '08-29-2005', C-print, 180 x 140 cm, 2014, €7,800 / TL21,490
JASPER DE BEIJER'S MR KNIGHT'S WORLD BAND RECEIVER
On the other side of Taksim Square, down Sıraselviler Caddesi, The Empire Project at No 10 is hosting the Dutch artist Jasper de Beijer, whose work is an original take on violence in 19th- and 20th-century Europe, America and elsewhere. De Beijer's work combines elements of scale models and carefully assembled tableaux – the end result is something between photography, collage and sculpture. Each new body of work is centred around a main theme, and the corresponding style, material and colour palate used is unique to the series.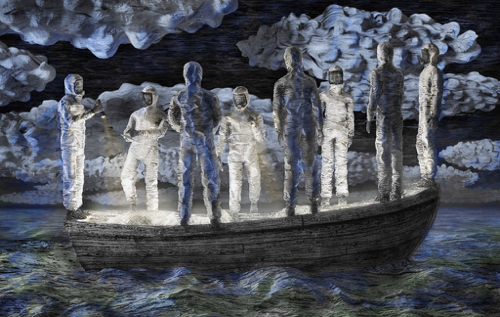 Jasper de Beijer, '07-10-2011', 2014, C-Print, 150 x 95 cm, €6,000 / TL16,530
Mr Knight's World Band Receiver was inspired by the story of Christopher Knight, who at the age of 18 disappeared into the woods near North Pond, Chicago, USA. Knight avoided contact with other people for 27 years until he was finally found by the authorities in 2013. His main source of information about the outside world was a small radio, and for this series De Beijer adopts Knight's visual isolation and aims to imagine important historical events during this period from Knight's perspective. Prices range from €5,500 to €8,500.
Asked what he hopes to see on the contemporary art scene in 2015, the gallery's owner Kerimcan Güleryüz lists the following: 'Committed collectors supporting their art scene, viewers taking the time to truly engage with the works, artists who are up to the challenge of braving the coming years and creating original works rather than just embracing the commercially successful, and a greater sense of artistic community as a whole.'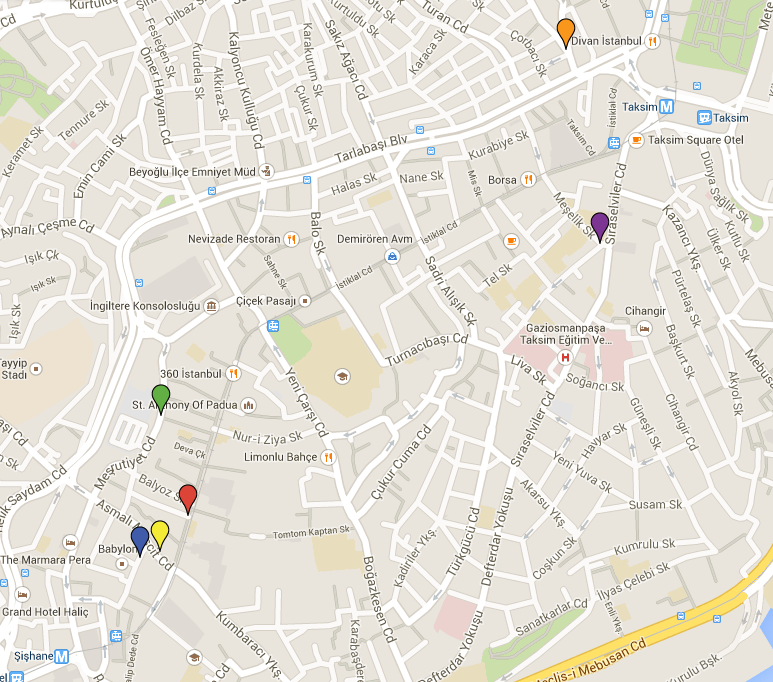 Key: Red – ARTER, Yellow – ALAN Istanbul, Blue – Galatea Art, Green – Istanbul Research Institute, Orange – Piramid Sanat, Purple – The Empire Project
Click here for the interactive map.