On part 2 of our Beyoğlu walk, we visit galleries, museums and art institutions from Tünel to Cihangir which are hosting assorted solo and group shows. Many of the exhibitions are highly conceptual, and some are unusual – viewers are advised to approach them with an open mind.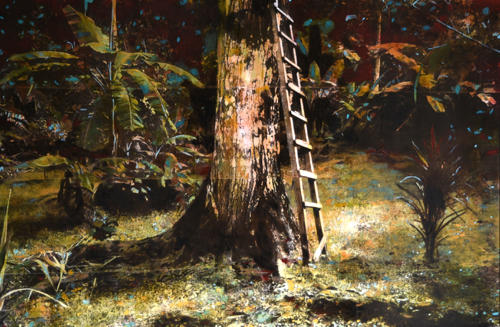 Ayline Olukman, 'Stairway', 2015, mixed media on canvas
AYLINE OLUKMAN'S IMPOSSIBLE PASSION
Let's start at the Tünel end of İstiklâl Caddesi. Down Asmalımescit Caddesi, at No 5, ALAN Istanbul is hosting Ayline Olukman's Impossible passion. Fresh from showing this series in Paris and New York, where it garnered a lot of attention, this French artist with Turkish roots now brings her work to Istanbul audiences. 'The exhibition is a collection of paintings that represent inner feelings, from innocence to sensuality, sexuality to death,' she says.
Olukman travels widely, writes, reads, takes pictures, attends many exhibitions and watches lots of films – all of which nourish her art. She is in the studio for concentrated periods of time only. 'I try to paint with a sense of freedom; a feeling of romance and mesmerising sensuality of the dream world,' she says. And there is certainly something dreamlike about her works.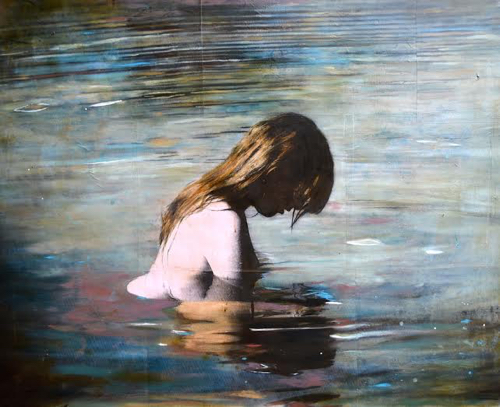 Ayline Olukman, 'Falling dream', 2015, mixed media on canvas, 100 x 80 cm
Olukman wants collectors to pay heed to the above work. 'The painting is filled with melancholy: the solitude of the individual, lost in time and space. There is reference to Shakespeare's Ophelia, who lay on the water, bewitching people with her ethereal beauty.' Prices are $7,500 for works measuring 160 x 140 cm and $3,300 for those of 100 x 80 cm.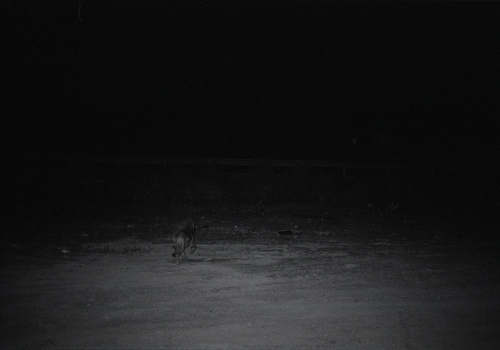 Ali Emir Tapan, 'Untitled (Dog)', detail, 2015, archival pigment print mounted on dibond, 49 pieces of various sizes
ALI EMIR TAPAN'S THERE IS ANOTHER WORLD
On perpendicular Meşrutiyet Caddesi, Galerist, at No 67, will open a new exhibition this Friday (March 27). For his third solo show, There is another world, Ali Emir Tapan has created works in various mediums that sit on the crossroads between the imaginary and the real. 'The tension created between the imperfectly unique and references to conceptual perfection is the most poignant thing about the exhibition,' says Galerist's artist-liaison manager, Müge Çubukçu.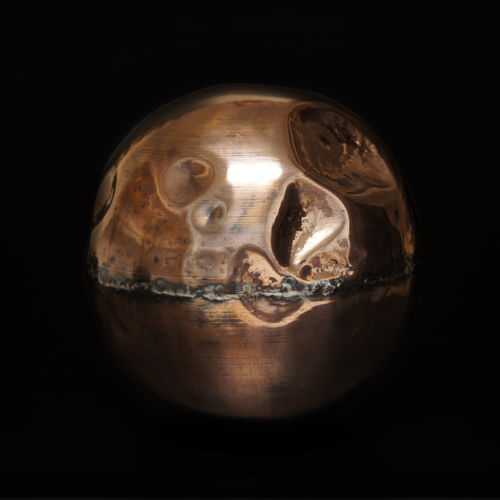 Ali Emir Tapan, 'Untitled Object', 2015, replica of pre-Soviet Russian circus ball, two-way mirror cube, halogen lights, Ø28
There are many interesting works on display, including prints showing mysterious shapes and objects – either in dark, muted colours or in bold, dizzying motifs. One standout work, according to Çubukçu, is the above copper ball in a glass cube which, placed under a gyrating light, goes from being visible to invisible. Synchronized with Tapan's own breathing, the illumination part of this work signifies existential possibilities, while the copper ball represents cultural memory. Please enquire directly with the gallery for prices.
Alberto Giacometti, 'Reclining Woman who Dreams', 1929, bronze, Giacometti Foundation Collection, Paris, inv. 1994-0006
ALBERTO GIACOMETTI
Next door, the Pera Museum (main image) has two new exhibitions. It's easiest to start on the top floor and make your way down. On the fifth and fourth floors is a retrospective of the Swiss sculptor and painter Alberto Giacometti, contextualising his works within the Surrealist movement of the 1920s and the later art scene in Paris. 'It is very exciting to see his transformation and ambitious approach to sculpture making,' says the collection supervisor, Ulya Soley.
The 'Reclining Woman who Dreams' (above) is an exemplary work from Giacometti's Surrealist period. Whereas the title is descriptive and promises a poetic depiction, the sculpture consists of sharp, geometrical shapes.

Alberto Giacometti, 'The Cage', 1950, bronze, Giacometti Foundation Collection, Paris, inv. 1994-0177
One of his later works, 'The Cage' (above), is another powerful piece. It explores ideas of body-mind duality, of being trapped in one's own body and how the body could function as a cage.
Works of Hippocrates, ca. 1338 (text), 1341–1345 (illuminations), paper (text), parchment (illuminations), 344 fols., Paris, Bibliothèque nationale de France, Département des Manuscrits, cod. gr. 214
LIFE IS SHORT, ART LONG: THE ART OF HEALING IN BYZANTIUM
On the third floor, Life is Short, Art Long: The Art of Healing in Byzantium brings together icons, reliquaries, amulets, marble carvings, medical equipment, plants, herbs and manuscripts which together offer a glimpse into Byzantine rituals for the pursuit and maintainenance of wellbeing. 'It is striking to see the influence of Byzantium's ancient cultural heritage on religious and rational thought, as well as contemporary scientific developments and innovations,' says Soley.
A standout work here is the above manuscript, dating from 1341–1345. It features a portrait of the author Hippocrates, depicted holding a book in which he has written the first lines of his Aphorisms: 'Life is short, art long, opportunity fleeting.'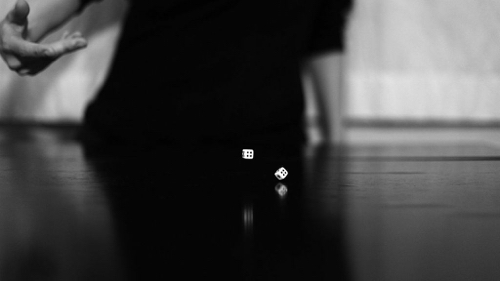 Didem Pekün, 'Of dice and men', 2015
A CENTURY OF CENTURIES
Make your way to İstiklâl Caddesi where, just to the right, SALT Beyoğlu at No 136, is hosting an exhibition that is sure to be a hit with lovers of film and digital media. A Century of Centuries presents video works by 11 artists from Turkey, the Middle East and Europe, dealing with transformative moments, traumatic experiences and past social transitions which continue to resonate in the present.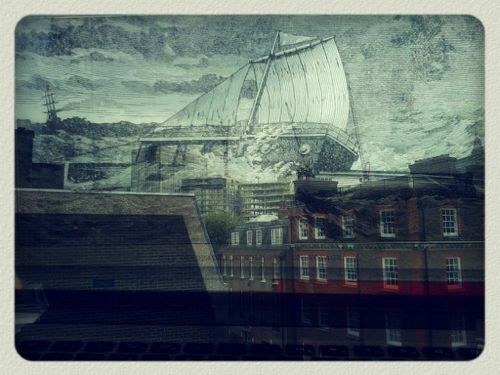 Hera Büyüktaşçıyan, 'Destroy your house, build up a boat, save life!'
Works include the Turkish artist Didem Pekün's video essay Of dice and men, which is punctuated by recurring moments (above top); the Russian collective Chto Delat's film-performance installation, The Excluded; two videos by the Egyptian artist Maha Maamoun exploring the legacy of pyramids; a new site-specific commission by Hera Büyüktaşcıyan interweaving traumas from Biblical times, more recent history (above bottom) and more.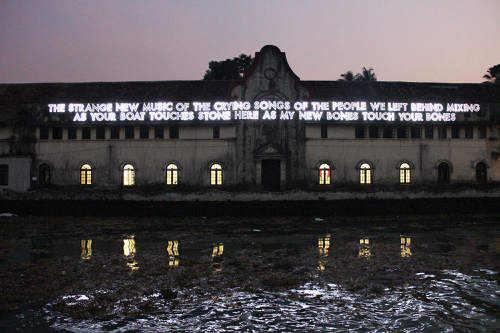 Robert Montgomery, 'Noise Kochi'
ROBERT MONTGOMERY
Keep heading down İstiklâl Caddesi, go past the Galatasaray Lycée and turn down the first street on your right. On Turnacıbaşı Caddesi, at No 9, Istanbul'74 hosts the first solo show in Istanbul of the Scottish artist Robert Montgomery, who is known for basing his work on texts and poems.
The exhibition showcases a number of Montgomery's major light installations, produced in the past five years, along with woodcuts, a series of watercolours, prints showing poems on LA billboards from last year, and a documentation of the production process of the work 'Fire Poem' (above), which was displayed in the gardens of the Louvre. Please enquire directly with the gallery for prices.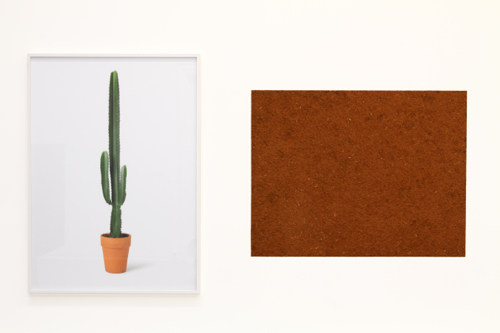 A Kassen, 'The Colour of Things (Cactus)'
PERCUSSIVE HUNTER
Come back onto İstiklâl Caddesi and head towards Taksim. On your left, at No 8, Akbank Sanat is hosting Percussive Hunter, a group exhibition curated by the winner of the 2014 International Curator Competition, Niekolaas Johannes Lekkerkerk. It examines processes of mattering and sonic resonance inherent in material substances.
Paul Geelen, '5th wall', 2014, oil-bonded casting sand, photo: Gert Jan van Rooij
Works span a variety of mediums, from video to installation to painting, ranging from the conceptual to the more practical. The French artist Camille Henrot's 'encyclopedic' video Grosse Fatigue, for instance, attempts to tell the story of the universe's creation from a computer using the collection of the Smithsonian Institute. She received the Silver Lion at the 55th Venice Biennale for the work. Other important works include the Dutch artist Paul Geelen's '5th Wall' (above), constructed in the gallery space using two tonnes of oil-bonded casting sand, and the Danish collective A Kassen's 'The Colour of Things (Cactus)' (above top).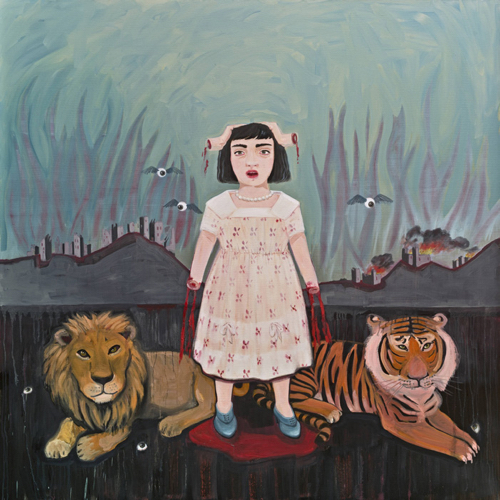 Banu Birecikligil, 'Kassandra', 2015, oil on canvas, 150 x 150 cm
BANU BIRECIKLIGIL'S KASSANDRA'S EYES
Further afield, The Empire Project – which has moved from Sıraselviler Caddesi down the road to Defterdar Yokuşu No 35 – is showcasing the latest works by Banu Birecikligil, who explores being a woman in contemporary society through a mythological context in Kassandra's Eyes.
Using the character of Kassandra, who in Greek mythology spurned the advances of Apollo and was cursed by him so that no one would ever believe her visions again, the artist looks at how women have been treated throughout history.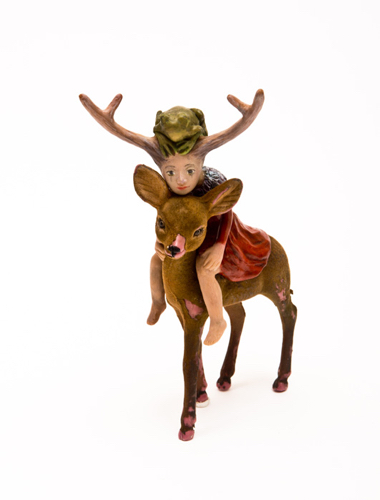 Banu Birecikligil, 'Kurbağalı Kız Kızlı Geyik', 2015, mixed media, 20 x 20 x 7 cm
A talented young artist, Birecikligi's experimental style lends itself well to her small, intimate drawings and playful sculptural works. Works are priced from TL6,000 (€2,115) to TL17,500 (€6,180).
Main image courtesy of Pera Museum.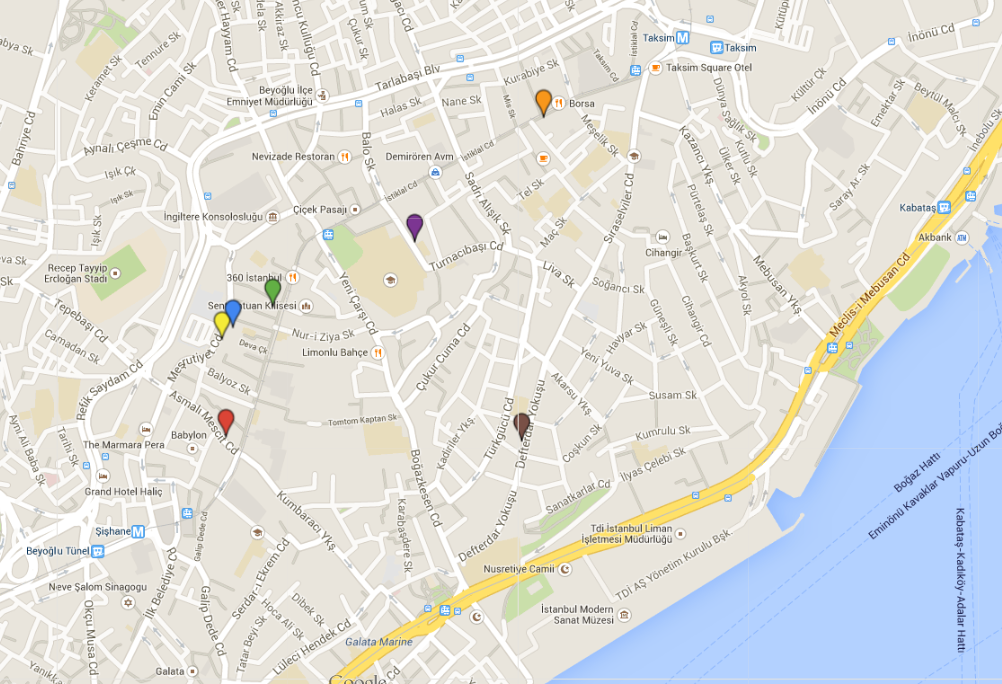 Key: Red – ALAN Istanbul, Yellow – Galerist, Blue – Pera Museum, Green – SALT Beyoğlu, Purple – Istanbul'74, Orange – Akbank Sanat, Brown – The Empire Project
Click here for the interactive map.