Spring has finally sprung and before many of the city's galleries close for the summer hiatus, make sure you get in a couple more gallery walks and catch some of the very impressive art being showcased around the city right now. This week we're in Beyoğlu, where there is a concentration of photography-based shows at the galleries and institutions we visit.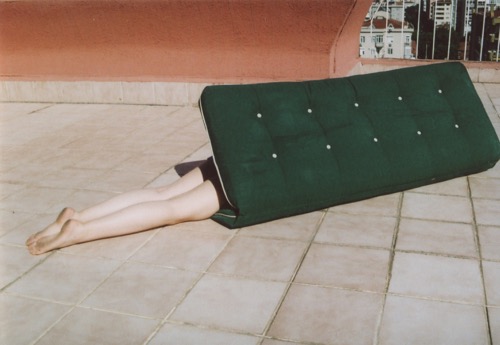 Eylül Aslan, 'Series of Zwilling'
NEW PHOTOGRAPHY
Start at the Tünel side of Istiklal Caddesi. Down Asmalı Mescid Caddesi, at No 5, ALAN Istanbul opens a new group exhibition tomorrow (May 12), showcasing new works by artists who work in the photography medium.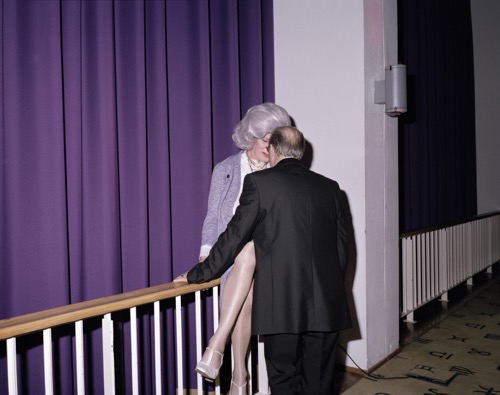 Gert Jochems
Works by 17 artists – both Turkish and international – are showcased in New Photography, which aims to demonstrate how different artists use photographic techniques in different forms, contexts and processes. Works range from photorealism (such as Cemre Yeşil's understated portrait of a young girl) to more surreal staged photographs, such as the ones by Eylül Aslan and Evzen Sobek. Also look out for Gert Jochems's wonderfully retro snap of an elderly couple against a purple curtain. Prices range between $1,000 and $9,000.
Ayça Telgeren, 'Ringers'
AYÇA TELGEREN'S HAND OF THE ARTIST
On perpendicular Meşrutiyet Caddesi, Galerist (main image), at No 67, is hosting Ayça Telgeren's third solo exhibition, Hand of the artist. Through a number of themes – including introspection and the future – the exhibition traces the artist's physical and spiritual journey over the past two years.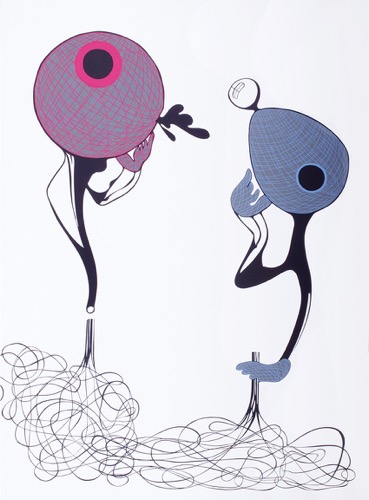 Ayça Telgeren, 'We're all made from paper'
On display are charming mixed-media works that are almost cartoony in nature. Prices range between €3,000 and €12,500.
Exhibition view
EVERY INCLUSION IS AN EXCLUSION OF OTHER POSSIBILITIES
Come back onto Istiklal Caddesi and, just to the left, SALT Beyoğlu at No 136, is in the last week of previewing its upcoming exhibition, Every Inclusion is an Exclusion of Other Possibilities. The show brings together artworks from three private collections in order to publicly share these works and open up a dialogue about collecting art. The preview takes place at the Forum area until May 17, before a multifaceted exhibition opens on the second and third floors on June 9.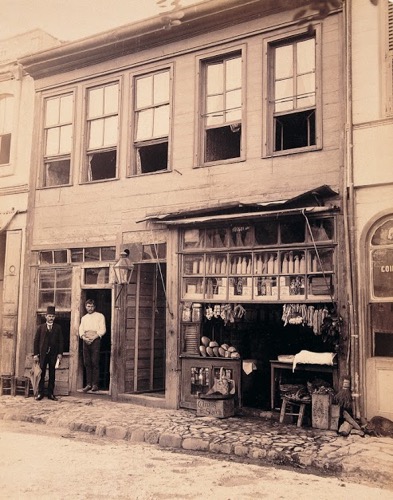 Abdullah Frères, 'Grocery store', albumen print, ca. 1890, Ömer M Koç Collection
CAMERA OTTOMANA
Across the road at No 181, RCAC, has an exciting new exhibition on offer. Curated by Zeynep Çelik, Edhem Eldem and Bahattin Öztuncay, an authority on photographers of the Ottoman Empire, Camera Ottomana looks at photography and modernity in the Empire from 1840 to 1914. The exhibition brings together an extensive selection of photographs, emphasising the widespread use of photography in various areas such as propaganda, journalism, education, criminology and medicine.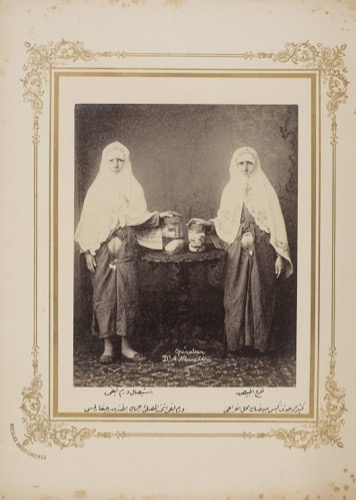 Fibroid uterine tumour (left) and multi-cystic ovary (right), mid-1890s, Ömer M Koç Collection
The above photograph, for instance, comes from an album recording successful surgeries performed at the Haseki Women's Hospital – a collaboration between Dr Ahmed Nureddin and the photographer Nikolaos Andriomenos. Somewhere between clinical records and studio portraits, the photographs depicted cured patients next to glass jars containing tumours removed from their abdomens. Their proud demeanour seems to acknowledge not only victory over their illnesses but pride in their personal contributions to science.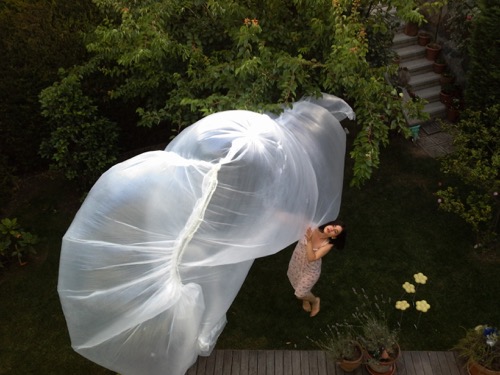 Neslişah Mamati
NESLIŞAH MAMATI'S INVASION
Stay on the same side and at No 161, inside the Mısır Apartment, the Nesrin Esirtgen Collection on the fifth floor (we will visit the other galleries in this building next week) is in its last few days of hosting the young artist Neslişah Mamati's solo show, Invasion. The site-specific installation is an attempt to explore the deformation of form within conventional spaces (such as the home) and its psychological effects on people. The installation is accompanied by photographs by Mamati. Collectors interested in the artist's work should contact the artist directly.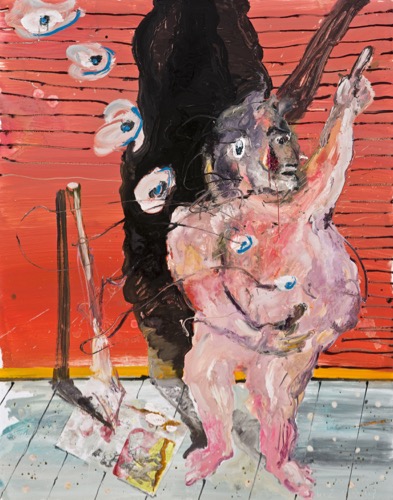 Erdoğan Zümrütoğlu, 'Übü', 2015, oil on forex, 190 x 150 cm
ERDOĞAN ZÜMRÜTOĞLU'S DARK MATTER
Weave your way down to Cihangir from behind Galatasaray High School to two more excellent galleries. The Empire Project is hosting its second show at its new location at Defterdar Yokuşu No 35. Dark Matter showcases Erdoğan Zümrütoğlu's new paintings, which seamlessly combine figurative and abstract elements.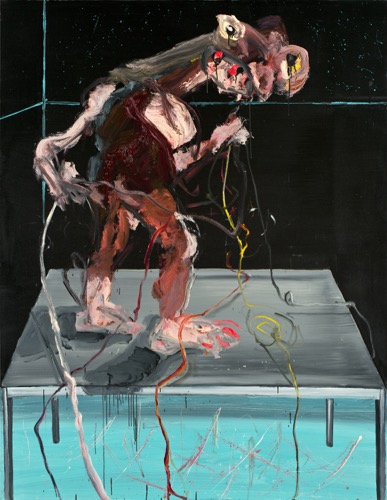 Erdoğan Zümrütoğlu, 'Tyrant'
Zümrütoğlu's work successfully 'draws upon the accomplishments of late modernism and goes beyond pure postmodern eclecticism,' writes Marcus Graf, to create visceral paintings in a striking colour palette. Besides being aesthetically pleasing, each canvas tells its own story, deeply steeped in the current socio-political climate. Prices range from TL6,875 to TL55,000.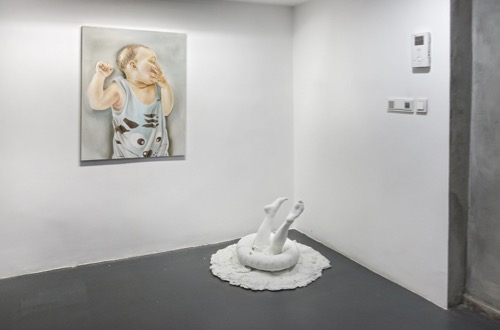 Senem Denli, 'Secret', oil on canvas, 80x100 cm and Neslihan Koyuncu, 'Outer, larger, deeper', 2015, concrete sculpture, photo: Rıdvan Bayrakoğlu
THE DAY BEFORE TOMORROW
Further down the street, when it becomes Sıraselviler Caddesi, Pilot's second venue, Co-Pilot, at No 85, is in its last week of hosting a group exhibition, The day before tomorrow. The show displays works by three young female artists, working in painting, installation, photography, video and sculpture.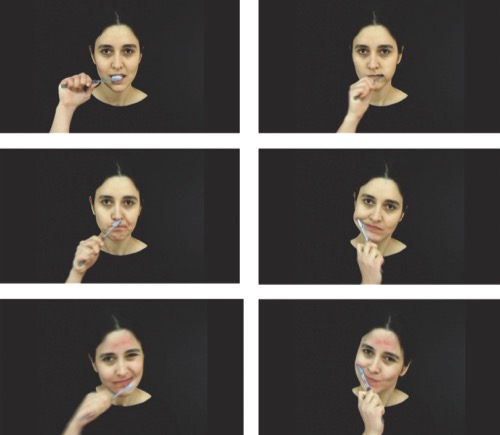 Hacer Kıroğlu, 'Untitled', photo: Rıdvan Bayrakoğlu
Neslihan Koyuncu's work explores the relationship between people and their homes, using found domestic objects such as nightstands, ironing boards and cheesecloths to create her installations. Senem Denli's paintings look like film stills and are a kind of homage to contemporary Greek and European cinema as well as to independent American films. The paintings on display recall various characters from cult films such as Larry Clark's Kids, Spring Breakers and Miss Violence (above top image). Meanwhile, Hacer Kıroğlu's performative acts (which can be seen on video at the show, above bottom image) reflect her obsessive behaviour and ultimately comment on the rituality of cleaning. Prices range from TL1,200 to TL15,000.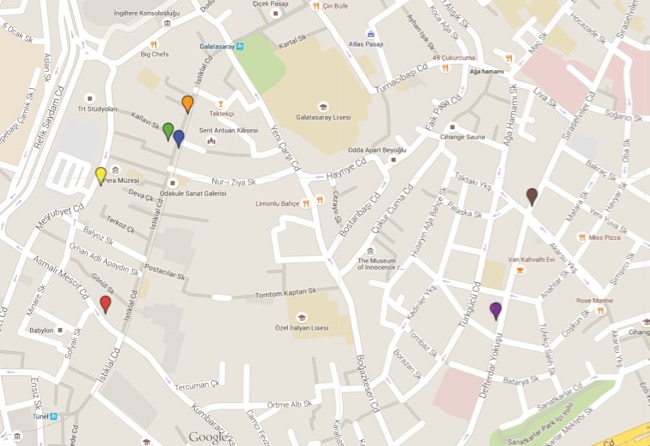 Key: Red – ALAN Istanbul, Yellow – Galerist, Green – SALT Beyoğlu, Blue – RCAC, Orange – Nesrin Esirtgen Collection, Purple – The Empire Project, Brown – Pilot
Click here for the interactive map.