For our last gallery walk of the season, we visit some scintillating shows in young and veteran galleries and museums in the heart of the European city, Beyoğlu. Although many galleries are closing for the summer, quite a few will remain open, offering a wide range of exhibitions and events (more on this in the coming weeks).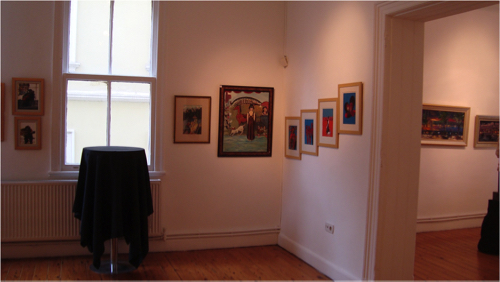 Exhibition view
ART IN EVERY ROOM
Start at the Tünel end of İstiklâl Caddesi. In the backstreets of Asmalımescit, Galatea Art, at Sofyalı Sokak 12, is hosting the group exhibition Art in every room, showcasing works from the Galatea Art collection. Mostly paintings and prints, the works range from Istanbul landscapes to figurative works and more abstract pieces by Turkish artists. Prices range from TL200 to TL30,000.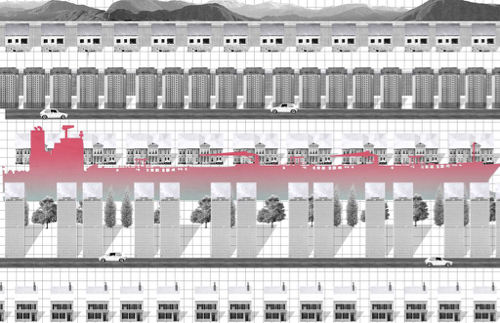 'Oilella as part of the city, still from silent film, courtesy Neyran Turan
STRAIT
Navigate your way back to İstiklâl Caddesi and head towards Taksim. On your left, at No 136, SALT Beyoğlu is hosting two exhibitions. On the entrance floor you will find Strait, which introduces the idea of the Bosphorus as a 'geographic object'. The future of the Bosphorus is a topical subject and one we at Cornucopia care about deeply (Cornucopia 52 and this blog are essential reading).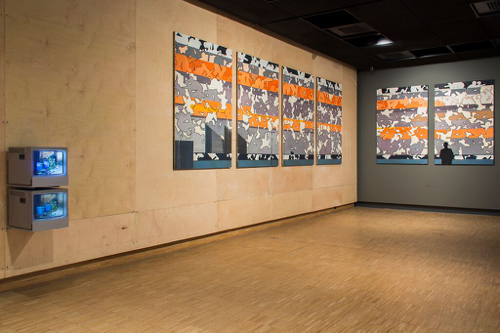 Exhibition view
EVERY INCLUSION IS AN EXCLUSION OF OTHER POSSIBILITIES
On the first, second and third floors is a multifaceted exhibition bringing together 50 artworks from three private collections in order to share these works publicly and open up a dialogue about collecting art. Comprised of local and international artworks, Every Inclusion is an Exclusion of Other Possibilities showcases a selection of some of the most powerful and confrontational choices made by the collectors: included are works which are socially critical, political and sometimes disturbing. The collections also feature works that are hard to display, such as video, audio, book installations and film and slide projections.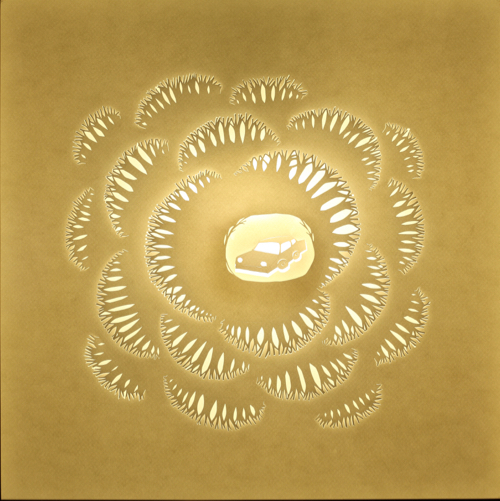 Nermin Er, 'Untitled', 2011, paper light box, 46 x 46 x 14 cm, courtesy of Galeri Nev Istanbul
ON PAPER
Keep heading towards Taksim Square. A bit further on the left, down Elhamra Pasajı, you will find Gaia Gallery, which is hosting the group exhibition On paper, showcasing Turkish artists whose practice incorporates paper. The works on show demonstrate interesting uses of paper in various mediums, or use paper as the canvas itself. Prices range from €750 to €6,500.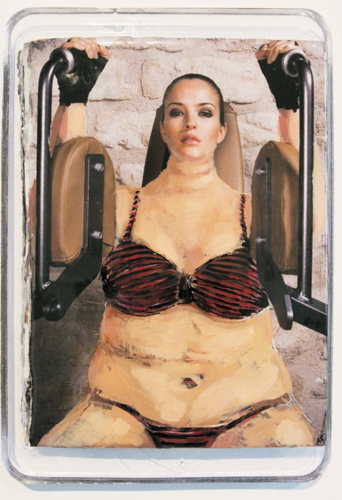 Nur Gürel, 'Toy with Proportion 11', 2015, mixed media on magazine, 22 x 32 x 2.3 cm
After this show the gallery will close until the new season begins on August 14 with an exhibition entitled Neverwhere. Curated by Vikki McInnes, it is organised within the context of the 'Australia in Turkey 2015' festival.
Saeed Ensafi, 'Portraits of the Forgotten Superheroes', 2015, mixed media, 17 x 11.5 cm
SAEED ENSAFI'S LOVE, HATE AND EDIT
Across the street at No 163, Mısır Apartment, the building full of galleries, has a few things of interest. Head straight to the fourth floor, where Pi Artworks is hosting the first solo show in Istanbul of the Iranian artist, Saeed Ensafi. In Love, Hate, Edit, through quirky mixed-media works, Ensafi explores how the word 'war' has held different meanings for different generations of Iranians.
Saeed Ensafi, 'My Dear Superheroes', 2015, 30-piece installation, mixed media, 6 x 8 cm each
Ensafi creates assemblages from found photos, his own drawings, lace and other interesting elements that reference Iranian cultural traditions. In the above work, the artist tries to capture the disappointment of seeing ripped photos in family photo albums.
Prices range between TL750 and TL6,000. The gallery will close after this show for a summer hiatus, with the first exhibition of the new season opening on September 1.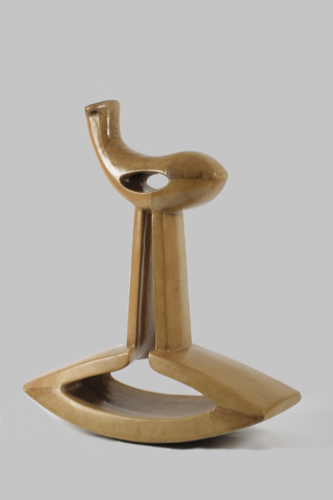 Koray Ariş, sculpture, h: 140 cm, w: 120 x 60 cm
KORAY ARIŞ'S EUPHONY/PERCUSSIVE SCULPTURES
Across the hall Galeri Nev is hosting the veteran sculptor, Koray Ariş. In Euphony/Percussive Sculptures, he showcases his latest musically-inspired wood and lead sculptures, produced between 2011 and 2014. 'My new works are interactive pieces,' Ariş says. 'I want viewers to touch them and hear the sounds. Every sculpture makes different sounds that come together in an euphony.'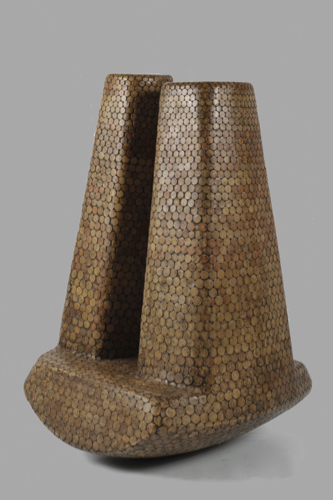 Koray Ariş, sculpture, h: 124 cm, w: 80 x 78 cm
Prices range from TL100,000 to TL150,000. Galeri Nev will remain open in August, with an exhibition showcasing works from the gallery's collection.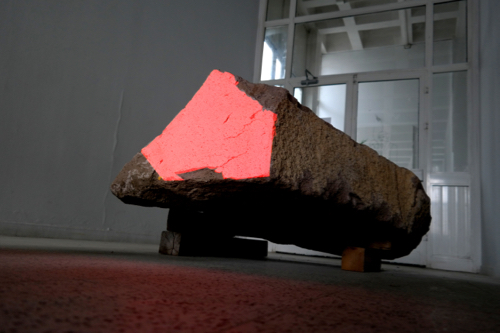 Hazal Ünsal, 'Stone', 2014, projection mapping on the stone, 160 x 120 x 70 cm
AKBANK CONTEMPORARY ARTIST PRIZE 2015
Leave the building and keep heading towards Taksim Square. Akbank Sanat at No 8 is hosting works by the 17 finalists of the Akbank Contemporary Art Prize 2015. Started 30 years ago, the prize's aim has been to develop contemporary art in the country by providing support for young artists.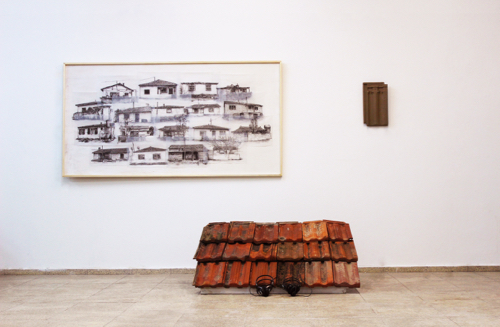 Şafak Gürboğa, 'I Remember This Place', 2015, featuring 'Swap', raw soil, tile, 23 x 41 cm; 'No: 19', 18 tile and voice recording, MP3 player, 110 x 130 cm; and 'That Place', 18 charcoal drawings on A3 paper, 110 x 210 cm
The top image shows the stone installation which won its young creator, Hazal Ünsal, first prize. The work is an intervention piece. The idea was to add a new layer to the existing form to shift the focal point of the stone and reposition the viewer's distance from it. The second prize was given to the video artist and photographer Volkan Kızıltunç, who produced a video exploring personal memories and used the car as a symbol of the rapidly changing economic classes in Turkey. Third prize was given to Şafak Gürboğa for his installation, 'I Remember This Place' (above bottom), which tells a personal story of a blood feud between two families in Bingol. The gallery will be closed in August.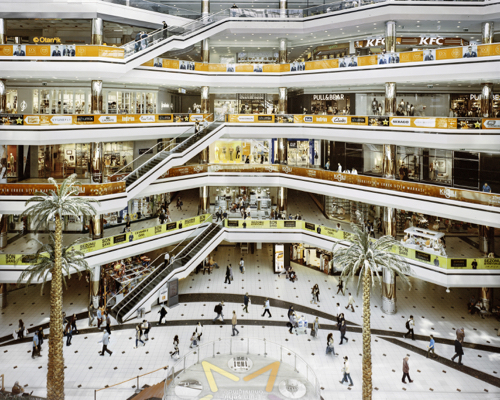 Serkan Taycan, 'Agora #08', 2015, backlit display pigment print, acrylic face-mount in light box, on wood structure, 90 x 112.5 cm
SERKAN TAYCAN'S AGORA
Make your way to parallel Sıraselviler Caddesi. At No 85, Pilot's second venue, Co-Pilot (the main space is being renovated), is hosting Serkan Taycan's Agora series. First shown in the Turkish Pavilion at last year's International Architecture Exhibition of Venice Biennale, the series traces collective memory through the squares of Istanbul. The photographs are being shown in Istanbul for the first time. Prices range from €4,500 to €6,000. The gallery will close for the summer break after this exhibition.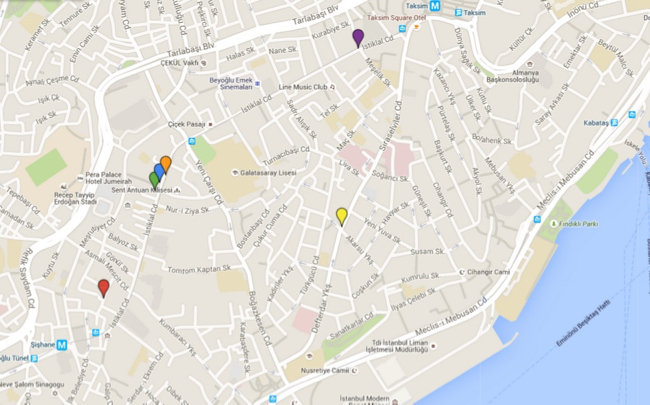 Key: Red – Galatea Art, Green – SALT Beyoğlu, Blue – Gaia Gallery, Orange – Mısır Apartment (Pi Artworks, Galeri Nev), Purple – Akbank Sanat, Yellow – Pilot
Click here for the interactive map.
Main image shows Bahadır Baruter's 'Unseen Series No. 1', ink on paper, 47 various dimensions, courtesy of x-ist, being exhibited at Gaia Gallery's 'On paper' show.