We are back in the beating heart of Istanbul's centre – Beyoğlu – where some exemplary galleries and museums are hosting intriguing group and solo shows spanning the mediums of painting, photography and performance art.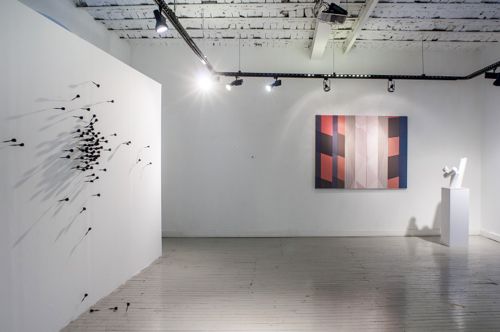 Exhibition view showing (left to right): Ceylan Öztürk, 'Untitled', 2014, installation, various sizes; Sevgi Kesmen, 'Untitled', 2011, acrylic on canvas, 180 x 140cm; Bahadır Çolak, 2012, marble, 53 x 45 x 29cm, TL12,000
PERCEPTION MACHINE
Start at the Tünel side of Istiklal Caddesi. Down Asmalı Mescid Caddesi, at No 5, ALAN Istanbul is hosting three Turkish artists – Bahadır Çolak, Ceylan Öztürk and Sevgi Kesmen – who explore geometry in Perception Machine. The images above and below show views of the exhibition. Prices range from $5,000 to $15,000.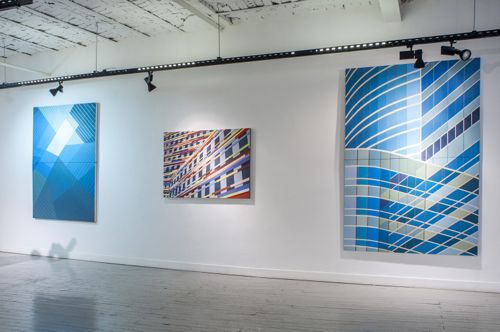 Exhibition view showing (left to right): Sevgi Kesmen, 'Untitled', 2011, acrylic on canvas, 200 x 140cm; Sevgi Kesmen, 'Untitled', 2014, acrylic on canvas, 140 x 100cm; Sevgi Kesmen, 'Untitled', 2011, acrylic on canvas, 240 x 160cm
Commenting on Istanbul's contemporary art scene, the gallery's Hande Ikbay says: 'It's very dynamic and exciting at the moment. Whilst existing galleries and institutions are getting stronger, there are also new organisations coming onto the scene. Istanbul's three contemporary art fairs are improving each year. New contemporary art museums are being founded by reputable art collector families. All these factors will ensure Istanbul reaches a higher level in the international contemporary art environment.'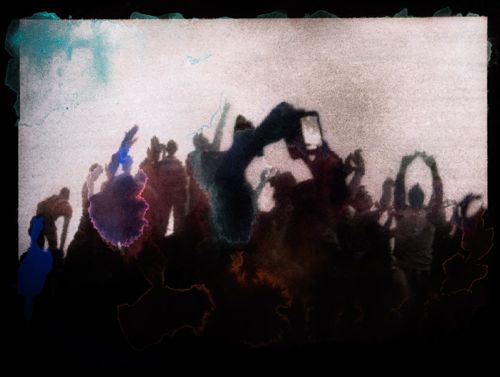 Orhan Cem Çetin, 'Stop', 2014
ORHAN CEM ÇETIN'S SILVER PLANET
Further down the street at No 32, Sanatorium is hosting the latest solo show from the veteran Turkish photographer Orhan Cem Çetin. The gallery's director, Feza Velicangil, says Silver Planet features 'sentimental' photography. She particularly likes the works shown above and below – the first because it is a moment captured during the Gezi protests and the second because it reminds her of her father. Prices from TL2,500 to TL8,000.
Orhan Cem Çetin, 'Stinking Seaweeds', 2014
Asked how she views the state of contemporary art in Istanbul, Velicangil says: 'Actually that's a question I am asking myself. For sure it is growing, but in baby steps. The number of viewers is growing but the number of buyers stays the same. As the government does not support contemporary art, it is up to the galleries, foundations and museums to promote Turkish artists and to make Istanbul the centre for contemporary art. I hope we succeed, but it is difficult with so little financial support.'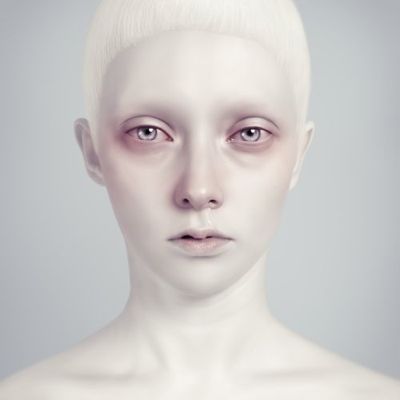 Oleg Dou, 'Katya's Tears', 2008, C-print under diasec, 120 × 120cm/180 × 180cm, edition of 8+2AP
OLEG DOU'S FACES
On perpendicular Meşrutiyet Caddesi, Galerist, at No 67, is hosting the first solo show in Turkey of the Moscow-based artist Oleg Dou. In Faces, Dou presents his otherworldly, heavily manipulated photographs that aim to critique today's fashion industry. Dou is a rising star and was very popular on the art-fair circuit last year. His work can also be seen at the Trace 14 exhibition, now showing at Maslak's Project 4L. The gallery's Müge Çubukçu chooses the above as one of her favourite works. 'I love the innocence of Dou's characters. This girl, Katya, exposes her fragility so openly that it becomes a show of strength. Embodying such contradictions is what makes these mystical creatures so interesting,' she says. Each piece is priced around €10,000.
'The contemporary art scene in Istanbul does continue to grow, although not as rapidly as in previous years,' says Çubukçu. 'It has now become truly global as more and more Turkish artists are represented by international galleries, and take part in international biennials and auctions. There is also a growing number of collectors who add international artists to their collections and visit fairs all around the world.'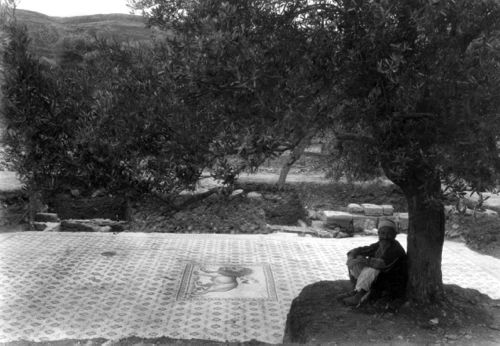 A local man named Dakar sits beneath an olive tree next to a huge mosaic, measuring over 10 x 8 metres, near the House of the Buffet Supper in Daphne (Harbiye). In the centre of the floor, set against a carpet of flowers, is a striding lion – a symbol associated with Persian royalty – with red ribbons tied around its neck. The mosaic dates from the first half of the 5th century and its central panel is now preserved in the Hatay Archaeological Museum; May 13, 1937; Department of Art and Archaeology, Princeton University
ANTIOCH ON THE ORONTES
Come back onto Istiklal Caddesi and, just to the left, the Research Centre for Anatolian Civilisations (RCAC) at No 181 is hosting yet another stimulating exhibition. Antioch on the Orontes presents historic excavation photographs that tell the story of how, before the Second World War, archaeologists unearthed findings from the most brilliant period in the history of Roman Antioch (modern-day Antakya), one of the most important metropolises of the Roman Empire. RCAC's Şeyda Çetin says she particularly likes these two photographs (above and below) which show not only 'the impressive mosaics found in Antioch, but also the dedication of the region's workers and the local people'.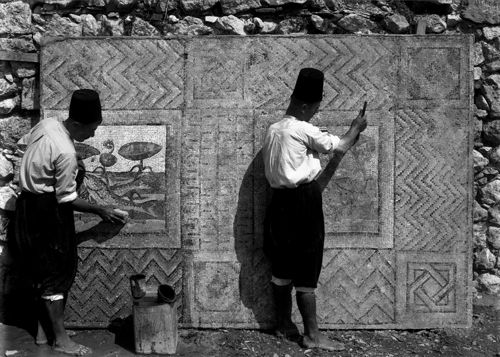 Two members of the excavation crew use stones and chisels to clean deposits from a mosaic decorated with fish and a riverbank with lotus flowers. The panel, now in the Hatay Archaeological Museum, was found at Daphne (Harbiye); May 9, 1936, Department of Art and Archaeology, Princeton University
'At the moment, the unstable situation in the country is being reflected in the cultural field as well,' Çetin says. 'People are hesitant to develop new art projects. But this doesn't mean the momentum has dramatically slowed down – the scene is still very promising. Although the rise has mostly occurred in the field of contemporary art, there are few institutions which dedicate themselves to history, anthropology, archaeology and history of art. The exhibitions that trace history lead to increased awareness for the country's cultural heritage. I think it is important that the RCAC is filling a gap by offering exhibitions related to the history of Anatolian civilisations in a very central location.'
CHARLES ATLAS'S MC9 AND MARINA ABRAMOVIĆ'S AAA-AAA
Continue down Istiklal Caddesi towards Taksim and at No 136 you will find SALT Beyoğlu, which has a few things of interest. First, there's the installation MC9, which includes clips from 21 collaborations between the filmmaker Charles Atlas and the choreographer Merce Cunningham. Then there's AAA-AAA, a performance piece recorded by the celebrated Serbian performance artist Marina Abramović in the late 1970s.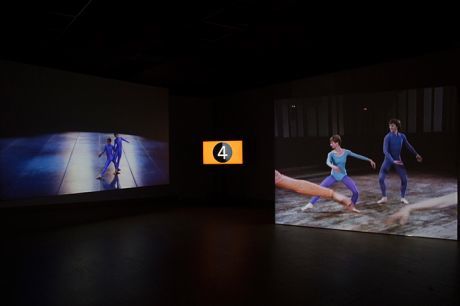 Charles Atlas, MC9, 2012, SALT Beyoğlu, 2014
Charles Atlas's work focuses on social movement and group dynamics, a theme the museum wanted to explore in the lead-up to the general election. 'Choreography is important to us at this moment and Atlas's installation is an immersive work allowing visitors to be in the midst of a complex set of movements and sound. It is a new form of installation for us,' says the museum's November Paynter.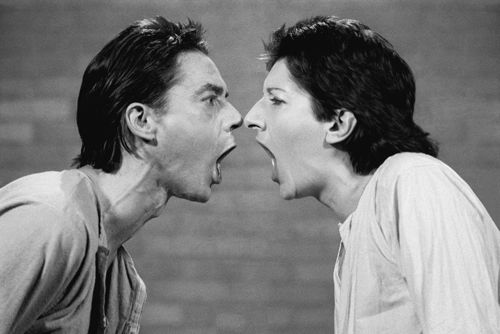 Marina Abramović, 'AAA-AAA' (performance RTB, Liege), 1977, gelatin silver print mounted on alu-dibond, framed in wood on graphite frame, 110 x 150 cm, edition 1/2 A.P, photo: © VBK, Wien, 2011
'Abramović's work is also part of a series of works that deal with power struggles, authoritarian control and questions around public space and group dynamics,' Paynter continues. In Abramović's performance, the artist and fellow German-born performance artist Ulay kneel in front of each other and engage in a screaming competition. The concept revolves around the relationship between two lovers: starting from an equal position, they try to outdo one other. The work is on loan from the collection of L'internationale (a museum confederation of which SALT is a member and which also includes MUHKA, MACBA, Reina Sofia, VAM and Moderna Galeria Ljubljana).
Most images, except main and last image, courtesy of respective galleries. Main image courtesy of Zug55's Flickr page (http://www.flickr.com/photos/zug55/). Last image, see caption.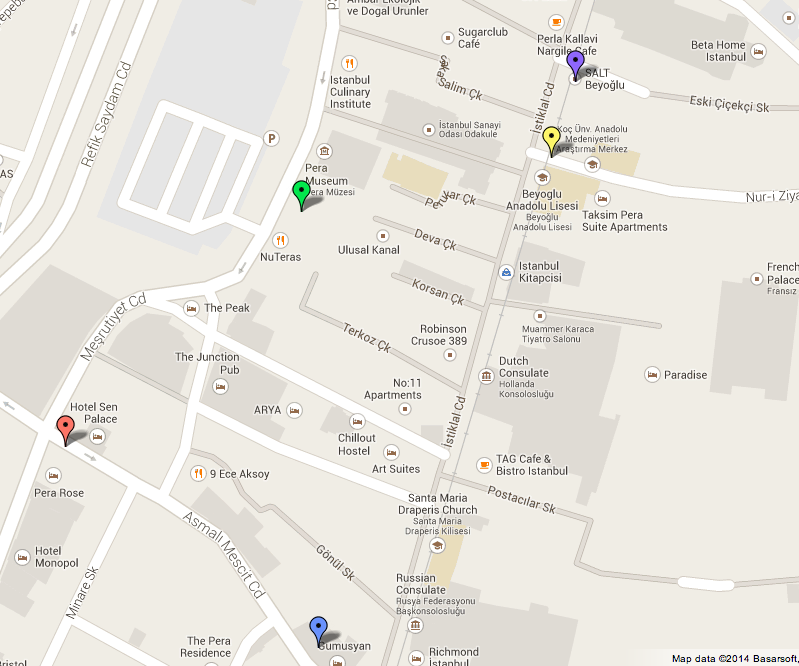 Key: Blue – ALAN Istanbul, Red – Sanatorium, Green – Galerist, Yellow – RCAC, Purple – SALT Beyoğlu
Click here to see the interactive map.