We continue our walk in Beyoğlu this week, concentrating on the area around Galatasaray, where some of our favourite galleries are showcasing solo exhibitions of Turkish and international artists. We also stop by at Akabank Sanat for an interesting group exhibition.
Selçuk Artut, 'Analog Pixels Sculpture', vibration motors, stainless steel sheet, electronic circuitry, 80 x 80 x 10 cm
SELÇUK ARTUT'S DATA REALITY
Let's start at the famous building, packed full of galleries, at No 163 İstiklâl Caddesi. On the second floor of the Mısır Apartment building (main image), Galeri Zilberman's first space is showcasing the works of the Turkish artist Selçuk Artut, an important figure in digital art. Data Reality explores the relationship between technology, identity and art. 'The exhibition features some experimental video works and four minimalist wall-based acoustic sculptures [above] which I find fascinating,' says the gallery's founder, Moiz Zilberman. Artut believes artworks should be accessible, so his pieces are reasonably priced, from TL800 to TL15,000.
Eşref Yıldırım, from the series 'Salute! Masum – Sergen', mixed media on fabric, 180 x 120 cm

EŞREF YILDIRIM'S SALUTE
On the third floor, in Galeri Zilberman's main space, you will find the Turkish artist Eşref Yıldırım's latest exhibition, Salute! 'The exhibition resonates well in the current political climate and raises questions about the relevance of political art. I have to say that I am very intrigued by the centrepiece of the show, an installation of double-sided flags of dead soldiers,' says Zilberman of the above image. Prices are in the TL10,000 range.
'Istanbul's art scene is becoming more sophisticated and mature,' Zilberman tells me. 'Although art is largely an asset, its intellectual value is equally important. I am also glad to see artists embracing global artistic developments while still addressing local issues and personal concerns.'
Susan Hefuna, 'Ma Habeit, 2008, fabric, 110 x 142cm
SUSAN HEFUNA'S BEYOND NOTHING
On the fourth floor, Pi Artworks is hosting a second solo show from the renowned Egyptian-German artist Susan Hefuna. Entitled BeYond NoThing, the exhibition opens this Saturday (April 5). 'This is the first time that Hefuna's textile works have been exhibited together in a dedicated show. I love the way she has drawn on various influences, from the Egyptian art of appliqué to designs from Africa to Japan. Her use of English and Arabic script is immediately recognisable and I just love the poetry of her works here, and how each one is unique,' says the gallery's founder, Yeşim Turanlı. Prices from €10,000 to €30,000.
'We have a rich, vibrant arts scene in Istanbul that has always proven itself to be resilient, and I am sure it will continue to do so,' Turanlı says.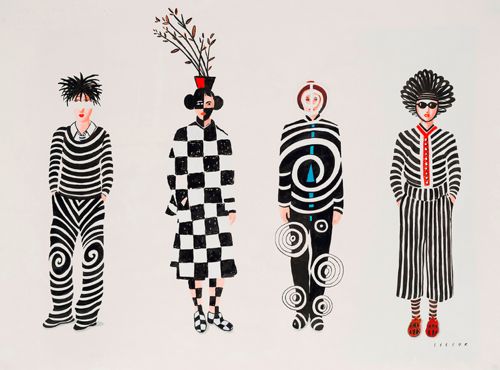 Selçuk Demirel, 'Parade No. 33', 2014, 72 x 57cm
SELÇUK DEMIREL'S NOW
Across the hall, Galeri Nev is opening a show of the work of the veteran Turkish illustrator Selçuk Demirel this Friday (April 4). In Now, Demirel presents his most recent drawings, as well as some older works. A highlight is the 'Parade' series (above image) collated in a book entitled Fashion Show ,which was published by Yapı Kredi Publications last year.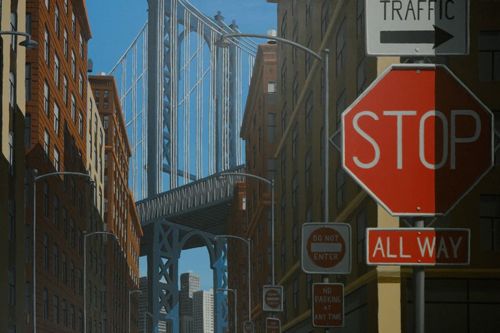 Eric Peyret, 'Dumbo Stop', 195 x 130cm
ERIC PEYRET'S BORDERLINES
Leave the building and keep heading down İstiklâl Caddesi towards Taksim. Go past the Galatasaray Lycée and turn down the first street on your right. On Turnacıbaşı Caddesi, a narrow street full of interesting art boutiques, vintage shops and the 18th-century Galatasaray Hamamı, at No 21, the tiny Gama Gallery is hosting a solo exhibition from the French artist Eric Peyret. In Borderlines, Peyret explores the lines and borders of a modern cityscape in his realistic urban paintings.
Bethan Huws, 'Untitled' ('Le ready-made…'), 2008, aluminium, glass, rubber, plastic letters, 100 x 75 x 4.5 cm, courtesy the artist and Galerie Tschudi Zuoz, photograph: Charles Duprat Paris
THIS PAGE LEFT INTENTIONALLY BLANK
Come back onto Istiklal Caddesi and head towards Taksim. On your left-hand side, at No 8, Akbank Sanat is hosting a group exhibition This Page Intentionally Left Blank, the first in a series of exhibitions based on writing. 'Understanding the act of writing as a broad, culturally embedded gesture, the exhibition covers artistic, literary, and curatorial and editorial fields of action,' says the director of Akbank Sanat, Derya Bigalı.
'In the last decade, Istanbul has become a powerful magnet for art professionals and enthusiasts from all around the world. Opportunities provided by art institutions such as artist residencies, cultural exchange programmes and internationally collaborative projects are allowing emerging artists and curators to network locally and internationally,' says Bigalı.
'The Akbank Arts Centre does its best to support the development of Turkish art with annual projects, such as the Akbank Contemporary Artists Prize and the Akbank Sanat International Curator Competition. We also publish the bi-monthly Akbank Contemporary Arts Map, an events calendar which shows all the current exhibitions.'
All images, except main image, courtesy of respective galleries. Main image from www.digitalbridges.eu/?p=4461.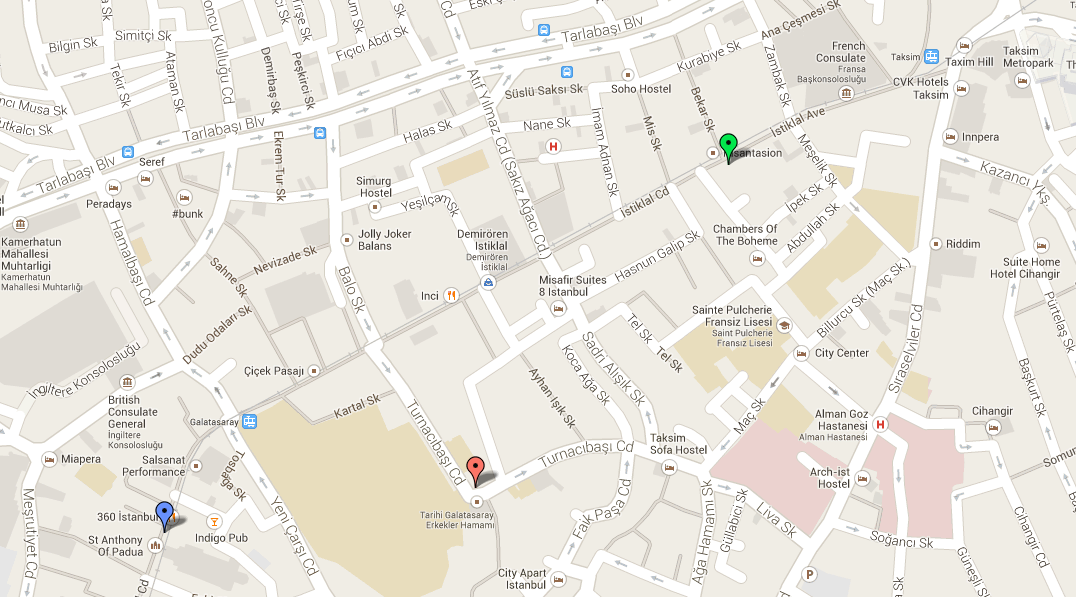 Key: Blue – Mısır Apartment (Galeri Zilberman, Pi Artworks, Galeri Nev), Red – Gama, Green – Akbank Sanat
Click here to see the interactive map.