We continue our walk in Beyoğlu this week, concentrating on the area around Galatasaray where a research centre, a building full of galleries and another small gallery are hosting a mix of intriguing shows.
Nazlı's Guestbook exhibition view
NAZLI'S GUESTBOOK
Just past the Galatasaray Lyceé, at Istiklal Caddesi No 181, the Research Centre for Anatolian Civilisations (RCAC) has a new exhibition of interest. In Nazlı's Guestbook, the guestbook belonging to Nazlı Hamdi, the youngest child of the renowned artist, archaeologist and founder of the Imperial Museum, Osman Hamdi Bey, gets a look-in. As with all RCAC endeavours, this exhibition is expertly put together and sheds light on the cultural milieu of the era by highlighting the signatures of the leading intellectuals of the period.
Burçak Bingöl, 'Shift I', 2014, ceramic, metal, 35 x 16 x 18 cm
BURÇAK BINGÖL'S A CARRIAGE AFFAIR
Backtrack towards the Galatasaray Lyceé and at No 163 you will find the Mısır Apartment, a building known for its contemporary art galleries. On the second floor, Galeri Zilberman's first space is hosting the works of the promising young Turkish artist, Burçak Bingöl. In A Carriage Affair, Bingöl 'explores issues of identity and collective consciousness and re-introduces the debate about art and craft and high and low culture,' says the gallery's sales director, Vassilios Doupas. 'I I feel she is one of the most interesting artists of her generation,' he adds. Works are priced at $3,000+.
Burçak Bingöl, 'Cruise', 2014, ceramic, 200 x 190 x 30 cm
Asked to explain the underlying theme of the exhibition, Bingöl says: 'Alienation. I copy an object and transform it into something foreign and unusual. The centrepiece is based on a real truck, but by breaking it into pieces and decorating it with traditional Turkish motifs, I am able to convey the great sense of alienation our society faces.'

Kay Rosen, 'Raze Raise', 2013–14, site-specific wall painting, 125 x 1250 cm, photo credit: CHROMA
KAY ROSEN
On the third floor, Galeri Zilberman's second space is hosting an exhibition by the American artist Kay Rosen, who is interested in the limitations and possibilities of language. 'The artist was intrigued by the rich history of Istanbul but also by the recent political events, particularly last year's protests,' Doupas says. 'She has created a new site-specific work inspired by these tensions, which is presented next to her trademark paintings.' Prices range from $20,000 to $50,000.
Kay Rosen, 'Instinct', 2007, enamel sign paint on canvas, 42.5 x 35.6 cm
Rosen's work is represented in the permanent collections of such renowned museums as MoMA and the Whitney in New York, and the Museum of Contemporary Art in Chicago, so this is a very exciting show for both the gallery and audiences.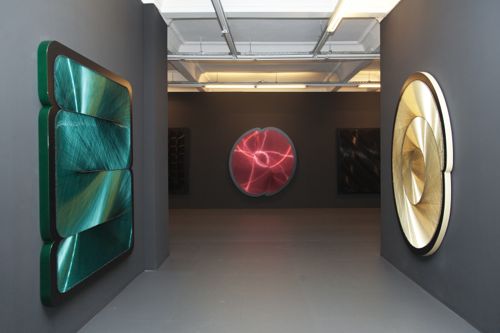 Gülay Semercioğlu's exhibition view
GÜLAY SEMERCIOĞLU'S WALKING ON THE WIRE
On the fourth floor, Pi Artworks is hosting the Turkish artist Gülay Semercioğlu. In Walking on the Wire, Semercioğlu presents her latest works created using her signature style of thin, coloured silver wire looped around a firm wooden frame. The thinness of the wire and the density of the overlapping layers create surfaces that appear like shimmering, glossy blocks of smooth colour when seen from a distance, while from close by you can see fluctuating tonal modulations as light is reflected and refracted from each individual strand. The visually arresting works are reminiscent of peacock feathers. Prices range from $40,000 to $50,000.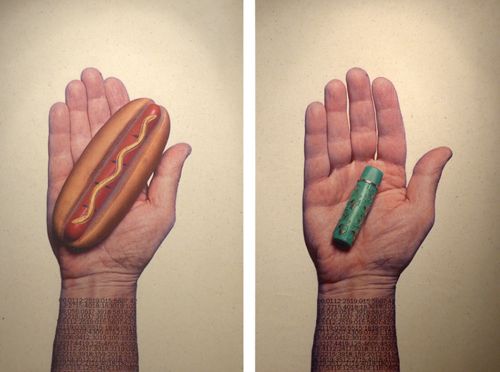 Michael Bishop
MICHAEL BISHOP'S SUSPICIOUS EXPLANATIONS
Across the hall, Galeri Nev is hosting the California-based artist Michael Bishop. Suspicious Explanations displays his photographs printed on felt, sculptures and an installation. Please enquire directly with the gallery for prices.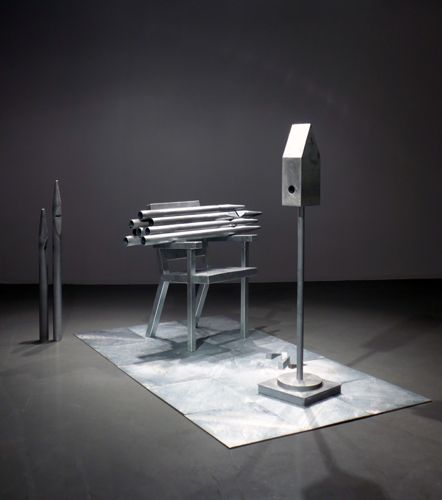 Michael Bishop
Bishop says of his work: 'My sculptures and prints at Galeri Nev reflect a continuing interest in the convergence and divergence of visual, spoken and written language. For me, making sense and fracturing sense can lead to the same place. The iconography I cling to has a way of surviving that is always astounding to me. Counting and collecting or usurping number sets always leads for me to some kind of calming and unification of the visual.'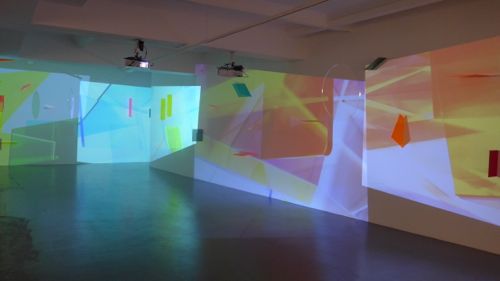 Bahar Yürükoğlu, 'Primordial Future'
BAHAR YÜRÜKOĞLU'S SELF-TITLED
On the fifth floor, the Nesrin Esirtgen Collection is for a change hosting a show by a solo artist (the gallery usually displays its collection). In Self-Titled, the young Boston-based Turkish artist Bahar Yürükoğlu presents interesting multi-media installations and videos. The gallery's manager, Berçin Damgacı says: 'Drawing connections between contemporary culture and the natural landscape, Yürükoğlu uses the contrast of the artificial and the natural to bring attention to the tensions that arise in a society of mass consumption and the effects this has on the landscape. Her site-specific installations are, at the same time, naive and influential.' Damgacı and Yürükoğlu both picked the above installation as their favourite. Says the artist: 'It is able to transform the gallery space into an otherworldly experience.' Works can be purchased directly from the artist. For prices, email byuruk@me.com.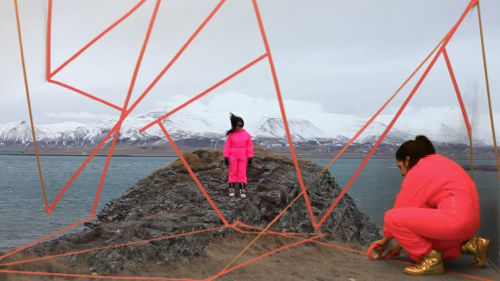 Bahar Yürükoğlu, 'Pink Ice', Video Still, 2014
Damgacı also says the above video shouldn't be missed. 'This is my newest work,' Yürükoğlu, ' and marks a new beginning in my process, but it also deals with my interest in perception, space and colour.'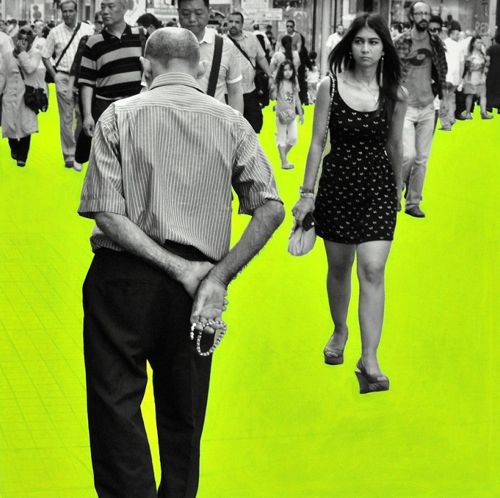 Catherine Van Den Steen, one of four artists shown at Gama
GROUP EXHIBITION
Keep heading down İstiklâl Caddesi, past the Galatasaray Lycée, and turn down the first street on your right. On Turnacıbaşı Caddesi, a narrow street full of interesting art boutiques and vintage shops, Gama is hosting a group exhibition of four contemporary French painters. Please enquire directly with the gallery for prices.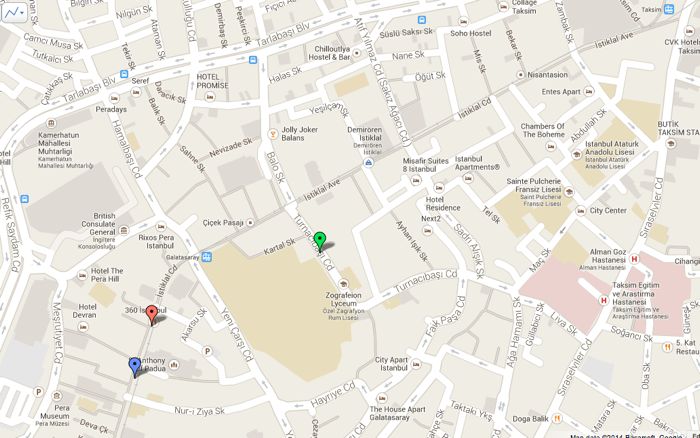 Key: Blue – RCAC, Red – Mısır Apartment (Galeri Zilberman, Pi Artworks, Galeri Nev, Nesrin Esirtgen Collection), Green – Gama
Click here for the interactive map.
Main photo: WikiMedia Commons