The Beyoğlu district might be a relatively new kid on the block when it comes to a contemporary art presence, but in less than a decade it has certainly carved out a worthy name for itself. When Koç Contemporary – the long-awaited contemporary art museum from the Vehbi Koç Foundation – opens in the neighbourhood in 2016, it will be in very deserving company. Fatma Çolakoğlu from the Pera Museum (a Beyoğlu institution since 2005) says that the area has gone through 'drastic' changes in the last 20 years, and that the proliferation of galleries in and around Beyoğlu heavily depends on 'certain trends, the economy, and a knowledge of the market'. However, she adds: 'It's great that more independent galleries are coming to life, and that there is a certain bond between the more established and the newly formed galleries.'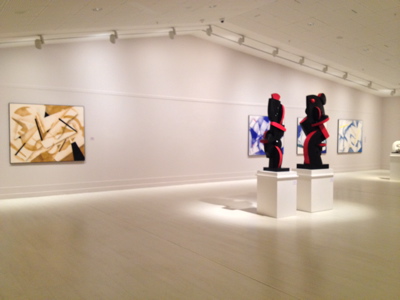 Sophia Vari exhibition
So, let's begin at the Pera Museum. Housed in the former Bristol Hotel and situated on Meşrutiyet Caddesi in Tepebaşı (main image), opposite the blue, green and red glass headquarters of TRT, Pera Museum focuses on Ottoman history and owns a large number of important Orientalist paintings. It also regularly hosts compelling temporary exhibitions. This season is no different. Begin on the top level, where the Greek artist Sophia Vari exhibits her paintings and sculptures for the first time in Istanbul. Çolakoğlu says that Vari's work is marked by 'femininity', and that the artist has always been 'intensely fascinated by the sensuous shapes of women in Ruben's paintings'. In 1976 Vari made the move from painting to sculpture, saying: 'Painting is an illusion, a trompe l'oeil. I want to touch, I want the volume, I want to be able to walk around my work, I want to create into a space, to prove that what I create actually exists.'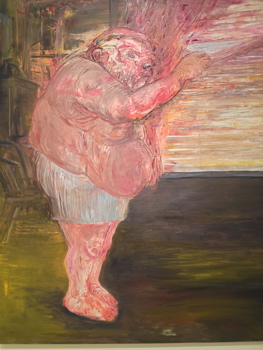 Mehmet Güleryüz, 'I Have Hope', 2008, part of the 'Dreams, Realities and Images' exhibition
On Level 3, the Dreams, Realities and Images exhibition focuses on the way the recent history of Turkey is represented in modern Turkish painting, with 'the narratives of the paintings showing the different social and psychological mindsets that existed throughout the modernisation period', according to Çolakoğlu. Curated by Ekrem Işın, the exhibition displays the works of such artists as Avni Arbaş, Abidin Dino, Bedri Rahmi Eyüboğlu, Mehmet Güleryüz, Nedim Günsür and Yüksel Arslan.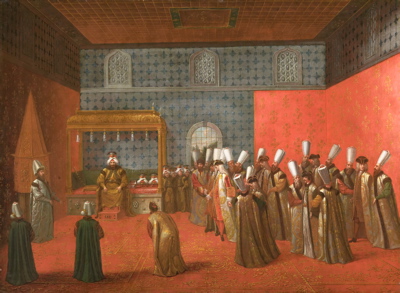 Jean-Baptiste Vanmour, 'Ambassador Cornelis Calkoen in audience with Sultan Ahmed III', 1727, part of the 'Intersecting Worlds: Ambassadors and Painters'
For a fascinating look into a very different period of the country's history, the ongoing Intersecting Worlds: Ambassadors and Painters exhibition on Level 2 is a must-see. The selection of paintings on display comes from the Suna and Inan Kıraç Foundation, founders of the Pera Museum, and focuses on portraits of ambassadors to Turkey and their art patronage from the 17th to 19th centuries. Highlights include works by Jean-Baptiste Vanmour – the 'artist of diplomacy and dress', according to the historian Philip Mansel – and an 1896 painting by Fausto Zonaro showing the British ambassador's daughter being carried in a palanquin through an Istanbul park. A section of this floor, in the Sevgi and Erdoğan Gönül Gallery, is dedicated to one of the greatest names in Turkish painting – Osman Hamdi Bey. Marvel at Hamdi's most renowned work, his 1906 painting 'The Tortoise Trainer', in all its 2¼-metre glory.
Level 1 has also has plenty to offer, with thoughtfully arranged permanent displays of Anatolian weights and measures, and Kütahya tiles and ceramics from the mostly Armenian Christian potters of the Anatolian town.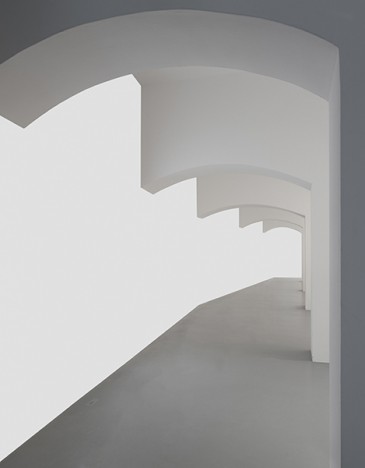 Arslan Sükan's 'Untitled 14', 2013, C-Print, 180 x 140cm
Two doors down from Pera, at No 67, Galerist is hosting the Turkish artist Arslan Sükan's second solo exhibition. Entitled INtheVISIBLE, his photographs of art spaces stripped of artworks aim to explore the conventions of the modern 'white cube'.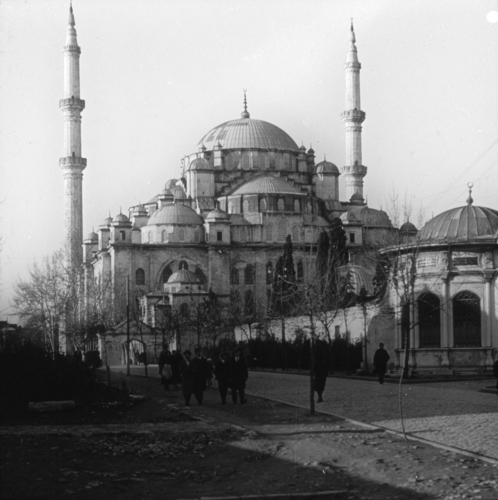 Nicholas V. Artamonoff, 'Fatih Mosque', undated
On parallel Istiklal Caddesi, the Research Centre for Anatolian Civilisations at No 181 is hosting two stimulating exhibitions. Don't miss the black-and-white photographs of the White Russian amateur photographer Nicholas V Artamonoff, who lived in Istanbul between 1922 and 1947. Entitled Picturing Byzantium, the exhibition displays Artamonoff's snaps of the Byzantine remains of the city as it looked a decade before the Menderes bulldozers rolled in (read more about the exhibition here). Meanwhile, the Archaeological Impressions From Anaia exhibition focuses on the Kadıkalesi excavations in Kuşadası, which, among other things, revealed Anaia's important role as a centre of ceramic production.
For lunch there are endless options – but how to choose? Çolakoğlu and Pi Artwork's (another established gallery in the neighbourhood) owner Yesim Turanli have a few recommendations. Fıccın, at No 1 Kallavi Sokak, which runs perpendicular to Istiklal Caddesi, is great for a quick meal. Şahin Lokantası is a quality lokanta (worker's café), where Ismail Şahin has been preparing the classics of Turkish home cooking since 1967 (it is located in nearby Asmalı Mescit Mahallesi, on Orhan Adlı Apaydın Sokak). Ara Café, which takes its name from celebrated photographer Ara Güler, has a menu filled with delicious light meals, pastas and appetising desserts (it is located on a small street called Tosbağ Sokak off Yeni Carşi Caddesi next to Galatasaray High School). The newly opened Yeni Lokanta on Kumbaracı Yokuşu (the street which extends from Asmalı Mescit towards the Bosphorus) offers delectable Turkish fusion cuisine with a twist. Or why not try the tasting menu prepared by chefs-in-training at the Istanbul Culinary Institute, located at No 59 Meşrutiyet Caddesi?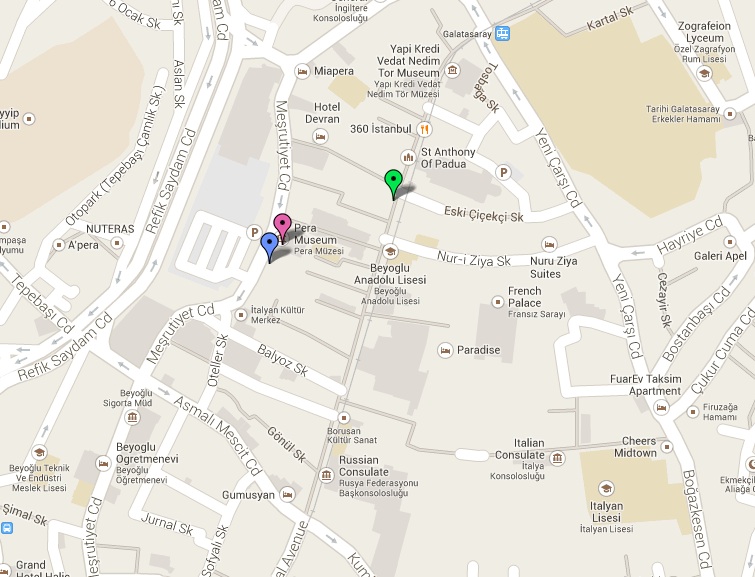 Key: Purple – Pera Museum; Blue – Galerist; Green – Research Centre for Anatolian Civilisations
Click here for the interactive map.