We continue our tour of the Beyoğlu galleries this week, hoping that a culture fix will, at least for a little while, take our minds off Phaselis. Galatasaray may be best known for its football club and lycée, but there's plenty to like about this lively neighbourhood. Start at the gate of the Galatasaray Lycée (above) – a popular meeting place – where crowds gather whenever there is a football match or a protest. These days, it is also the hangout of the police who mill around in high numbers, trying to intimidate. Do not let them.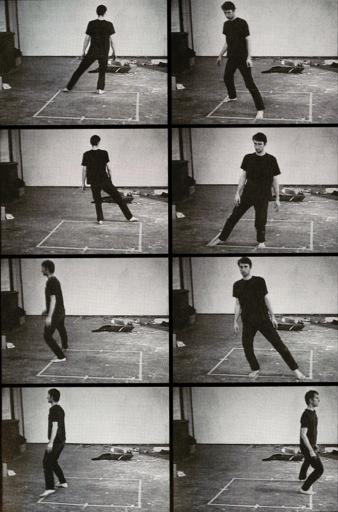 Bruce Nauman, 'Dance or Exercise on the Perimeter of a Square (Square Dance)', 1967–1968, video stills, 8'24"
BRUCE NAUMAN'S DANCE OR EXERCISE ON THE PERIMETER OF A SQUARE (SQUARE DANCE)
Head down Istiklâl Caddesi towards Tünel and within a few minutes, you will reach SALT Beyoğlu at No 136. Stop by for 10 minutes to see experimental American artist Bruce Nauman's famous video work, Dance or Exercise on the Perimeter of a Square (Square Dance). Made during the winter of 1967–68, it is one of the four studio films that Nauman produced in which he used his body to explore movement, space and the camera's view in a variety of predetermined actions performed in the confines of his studio.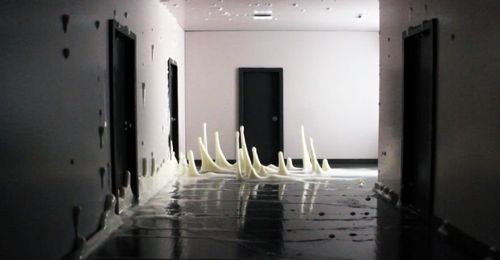 Bernd Oppl, 'Sick Building', video, 7'00"
INATTENTIONAL BLINDNESS
Go back down Istiklâl Caddesi towards the Galatasaray Lycée and in one minute, the famous Mısır Apartment building, home to some fine galleries, will be on your left. On the second floor, Galeri Zilberman's first space (previously CDA Projects) is hosting a group exhibition entitled Inattentional Blindness. Borrowing its name from a psychological term, the works in the exhibition explore how the media, the advertising industry and politicians bend the public's perception to feed them specific information. The gallery's founder, Moiz Zilberman, particularly likes the works by Aylin Tekiner, Claudia Larcher and Bernd Oppl. In his video, Sick Building (above), Oppl shifts the viewer's perception of the architectural space. All works are for sale and prices range between €800 and €8,500.
Seçil Erel, 'Safa Sokak', oil on canvas, 207 x 180 cm
SEÇIL EREL'S TERRITORY
On the third floor, Galeri Zilberman's second space is hosting the young Turkish artist Seçil Erel. In Territory, Erel presents her new series of geometrical paintings, in which she explores her own personal history by rendering architectural structures of the places in which she has lived using mathematical models. The beautiful textured paintings almost look like patchwork. Zilberman particularly likes the above work 'Sefa Sokak' and 'Dere Apartmani' is another favourite. All works are for sale and prices range between 3,000TL and 18,000TL.
Looking back on 2013, Zilberman picks Turkish artist Şükran Moral and Austrian artist Valie Export's joint exhibition Despair & Metanoia, and the solo shows of Zeren Göktan and Azade Köker as the standouts. The 2014 programme has exhibitions by Kay Rosen, İz Öztat and Walid Siti to look forward to. As well as that, the Young, Fresh, Different group exhibition, focusing on new artists, will take place during the summer.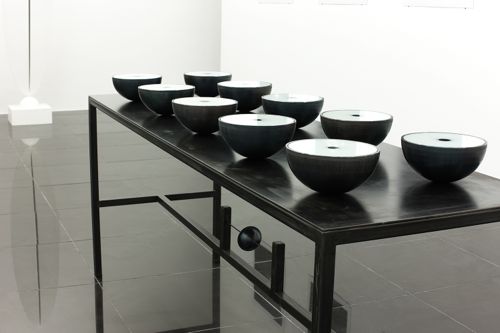 Osman Dinç, 'The Table' and 'The Feast'
OSMAN DINÇ'S THEOREM
On the fourth floor, Pi Artworks is hosting the solo exhibition of Turkish, Paris-based artist, Osman Dinç. Entitled Theorem, the exhibition focuses on the artist's minimalist sculptures and accompanying photographs. The gallery's founder, Yeşim Turanlı, chooses the above works as her favourites. 'These museum-quality works were made by Dinç in the 1980s and have never been shown in Turkey. He created them at a time of great unrest in the country. The technique he has used is not a new one, but one he has carefully perfected,' she says. All pieces are for sale and range between €2,000 and €20,000.
'It is hard to pick only one, but without a doubt, opening our new branch in London with Pi: Housewarming last October was definitely a highlight,' Turanlı says, reflecting on 2013. 'We are the first Turkish gallery to open a space in London and I am extremely proud,' she adds. 'It was also great to see the introduction of a new art fair, ArtInternational. Alongside Contemporary Istanbul and the biennial, it is great that the Istanbul arts scene is seeing artists of such high calibre.' Mehmet Ali Uysal's 'mind-bending but absolutely fantastic' Paintings exhibition was another standout. Looking ahead, Osman Dinç will follow his current exhibition with a special one-month long sound installation. German-Egyptian artist Susan Hefuna and Gülay Semercioğlu will exhibit at the Istanbul space later in the year.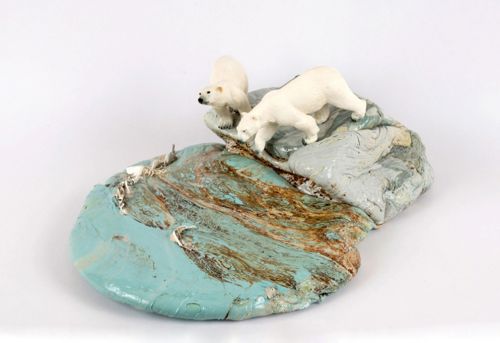 Murat Morova, 'Untitled', 2013
MURAT MOROVA'S NATURE-MORTE
Across the hall, Galeri Nev is opening a new exhibition today of Istanbul-born artist, Murat Morova. In Nature-Morte, Morova presents multi-layered figurines, tar drawings and installations that, as in much of the artist's work, explore a myriad of themes. With his art-nouveau-like statuettes (above), Morova wants the audience to consider the grim prospect of our future – environmental denigration and the list of engendered species growing by the minute. In his tar drawings, Morova stains animal-like figures to evoke the hunting scenes depicted in Ottoman miniatures.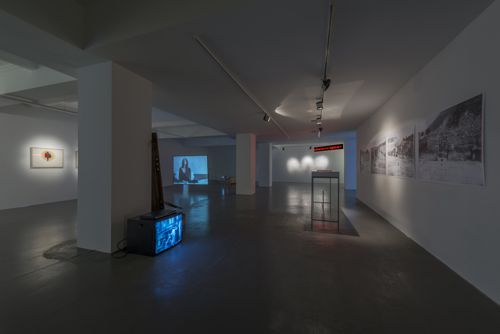 Installation view of 'Trocadero'
TROCADERO
On the fifth floor, Nesrin Esirtgen Collection presents a group show inspired by the Trocadero Theatre, which stood on the land where the Mısır Apartment building now stands, and operated throughout the second half of the 19th-century. But the exhibition is not concerned with the history of the theatre or Istanbul's urban development. Instead, it takes the myth of the Trocadero and brings together works which question notions of repetition in the creative process.
'This is the first time we have collaborated with a young curator, Nazlı Gürlek, and the exhibition turned out very well. Rather than specifying a favourite work, I would say the exhibition should be considered as a whole,' says the gallery's manager, Berçin Damgacı. Although not a selling exhibition as the gallery is a non-for-profit space and was launched to share Nesrin Esirtgen's collection with the public and support emerging artists, Damgacı says the works can be purchased by getting in touch with the galleries which represent the exhibiting artists.
For Damgacı, the collection exhibition No. 3 and Koray Kantarcıoğlu's show Landscapes made a great impact in 2013. An installation exhibition of Boston-based artist Bahar Yürükoğlu will follow.
THOMAS FRONTINI'S DESIGNED HEAVEN
Keep heading down İstiklâl Caddesi, go past the Galatasaray Lycée and turn down the first street on your right. On Turnacıbaşı Caddesi, a narrow street full of interesting art boutiques, vintage shops and the 18th-century Galatasaray Hamamı, at No. 21, the tiny Gama Gallery is hosting the solo exhibition of Thomas Frontini. In Designed Heaven, Frontini presents a series of his abstract paintings in which he uses soft colours and elements from nature to depict allegories of loneliness.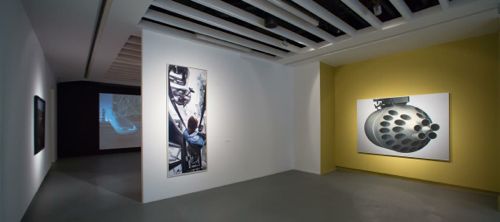 Installation view of 'Autonomous and Beautiful'
AUTONOMOUS AND BEAUTIFUL
If you still have it in you, and are brave enough to face the frenzy of the rest of İstiklâl Caddesi, come back onto it and head towards Taksim Square. At No 8, Akbank Sanat is hosting a group exhibition highlighting how new art emerges through changes in institutional structures. Curated by Hasan Bülent Kahraman, the works in the exhibition, true to its name Autonomous and Beautiful, are concerned with two fundamental concepts: autonomy and beauty. Some important artists are exhibited including some we have mentioned in this walk: Şükran Moral, Gülay Semercioğlu and Osman Dinç. There are also works by celebrated fashion designer Hussein Chalayan, photographer Murat Germen and Bursa-born painter, Inci Furni, amongst others.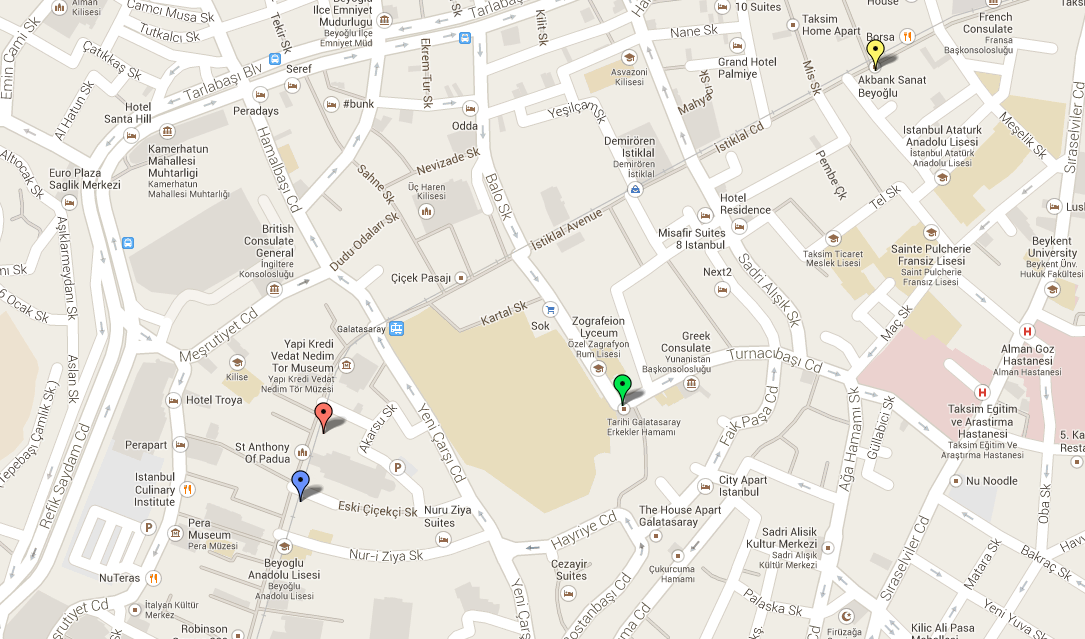 Key: Blue – SALT, Red – Mısır Apartment (Galeri Zilberman, Pi Artworks, Galeri Nev, Nesrin Estirgen Collection), Green – Gama Gallery, Yellow – Akbank Sanat
Click here to see the interactive map.
Main image courtesy of Sami Altınay (www.gezipgordum.com). Image 1 courtesy of Electronic Remix Archive. All other images courtesy of respective galleries.