This week we are in Karaköy for the second part of our two-part Karaköy/Tophane gallery walk. Karaköy is pretty much synonymous with the words 'Istanbul art scene' – the neighbourhood has come out of obscurity in the last ten years and, largely thanks to the opening of Istanbul Modern, has flourished into a laidback, bohemian area with plenty to satisfy any culture fiend (above image).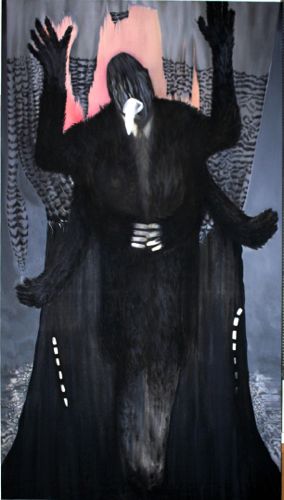 Gökce Er, 'Riotous', 2014, oil on canvas, 163 x 95 cm
GÖKCE ER'S THE THINGS THEMSELVES
Let's start on Mumhane Caddesi, which runs parallel to the main drag Kemeraltı Caddesi on which the tram runs. At No 67, the cutting-edge artSümer is hosting the solo exhibition of the Turkish artist Gökce Er, who explores introverted psychological states, the collective consciousness and the perception of reality in her oeuvre. The title of the exhibition, The Things Themselves, is borrowed from the German philosopher Edmund Husserl's slogan 'Let's return to the things themselves' and the abstract, darkly coloured works are explicitly emotive. Prices range from TL3,000 to TL15,000.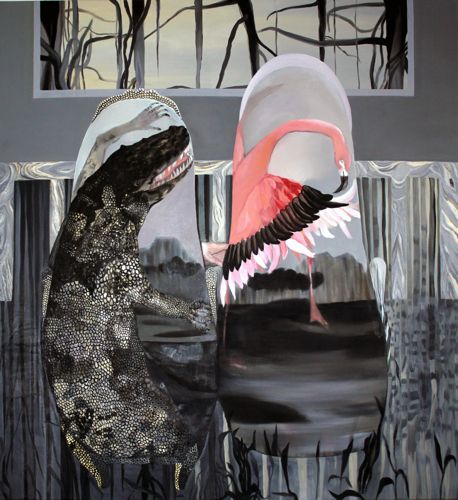 Gökce Er, 'Ironic Fate', 2014, oil on canvas, 140 x 130 cm
The artist's favourite work is the above piece entitled 'Ironic Fate'.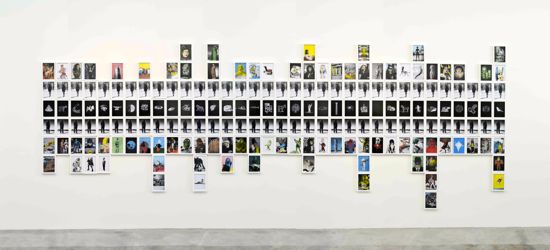 Pedro Reyes, 'Los Mutantes', 2012, 170 frames at 24.3 x 17.9 x 3 cm each, coloured pencil on printed paper
WHO SHALL DELIVER US FROM THE GREEKS AND THE ROMANS?
On the parallel narrow street, Ali Paşa Değirmeni Sokak, on which a new eatery or bar seems to open every week, you will find the exceptional Galeri Mana at No 16. The gallery is hosting a compelling group exhibition entitled Who Shall Deliver Us from the Greeks and the Romans? The gallery's director, Arzu Komili Bastas, particularly likes Pedro Reyes' installation (above) and two embroideries by Francesco Vezzoli (below). Daniel Silver's marble sculptures, Matthew Monahan's painting and Adrian Paci's latest film The Column are among some of the other highlights. Prices range from €3,500 to €70,000.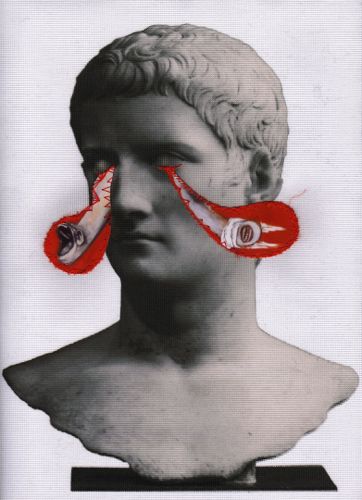 Francesco Vezzoli, 'Emperor Caligula Crying Francis Bacon's Figures at the Base of a Crucifixion', 2014, laserprint on canvas, paper, metallic embroidery, 63 x 49 x 10 cm
The exhibition was curated by the Italian curator Cristiana Perrella who says: 'As I come from Rome, I was, for a very long time, strongly reacting to the idea of antiquity and history, considering it as an obstacle to the achievement of contemporary culture in my country. Working on this exhibition helped me reconsider this feeling; it was like an exorcism, a therapy.'
Civan Özkanoğlu, 021, 'In Person', 2012, 57 x 70 cm, Ed 1/5+1AP, €1,500
CIVAN ÖZKANOĞLU'S IN PERSON
A few minutes' walk down the street will get you to the photography gallery Elipsis, which is hosting the solo show of the Turkish artist Civan Özkanoğlu, entitled In Person. Prices range from €800 to €2,250.
Civan Özkanoğlu, 039, 'In Person', 2012, 28.5 x 35 cm, Ed 1/51+AP, €800
'I would generalise the progress of my work over the last five years as a shift from random outside places to more personal, intimate narratives. The works at Elipsis represent destitute places, objects, positions or people that I constantly and obsessively keep visiting with or without my camera,' says the artist.
IT SOUNDS LIKE ART
Jane Grant and John Matthias, 'Fathom', 2013, filmed by Neil Grant, photo by Guy Harris
Navigate through the backstreets back onto Kemeraltı Caddesi and head west. When you come to the hustle and bustle of Karaköy Square, take a steep right onto Bankalar Caddesi. At No 2, Sabancı University's downtown arts and culture centre, Kasa Galeri, is hosting a group exhibition entitled It Sounds Like Art. 'I think this exhibition is one of the most open-to-interpretation exhibition we have ever had. Even the depressing works give me some sort of calmness,' says the institution's Events Manager, Çağlar Cetin.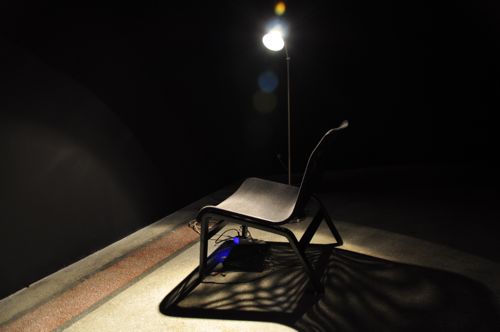 Music for Installations (MFI), 'Dark Sofa in Istanbul: An Emotional Translation of Depression', 2014
Commenting on their piece at the exhibition (above), the artist group MFI says: 'One of the main concepts of our project is to dedicate a room to the full experience of soundscapes. 'Dark Side' elaborates on this theme by inviting visitors to sit in a cosy chair, which puts them at ease. This contrast with the dark soundscapes that are heard. The work is an evocation of the difficult emotional state of depression. By making the visitor stop and listen, we are want to open this subject up for debate.'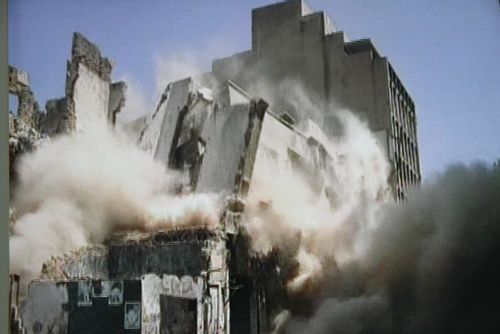 Rabih Mroué, 'Old House', 2006, video
RABIH MROUÉ
Down the street at No 11, SALT Galata is hosting a comprehensive exhibition of the renowned Lebanese artist Rabih Mroué. SALT decided to exhibit this artist when it was approached by Centro de Arte dos de Mayo, who co-produced this same exhibition in Madrid. 'Rabih Mroué is a major artist whose works go beyond the specific locale of their origin and resonate globally, and are able to communicate the importance of analysing visual production at times of social and political conflict, which have many parallels to Turkey today,' says SALT's Programs and Research Manager, Duygu Demir.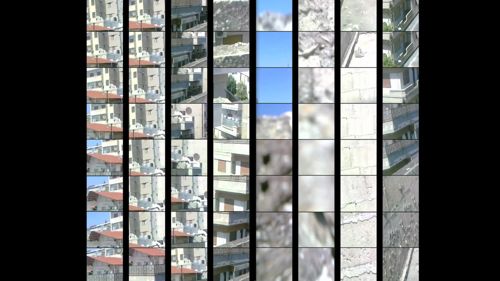 Rabih Mroué, 'The Pixelated Revolution', 2012, video
'My favourite work is the video Old House (above top), which greets the visitors at the entrance of the exhibition at SALT Galata. The work deals with the history of the Lebanese Civil War through a simple gesture which looks at how an individual deals traumatic experiences. I recommend viewers to pay close attention to Mroué's personal family account in the installation Grandfather, Father and Son, as well as the visually stimulating installation The Mediterranean Sea. At SALT Beyoğlu, the video Pixelated Revolution (above bottom) is a must see for those interested in the Syrian Revolution,' says Demir.
All images courtesy of respective galleries, except the main image which is from the Karabatak café website.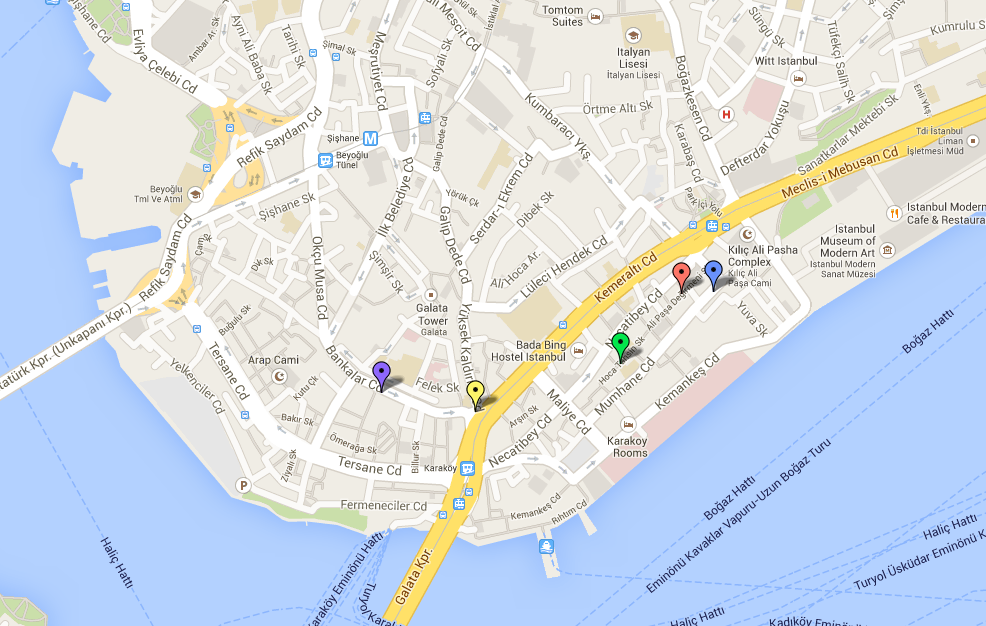 Key: Blue – artSümer, Red – Galeri Mana, Green – Elipsis, Yellow – Kasa Galeri, Purple – SALT Galata
Click here for the interactive map.