We are back in Karaköy/Tophane, the city's undisputed gallery hub, for a chock-a-block walk this week.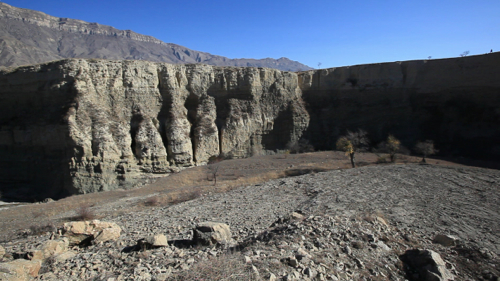 Taus Makhacheva, still from the video 'Walk'
TAUS MAKHACHEVA'S DAGESTAN. NOT FOR SALE.
Let's start on Mumhane Caddesi, which runs parallel to the main drag, Kemeraltı Caddesi, where the tram runs. At No 67, artSümer is hosting the first solo exhibition in Istanbul of the Dagestani artist Taus Makhacheva. Travelling around Dagestan, the artist shot lots of video footage and collected the material that forms the basis of this exhibition. Together, the powerful pieces in Dagestan. Not For Sale. attempt to understand how the region is changing under the influence of new political conditions. Prices range from €300 to €4,000.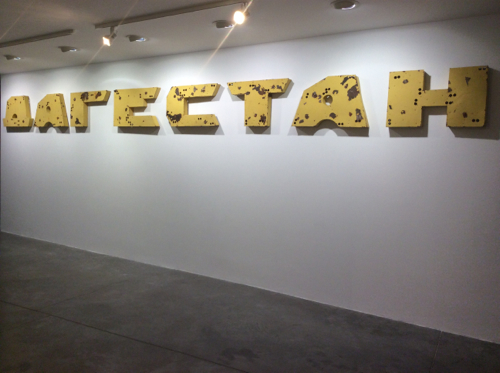 Taus Makhacheva, 'Dagestan'
Looking ahead, there will be two group shows, one with the gallery artists and the other with young artists who as yet have no representation. This will be followed by solo shows of Merve Çanakçı and Onur Gülfidan.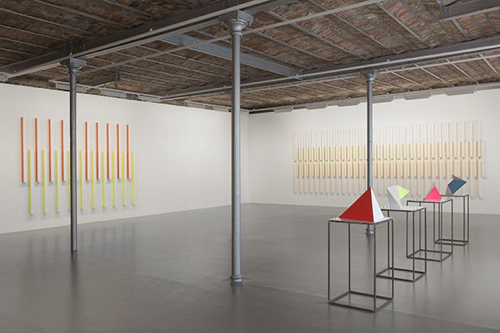 Rana Begum, installation view, 2014
RANA BEGUM
On the narrow parallel street, Ali Paşa Değirmeni Sokak, you will find Galeri Mana (main image) at No 16, which is in its last week of hosting the London-based artist Rana Begum. Begum's colourful abstract metal sculptures (above) are presented alongside a work created especially for the exhibition – an installation comprised of locally hand-woven baskets, which investigates the relationship between light, movement and spatial perception (below). Please enquire directly with the gallery for prices.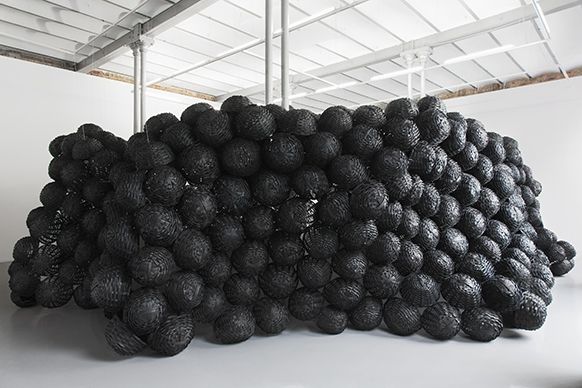 Rana Begum, 'No:545', 2014, installation view
Unfortunately, this is Galeri Mana's final exhibition, as it has been announced that the gallery will close in November. So this is one of your last chances to see wonderful conceptual art in this beautiful venue – a converted 19th-century flour mill.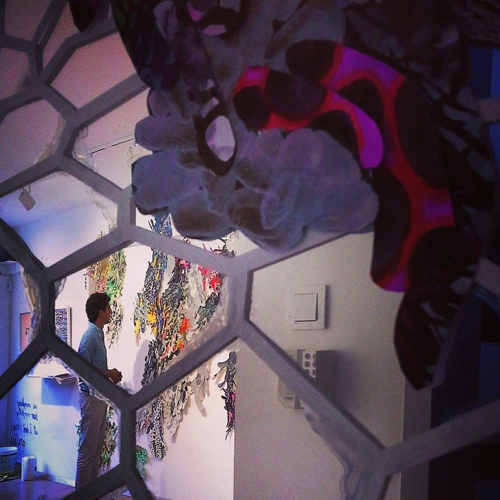 'Does Mirror Lie', installation view, 2014
ZDRAVKO TOIC'S DOES MIRROR LIE
Our next stop is at a new gallery a few minutes' walk down the street. Space Debris Art represent mostly Turkish and American artists. Currently it is hosting the Croatian-born, New York-based artist Zdravko Toic's show Does Mirror Lie. Here Toic – who experiments with form and colour and investigates such issues as body politics and gender identities – presents his latest colourful cut-out paper works. Please enquire directly with the gallery for prices.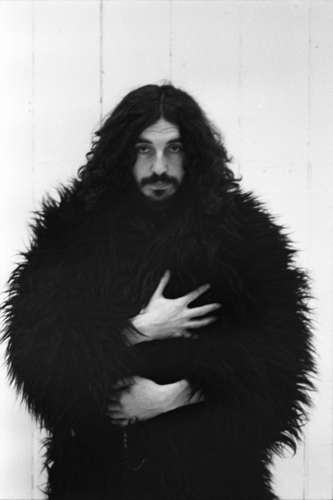 Ismail Saray, 'Envoy', 1972, detail
FROM ENGLAND WITH LOVE, ISMAIL SARAY
Navigate through the backstreets back onto Kemeraltı Caddesi and head west. When you come to Karaköy Square, take a steep right onto Bankalar Caddesi. At No 11, SALT Galata is hosting a comprehensive exhibition of the neglected artist Ismail Saray, entitled From England with Love.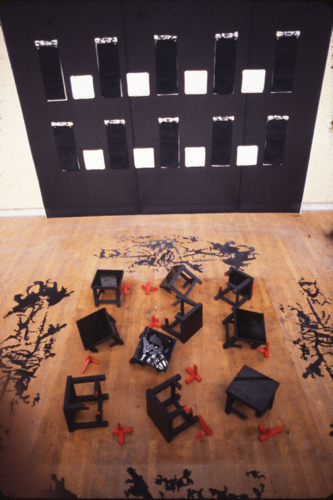 Ismail Saray, 'Awaiting Black Mail', shown at the 34ème Salon de la Jeune Peinture at the Grand Palais, Paris in 1983
Saray was active in avant-garde art in the late 1970s in Turkey. After completing his studies in Ankara he moved to London, where he was introduced to conceptual art. His work is deeply grounded in politics and the artist books he produced throughout his career are amongst his most important works, as are two critical installations made in 1983 (above) and 1984 for the Jeune Peinture exhibitions in Paris.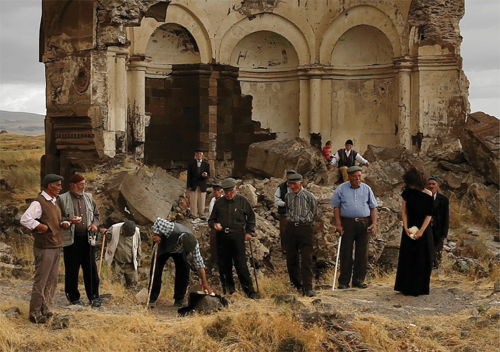 Fatma Bucak, 'Blessed are You Who Come. Conversation on the Turkish-Armenian Border', 2013, video, 8'40''
OXYMORON OF NORMALITY
Make your way out onto Kemeraltı Caddesi and head back towards the Tophane tram stop. At the bottom of Kumbaracı Yokuşu, the steep straight lane leading up to Istiklal, you will find the former tobacco warehouse that now houses DEPO. This Friday (October 17) an exciting exhibition opens in which eight Polish and four Turkish artists explore the condition of countries in Central and Eastern Europe and the Balkans.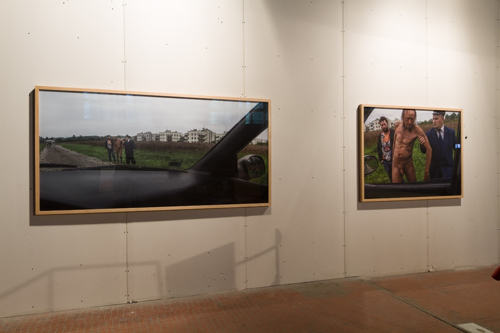 Zbigniew Libera, 'Freelancer (self-portrait)', 2013, print, pigment ink on cotton paper, diptych, 110 x 218 cm, 110 x 147 cm
In Oxymoron of Normality, works range from a video by the Turkish artist Fatma Bucak, who's work problematises gender- and identity-based discrimination, to surreal photographs by Ali Taptık and self-portraits by the Polish artist Zbigniew Libera, best known for the controversial LEGO Concentration Camp Set he designed in 1996.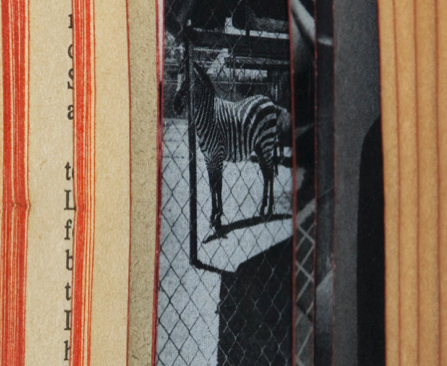 Erica Baum, 'Zebra'
THE BUILT ENVIRONMENT
Backtrack across the park to the next street leading up to Istiklal (directly opposite the Kılıç Ali Paşa complex), Boğazkesen Caddesi. Mixer, at No 45, is hosting a fascinating exhibition, The Built Environment, comparing the art scene on New York's Lower East Side to that in Tophane, with work from both American and Turkish artists. Prices range from $720 to $10,000.
The curator, Kathleen Madden, says: 'New York has not one, but multiple art worlds, with a vast and dynamic amount of activity. As I spent only a week in Istanbul last year, it's difficult for me to compare it with Tophane, but the neighbourhood seems to have a great deal of dynamism and current engagement with changing culture in Turkey. Artists open their eyes and see things in our culture and communicate with us, sharing what they believe. It seems to me that Tophane is a zone where artists can come together to support each other in conversations.'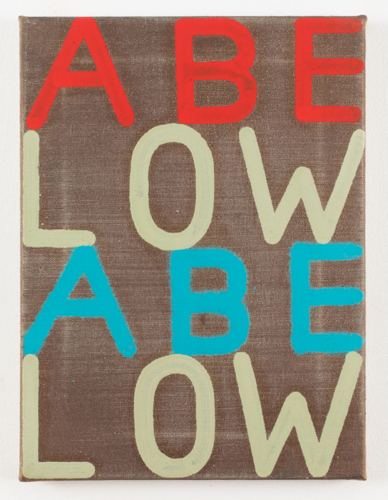 Joshua Abelow, 'Self-Portrait', 2008, oil on canvas
Coming up is a solo show of Berkay Buğdanoğlu. Mixer's ArtWriting project, programmes on collecting and reading exhibitions and art, and the Mixer Editions will also continue.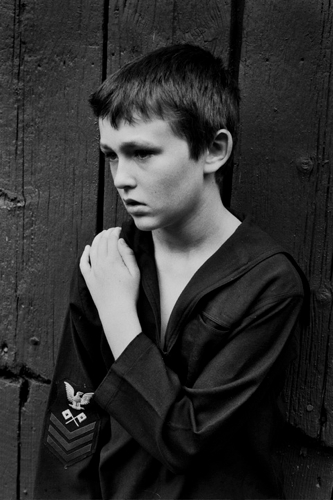 Maura Sullivan, 'Brett', print
MAURA SULLIVAN'S THE LOST DREAM
Across the road at No 76B, PG Art is hosting the American photographer Maura Sullivan. In A Lost Dream, the artist presents atmospheric black-and-white portraits exploring such themes as memory, loss, love and dreams. Please enquire directly with the gallery for prices.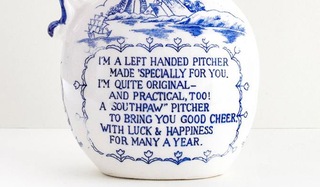 Erdem Taşdelen, 'A Southpaw Pitcher'
ERDEM TAŞDELEN'S A PETITION OF THE LEFT HAND
And if you still have it in you and are brave enough to continue the steep climb, Galeri NON, on a side street called Nur-i-Ziya Sokak, is hosting a second solo exhibition of the Turkish artist Erdem Taşdelen, who investigates left-handedness as a socio-historical phenomenon in A Petition of the Left Hand. Please enquire directly with the gallery for prices.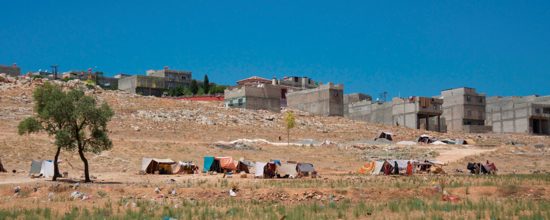 The 'Syria in Transit' project
TANDEM
If you are doing the gallery walk this weekend, make sure you also stop by Studio-X, which is hosting a special event from this Friday (October 17) to Sunday. Spanning documentary, music, dance, photography, performance, theatre and crafts, 15 projects created by cultural managers and organisations from Turkey and Europe will be shown in TANDEM. One of these is 'Syria in Transit', a photography, sound and video exhibition documenting the stories of Syrian refugees and exiles who have migrated to Turkey or are attempting the dangerous journey to Europe. The exhibition was previously shown in Rich Mix London and Kırkayak Art Centre Gaziantep.
Studio-X is also currently hosting the HEY! IGI OPEN CALL Exhibition platform, inviting students, government agencies, artists, advocacy groups and creative minds in general to contribute ideas specific to Istanbul's urban context. The contributions from the OPEN CALL Exhibition and this online portal (under six categories and covering 100-plus topics) will be published, and the portal that will endeavour to act as an open resource, collating and discussing better approaches to city design.
Key: Blue – artSümer, Red – Galeri Mana, Green – Space Debris Art, Yellow – SALT Galata, Light Blue – DEPO, Purple – Mixer, Magenta – PG Art, Blue with dot – Galeri NON, Red with dot – Studio-X
Click here for the interactive map.
Main image: Galeri Mana