We are in Karaköy/Tophane for our gallery walk this week for a diverse group of exhibitions, spanning solo, group and research shows.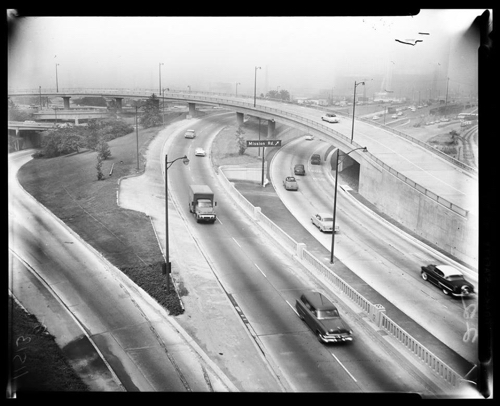 'Air Manifest: Los Angeles, 1955, 1965'
AIR MANIFEST: LOS ANGELES, 1955, 1965
Start on Meclis-i Mebusan Caddesi, to the east of the Tophane tram stop. At No 35, the urban future think tank Studio-X is offering two exhibitions of interest. The first is a research show which explores a relatively unexamined phenomenon: 'air urbanism', a term used to describe the technical, cultural and aesthetic dimensions of air and air effects in the postwar period.
Curated by the International House of Architecture, with Adam Bandler, Marcos Sanchez and Mark Wasiuta, Air Manifest: 1955, 1965 examines two critical events that happened in Los Angeles: the massive 'smog attacks' that struck the city on September 14, 1955 and the week-long Watts riots that started on August 13, 1965 and involved lots of buildings being burnt.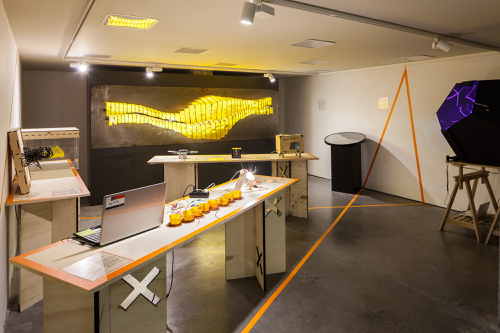 'Made by Makers' exhibition view
MADE BY MAKERS
There's also Made by Makers, which displays 11 installations that were first shown at the Mini Maker Faire in Turkey. Curated by Alican İnal and Yelta Köm, the exhibition aims to highlight how 'making' things is getting easier and easier with advances in technology, and more specifically, 3D printing machines. A hand-made projector, a water piano and a darbukator (a digital music instrument) are just some of the inventive pieces on display.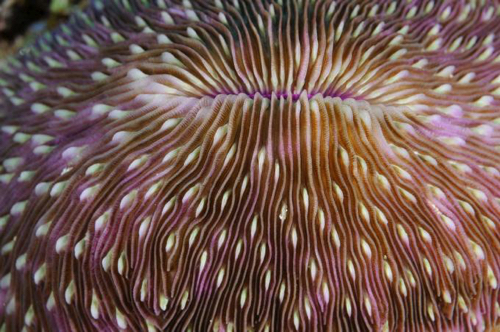 Ayşegül Dinçkök
AYŞEGÜL DINÇKÖK'S DEEP PASSION IS
Head towards the Tophane tram stop and at the corner of Boğazkesen Caddesi, the cavernous Ottoman arsenal MSFAU Tophane i-Amire CAC is hosting an exhibition of the artist Ayşegül Dinçkök. In Deep Passion Is, detailed photography and video works depict the organisms living on the bottom of the sea.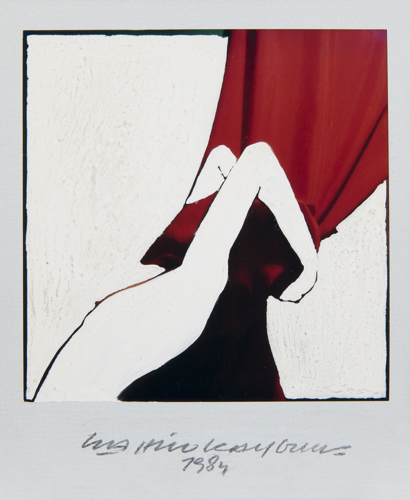 Şahin Kaygun, 'Untitled 129', 1984
ŞAHIN KAYGUN
Cross the road and follow the big red sign to Istanbul Modern, where a recently opened exhibition focuses on never-before-shown works of Şahin Kaygun. Curated by Sena Çakırkaya, this is the most comprehensive exhibition of the pioneering photographer since he passed in 1992.
In the 1980s, when the term 'interdisciplinary' didn't exist in Turkey's photographic culture, Kaygun blended photography with different disciplines such as painting, graphics, photography and cinema. Seeking a contemporary interpretation of the link between photography and other art forms, he continued to push boundaries between techniques throughout his career.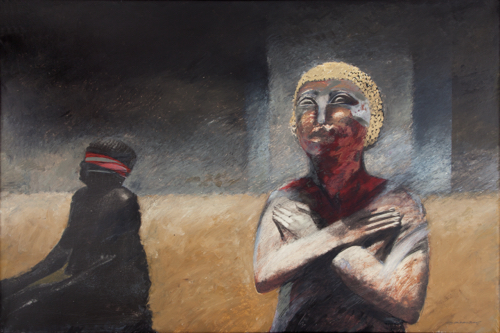 Şahin Kaygun, 'Like a Seal On His Heart', 1991
Kaygun was the first photographer in Turkey to exhibit Polaroids, which was a breaking point for his career in terms of his experimental interventions in the 1980s. One of the works that blurs the boundaries between photography and painting is shown above.

Cemal Erez
CEMAL EREZ'S 24 HOURS OF BUREAUCRAT
Make your way back to Meclis-i Mebusan Caddesi and head towards the Tophane tram stop. Take Kumbaracı Yokuşu, the steep straight lane leading up to İstiklâl Caddesi. Here you will find the former tobacco warehouse that now houses DEPO, which is hosting a show of the painter and filmmaker Cemal Erez. In 24 Hours of a Bureaucrat, 24 pieces – one for every hour of the day – focus on bureaucracy.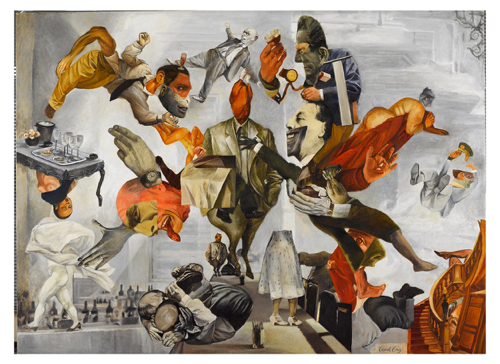 Cemal Erez
Using a mixture of oil paintings and ink drawings, Erez creates a universe of bureaucrats by reassembling fragmented figures to form grotesque bodies. The artist conceived the series living between Paris and Istanbul from 2002 to 2010, and then produced them in the last three years at his studio in Istanbul.
The works are for sale. Please contact Galeri Selvin for prices.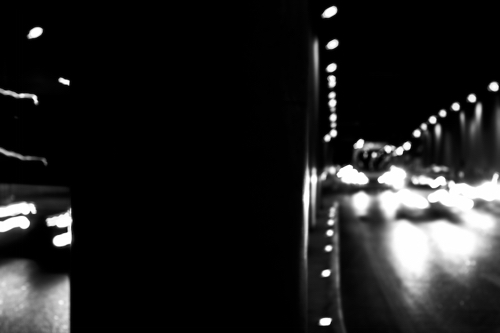 Aslı Narin, 'Diffusion', 2014, diasec C-print, 25 x 38 cm, Edition 1, 3+1
NON-PLACE
Backtrack across the park to the next street leading up to İstiklâl (directly opposite the Kılıç Ali Paşa complex) Boğazkesen Caddesi. At No 45 the industrial space Mixer is hosting a group exhibition of three talented artists. Curated by Mehmet Kahraman, the show brings together the photography of Hasan Deniz, Aslı Narin and Egemen Tuncer, who each interpret the concept of a Non-Place in their own way.
A 'non-place' is defined as a place that can be anywhere and doesn't belong to certain context. Examples include airports, shopping centres and amusement parks – the kind of places that look the same no matter where you are in the world.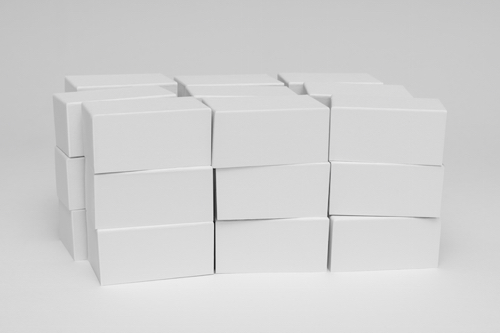 Egemen Tuncer, '27 boxes', 2014, diasec print, 66 x 100 cm, Edition 1, 3+1
While Narin's photographic abstractions identify these transit places, Tuncer focuses on new forms of these places from a more architectural perspective. Meanwhile, Deniz's photography tells uncanny stories of these non-places.
Prices range from TL2,000 to TL3,500.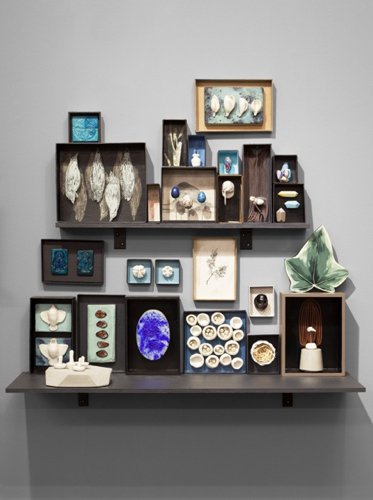 Gözde Başkent
GÖZDE BAŞKENT'S PALE BLUE DOT
Across the road at No 76B, the intimate Daire is exhibiting works by the young artist Gözde Başkent. In Pale Blue Dot, the artist uses the American astronomer Carl Sagan's book of the same name as a basis to explore an idea of human nature. But unlike in Sagan's text, Başkent illustrates a new version of humans, who are constructive rather than destructive and who can establish deeper bonds with their planet.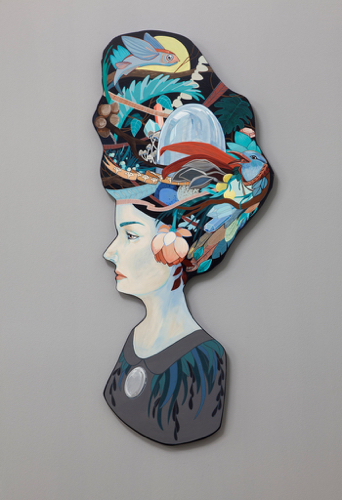 Gözde Başkent
In her work, the artist imagines a world where humans are not superior and everything is connected to each other. Prices range from TL1,000 to TL8,500.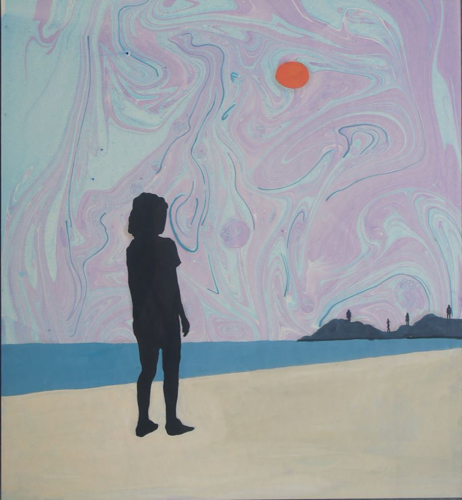 Reysi Kamhi, 'Untitled', 2014, mixed media on paper, 37.5 x 34 cm
REYSI KAHMI'S DEAR UNIVERSE
Next door, PG Art is also hosting an exhibition of an artist exploring nature in her work. In Dear Universe, Reysi Kamhi discusses nature from a personal perspective. She created large collages with a technique that combines fluid ebru (marbling) and oil to discuss concepts such as nothingness, flux and dreamlike states.
Please enquire directly with the gallery for prices.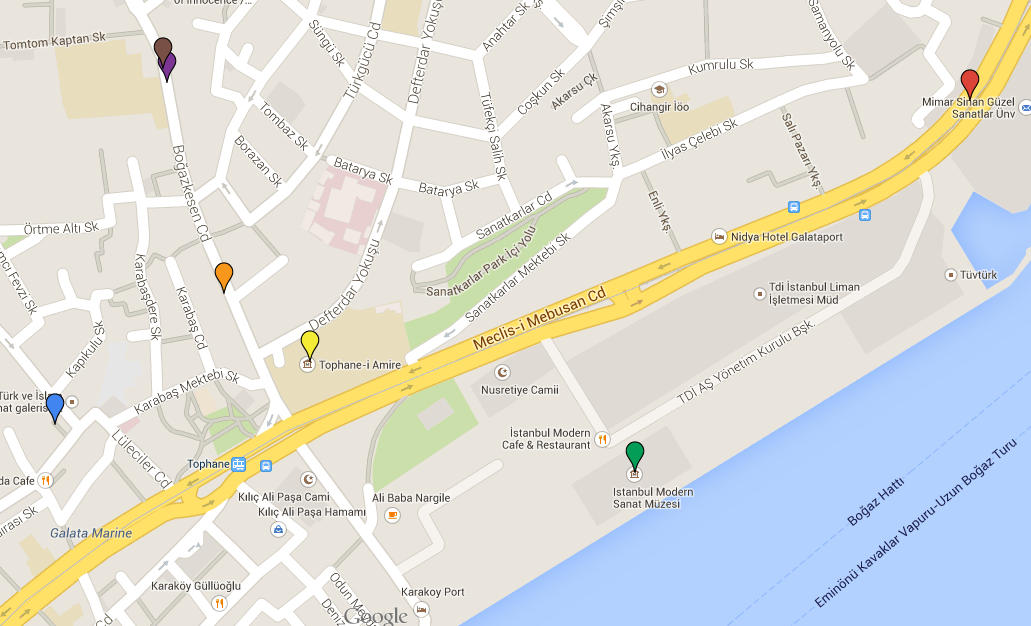 Key: Red – Studio-X, Yellow – Tophane-i Amire, Green – Istanbul Modern, Blue – DEPO, Orange – Mixer, Purple – Daire, Brown – PG Art Gallery
Click here for the interactive map.