We are in Karaköy and Tophane for a very diverse gallery walk this week, taking in a bit of everything, from painting to sculpture to photography and even textiles.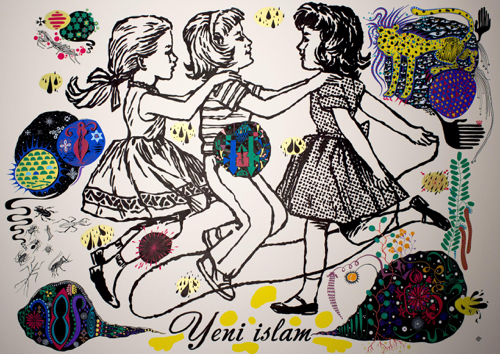 Memed Erdener, aka Extramücadele
MOM I'M GOING OUT TO POUR SOME CONCRETE
Start on Meclis-i Mebusan, east of the Tophane tram stop, where Studio-X at No 35 is hosting a joint exhibition of the photographer Antonio Cosentino and the artist known as Extramücadele. In Mom I'm Going Out to Pour Some Concrete, the artists explore the loss of homes and living environments.
Cosentino has spent the last 19 years photographing the rapidly changing landscape of Istanbul, documenting how the appearance of streets and houses is being changed by constant demolition and reconstruction, and how in turn this increases migration and relocation and erases social memory. Alongside his photo series and an installation there will be three works designed by Extramücadele, focusing on children's lives in the neighbourhoods Cosentino has covered. The works are not for sale.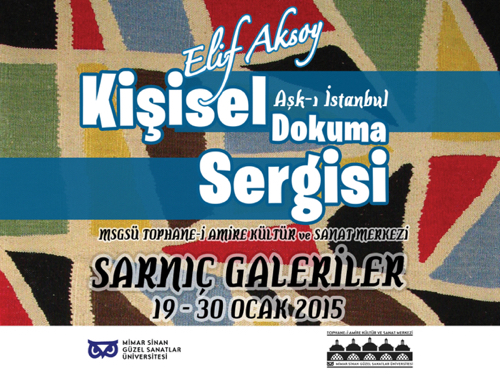 ELIF AKSOY'S I LOVE ISTANBUL
Next, head towards the Tophane tram stop and pop into MSFAU Tophane-i Amire CAC, on the corner of Boğazkesen Caddesi, to catch I love Istanbul, a weaving exhibition of the artist Elif Aksoy, who is also an assistant professor of textiles at Fırat University. The works are not for sale.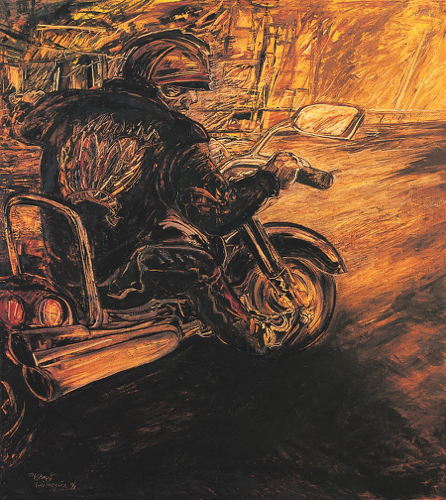 Mehmet Güleryüz
MEHMET GÜLERYÜZ'S PAINTER AND PAINTING
Next follow the big red sign to the daddy of contemporary art, Istanbul Modern, where the major temporary exhibition of 2015 opened earlier this month. Painter and Painting is a retrospective of Mehmet Güleryüz's stellar 50-plus-year career.
Curated by Levent Çalıkoğlu and Senem R Kantarcı, the show focuses on Güleryüz's critical and expressionist style. Using an ironic language, Güleryüz's figurative works highlight the effects of Turkey's sociocultural and political transformation on its people. Family, male-female relationships and nature are some of the themes he explores. Showcasing Güleryüz's oeuvre from the 1960s to the 2010s, the exhibition sheds light on the development and transformation of this quest for expression, which ranges from painting, drawing, sculpture and engraving, to theatre and performance. The works are not for sale.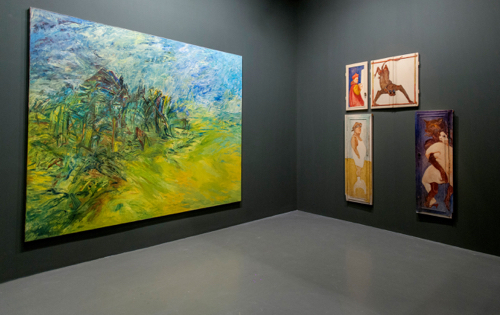 Mehmet Güleryüz exhibition view
Says Kantarcı: 'During each period of his career [Güleryüz] formed a social-realist theme from different perspectives and expressed the impact of events and states on individuals. For example, he reveals the loss of the values of tradition, in his family first of all – he comes from a family that made the transition from the Ottoman Empire to the Republic – in the face of modern life and the dissonance and tension it creates through unique moments, and also reminds us of them by connecting them to well-known and commonly acceptable events. Güleryüz's images critically record – through the personality and identity analysis of his figures – the times through which he has lived.'
If you haven't yet visited the excellent Şahin Kaygun, now's the time (click here to read more).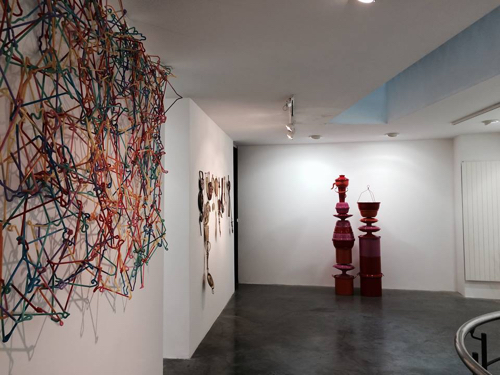 Pınar Akkurt exhibition view
PINAR AKKURT'S GATHERING
On parallel Mumhane Caddesi, at No 67, artSümer (main image) is hosting the designer Pınar Akkurt. For the past few years Akkurt has been making totem-like sculptures out of everyday kitchenware and utensils for the neighbourhood's restaurant Karaköy Lokantası, and this show, Gathering, represents the culmination of that series. Prices range from TL3,000 to TL6,000.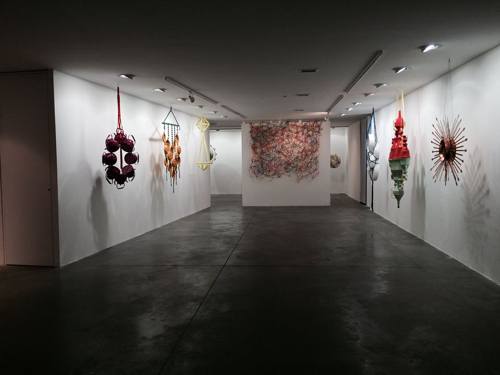 Pınar Akkurt exhibition view
Asked to comment on the year ahead, the gallery's owner, Aslı Sümer says: 'I would like to see a more vibrant art scene this year. New names, outstanding works by already-known artists, and excited and involved collectors. These are essential for a better year.'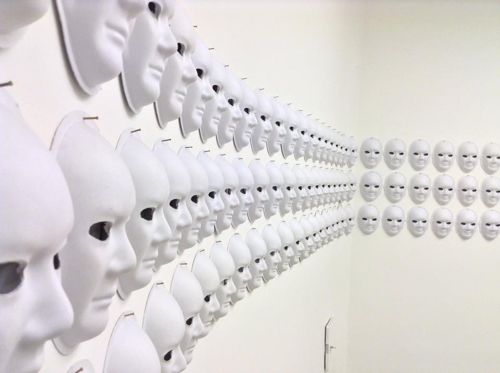 Anonymous
ANONYMOUS
Navigate through the sidestreets back onto Kemeraltı Caddesi (where the tram stop is) and head west. When you come to the hustle and bustle of Karaköy Square, take a steep right onto Bankalar Caddesi. On the corner, the Sabancı University's downtown arts and culture centre, Kasa Galeri, is back after a six-month hiatus with an interesting exhibition.
Always endeavouring to approach the fine arts in an 'experimental, internationally minded, collaborative and research-based way', the gallery is hosting a mysterious exhibition, entitled Anonymous. Over seven weeks, it aims to provide a space for artists to work either independently or collaboratively and then present their work to audiences – anonymously. Pop in to see which works are being showcased this week.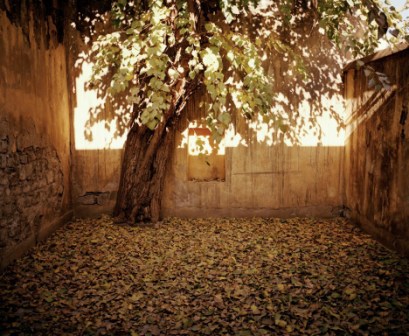 Helen Sheehan
HELEN SHEEHAN'S ARMENIAN FAMILY STORIES AND LOST LANDSCAPES
Head back towards the Tophane tram stop and, just opposite and inland, the former tobacco warehouse DEPO is hosting an exhibition of the Irish photographer, Helen Sheehan, entitled Armenian Family: Stories and Lost Landscapes.
Sheehan's works are about memory and loss of homes. Brief family stories of three Armenian families from Diyarbakır and Zeytun (Maraş) together with reproductions of photos from their family albums are juxtaposed alongside photos Sheehan took in those places, mostly focusing on architectural details of sites that were occupied by Armenians and objects which belonged to the families. Sheehan's emotive and beautiful body of work provides a way of approaching the past through family histories and personal experiences rather than official histories. Works are for sale. Please enquire directly with the artist.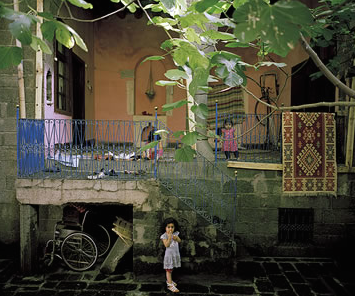 Helen Sheehan
Sheehan says of her project: 'I examine the objects that remain from [the Armenian families'] ancestral pasts, such as a silver embossed cane candle, a lump of sugar, a family Bible and photos that testify to past experiences. I examine the re-emergence of the past through memory and go to their former towns and villages to photograph what remains. The work opens up a discourse between then and now and explores post-memory in itself.'
DEPO's curator Aslı Çetinkaya says she wants to see 'more collaborative works, projects in spaces other than galleries or art institutions, more profound discussions and debates, and interesting critical texts' in 2015.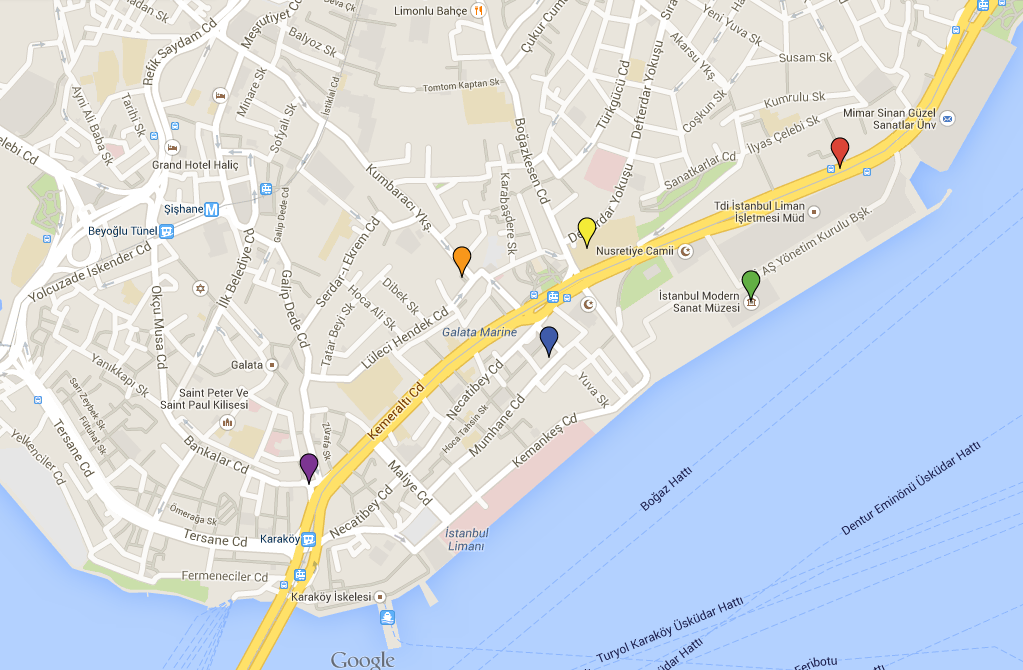 Key: Red – Studio-X, Yellow – Tophane-i Amire, Green – Istanbul Modern, Blue – artSümer, Purple – Kasa Galeri, Orange – DEPO
Click here for the interactive map.