In part one of our two-part Karaköy/Tophane gallery walk, we visit five galleries where solo and group shows explore feminism, memories and the First World War through different mediums, from painting to textiles.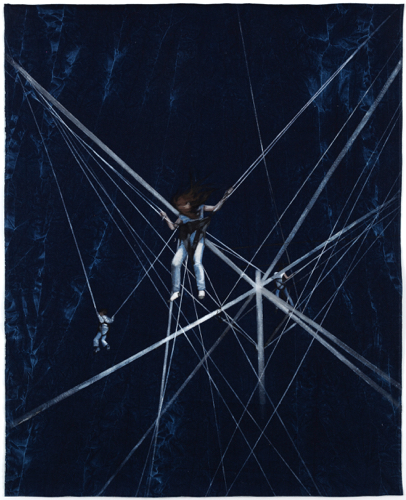 Merve Çanakçı, '100 Splinters', 2014, acrylic on denim, 188 x 153 cm
MERVE ÇANAKÇI'S PAPER CUT
Let's start on Mumhane Caddesi, which runs parallel to the main drag, Kemeraltı Caddesi, where the tram runs. At No 67, artSümer is hosting the young Berlin-based artist Merve Çanakçı's third solo show, Paper Cut. What is interesting about Çanakçı is that she makes her art from recycled fabrics, incorporating – and making a feature of – their defects. The fabrics she chooses – silk, wool or sponge – depend on the message she is trying to convey.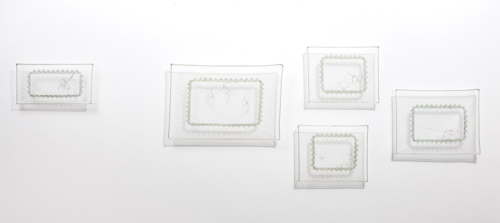 Merve Çanakçı, 'Controlled Wiggle', 2014, pencil on found fabric, different sizes
The exhibition primarily deals with childhood memories, says the gallery's owner, Aslı Sümer. Revisiting childhood moments as adults and dealing with past scars (thus the 'paper cut' metaphor) is the central point of the show. Each work is unique and warrants strong emotions, Sümer says, but her two personal favourites are '100 Splinters' (above top) and 'Controlled Wiggle' (above bottom). Prices range between €500 and €9,000.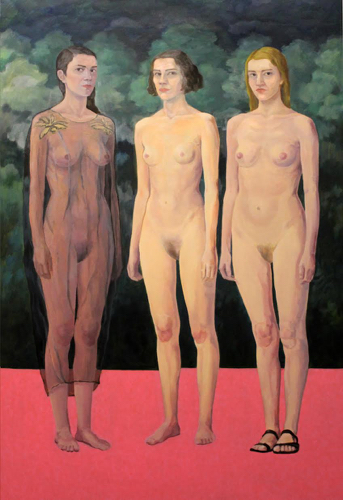 Berna Gülbey Derman, 'Counter Stance', 2014, oil on canvas, 130 x 200 cm, courtesy of Space Debris
BERNA GÜLBEY DERMAN'S COUNTER STANCE
On the narrow parallel street, Hoca Tahsin Sokak, next to the tea haven Dem, Space Debris Art, at No 15, is hosting the young feminist, Berna Gülbey Derman. In Counter Stance, her new oil paintings challenge the male-dominated societal ideologies and shift the notion of the male gaze to the viewer, offering an insight into how the female body is perceived in both patriarchal society and art history.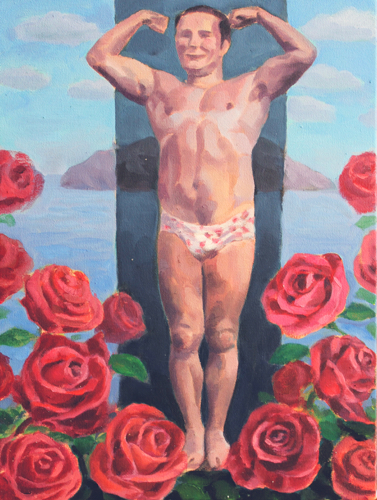 Berna Gülbey Derman, 'Men are Flowers Too', 2015, oil on canvas, 30 x 38 cm, courtesy of Space Debris
'Gülbey Derman has developed a language where she paints figures in surreal landscapes and questions body-gender politics in relation to the cultural norms in patriarchal society,' says the gallery's manager, Seyhan Musaoğlu. 'Her figurative technique is inspired by the old masters, yet she has formed a style that places her in the contemporary context.'
Musaoğlu urges collectors to pay attention to the painting that gives the exhibition its name, 'Counter Stance' (above top), 'an inspiring piece taking a strong stance with respect to women's freedom of sexuality and safety in today's society'. Meanwhile, 'Men are flowers too' (above, bottom) is full of witty satire that can be seen in almost all the artist's paintings. Small works range from TL1,000 to TL2,000, while the big pieces (from 1.5–2m in size) range from TL11,500 to TL14,000.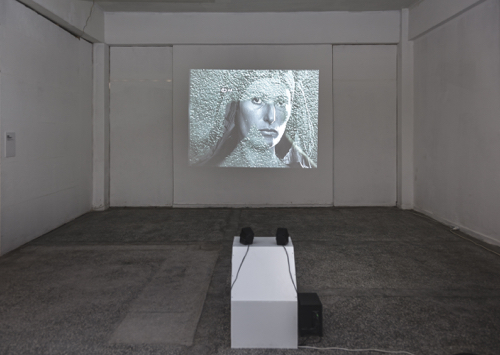 Exhibition view of Ulrike Rosenbach's 'Ticinium', 2012
ÇANAKKALE BIENNIAL: COORDINATES 40°9′0″N-26°24′0″E
Navigate your way to the main drag and head inland on Kumbaracı Yokuşu. You will soon find DEPO, which is in its last week of hosting the group show, Çanakkale Biennial: Coordinates 40°9′0″N-26°24′0″E. Curated by Beral Madra, Seyhan Boztepe and Deniz Erbaş, the exhibition displays work previously shown at the last two Çanakkale Biennials (2012 and 2014), examining and interpreting the political, social and cultural effects of the First World War via contemporary art.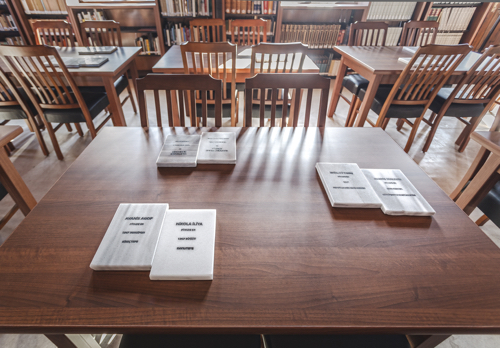 Ani Setyan, 'Missing List', 2012
Works range from the Lebanese artist Nigol Bezjian's multi-disciplinary work 'Canakayna'; the German artist Ulrike Rosenbach's 'Ticinium' – a video showing an improvised dance of Turkish dancers set against the backdrop of plaintive sounds from Trojan women; and Ani Seytan's 'Missing List', which was originally an installation in the Korfmann Library and shines a light on soldiers who died in 1915 and have been erased from public memory. Works are for sale, but not directly through DEPO. Please enquire with the artists' galleries for information and prices.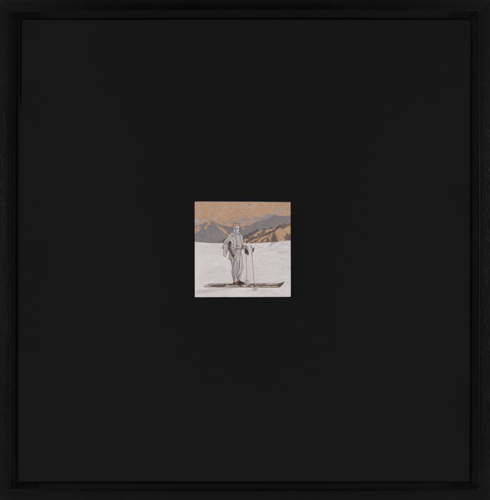 Gülşah Bayraktar, 'Snow', 2014, acrylic on MDF, with margins and frame: 49 cm x 50.6 cm, without margins and frame: 9.5 x 10 cm
GÜLŞAH BAYRAKTAR'S CLOSE TO SELF
Backtrack across the park to the next street leading up to İstiklâl (directly opposite the Kılıç Ali Paşa complex), Boğazkesen Caddesi. Mixer (main image) at No 45 is hosting the artist Gülşah Bayraktar, who mostly concentrates on topics such as memory and identity. For Close To Self, the artist took old photographs of strangers and depicted the same scenes on miniature wood canvases. 'The way the artist frames her works on black mats reminds us of old photo albums, before everything went digital,' says Mixer's manager, Bengü Gün.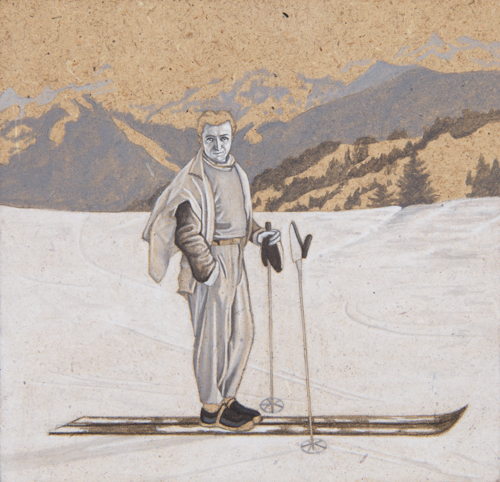 'For me the standout work is 'Kar' ('Snow'),' says Gün (shown above top with margins and above bottom without). 'I would advise collectors to have a careful look at it. Even though winter is depressing and snow poses challenges, this work seems tranquil. The way the figure is depicted, with self-confidence and joy, makes the work shine.' Prices range from TL2,500 to TL4,000.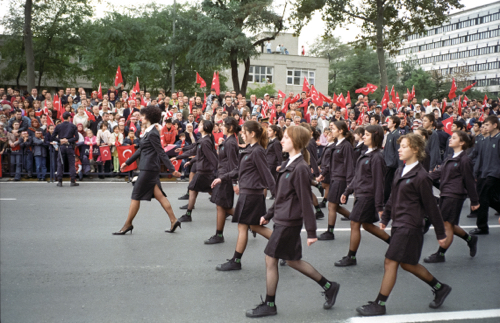 Korhan Karaoysal
MULTIPLE CHOICE
Further up and across the street at No 76, Daire is hosting a group exhibition of emerging artists. The curator, Sevda Süzer, came across these artists in her search for new talent, her attention drawn by the ways each of them explores school and education. She has collated their works in an exhibition aptly titled Multiple Choice.
'The most poignant thing about the exhibition is that it shows how schooling has left deep marks on these artists, so much so that they feel the need to reflect this in their art,' says the galley's owner Selin Söl.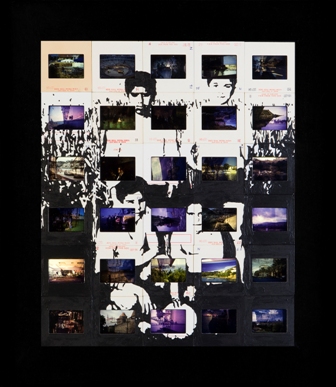 Buğra Erol
Collectors should pay attention to Korhan Karaoysal's stunning photos (above top), as well as Buğra Erol's remarkable diabox pieces (above bottom). Prices range from TL300 to TL6,000. Anti-pop's prints are free to visitors.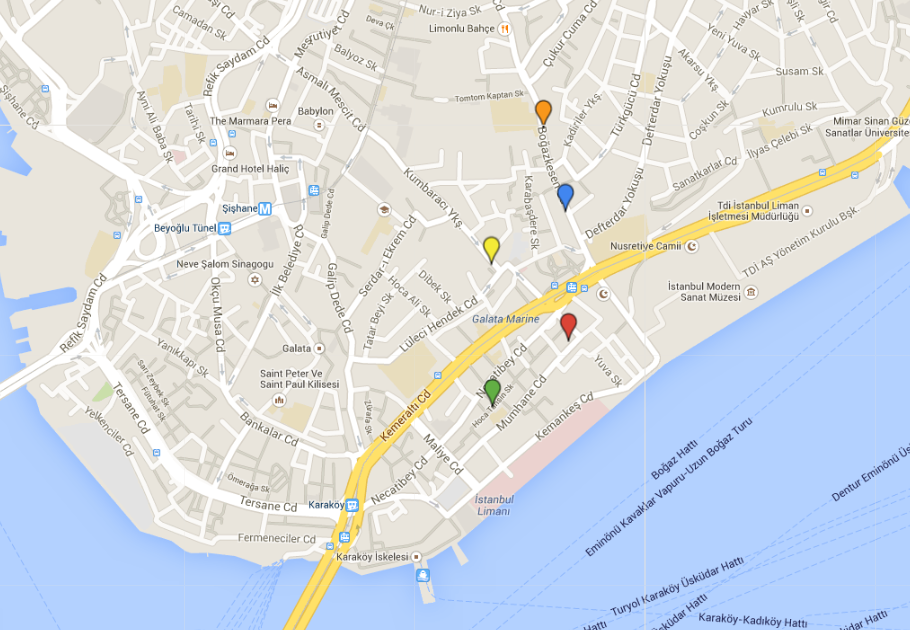 Key: Red – artSümer, Green – Space Debris Art, Yellow – DEPO, Blue – Mixer, Orange – Daire
Click here for the interactive map.