This week we're in Karaköy/Tophane, the city's undisputed gallery hub, for a diverse walk exploring both serious and lighter topics.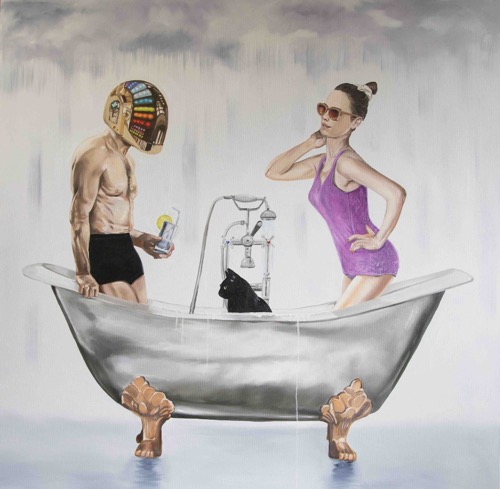 Onur Gülfidan, 'Knock on wood', 2015, 120 x 120 cm
ONUR GÜLFIDAN'S SLEIGHT OF HAND
Let's start on Mumhane Caddesi, running parallel to the main drag, Kemeraltı Caddesi, where the tram runs. At No 67 artSümer is hosting Onur Gülfidan's solo show, Sleight of Hand. Lovers of Hyperrealism will appreciate Gülfidan's canvases, on which exaggerated characters and situations explore human emotions and relationships. Some works are politically charged, others are comical, but all convey Gülfidan's idiosyncratic view of the world.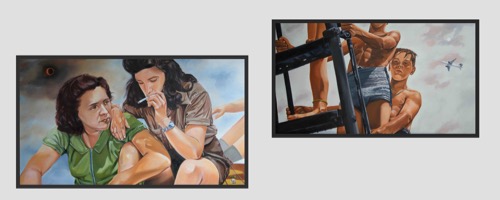 Onur Gülfidan, 'Provocation', 2014
Don't miss the paintings 'Knock on wood' (above top), 'Provocation' (above bottom) and 'Middle East Carnaval' (not pictured here). Prices range from TL1,000 to TL16,00.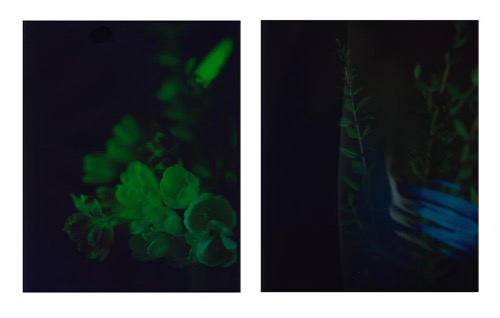 Melis Bürsin, 'Binary Extinction', 2013, unique Cibachrome prints photographed on a custom-built 24 x 25 cm view camera, diptych 56 x 40cm, courtesy of Space Debris
MELIS BÜRSIN'S WHY ARE YOU BEING SO ROUGH ON ME?
On the narrow parallel street, Hoca Tahsin Sokak, Space Debris Art, at No 15, is hosting the young artist Melis Bürsin, who works in video, print and photography. Her videos fuse elements from mass media with mythology to explore the paradoxes of knowledge and experience. She likes to combine stories and images which don't usually go together, such as the reality star Kim Kardashian make-up artist's tutorial with images of mythological creatures such as Medusa. This is the type of work on show at the current exhibition, Why are you being so rough on me?
The show also explores what it means to be a photographer and to make art in an age where anyone can be a photographer with their smartphone.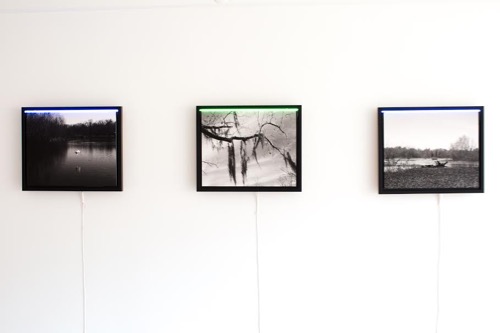 Melis Bürsin, 'Black & White I, II and 3', 2014, customised black-and-white fine-art prints with neon, 55 x 46cm, courtesy of Space Debris
In her series of black-and-white photographs (above) embellished with neon light, Bürsin explores the possibilities of image/print making. Another standout piece is 'Binary Extinction' (above top), which is about the end of one photographic era and the birth of another. To create this, Bürsin loaded a custom-built camera with paper onto which she photographed directly. Prices range between TL2,000 and TL7,000; unlike most photographic works, which come in editions, there is only one of each work available.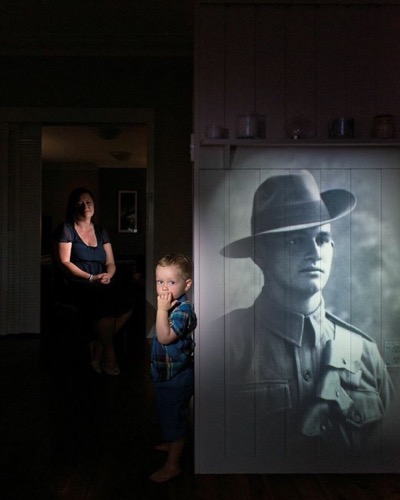 Mine Konakçı, 'Tania Humphreys', 2014, fine art print, 100 x 80 cm
MINE KONAKÇI'S AN UNUSUAL FRIENDSHIP
Make your way to Kemeraltı Caddesi, and on the corner of Karaoğlan Sokağı, Bahçeşehir University's downtown arts centre, BAUART, is hosting a much more sombre photography exhibition. In An Unusual Friendship, the Turkish-born, Australian-based artist Mine Konakçı commemorates the centenary of the Gallipoli campaign by photographing descendants of soldiers who fought there standing or sitting next to photographs of their ancestors.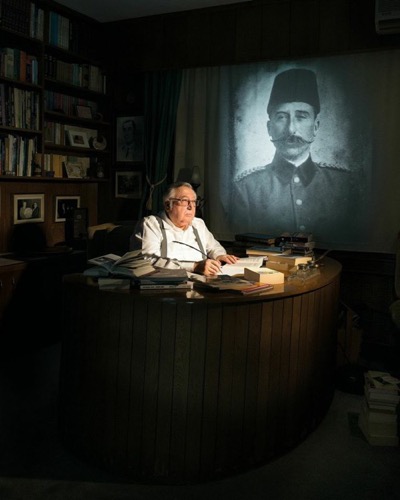 Mine Konakçı, 'Erdal Kabatepe', 2014, fine art print, 100 x 80 cm
An interesting aspect of this exhibition is that it highlights the 'unusual friendships' formed between soldiers on opposing sides, a phenomenon Konakçı became aware of while doing her research: despite being 'enemies', the soldiers communicated and even exchanged presents. These works are not for sale.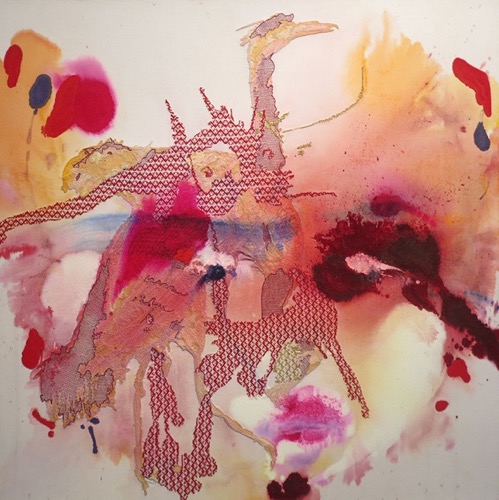 Yassine Mekhnache, 'The Conference of the Birds', 2012, paint, ink, pen and handmade embroidery on canvas
GEORGES BRAQUE, MARC QUINN, YASSINE MEKHNACHE
Next pop into Krampf Gallery, across the road at No 41, which is displaying works by a few notable artists. On the first floor is a series of 1920s paintings by the major 20th-century French painter and sculptor, Georges Braque – two of the works are being shown for the first time in Turkey, both original oils on panel, one produced in 1924 and the other in 1926. On the second floor, audiences can marvel at the British artist Marc Quinn's Kate Moss sculpture series. And on the third floor are the French painter Yassine Mekhnache's 'Conference of the Birds' paintings. Please enquire directly with the gallery for prices.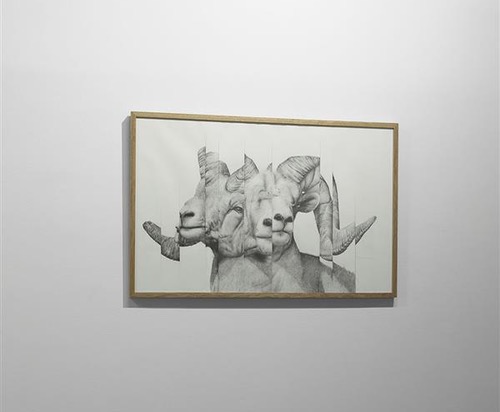 Exhibition view, photo: André Carvalho & Tugba Karatop – CHROMA
LINE
Head back towards the Tophane tram stop and go up Boğazkesen Caddesi. Mixer, at No 45, is hosting a group exhibition exploring the concept of Line, considered to be the basis of painting and a starting point for most artists.
All works in the exhibition give insights into the artists themselves and into their production processes. Melike Kılıç creates paper works telling dreamlike stories, framed so they appear three-dimensional. While Eylül Ceren Ersöz and Kaan Bağcı used the medium of wood, Bağcı visualises animal skeletons in old scientific books, and Ersöz depicts faces of famous historical and social leaders. Güneş Bulut Yılmaz's portraits, meanwhile, are composed of organic elements: trees, leaves and water.
Melike Kılıç, '"now I can convert everything into gold" dream of an alchemist', 2015, paper cut, tempera, gold leaf, 82.5 x 56.5 cm
The gallery's manager, Bengü Gün, suggests paying close attention to Kılıç's cut-out works. Prices range between TL500 and TL7,000.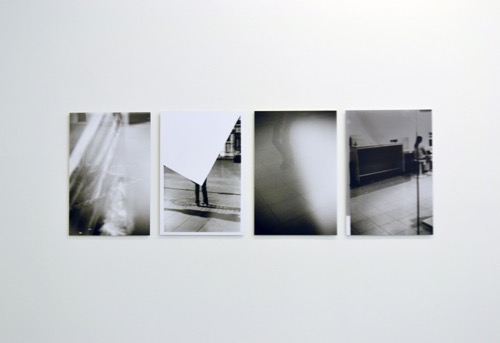 Thora Gerstner, 'disturbing fires – silencing the voices', 2012, analogue photography, 34.3 x 50.3 cm
BEAUTIFUL MONUMENTS OF DECAY
Further up and across the road at No 76, Daire is showing artworks representing, as the title suggests, Beautiful Monuments of Decay. The multidisciplinary exhibition includes oil paintings, photographs, a video, a sculpture and an installation. Organised by the participating artists themselves, the show stands as a silent protest at the current political situation in Turkey, in which citizens are repeatedly disappointed by the abuse and decay of democratic principles and human rights. In these moments of dismay, artistic creation becomes a symbol of hope and beauty.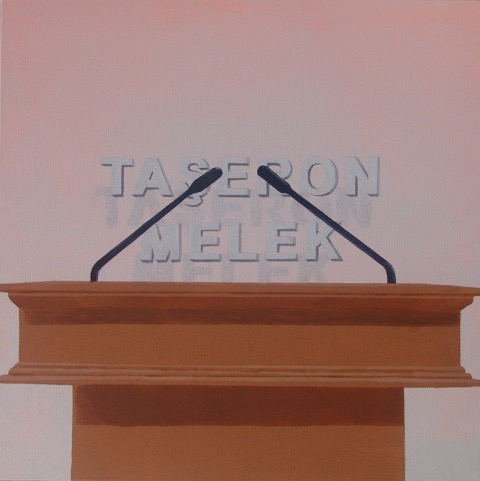 Turan Aksoy 'Angel the Subcontractor', 2015, acrylic on canvas, 50 x 50 cm
Turan Aksoy's painting (above) and his statue, 'Square', are both monumental works underlining today's political situation. Works by this celebrated artist are part of the Istanbul Modern collection. All works except the video by Mümtaz Demirkalp are for sale. Prices range from €250 to €3,300.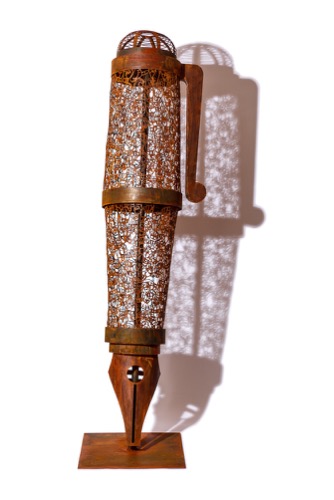 Kemal Tufan
KEMAL TUFAN'S DICTINARIUM
Next door, PG Art is hosting Kemal Tufan's solo show, Dictinarium. Here Tufan once again explores literature through sculpture, a predominant aspect of his oeuvre. In his series of unique pen sculptures, Tufan demonstrates that the pen is more than merely an instrument of writing, presenting it as a signifier of both personal and collective records. He constructs narratives on the surfaces of these sculptures in sign language and braille to create works emphasising the etymological relationship between weaving and text. Please enquire directly with the gallery for prices.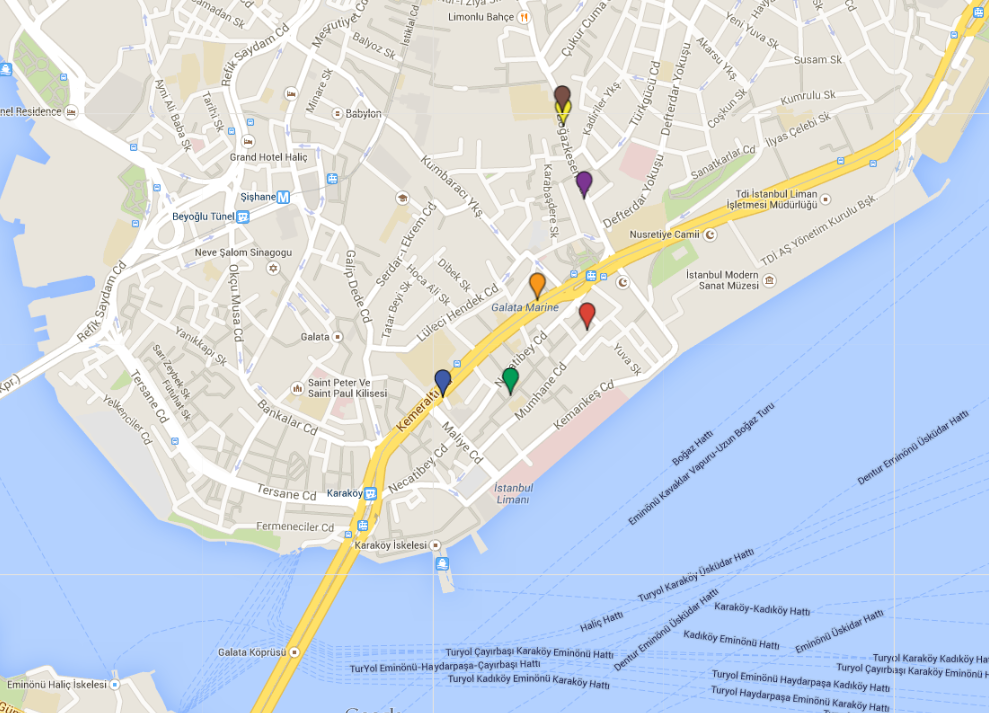 Key: Red – artSümer, Green – Space Debris Art, Blue – BAUART, Orange – Krampf, Purple – Mixer, Yellow – Daire, Brown – PG Art
Click here for the interactive map.