A packed walk for part two of our Karaköy/Tophane gallery walkabout, in which we visit art institutions, galleries and an urban think tank for solo and group shows, spanning such diverse subjects as architecture, history, identity and jewellery. There truly is something for everyone this week.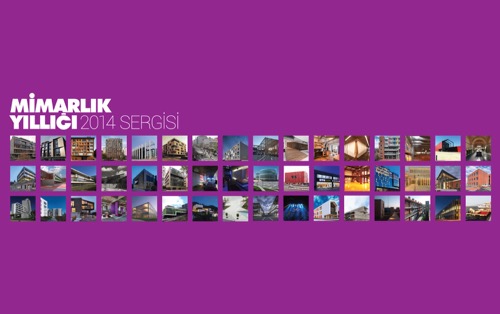 TURKISH ARCHITECTURE YEARBOOK
First we visit a couple of architecturally themed exhibitions. Studio-X, at Meclis-i Mebusan Caddesi 35, just east of the Tophane tram stop, opens a new exhibition this Wednesday (April 29). The Arkitera Architecture Center has produced an anthology called Turkish Architecture Yearbook, which collates 48 architectural works built in Turkey during the past year. To celebrate, Studio-X is staging an exhibition of the same name, and together the book and the show aim to present audiences with a snapshot of architecture, landscape architecture and urban design trends in the country.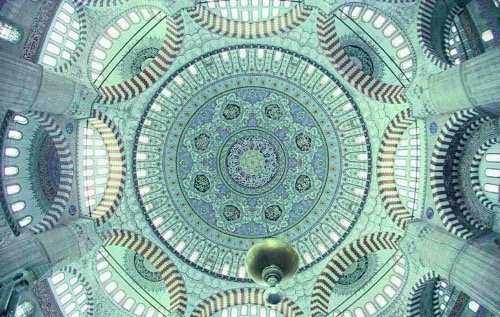 The dome of the Selimiye Mosque in Edirne, known as Sinan's ultimate masterpiece and constructed in 1574
SINAN: MASTERPIECES BY AN ARCHITECTURAL GENIUS
Architecture lovers will also appreciate the tribute to the greatest Turkish architect of all time, Mimar Sinan, taking place at the MSFAU Tophane-i Amire CAC, further down the road (towards the Tophane tram stop). In Sinan: Masterpieces by an Architecural Genius, Sinan's sketches are presented alongside paintings, engravings, 3D animation and photography showing not only his architectural wonders but his working process, with colourful projections of the domes of Sinan's mosques projected onto the venue's own dome. All pay tribute to the stellar career of the chief Ottoman architect, sometimes referred to as the world's first 'starchitect'.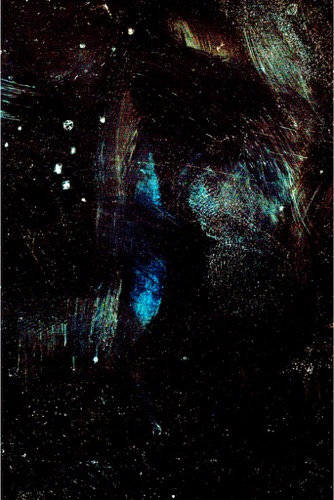 Arslan Sukan, 'Untitled 14', 2014, inkjet print mounted on aluminium, 100 x 150 cm
ARSLAN SUKAN'S WHILE YOU WERE SURFING
Cross to the Tophane tram stop, turn left at the pretty 18th-century Mahmud I fountain and head towards the sea. In the backstreets of Karaköy, Istanbul'74 is showcasing Arslan Sukan's new show, While you were surfing, organised in collaboration with Galerist, the Tepebaşı gallery that represents the artist. For this series, Sukan scanned the surfaces of smartphones and manipulated the images, either erasing or enhancing any fingerprints, dust and cracks on the screens. He then printed each piece on highly reflective metallic paper on an inkjet printer. Although Sukan aims to question whether our experiences in the digital world are any less immediate than those in the physical world with his series, the resulting works – which look akin to space photography or abstract paintings – also highlight the possibilities of modern photography. We are reminded of the work by the artist duo Barbara and Zafer Baran, also well known for pushing the boundaries of photography. Please enquire directly with the gallery for prices.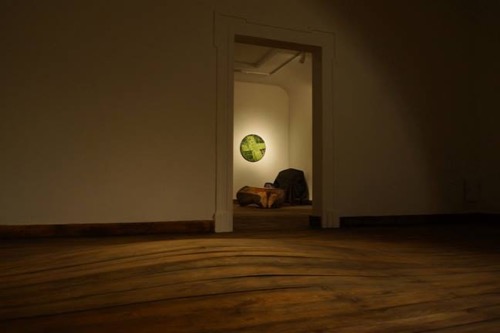 Exhibition view
VIVO
Make your way onto Kemeraltı Caddesi and head west. When you come to the hustle and bustle of Karaköy Square, take a steep right onto Bankalar Caddesi. At No 2, Sabancı University's downtown arts and culture centre, Kasa Galeri is hosting Vivo, an exhibition born out of collaboration between the artists Ahmet Doğu İpek, Erinç Seymen and Kerem Ozan Bayraktar. Dealing with the concepts of life, memory, death, grief, and physical and psychological traces of destruction, the show comprises Seymen's drawing of a London cemetery alongside Bayraktar and İpek's installations of objects referencing everyday furniture.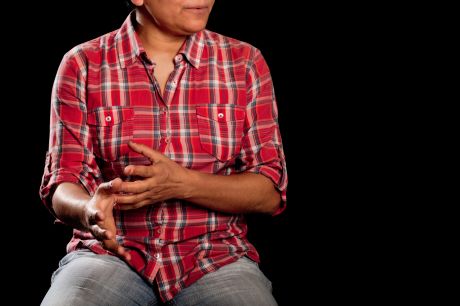 Ipek Duben, 'They', 2015, multi-channel video installation, still, photo: Kenan Sunar
IPEK DUBEN'S THEY
Further down the street at No 11, SALT Galata opens a new show this Tuesday (April 28) of the innovative Turkish artist Ipek Duben. They is a multi-screen video installation exploring how the majority of Turkish society views those it considers 'others', and how these marginalised others perceive one another. The video shows 24 people from a diversity of ethnic origins, belief systems and sexual orientations. Kurds, Alevis, Zazas, Rums, Armenians, Jews, Romanis, people who identify as LGBT, covered Muslim women and women who suffer domestic violence recount their experiences both to each other and to the audience. This promises to be one moving installation.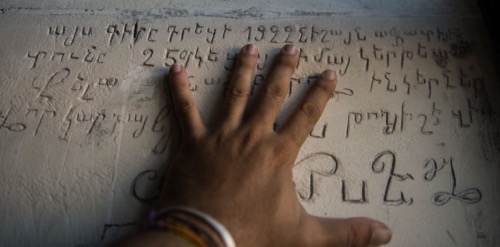 Norair Chahinian
NORAIR CHAHINIAN'S THE POWER OF EMPTINESS
Now head back towards the Tophane tram stop. Inland, at the bottom of Kumbaracı Yokuşu, the steep straight lane leading up to İstiklâl Caddesi, you will find the former tobacco warehouse that now houses DEPO (main image). Two new exhibitions that opened last week commemorate the centenary of the Armenian Genocide.
On the first floor, photographs by the Brazil-born, Armenian photographer Norair Chahinian are showcased. The series, The Power of Emptiness, is an attempt of a fourth-generation Armenian, whose family was forcibly banished from their land, to come to terms with returning to his homeland. The photographs not only tell Chahinian's story but underline a universal quest: humans wanting to go 'back to' and identify with their roots.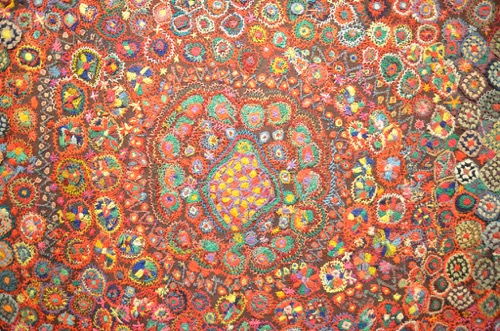 Anita Toutikian

ANITA TOUTIKIAN'S EXBROIDERIES
On the second floor, the Armenian artist Anita Toutikian presents her installation Exbroideries, inspired by her grandmother's tapestries. Toutikian's grandmother was just a child when the atrocities to her people occurred. As a way of dealing with post-traumatic stress she started weaving. 'She could not speak about her pain openly, but her fingers could, and she unconsciously wove her life story into these embroideries,' says Toutikian. 'This exhibition is a guided visit into the psychology of my grandmother through her painterly embroideries.'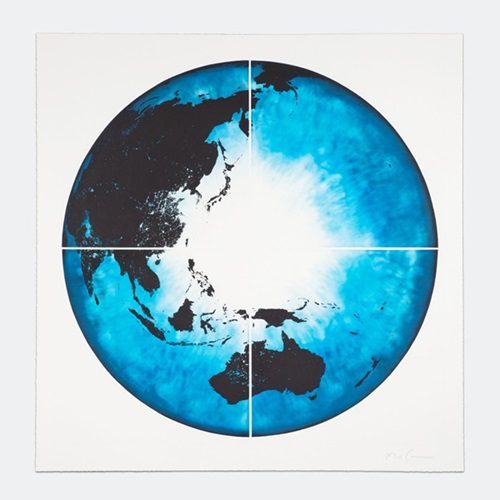 Marc Quinn, 'Event Horizon', 2014
PRINTED'15
Backtrack across the park to the next street leading up to İstiklâl (directly opposite the Kılıç Ali Paşa complex), Boğazkesen Caddesi. Mixer at No 45 opens up a new exhibition this Wednesday (April 29) showcasing limited-edition prints and photographs by important local and international artists. In Printed'15, the main exhibitions area will display specially commissioned works by Turkish artists such as Ferhat Özgür, Orhan Cem Çetin, Komet, Serkan Taycan, Işıl Eğrikavuk, Çağrı Saray and Bahar Yürükoğlu. Meanwhile, Mixer's Open Space will exhibit works by world-famous artists such as Marc Quinn, Liu Bolin and Li Wei. A selection of works from CFPR Editions, one of England's most prestigious studios, based in the University of the West of England, Bristol, will also be showcased, alongside digital prints from the archive of the recently closed Edisyon gallery in Galatasaray. Please enquire directly with the gallery for prices.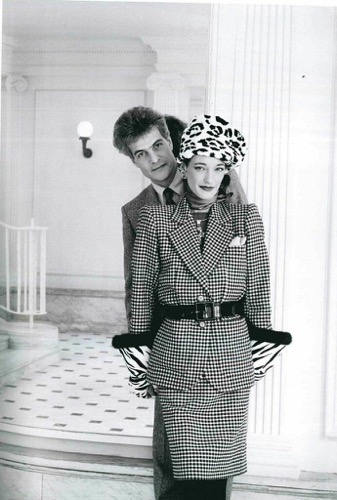 Loulou de la Falaise
If you are a jewellery and/or fashion lover, brave the uphill climb to Istanbul'74's second venue in Galatasaray, which opens the Loulou de la Falaise jewellery show this Wednesday (April 29). Jewellery designed by de la Falaise, with a selection of photographs from the book Loulou de la Falaise, pay tribute to this eccentric fashion icon, designer, who was Yves Saint Laurent's principal muse. De la Falaise assisted the designer Halston and briefly modelled for Vogue before moving to Paris in 1972. There she met Laurent and, for over 30 years, remained both an inspiration and a friend to him. Her bohemian style and sense of colour and fantasy are perfectly encapsulated in the images in the book, taken by such legendary photographers such as Helmut Newton, Richard Avedon, Steven Meisel, Michael Roberts and Bettina Rheims. If you are doing the walk this Wednesday, when the show opens, keep in mind that the opening party takes place from 7pm. The editor of the book, Ariel de Ravenel, will be there signing copies, so plan the walk for the afternoon and end here with a cocktail.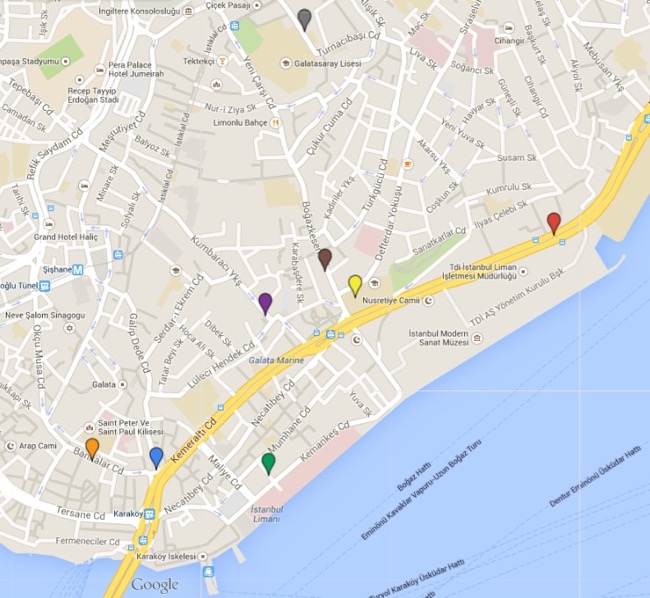 Key: Red – Studio-X, Yellow – Tophane-i Amire, Green – Istanbul'74 Karaköy, Blue – Kasa Galeri, Orange – SALT Galata, Purple – DEPO, Brown – Mixer, Grey – Istanbul'74 Galatasaray
Click here for the interactive map.