We are back in the city's gallery hub, Karaköy/Tophane, for our walk this week, where our favourite galleries are concentrating on solo shows of Turkish artists. Whether exploring personal narratives or the universe, there should be something to tickle everyone's fancy.
Barbara and Zafer Baran, 'Moon Drawings 0757, 0795', 2013, archival pigment prints, 101.6 x 152.4cm, photo: Mehmet Ömür
BARBARA AND ZAFER BARAN'S STAR AND MOON DRAWINGS
While Istanbul Modern hosts a retrospective exhibition of the London-based artists Barbara and Zafer Baran, the excellent Galeri Mana, just down the road, is showcasing the couple's Star and Moon Drawings. Catch the tram to Tophane, cross the road to the Kılıç Ali Pasha complex and behind it you will find the narrow Ali Paşa Değirmeni Sokak. Galeri Mana is at No 16, next to our coffee favourite Karabatak. Asked to pick a favourite, the gallery's director, Arzu Komili, says he can't possibly choose just one: 'Each piece is so special and unique'. The above work, however, is one of the exhibition's masterpieces. 'The idea of drawing through photography is incredible, says Komili. 'It really pushes these very set mediums of drawing, painting and photography into new areas.' Prices range from €1,800 to €9,500.
Looking back to 2013, Komili says the two-part Sarkis exhibition was definitely a standout. 'It was the biggest opening we have ever had. We took over the entire street! And Sarkis's 'Rainbow' neon piece, which can now be seen on the exterior of Istanbul Modern, has become an iconic piece both for the artist and that moment in contemporary art in Turkey.' Looking ahead, there's a group show featuring works by Francesco Vezzoli, Adrian Paci, Gregory Crewdson and Jonathan Monk, among others, as well as a hotly anticipated solo show from the emerging Turkish artist, Hera Büyüktaşçıyan.
Seza Bali, 'Sunrise at Fly Geyser', Nevada, 2008, 70 x 56cm
SEZA BALI'S LANDSCAPES
Less than a two-minute walk straight down the street – past the handsome red-brick Virgin Mary Orthodox Church – the Elipsis Gallery, devoted to the medium of photography, is hosting the young Turkish artist Seza Bali. Landscapes comments on representation in landscape photography and showcases the artist's work in the USA and Finland – photographs of an understated and somewhat unsettling beauty.
ASLI NARIN'S SPIN
Navigate through the backstreets back onto Kemeraltı Caddesi (where the tram stop is) and head west. When you come to the hustle and bustle of Karaköy Square (main image), take a steep right onto Bankalar Caddesi. Pop into Sabancı University's downtown arts and culture centre, Kasa Galeri at No 2, for the last few days of the first solo exhibition of the Turkish artist Aslı Narin, who presents her very personal monochromatic, abstract images in Spin.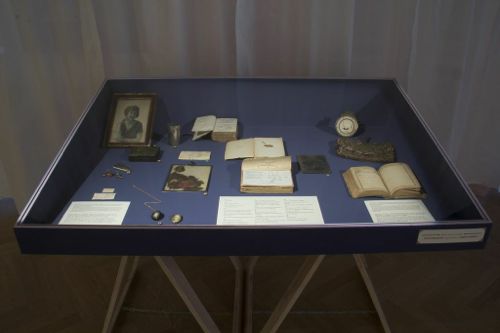 Installation shot of 'Dismantling the Archives'
DISMANTLING THE ARCHIVES
Down the street at No 11 – formerly the HQ of the Ottoman Bank – SALT Galata hosts an exhibition focusing on the family archives of Mehmed Said Bey (1865–1928), a veritable 'caricature of a bourgeois Istanbulite', in the words of the French historians François Georgeon and Paul Dumont. Taking the records of an ordinary family, Dismantling the Archive presents a fascinating historiographical study of early-20th-century daily life.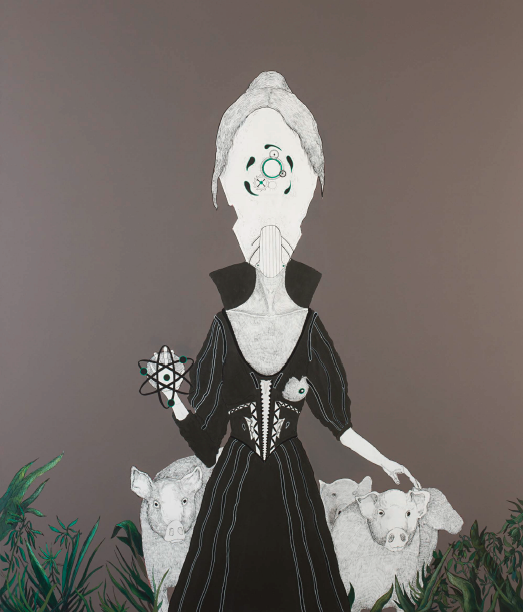 Kerem Ağralı, 'The Seeker' 2013, acrylic on canvas, 200 x 170 cm
KEREM AĞRALI'S HOME EVOLUTION
Back onto Kemeraltı Caddesi, head towards the Tophane tram stop (much simpler – if less interesting – than trying to navigate the steep, winding and often confusing Galata streets). Just past the tram stop and park you will come to Boğazkesen Caddesi on your left, a long street that leads all the way to Istiklâl Caddesi. At No 45, the big, brash industrial space Mixer has the latest paintings and sculptures from the Turkish artist Kerem Ağralı. Homo Evolution explores evolution – on a wider human scale and in terms of the artist's own artistic process. The gallery's director, Bengü Gün, says she particularly likes the above work, 'The Seeker'. 'We are all seeking to make our dreams a reality in other worlds. For me, this work is very revealing of humans,' she says. Prices range from TL1,500 to TL15,000.
One of Gün's standout 2013 projects was the launch of Mixer Editions in October. 'In Mixer Editions, we host those Turkish and international artists who might otherwise have limited exposure.' The 2014 programme has an exhibition of Meltem Sırtıkara and an international group show in store.
Buğra Erol, 'Safe', 2014, lightbox with 238 slides, 99 x 50 cm
BUĞRA EROL'S GOOD LUCK
Just down the street at No 65D, Daire Gallery – one of the neighbourhood's cosiest – is hosting a solo exhibition of the artist and environmental activist, Buğra Erol. In Good Luck, Erol creates a narrative in which he presents his views on economic interdependence, environmental denigration and the new world order created by the power elites. 'Buğra has a very distinct style of drawing and this is reflected in his paintings. However, what is even more special about his works is that they are based on a constructed story,' says the gallery's director, Selin Söl. 'I think his most striking works are the lightboxes,' says Söl. The above image shows one of these, in which slides showing images from Greenpeace archives are placed to reveal a hidden word commenting on the environmental situation. Prices on request from the gallery.
Raziye Kubat, 'Yusuf's Dream', 2012, linocut print, 72 x 53 cm
RAZIYE KUBAT'S 'YUSUF WHO WAS NOT CALLED'
Continue up Boğazkesen Caddesi and in a minute you will reach Çukurcuma Caddesi, known for its excellent antique shops. At No 19, opposite The Museum of Innocence, is Hayaka Artı, a new addition to our gallery walks. Calling itself a 'platform' rather than a gallery (an increasing trend on the Istanbul contemporary art scene), Hayaka Artı is hosting Raziye Kubat's Yusuf Who Was Not Called. 'The exhibition includes works spanning different media and is a reflection on our history through the life of a fictitious family. The works are very much integrated with one another, sort of like an installation with many pieces.' Asked which are her favourites, Hayaka Artı's founder, Dilara Akay, says: 'It changes every day: one day it's a linocut print [above], the next it'll be a diasec fine art print or a painting.' For prices, enquire directly with the gallery.
Reflecting on 2013, Akay says the exhibition curated by Deniz Erbaş as part of the interfacegallery.com initiative was a highlight. The project was launched online in 2010 and relies on 'user-generated content' to democratically showcase artists and generate a virtual archive of artists. The next interfacegallery.com exhibition, curated by Ferhat Ozgur, will take place in April.
All images, except the main image, courtesy of the respective galleries. Main image courtesy of WikiMedia Commons.
Key: Blue – Galeri Mana, Red – Elipsis Gallery, Green – Kasa Galeri, Purple – SALT Galata, Yellow – Mixer, Magenta – Daire, Light Blue – Hayaka Artı
Click here to see the interactive map.