Back in Karaköy/Tophane for the second part of our walk, we visit a few galleries, a museum and some interesting art institutions exploring a mixture of themes – the majority, coincidentally, focusing on photography.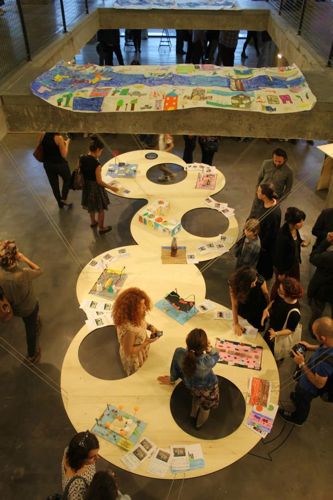 Installation view
GROWING UP IN A GROWING METROPOLIS
Start on Meclis-i Mebusan Caddesi. Between the Fındıklı and Tophane tram stops, Columbia University's off-campus urban future think-tank, Studio-X, at No 35A, is offering an interesting exhibition. If you haven't yet visited this large, modern space built in glass with its name emblazoned boldly in pink on the front, now's your chance. Inside, Growing Up in a Growing Metropolis focuses on children's Istanbul and features works by some of Istanbul's best-loved artists, as well as by younger members of society.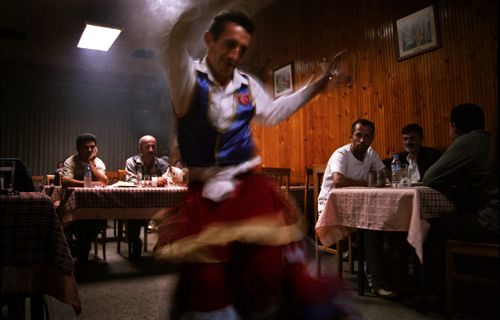 Gülşin Ketenci, Kastamonu, 2006. The Köçek tradition, which flourished between the 17th and 19th centuries in Ottoman palaces, and particularly in harems, is still practiced in some parts of Anatolia as a form of traditional dance and entertainment.
ON THE ROAD
Cross the road and head towards the Tophane tram stop. You will see the big red sign for Istanbul Modern as you approach. Take a left and enter the grand red antrepo, where there is a new photography exhibition on offer. On the Road brings together stunning photographs from the Nar Photos archives. Says the exhibition's curator, Sena Çakırkaya: 'This year, Istanbul Modern celebrates its 10th anniversary. Within this scope, we collaborated with Nar Photos to present images from the country's collective memory from the last 10 years.'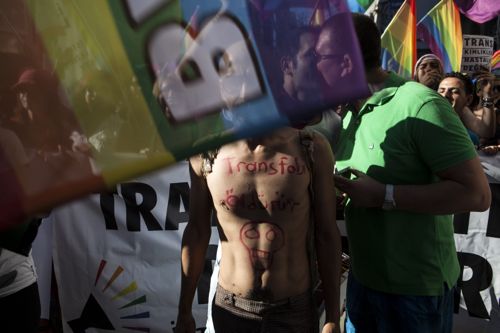 Saner Şen, Istanbul, 2013. Thousands of LGBT individuals and supporters gather for the Fourth Trans Pride Parade in Taksim Square.
Looking back on the process of putting the exhibition together, Çakırkaya says it wasn't easy to select just 75 photographs by 20 artists from such a large archive. 'The selected photographs present a comprehensive panorama of events in Turkey's recent history, the effects of which are still felt today. Though we want to show various aspects of Turkey, spanning a wide range of subjects, our intention is not to represent Turkey in this exhibition. These are the images taken by the members of Nar Photos, shot on the road at various locations, just like steps taken on a long, arduous journey.'

Mert Çağıl Türkay, 'Ego', 2014, digital photography on fabric
MYSELF
Come back onto Meclis-i Mebusan Caddesi and, across the road, you will find the cavernous Ottoman arsenal Tophane i-Amire on the corner with Boğazkesen Caddesi. Three artists who all work in the Mimar Sinan Fine Arts University's Photography Department have curated a group show entitled Myself, exhibiting works they have produced themselves. One of the artists, Mert Çağil Türkay, says: 'The three of us have the same ideas about selfishness and this shows in our artworks. That's why we decided to open an exhibition under this concept.' In his work (above), Türkay is influenced by Freud's idea that the 'ego is alike to a knight on a rampant horse' and presents a photograph showing portraits of half-naked people. 'It is about their selfishness and uncertainty and focuses on tolerating people with big egos in a busy city,' he says.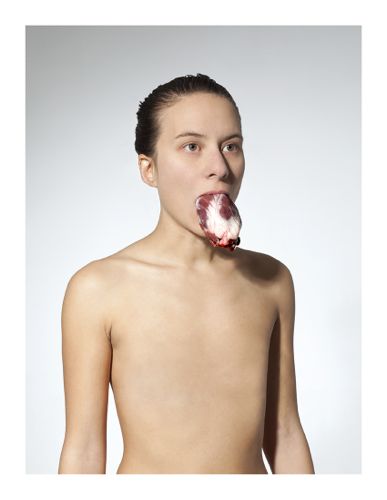 Elçin Acun, 'Am I Erotic?', digital photography
In Elçin Acun's series (above), the artist questions a woman's status. Using her own image, she resituates female representation as something repulsive in order to oppose the way women are usually portrayed – in an 'aesthetic-pornography-eroticism' context and as an object of desire imprisoned by male power. Prices range from $1,000 to $5,000.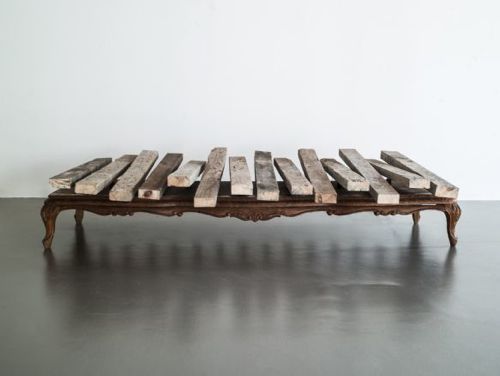 Hera Büyüktaşçıyan, 'Dock', 2014, found wooden furniture, plank, magnet, engine driven mechanism, 195 x 100 x 25 cm
HEDA BÜYÜKTAŞÇIYAN'S LAND ACROSS THE BLIND
Past the park and in the backstreets behind the Kılıç Ali Pasha complex – where Tophane becomes Karaköy – you will find the narrow Ali Paşa Değirmeni Sokak, a street which typifies the neighbourhood emerging identity: chic, bohemian and buzzing. At No 16, the always compelling Galeri Mana is hosting the first solo exhibition of the Turkish artist, Hera Büyüktaşçıyan.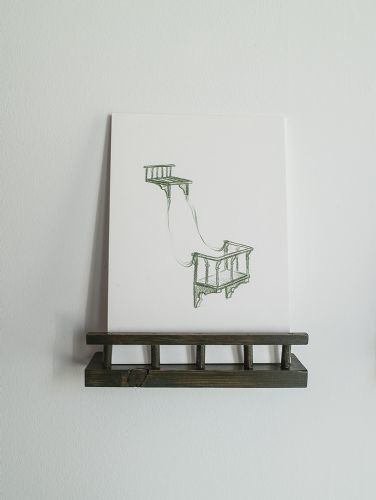 Hera Büyüktaşçıyan, 'Studies for elevation', 2014, drawing on paper, wooden shelf, 24.5 x 31 cm, shelf length: 24.5 cm
In Land Across the Blind, the artist uses the relationship between sea and land as a metaphor and explores the potential 'to see beyond the visible'. Her installations follow such structures as balconies and docks to show the transitional space between the inside and the outside, the past and the present, the submarine realm and the surface of the land. Her drawings add another dimension. Enquire directly with the gallery for prices.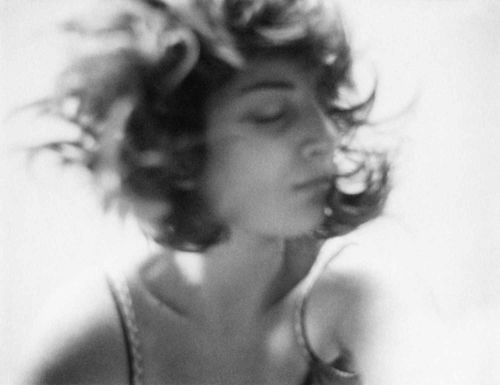 Irem Sözen, #08, 'Recall' series, 2012
EDITIONS IV
Contemplate exhibitions you've already seen from one of the street-facing chairs at the popular coffee spot, Karabatak. Then continue down the street and, when it turns into Hoca Tahsin Sokak, you will reach Elipsis Gallery, which is exhibiting its fourth Editions show. Says the gallery's founder, Sinem Yörük: 'In their work these three exhibiting photographers all create parallel realities between nature and the past through their own experiences.' Prices range from €350 to €1,250.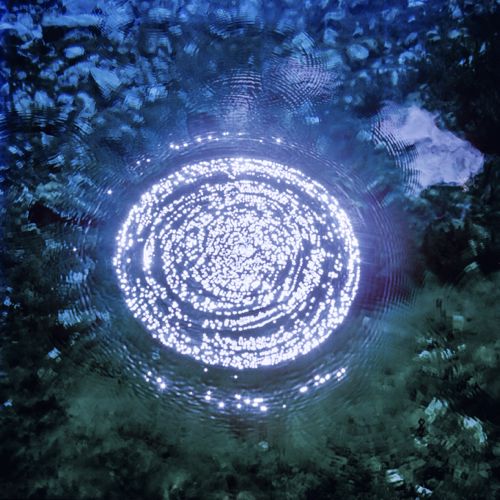 Oğuz Karakütük #11 'Delta' series, 2014
Main image courtesy of Studio-X.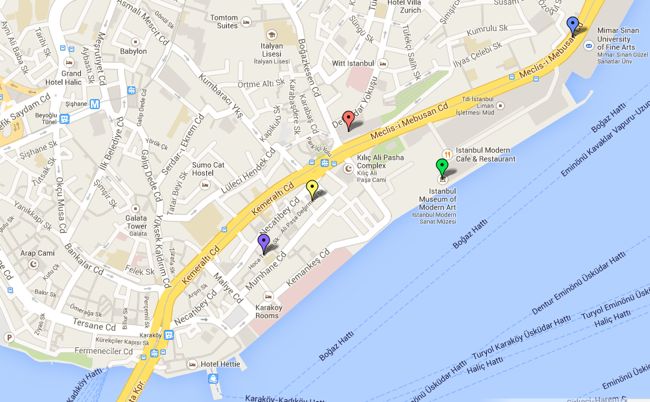 Key: Blue – Studio-X, Green – Istanbul Modern, Red – Tophane i-Amire, Yellow – Galeri Mana, Purple – Elipsis Gallery
Click here for the interactive map.