A plethora of exciting autumn shows has opened at the galleries in Karaköy/Tophane, whetting our appetite for all things contemporary. The neighbourhood is considered the city's cultural hub, and many gallerists cite the opening of Istanbul Modern in 2004 as the instigator of this. The museum's chief curator, Levent Çalıkoğlu, concurs in enjoying the area's cosmopolitan nature. 'It is really interesting to have simit bakeries, tradesmen's restaurants and art galleries interspersed within a single neighbourhood fabric,' he says. The diversity of the area also resonates with other gallery owners in the area. Mixer's director, Bengü Gün, likes the contrast between the old community, the wave of the city's new creatives and the children playing in the streets who occasionally pop in to check out their latest exhibition. 'Mixer may not be a huge part of these children's lives, but they have access to contemporary art, and this makes me wonder about what they think of it, and whether or not it will eventually have any impact on their lives,' she says. Meanwhile, Derya Demir, founder of one of the smaller galleries, NON, says that this diversity 'undoubtedly makes the neighbourhood attractive and a joy to explore', adding, 'It is significant that the programmes of the galleries in the neighbourhood compose a certain character together.' Similarly, Asena Günel, director of DEPO, thinks the gallery presence is growing in Karaköy/Tophane, and recommends visiting the Kılıç Ali Paşa Hamam, the Mana building (a converted 19th-century wheat mill) and Tophane-i Amire.
Barbara and Zafer Baran, 'Moon Drawing 9764 (Blue Moon)', 2010, photograph
Let's start at Istanbul Modern on Meclis-i Mebusan Caddesi (visible from the Tophane tram stop), which is hosting a permanent exhibition, Past and Future, as well as some new temporary exhibitions: Artists' Film International began on November 21 and showcases videos, films and animations from across the globe, while the planetary photographic exhibition Observatory (from November 28) presents a retrospective of the collaborative work of Barbara and Zafer Baran. This is also a last chance to catch the calligraphy-inspired Erol Akyavaş retrospective, ending on December 1.
Past the park and in the backstreets behind the aforementioned Kılıç Ali Paşa complex – where Tophane becomes Karaköy – Galeri Mana will be hosting a solo exhibition of the Turkish artist Deniz Gül from November 28, entitled B.I.M.A.B.K.R. 'Gül's work touches on collective history, memory and culture, thus I feel many people will immediately relate. It will be an exciting experience for viewers to come to the gallery to find a different exhibition each time,' says the gallery's director, Arzu Komili, of the constantly changing installation.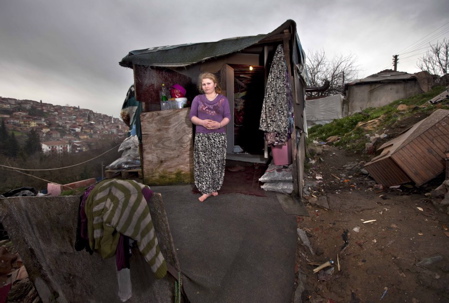 Osman Demir, Young Photographers Awards 2013 winner
Less than a two-minute walk straight down the street where Galerie Mana is – past the coffee favourite, Karabatak, and the Virgin Mary Orthodox Church – the Elipsis Gallery will come into view. This space, dedicated entirely to photography, is hosting a special exhibition showcasing the works of this year's participants in the Young Photographers Awards, of which the winner and both runners-up have focused on signifiers of urban change in Turkey (read more here) in either colour or dramatic black and white.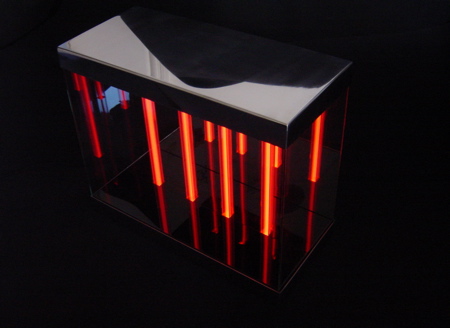 Thierry Dreyfus, 'Phil 2'

Back on parallel Kemeraltı Caddesi, the Krampf Gallery at No 141 is displaying the works of the French designer-cum-installation artist Thierry Dreyfus. The gallery's owner, Regis Krampf, still riding the high of his success at Contemporary Istanbul and ArtInternational, recently moved his gallery from New York to Istanbul. Krampf speaks highly of Dreyfus: 'Thierry is one of the best sculptors I know. Considering light as matter, his sculptures take space in a very unique way. His photos resonate with his work on light – artificial or natural, they are always the center axis of his compositions. His market is developing fast in Turkey, and he is a multi-talented artist so I just jumped at the occasion to work with him. He is also a composer. I believe he is close to being a genius.'
Head back towards the Tophane tramstop, inland at the bottom of Kumbaracı Yokuşu, the steep straight lane leading up to Istiklal. Here you will find the former tobacco warehouse that now houses DEPO, where the current exhibition is not of contemporary art per se: Never Again! Apology and Coming to Terms with the Past is an audio-visual exhibition exploring how nations come to terms with their past, and the act of apologising in an effort to constitute a culture of democracy.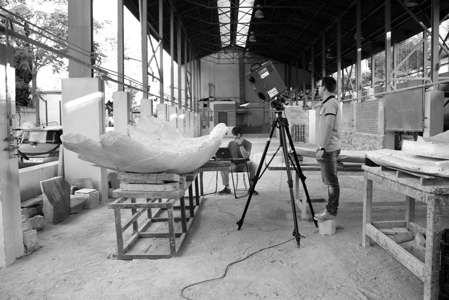 The making of the wing in Sibel Horada's 'A Fall'
Backtrack across the park to the next street leading up to Istiklal – directly opposite the Kılıç Ali Paşa complex – Boğazkesen Caddesi. Daire, at No 65D, is hosting Sibel Horada's solo show, A Fall, fresh from its moment at Contemporary Istanbul. Director Selin Söl says: 'Sibel Horada's works are extraordinary in the sense that they are a result of the artist's reflection on her research. Her exhibition features a 3.5-metre-long wing statue, which is presented almost as an installation, with each accompanying photo, canvas or audio filling in the gaps of the story.'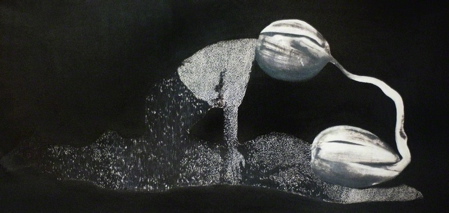 Özge Enginöz, Untitled, 2011, Acrylic and ink, 145 x 70 cm
Mixer at No 45 (in the basement) is hosting the Turkish artist Özge Enginöz's multi-disciplinary show, Not Quite As Thought. Questioning existential problems of our postmodern age, Enginöz's work resonates with the gallery's director, Bengü Gün. 'There is a simple innocence about it, although admittedly some may see her work as being filled with depressive undertones. Although the dark, muted colours may evoke such feelings in others, I find it enlightening and empowering,' she says.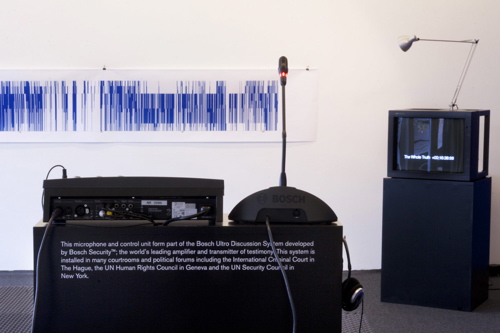 Lawrence Abu Hamdan's 'The Whole Truth', 2012, video, 32"
Technically we are in Beyoğlu territory now, but Galeri NON (on a side street called Nur-i Ziya Sokak) is offering a group exhibition worth visiting. Entitled Things Behind the Sun, the works of three artists and one artist group endeavour to tackle the relationship between our bodies and technological devices. 'In Concert' is a two-channel video installation by the Swiss artist Uriel Orlow, showing a performance by a cellist and a pianist playing the first movement of Shostakovich's 'Cello Concerto No 1' without their instruments. 'In the absence of these sound-producing devices, the accompanying music operates as a kind of ghostly mnemonic, prompting their physically-remembered gestures,' says the gallery's founder, Derya Demir. Meanwhile, Lawrence Abu Hamdan's 'The Whole Truth', which has also been presented at Tate Modern, is a 32-minute audio documentary presented in an interactive installation incorporating a pair of headphones, a lie detector, a bench and a mirror. The rest is for you to discover.
When it comes to lunch, the area's restaurants are as dynamic as its galleries. 'My favourite is definitely Maya [on Kemankeş Caddesi]. It truly hits the spot in terms of taste, setting and ambiance,' says Çalıkoğlu. Basak agrees, citing as a close second Karaköy Lokantası (next door to Maya). Söl recommends Cuma in nearby Çukurcuma (Çukurcuma Caddesi No 51). 'It has a very pleasing atmosphere, not to mention delicious, light food,' she says. Günel likes the thin-crust pizzas at a newly-opened spot, Komodor, on Kılıç Ali Paşa Mescidi Sokak. Demir enjoys Münferit (Yeni Çarşı Caddesi No 19 – the street Boğazkesen Caddesi becomes), Cezayir (Hayriye Caddesi) and Limonlu Bahçe (Yeni Çarşı Caddesi No 98) when she has time for a longer lunch, but she also enjoys 'the wonderful luncheon opposite the taxi stop on Boğazkesen Caddesi'. For coffee, Karabatak (on Kara Ali Kaptan Sokak between Galerie Mana and Elipsis) is a hot favourite – often frequented by both Çalıkoğlu and Günel.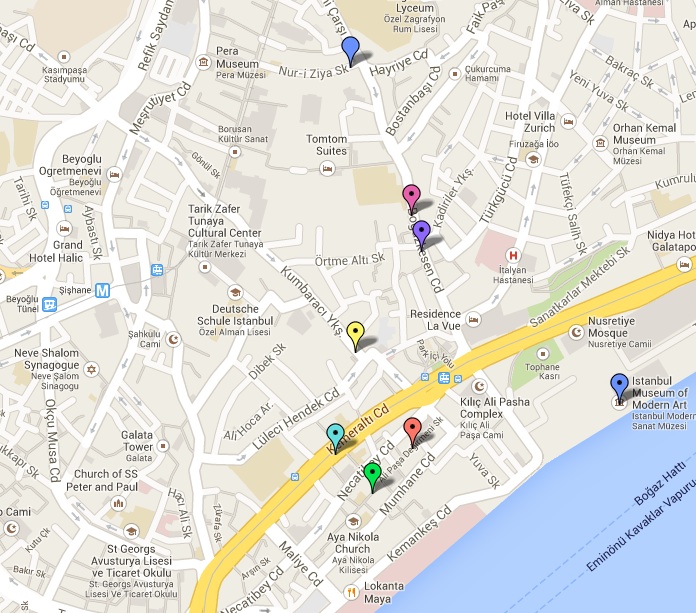 Key: Blue with dot – Istanbul Modern; Red with dot – Galerie Mana; Green with dot – Elipsis; Light blue with dot – Krampf; Yellow with dot – DEPO; Purple with dot – Daire; Magenta with dot – Mixer; Blue – Galerie NON
Click here for the interactive map.
Maim image courtesy of Karabatak café. Click here to visit their website.