For our first gallery walk of 2014, we find ourselves back in the city's cultural hub, Karaköy/Tophane (above). Last year was a huge year for contemporary art in Istanbul. There was a biennial, two art fairs, the reinvention of protest art and a plethora of exciting exhibitions from both international paragons and local up-and-comers. Some of the gallerists featured in this walk concur that 2013 was a monumental year for art. Asked to pick some of their galleries' best exhibits of 2013, Asena Günal from DEPO singled out Never Again!: Apology and Coming to Terms with the Past and Let's Go to Postering!, both of which made it onto Radikal's 'best three exhibitions' list. The standout exhibition for Selin Söl from Daire was The Loss, which opened in September after the Gezi Park protests. 'When the government had lost its legitimacy in the eyes of many people, we hosted an exhibition which brought together five young artists who dealt with values being lost through sudden personal and social shifts,' she says. Mixer's director Bengü Gün said that the gallery had begun training programmes for adults, children and artists, which had been on the agenda since Mixer opened. 'We also initiated ArtWriting Turkey, a long-term project supporting young and emerging art writers,' she adds.
Adrian Paci's 'Piktori', 2002, part of the 'Neighbours' exhibition at Istanbul Modern
The daddy of contemporary art, Istanbul Modern on Meclis-i Mebusan Caddesi (catch the tram to Tophane), celebrates its 10th birthday this year and will host a number of special exhibitions and events to commemorate the occasion. First up is Neighbours, a multi-disciplinary look at contemporary art practices in Turkey and the surrounding region. Opening tomorrow (January 9), the exhibition will feature works by 35 artists, aiming to explore practices relating to social life in the public space, such as spectacles and ceremonies, and the way these have seeped into modern visual arts. Featuring political cartoons and folk art by artists who hail from the Balkans, the Caucasus, the Middle East and Turkey itself, this promises to be an insightful and fascinating exhibition. Also starting tomorrow is a 10-day film programme focusing on contenders for the Best Foreign Film category at the Oscars. There's also a permanent exhibition and a number of temporary exhibitions to explore (these were covered in a previous gallery walk).
Past the park and in the backstreets behind the Kılıç Ali Pasha complex – where Tophane becomes Karaköy – you will find the narrow Ali Paşa Değirmeni Sokak, a street which typifies what Tophane is fast becoming. At No 16 is Galeri Mana, which is hosting a solo exhibition of the Turkish artist Deniz Gül (covered in a previous walk) until January 25.
Michel Comte, 'Jeff Koons', published in 'L'Uomo Vogue', 1992, 67 x 67 cm
Contemplate the already-seen exhibitions from one of the street-facing chairs at coffee favourite, Karabatak, with the handsome red-brick Virgin Mary Orthodox Church behind or in front of you depending on where you sit. Then continue down the street and when it turns into Hoca Tahsin Sokak, and you will reach Elipsis Gallery. Dedicated to photography, the gallery's exhibition du jour, Fame, focuses on the timeless portraits of renowned Swiss photographer Michel Comte, who captures the more human side of the rich and famous.
Back on the parallel Kemeraltı Caddesi, the Krampf Gallery at No 141 is opening a group exhibition tomorrow which will showcase 45 works made by prisoners, the result of a five-month Traditional Turkish Art course. Entitled Type T Penitentiary Illumination Exhibition, it aims to present life behind bars to the outside world in an effort to counter prejudice against inmates.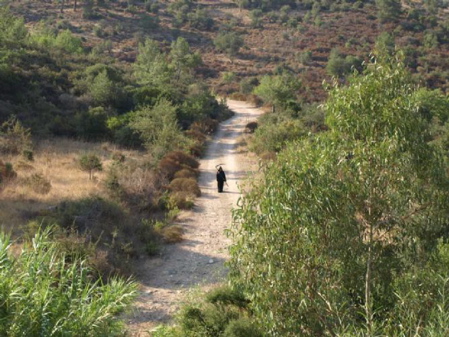 Neriman Polat, 'On the Road', 2013
Head back towards the Tophane tram stop. Inland, at the bottom of Kumbaracı Yokuşu, the steep straight lane leading up to Istiklal, DEPO is offering a joint exhibition of two female Turkish artists, Neriman Polat and Mürüvvet Türkyılmaz. Says Günal: 'Polat and Türkyılmaz are artists from the same generation who started to produce artworks in the mid 1990s and whose artistic routes have often crossed. Polat's work examines women's struggles for existence, social paradoxes and pressures, family, and life and death, while Türkyılmaz's work explores these issues from a more personal standpoint. Her works draw upon the power of memory and she manages to turn everyday objects into materialised poems.'
Elçin Ekinci, 'Untitled', 2013, gold -plated polyester, concrete, MDF
Backtrack across the park to the next street leading up to Istiklal, Boğazkesen Caddesi, which has a few other galleries of interest. At No 65D, the cosy Daire is hosting the first solo exhibition of the Turkish artist, Elçin Ekinci. Entitled The Nature of Order, the exhibition deals with the human mind's constant need to instill order. Selin Söl's favourite piece is the above 'Untitled' sculpture. 'This cradle symbolises a basic tendency which has characterised human beings since the beginning of time: in order to maintain balance, we need to make sense of things and we do that by constructing order,' she says. Looking ahead to the rest of year, Söl is anticipating an exhibition focusing on environmental denigration by Buğra Erol, a Greenpeace activist, and a sentimental photography project by the England-based artist, Cemre Yeşil.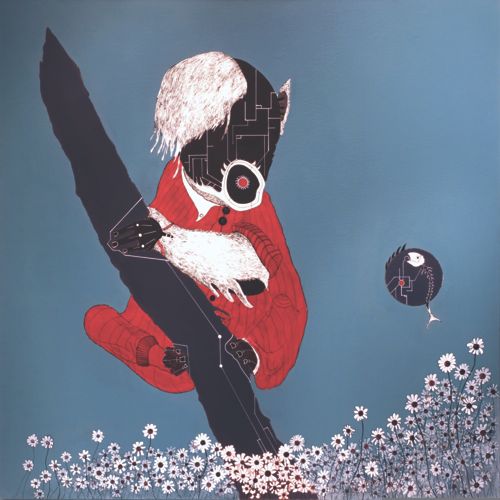 Kerem Ağralı, 'Revolution of A Beauty', 2013, acrylic on canvas, 150 x 150 cm
Mixer at No 45 is offering a group exhibition entitled Dilemma, which deals with the dilemmas of our generation through the eyes of eight young Turkish artists. 'Ozan Türkkan's interactive video art project is particularly interesting. It visualises the limitless number of decisions we can make and the different results these may lead to. He used four iPads and four projections and prepared the installation in a room within the gallery,' says Gün. This year is an exciting one for Mixer. It will host solo exhibitions by Kerem Ağralı (whose work can be seen at the current exhibition) and Meltem Sırtıkara, and there will be a programme for childre, as well as a comprehensive training/networking programme aimed at artists. 'We will continue to visit universities to meet with young artists and visit their studios,' adds Gün.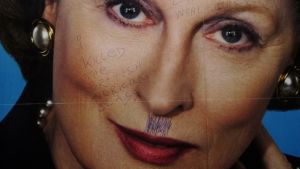 Karen Mirza and Brad Butler's 'Deep State'
If you are brave enough to continue the steep climb, Galeri NON, on a side street called Nur-i-Ziya Sokak, is showing a new video work by the London-based duo Karen Mirza and Brad Butler. The 40-minute long film, Deep State, was written in collaboration with the science-fiction author China Miéville, and explores governments' practices of making decisions with their own interests in mind – decisions that often run counter to the outward impression of democracy. Food for thought.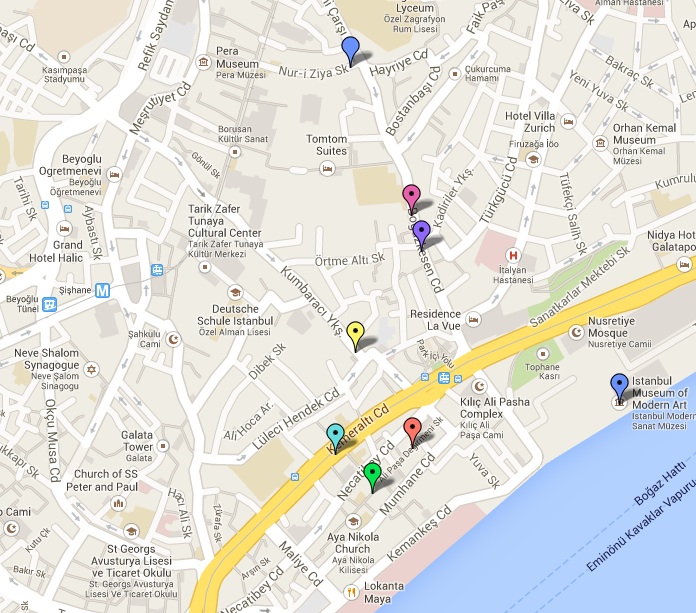 Key: Blue with dot: Istanbul Modern; Red with dot: Galerie Mana; Green with dot: Elipsis; Light blue with dot: Krampf; Yellow with dot: DEPO; Purple with dot: Daire; Magenta with dot: Mixer; Blue: Galerie NON
Click here for the interactive map.
Main image shows Tophane with the Bosphorus in the background and the red antrepo which houses Istanbul Modern (courtesy of WikiMedia Commons). All images, except the main image, courtesy of the respective galleries.