We are in fashionable Nişantaşı for a gallery walk spanning mostly solo shows, with a concentration on works concerned with nature, animals and – more unusually – mathematics. This will be the last show for most galleries before they shut up shop for the summer.
Duygu Süzen, 'There and back', 2015, ink and watercolour on paper, 122 x 129 cm
DUYGU SÜZEN'S ECHO
Start on Mim Kemal Öke Caddesi, where Merkur at No 12 brings us another environmentally themed show. In Echo, large-scale inks and watercolours on paper depicting plants in muted greens and greys by Duygu Süzen are showcased. The young artist's works endeavour to show that nature is at once 'dazzling, sacred and vengeful'. Prices range from TL10,000 to TL12,000.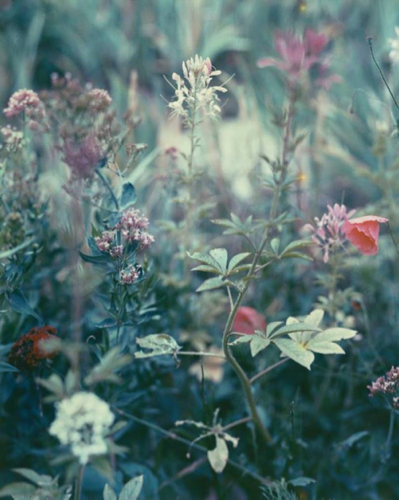 Darren Almond
DARREN ALMOND
Parallel, on Abdi Ipekçi Caddesi, Dirimart at No 7 is hosting the Turner Prize-nominated British artist Darren Almond, whose practice incorporates painting, photography, film, video, installation and sculpture. In his oeuvre, Almond is concerned with the notions of time and space, the finite and the infinite, and our incapacity to perceive these without references – exploring them using a variety of themes including nature.
Darren Almond, 'Focus', 2013, acrylic on linen, top panel 70x100 cm, bottom panel 69x100 cm
He's also interested in mathematical systems, as his new series of eloquent abstract paintings (above) demonstrates. Horizontally divided numbers, made using thick impasto layers of acrylic paint with monochromatic solid backgrounds, are arranged into various numeric combinations. Almond's configurations remind us that confusing arrays of numbers – from financial systems to the human genome and the positions of the stars – underscore every aspect of our lives. Please enquire directly with the gallery for prices.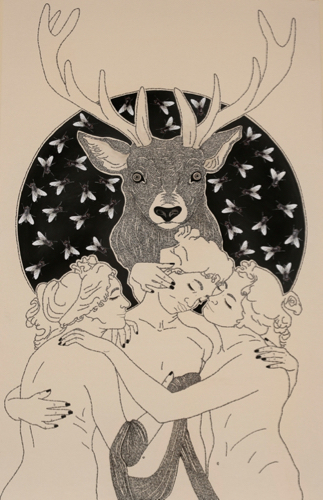 Arzu Eş
ARZU EŞ'S FALSE EMPATHY
Further down at No 22, Kare Gallery is hosting Arzu Eş's show, False Empathy. The artist explores the false empathy humans show for animals in her detailed and often surreal pencil drawings. Prices range from TL3,500 to TL10,000.
Ali Teoman Germaner, from the 'Phoenix' series, 2005, bronze, 31 x 30 x 43 cm
ALI TEOMAN GERMANER (ALOŞ): SKETCHES, PAINTINGS, SCULPTURES
On parallel Teşvikiye Caddesi, Bozlu Art Project at No 45 is hosting an unmissable show, a partial retrospective of one of Turkey's most appealing sculptors, Ali Teoman Germaner, aka Aloş.
Ali Teoman Germaner, 'Composition', 1962, oil on canvas, 73 x 120 cm
Alongside Aloş's magnificent sculptures in bronze (above top), wood and stone, the show includes paintings and sketches dating from the 1950s and 1960s – some abstract, others full of metaphor. The relationship between sculpture and other mediums is further explored through sketches drawn for his series Aloşname, which is full of the political atmosphere of 1970s Turkey. Please enquire directly with the gallery for prices. The gallery will be open during the summer and will have a new exhibition from June 9.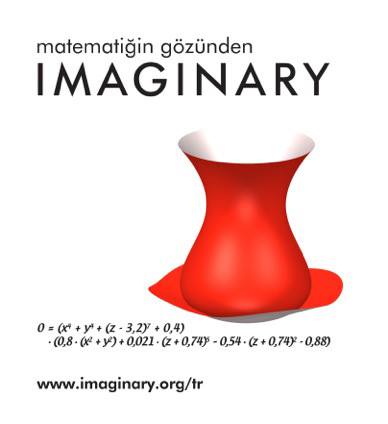 Imaginary
IMAGINARY
Across the road, Galeri Işık at No 6 is hosting Imaginary, a fascinating exhibition shedding light on interactive learning technology relating to mathematics through software, images, films and text. It is organised in collaboration with Imaginary, the online space for open and interactive mathematics.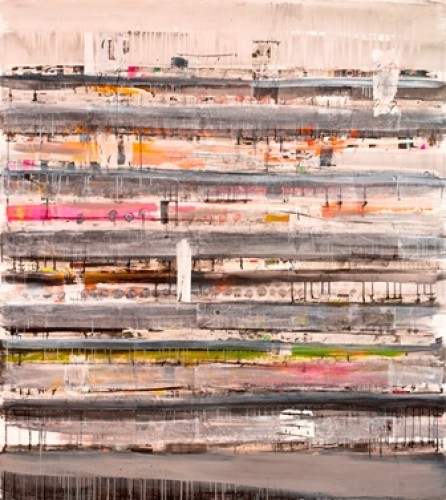 İsmet Değirmenci
İSMET DEĞIRMENCI'S SOMEWHERE
Head towards the Teşvikiye Mosque and when the road splits (the intersection where the statue of Hüsrev Gerede stands), take a right into Maçka Caddesi. At No 35 Millî Reasürans Art Gallery is in its last week of displaying more nature-themed works (main image). In Somewhere, İsmet Değirmenci's expressionist abstract paintings make references to the transformation of nature. Prices range from TL3,500 to TL25,000.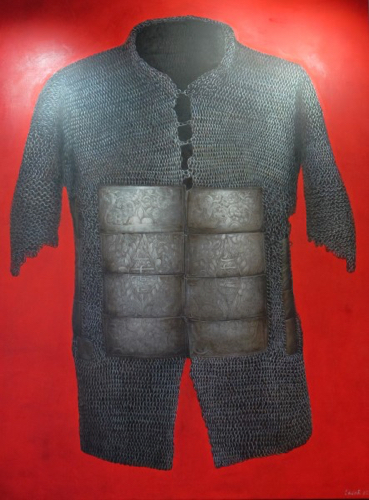 A work by İsmail Acar, being sold for TL75,000
KARMA
Further down the street at No 29, Galeri Eksen is hosting a group exhibition all summer long, displaying paintings, scultpures and ceramics by well-known Turkish artists – past and present – that will be rotated weekly.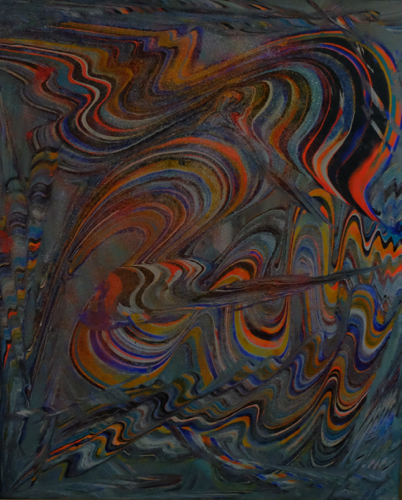 Yücel Dönmez, TL10,000
Exhibited artists include Jülide Ünal Atılmaz, Nilüfer Çile, Bedri Rahmi Eyüboğlu, İsmail Acar, Yücel Dönmez, Erol Akyavaş, Zekai Ormancı and Kayahan Keskinok. Prices range from TL1,000 to TL75,000.
Ayhan Türker, 'Fishing in Yeniköy', 2014, oil on canvas, 60 x 81 cm
AYHAN TÜRKER'S HALF A CENTURY
A few streets away, on Şakayık Sokak, Türker Art at No 43 is hosting an exhibition of Ayhan Türker's Istanbul landscapes, entitled Half a century. Although these oils on canvas depict Istanbul landscapes as they look now, there's a sense of nostalgia in Türker's paintings – and memories of a time that seems to have all but disappeared.
Ayhan Türker, 'Kanlıca Bay', 2014, oil on canvas, 75 x 100 cm
The artist's body of work is typical of late 19th- / early 20th-century Impressionism and his Bosphorus pieces are particularly lovely. Prices range from TL5,500 to TL25,000. The gallery will have a group summer show from the end of June to July and will close for August.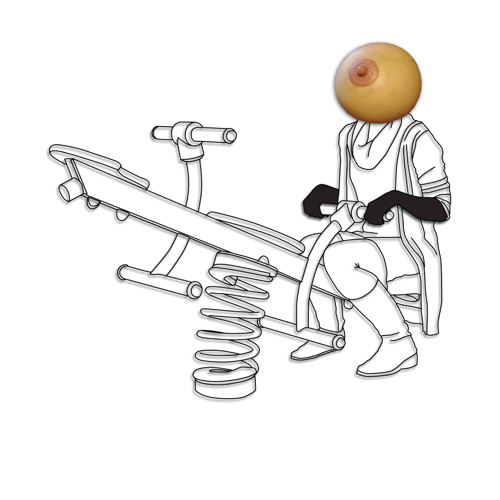 Frank Plant
FRANK PLANT'S SOME FACTS, SOME FICTION
Finally, SODA at No 37, is hosting the Barcelona-based American sculptor Frank Plant's third solo show at the gallery. In Some Facts, Some Fiction, the artist presents hybrid half-sculpture, half-drawing works that push the boundaries of both these mediums. Using his imagination and acerbic wit, Plant creates works from steel wires, which comment on the individual and collective states of society. Prices range from €1,000 to €12,000.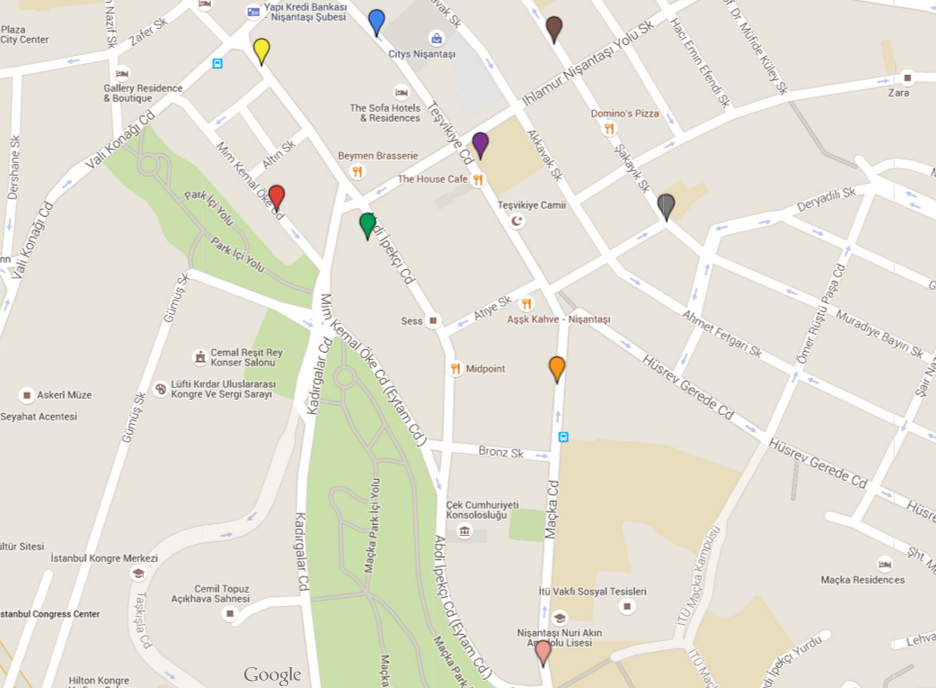 Key: Red – Merkur, Yellow – Dirimart, Green – Kare Gallery, Blue – Bozlu Art Project, Purple – Galeri Işık, Orange – Milli Reasürans Gallery, Pink – Galeri Eksen, Brown – Türker Art, Grey – SODA
Click here for the interactive map.