We're back in fashionable Nişantaşı this week for tantalising exhibitions to warm up your winter. Two parallel streets, Mim Kemal Öke Caddesi and Abdi Ipekçi Caddesi (above), are of most interest, holding the bulk of the neighbourhood's galleries, restaurants, hotels and boutiques. These are also the streets which resonate most with the neighbourhood's gallerists. Elizabet Şalabi of the Chalabi Art Gallery and auction house Alif Art says Nişantaşı is a prime spot for cultural institutions and believes a number of the galleries in the area are among the best in the city. These two streets are the first places Merkur Gallery's director, Sabiha Kurtulmuş, would visit in the neighbourhood. And x-ist's director, Yasemin Elçi, says the area's drawcard is its central location, adding that 'The proximity of the galleries makes for a nice art tour.'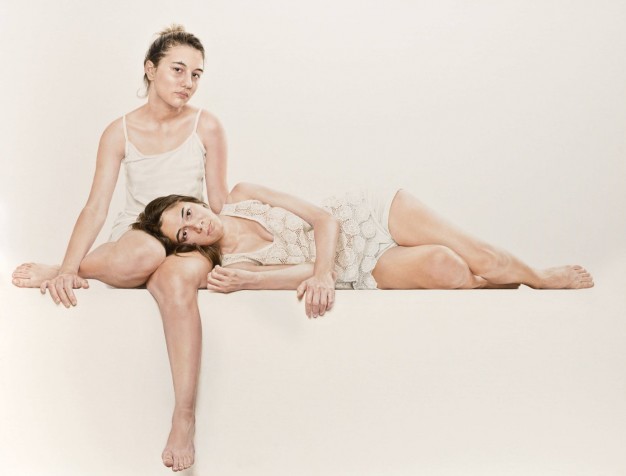 We will take the same route as last time, starting at the north tip of Maçka Park. Down Mim Kemal Öke Caddesi, opposite Melanzana restaurant, Merkur Gallery, at No 12, is exhibiting the beautiful hyperrealist paintings of Sinan Demirtaş. Entitled The Journey, the exhibition features the artist's latest series in which he plays with the concept of space (above image). 'Space is a limiting element for the body in the artist's works. Figures leaning in different directions cause them to effuse on the canvas and look for new spaces,' explains Kurtulmuş. When selecting artists Kurtulmuş considers 'the notions, concepts, use of materials and the aesthetic perceptions of the artist's portfolio', and Demirtaş is a perfect fit.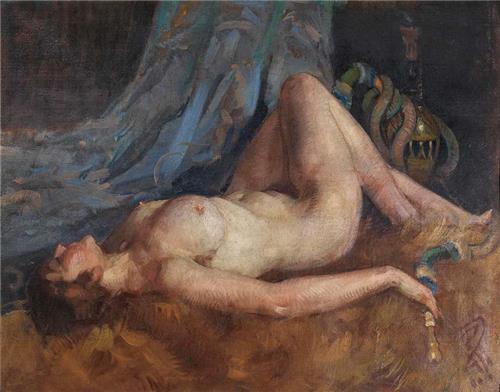 Across the road at No 17, the Chalabi Art Gallery is showcasing lots for Alif Art's upcoming Ottoman and European Works of Art auction, to be held on December 8 at the Esma Sultan Palace. There are sumptuous calligraphic panels on offer, including one by Hafız Yusuf Efendi, and a selection of fine paintings from Ottoman-period Turkish painters and 20th-century contemporaries. Place your bets on Ibrahim Çallı's sensual 'Nude' (above), whose asking price is a cool quarter of a million pounds. From December 11 the gallery will host Foreclosed, a joint exhibition of work from the Syrian artist Mouhammed Imad and the Turkish glass artist Felekşan Emel Onar.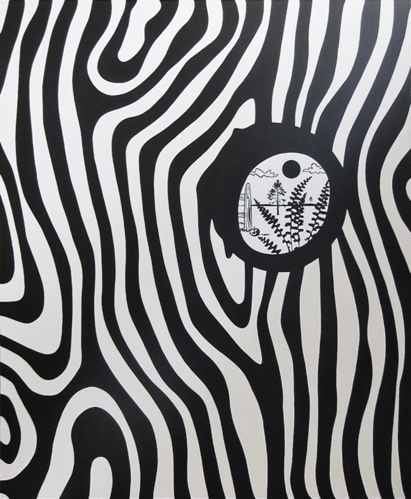 Paul Morrison, 'Post', 2013, acrylic on linen, 224 x 183 cm, courtesy Alison Jacques Gallery, London
Parallel on Abdi Ipekçi Caddesi, Dirimart at No 7 is hosting Paul Morrison's show, Black Light. Well-known in his native England for his large monochrome botanical prints, Istanbul audiences can now get a taste for his unique style. The gallery's director, Doğa Oktem, says: 'We have appreciated Paul Morrison's work for many years, so it was beyond due time to host his first solo show in Turkey.' Dirimart was established in Nişantaşı in 2002 and, due to its success there, has started setting up projects in other temporary spaces.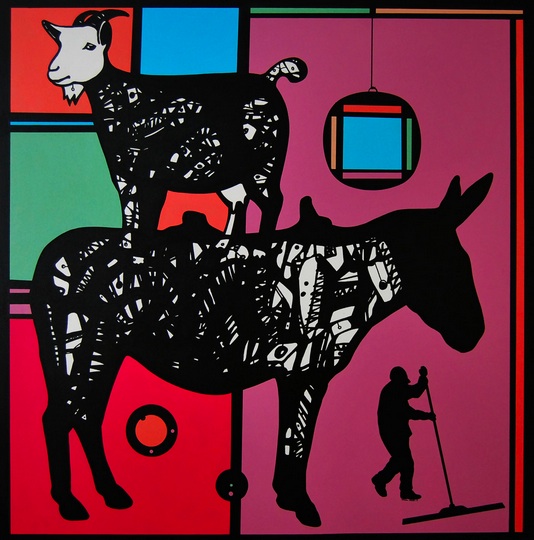 Further down the street, opposite Vakko and Bang & Olufsen, Kare Gallery at No 22 (on the second floor), will be hosting a solo show of Taylan Akdağ, Daily Life (above image), from December 3. Says the gallery's director, Fatma Saka: 'I have been following the works of Akdağ for two to three years. I like his designs and his characteristic linear style which he uses to represent patterns of urban life. Recently, Kare Gallery's portfolio of artists has been changing to almost only represent young and emerging artists. As a young artist, Akdağ's art fits into our portfolio very well.'
Pınar Du Pre, 'All of Me', 2013, 180 x 120 cm
Next door, on the first floor of the Gülen Apartment, Galeri Linart will be hosting the Austrian-Turkish artist Pınar Du Pre's colourful 'Jugendstil' pop-art works. The show, Snapshots, on from December 5, will feature extreme close-ups of female characters, employed to explore the darker side of human nature – the aggressive drive for consumer satisfaction.
DECOLIFE, 'Saint Jorge', 2013, spray paint and acrylic on wood, 46 x 33 cm
Further down the street, x-ist, in the basement of Kaşıkçıoğlu Apartment at No 42, is offering something a bit different. This well-established gallery always pushes boundaries and the current exhibition is no exception, with art from the Brazilian street artist Andre' Ruiz de Freitas, aka DECOLIFE. Yasemin Elçi is excited about this exhibition: 'DECOLIFE is our first international artist. This is ground-breaking both for the gallery and the art scene in Turkey because street artists are a closed group in the country since they want to remain anonymous. There are amazing street artists in Turkey but they need to be promoted.' DECOLIFE left home when he was 18 and has been travelling the world painting graffiti. Now, he's using x-ist's gallery space as a 'street' and painting freely all over the walls to present his show, Mind the Gap. 'We wanted to create some awareness about street art in Turkey, since it's not displayed in galleries here, like it is in Europe or the USA,' Elçi says.
Then down Atiye Sokak, a narrow street full of restaurants, and onto Teşvikiye Caddesi. You will be facing the neo-classical Teşvikiye Police Station and the neo-Baroque Teşvikiye Mosque, both hangovers from Abdülmecid I's rule. Slightly to the right of the nearby monument to Hüsrev Gerede, down Maçka Caddesi, at No 35 (in the same building as Iş Bank), is the not-for-profit art space Milli Reasürans Gallery, hosting the atmospheric black-and-white photographs of Aykut Köksal. Silence and Light pays tribute to the works of the master architect, Sinan and, true to the exhibition's name, the use of light in the photographs is beautifully executed (above image).
For lunch, Kurtulmuş frequents Delicatessen and Hünkar, both on Mim Kemal Öke Caddesi (the former at No 19/1 and the latter at No 21). Elçi also enjoys Hünkar and the home cooking at Doğaya Dönüş on Fırın Sokak, just off Hüsrev Gerede Caddesi. Oktem enjoys the casual feel at Bread & Butter at No 1C Mim Kemal Öke Caddesi and the Italian fare at Mama (on Abdi Ipekçi Caddesi, nextdoor to Dirimart). Saka recommends Brasserie for a spot of French gâterie at No 23/1 Abdi Ipekçi Caddesi, and House Café (opposite Atiye Sokak, situated in a building on one side of the Teşvikiye Mosque), the place to be seen in Nişantaşı.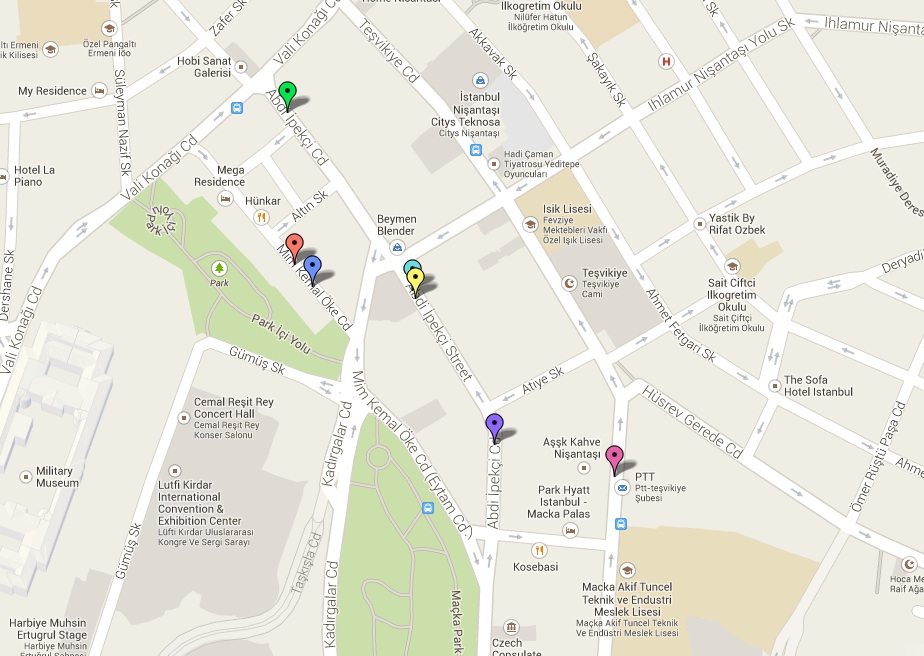 Key: Blue – Merkur Gallery; Red – Chalabi Art Gallery; Green – Dirimart; Light Blue – Kare Gallery; Yellow – Galeri Linart; Purple – x-ist; Magenta – Milli Reasürans Gallery
Click here for the interactive map.